What to see in Barcelona in a day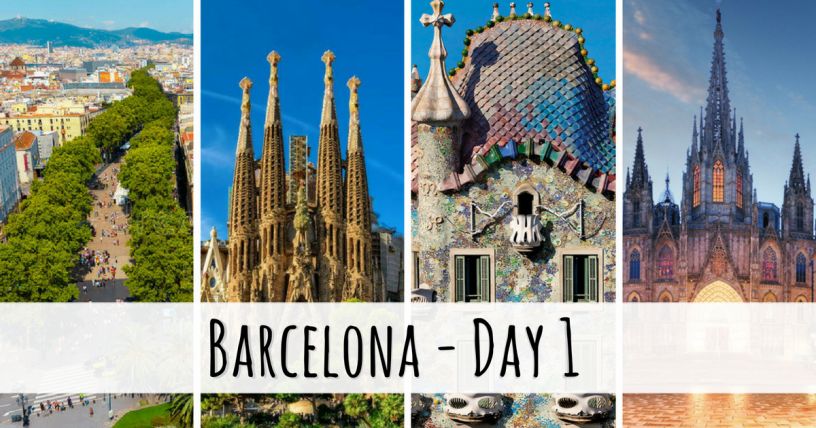 Things to do in Barcelona in a day
If you come to visit the capital of Catalonia, ​​we will help you to find the best apartments in barcelona city centre. We offer apartments of different types, renovated and well furnished in all areas of Barcelona!
No, no it's not impossible to see the soul of Barcelona in just one day. You can feel the magic in 24 hours. It is important that you prepare to walk a lot.
Here you have the perfect plan for seeing the best of the city in 1 day. For this epic journey you will need good food, a perfect break and a nice meal. Here we will give you the answers to these questions… Ready? So, let's get started…
Excursions in Barcelona
To make the most of Barcelona and fill your trip with unforgettable experiences and emotions, we offer you the excursions through the Catalan capital organized by our friends - the GetYourGuide team. Choose your excursion and fall in love with Barcelona:
Rambla and surrounding areas
If you are going to stay in the city for a day, the first thing to see is the Rambla. It is one of the most famous streets in the world, where you can stroll under the trees and with people from all over the world. On this street you will find the traditional Boqueria Market with fresh products, the lively Plaça Reial with its terraces and the emblematic Columbus Monument where the Rambla reaches the sea.
There aren't many people who know that there is a lift inside the Columbus Monument which will take you to the top so you can enjoy incredible views of Barcelona.
Sagrada Familia and Avinguda Gaudi
Your second stop should be the main work by Gaudí: the Sagrada Familia. I advise you to visit inside the building. There are different types of ticket and it's essential that you buy your ticket online so that you don't waste time queuing. Take a look at this article to find the perfect ticket for you which will save time and money.
Sagrada Familia Tickets

This article gives a clear overview of the different Sagrada Familia Tickets and corresponding ...



After such a visit, it will be a pleasure to take a break having a drink or dinner on the pedestrian avenue: Avinguda Gaudí. It's a pleasant walk without cars, full of terraces and with views of the Sagrada Familia.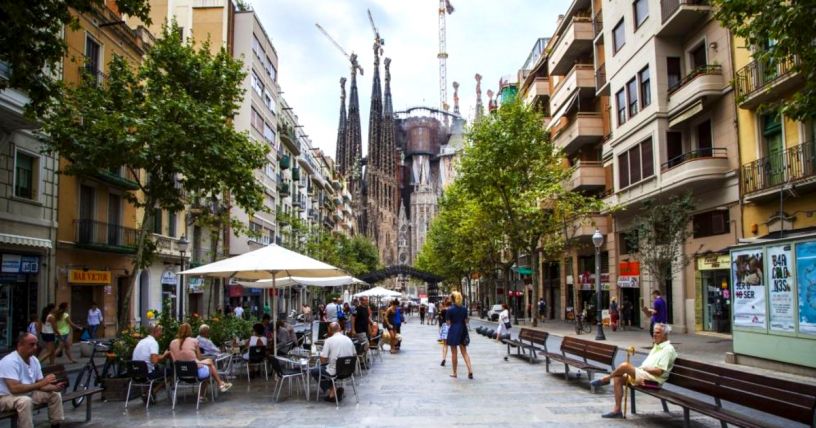 Avinguda Gaudí in Barcelona
Passeig de Gràcia and the Gothic Quarter
After dinner, you can return by metro to the Passeig de Gràcia stop. This street is famous for its modernist environment and its shopping. There you can see the façades of two works by Gaudí: Casa Milá also called "La Pedrera" and Casa Batlló.
In the block of houses where you will find Casa Batlló you will see some of the best modernist buildings of the city: Casa Lleó Morera de Lluís Domènech i Montaner, Casa Mulleras de Enric Sagnier, Casa Bonet de Marceliano Coquillat and Casa Amatller de Josep Puig i Cadafalch.
Don't miss the opportunity to walk through the magnificent Gothic Quarter. This is one of the most loved neighbourhoods among travellers. In the darkness of the night, you can enjoy the game of lights in the medieval buildings such as the Santa Eulalia Cathedral, the Plaça Sant Felip Neri, Plaça Sant Jaume where you will find the Barcelona town hall and then… get lost in the streets of this neighbourhood and enjoy your last hours in Barcelona.
Find the perfect restaurant for your first meal in Barcelona. I recommend a website called El Tenedor. You will find discounts of 40% and 50% off the menu prices at good restaurants in the city.
What to see in Barcelona in 2 days
Places to see in Barcelona in two days
Here is a good plan with the best things to visit during your second day in the city. Take a look at the plan for your first day if you still haven't read it.
Park Güell and Gaudí's works
Barcelona is full of works by the great Catalan architect Antonio Gaudí and Park Güell is one of the most well-known. But how well do you know this man? Before discovering the most famous park, we advise you to read this article about the architect.
You will have to book your tickets for Park Güell, especially if you are travelling during high season. This visit will take you two or three hours. At the end, I propose taking a break with a coffee in the bar in the park. In the following article, you can discover the artistic secrets of the park.
Parc de la Ciutadella and Arc de Triomf
The next stop is another popular park. Here, the locals come to relax, do sports, dance, walk with their children or to row a boat. We are talking about Ciutadella Park which is close to the Arc de Triomf. Both were built for the Universal Exposition in 1888 and retain their original charm.
In this article, discover the great central park and don't forget to visit the Parlament de Catalunya which you will find inside ;)
El Born Neighbourhood
If you've brought a sandwich for lunch, I advise you to go for an ice cream in the Born neighbourhood, which you will find next to Ciutadella Park. Here, you will also find many restaurants and trendy places. You will see that the neighbourhood is very pretty and is full of original shops.
Enjoy the pleasant, historic atmosphere walking down Carrer de la Princesa, discovering the medieval Santa María del Mar Basilica (1383) and visiting the Picasso Museum. By the way, did you know that the great artist had a love affair with Barcelona?
This neighbourhood is ideal for going out at night. Around Passeig del Born you will find lots of bars, shops, restaurants and a very pleasant nightlife.
I recommend that you discover the history and the current El Born through this video.
3 days in Barcelona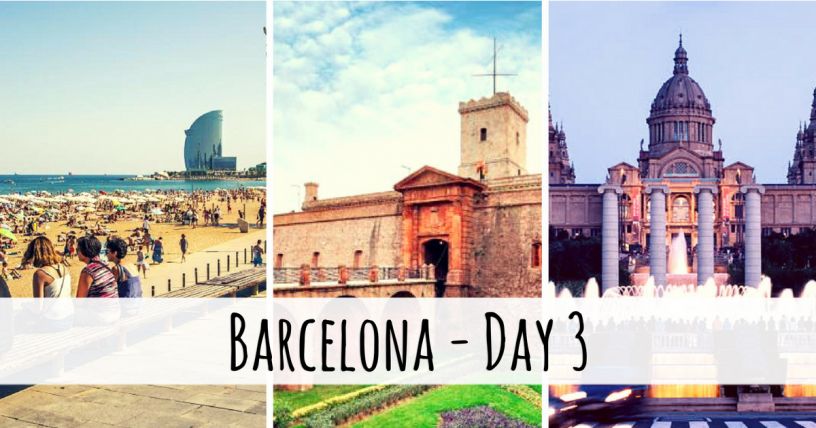 Things to do in Barcelona in three days
The plan for the third day in Barcelona consists of sea, mountain and colourful lights!! Here are the plans for the first day and second day if you haven't read them yet.
Barceloneta Beach and Montjüic Mountain
Start the day by greeting the sun at Barceloneta Beach. Here you can walk along the sea shore, read, have a coffee, play sports and sunbathe. Enjoy these peaceful and quiet hours because now I propose a trip to the heights.
The Transbordador Aeri del Port will take you from the beach up to Montjüic Mountain in just 5 minutes. This mode of transport offers incredible panoramic views that you cannot miss. You can also visit Montjüic Castle and many other attractions that you can discover in this article.
The Magic Fountain
At night, I suggest staying in the Sants-Montjuic district, walking along Avenida Maria Cristina and Plaça d'Espanya and enjoy the most magical show in Barcelona: the Magic Fountain.
I recommend looking at the hours well and arriving early so you can get a good spot ;)
Magic Fountain of Montjüic Event

Feb

26

-

Jan

17

When can you see the Magic Fountain of Montjuic show in Barcelona? The history of the fountain, the best times...



4 days in Barcelona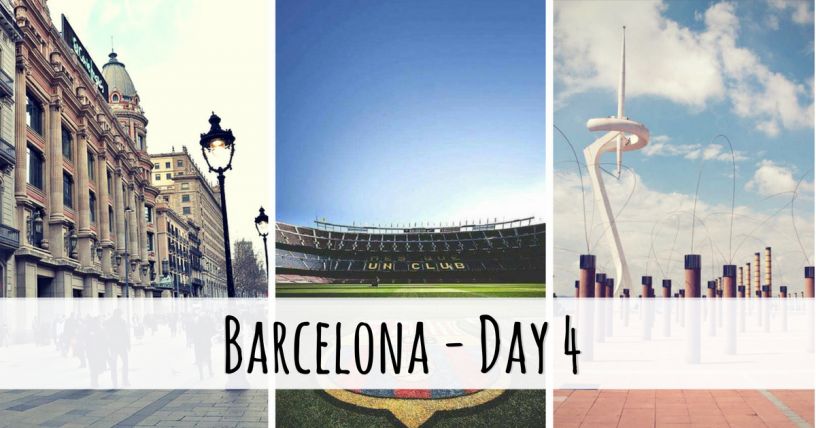 What to do in Barcelona in four days
The plan for the fourth day in Barcelona consists of shopping, discovering Camp Nou and the Olympic buildings. Here are the plans for the first day, the second and third day in Barcelona.
El Portal de l'Angel
We start with a relaxing morning. I imagine that you still won't have gifts and souvenirs for yourself and your friends, so… let's go shopping! The morning is the perfect time of the day to go to the shops, because there are less people and tourists. I recommend the area of Portal de l'Àngel in the Gothic Quarter. At the end of this article I will give you tips for where to go shopping and what to buy.
Camp Nou and the Olympic Ring
If you're sporty, I'm sure that you today's plan, because you will discover Camp Nou and the Olympic Ring, created for the Barcelona Olympic Games 1992. These areas are a little outside the old city, so it is convenient to use public transport. If you are not sporty, don't miss out on the possibility of enjoying these constructions: they are impressive.
Take a look at this complete article about the FC Barcelona stadium.
All About Camp Nou

Discover how to buy tickets for the Camp Nou Experience, match tickets, facts about the stadium...



Returning from Camp Nou, you can stop at Plaça d'Espanya and enjoy an incredible view. We are talking about the rooftop of Arenas shopping centre, an old bull ring that now houses shops, restaurants, a multi cinema and an impressive rooftop terrace which will allow you to see the whole city at night.
5 days in Barcelona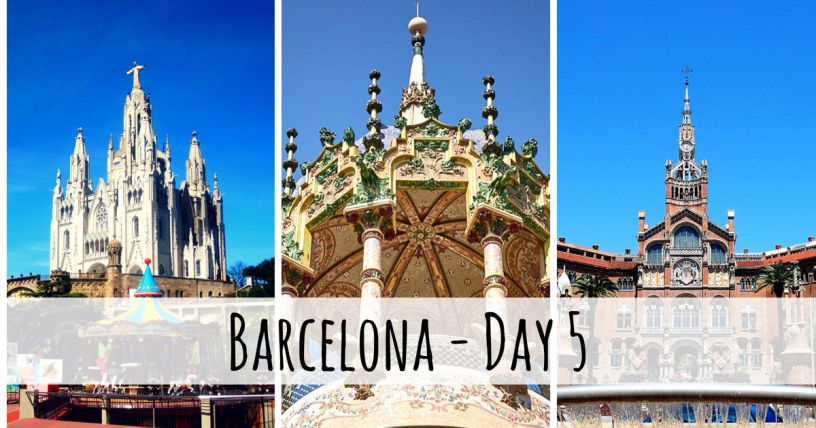 Things to do in 5 days in Barcelona
The plan for the fifth day in Barcelona consists of discovering the highest point of Barcelona and getting to know the modernist architecture in the city of Barcelona a little better. Here are the plans for the first day, the second, the third and the fourth day in Barcelona.
Tibidabo
Welcome to your fifth day in Barcelona! Now you already know the city well so this is when you should see it from the sky, from Tibidabo Mountain. I am sure that you would have seen it during your first days in the city, a white building on top of a mountain. It's the Expiatory Temple of the Sacred Heart of Tibidabo. There you will also find a great fairground and a viewpoint where you can see the city at your feet.
Tibidabo Fairground
Hospital de la Santa Creu i Sant Pau
When you return from Tibidabo, stop in Dreta de l'Eixample to discover the work by Lluís Domènech i Montaner: the Hospital de la Santa Creu i Sant Pau. This modernist enclosure is an incredible construction. When you finish your visit, I recommend getting lost in the city following the "Ruta Modernista" tiles and discover all the numerous buildings of this architectural style.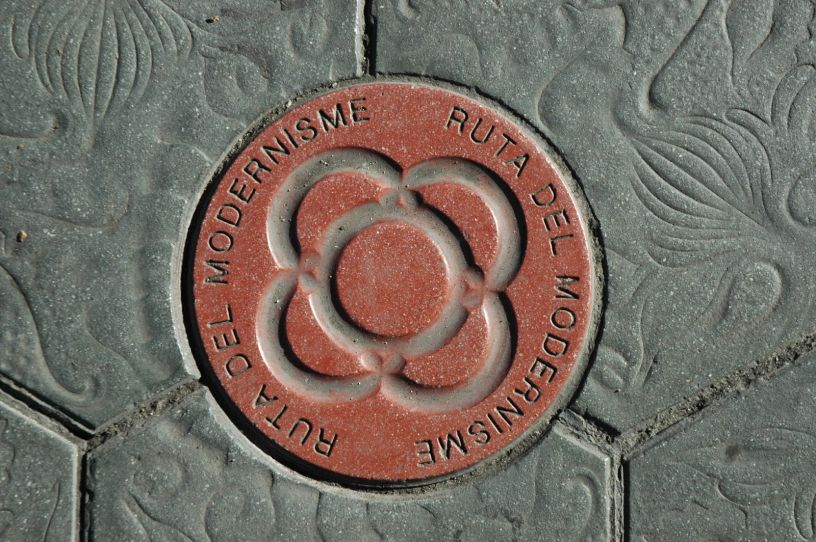 Modernist Route in Barcelona
Enric Granados street is where you will find the centre of the great modernist neighbourhood of Eixample. This street is free from traffic and has good restaurants where you can enjoy your last dinner. Have a good trip and we hope to see your soon in Barcelona!
Things to do in Barcelona for children
Do you want to visit this marvellous city with your children but you don't know if it's a good idea? I can confirm that this city is fantastic for children. You can enjoy the beach, the parks with games or the fun park at Tibidabo. There are lots of ways to have fun with your children. Take a look at this article and create your perfect plan!
Things to do in Barcelona this weekend
A lot of the time you travel on the weekend and there are numerous concerts, fairs, festivals and events which take place in the city that you which you can't miss. In this link you will find an up-to-date plan about all the events at the weekend in Barcelona. Don't miss a thing!
What to do in Barcelona in the rain
Sometimes you are unlucky and you get caught in the rain during the few days of holiday that we have. But don't worry… In this case, Barcelona offers lots of different options for when it rains. Don't believe me? Look!
Free things to do in Barcelona
Do you know that you can also enjoy a cheap trip? Many people think that this city is one of the most expensive in Spain, but if you read this article, you will see that this is not the case… Discover all the free activities in Barcelona!
Where to stay in Barcelona
Now that you have prepared your whole itinerary, only one important thing is missing: the accommodation. This can be the most important part of the trip. If our accommodation is bad or we get scammed, our trip will become a nightmare.
Refurbished holiday apartments
There is a way to rent in Barcelona cheaply, safely and comfortably. At Ok Apartment Barcelona we offer holiday apartments which are excellent value for money with the guarantee of being an established business for more than 10 years. Our office is located in the centre of Barcelona.
When you are booking a holiday apartment we recommend analysing its value for money. There is a huge offer of holiday apartments in Barcelona and the cheapest tend to have space and comfort limitations. By increasing the price a little you will see that the benefits will increase proportionally.
Where to stay with children in Barcelona
Our holiday apartments for families are totally equipped for living with children. Additionally, renting with Ok Apartment means that you have access to a 24hr emergency phone number, so you will always be safe with your children.
Best area to stay in Barcelona
Ok Apartment Barcelona conducted a survey asking 850 foreigners living in Barcelona for at least 3 months "Which is the best area to live in Barcelona?"… Here, discover which are the prettiest and cheapest places to stay in the Catalan capital!
What to buy in Barcelona and where to go
The shopping is always an important part of a trip, for the souvenirs and your gifts. Barcelona is one of the best city's for shopping, there are lots of places to go and find shops of all kinds: craft shops, famous or luxury brands, classic or handmade souvenirs, etc. We start with a perfect guide for finding gifts for your friends and family.
What to buy in Barcelona
Where to go shopping in Barcelona?
Now it's time to think about you! Here you have the perfect guide for shopping addicts in Barcelona. Discover all kinds of places to go shopping.
Outlets in Barcelona
Here you have another option: great brands at discounted prices. We're talking about the famous outlets. Barcelona has a good offer of these types of shops. 
Is there a Primark in Barcelona?
Many tourists ask if there is this famous Irish brand in the Catalan capital. There's not just one, but two Primark's in Barcelona in two shopping centres: L'illa Diagonal and Diagonal del Mar. The addresses are: Carrer de Déu i Mata, 69-99, 08029 Barcelona and Avinguda Diagonal, 3, 08019 Barcelona.
Where to eat in Barcelona
Who more than tourists knows how important food is when travelling? Our team has made a simple and practical selection so that you can find the best restaurants, cafés and bars for your stay in Barcelona. Discover all there is to know about food in the city.
Barcelona: where to eat breakfast
It's impossible to come to Barcelona and not have one of Spain's delights for breakfast: churros. Here, you can find the best 'churrerías' in the city.
Barcelona: where to eat well and cheaply
It's always difficult to find places to eat well and cheaply, above all in touristy cities like Barcelona. But difficult doesn't mean impossible! In fact, here you have a complete article about all the cheap tapas, pinchos and mojitos in the city. Enjoy!
Where to eat paella in Barcelona
Some of the best paella restaurants in Barcelona are: Restaurant 7 Portes, El Raco de l'Aguir, El Cercle, Elche and many more, mostly in the Barceloneta area. 
The city is full of restaurants with lunch menus between 10 and 13 € per person all included. It is a tradition that the midday menus on Thursday include paella.
Where to eat tapas in Barcelona
Like every Spanish city, it's mandatory to go for tapas at least once. So you don't miss the best places, read this article to discover the best places to eat tapas.
Where to eat dinner and what to eat in Barcelona
Finally, there is dinner. Do you already know Catalan cuisine? We give you some tips about the restaurants with typical Catalan cuisine in Barcelona, but always remember to book because there are always lots of people.
How to get to Barcelona
All the answers to your questions about transport in the city of Barcelona: how to get around and how to get there.
Barcelona: which airport?
Barcelona's airport is "Aeropuerto El Prat".
How to get to the airport in Barcelona
Watch this video to learn how to get to the airport.
How to get around Barcelona
Barcelona: Public Transport
Barcelona: how to get to Camp Nou
Metro
Line 3 stops Collblanc or Badal (Near accesses 2 to 17)
Line 5 stops Les Corts (close to accesses 17 to 21) and Maria Cristina (close to accesses 1 to 11)
Trambaix
Stops Pius XII, Palau Reial, Maria Cristina and Avinguda Xile
Buses
Various services have stops around the stadium: 7, 15, 43, 67, 8, 74, 75, L12, L50, L60, L62
Barcelona: how to get to Montjuïc
You can get there with line 150 or with the Cable Car of Montjuïc.
Barcelona: how to get to the beach
To get to Barceloneta, the most well-known beach in Barcelona, go to Barceloneta metro stop and take advantage of a 10 minute walk to discover the restaurants and the touristy port.
Barcelona: how to get to Tibidabo
The cheapest route from Plaça Catalunya is to take metro lines S1 or S2 and get off at "Peu del Funicular", here take the Funicular de Vallvidrera that takes you to the stop "Wallvidrera Superior", from the bus Nº 111 which will take you to the top.
Barcelona: how to get to Park Güell
To get to Park Güell, take the Green Line (L3) on the metro until Lesseps or Vallcarca or with the bus services H6, 32, 24 and 92.
Barcelona: how to get to the Sagrada Familia
You can get to Gaudí's work with L2 and L5 on the metro to Sagrada Família or with buses 19, 33, 34, 43, 44, 50, 51, B20 y B24
Barcelona: Where to Park
Read our complete article about where to park for free in Barcelona.