A relaxing boat ride
Row, Row, Row your boat gently across the lake of Ciutadella Park, which in the morning is very quiet indeed. The peace and tranquility allows you to maximise your enjoyment of this relaxing pastime. if you're a partner it's the ideal romantic activity in Barcelona. A calming boat trip atop the lake only costs 6 euros, which is well worth the asking price. The morning is also a good time to check out another popular part of the park; the famous Cascada Monumental (Monumental Fountain) that Gaudí himself helped design back when he was still a young lad. This park features as one of the main locations in our guide to outdoor summer activities in Barcelona.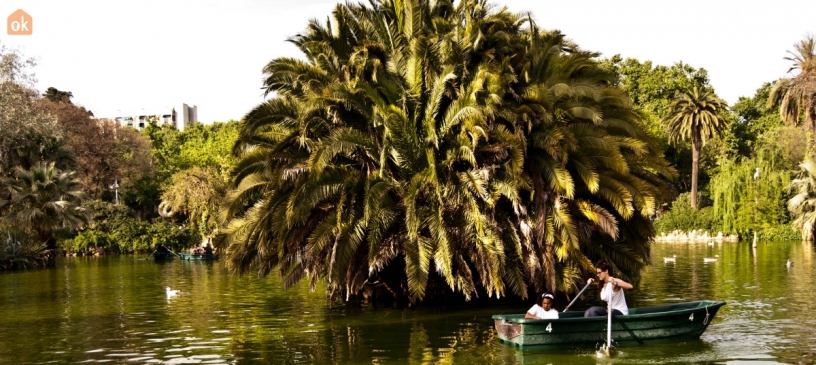 Boat ride, anyone?
Barcelona Zoo
So, after having soothed your soul upon the lake and sat in awe of the fountain it's practically obligatory to make a visit to Barcelona Zoo, home to the Monkeys, Hippos, Wolves, Dolphins, and Elephants, amongst an endless list of other wild animals. If you're travelling with children, this will surely be one of the most exciting parts of your trip to Barcelona for them.
The zoo is also known for its art. Throughout the grounds you will find statues of animals and characters from Catalan culture, like Genoveva de Brabante (Genevieve of Brabant), a character from a local legend of a woman who was condemned to death on a false accusation, but fleed to the woods with her children where a deer would bring them food! And yes, there are deers at Barcelona Zoo!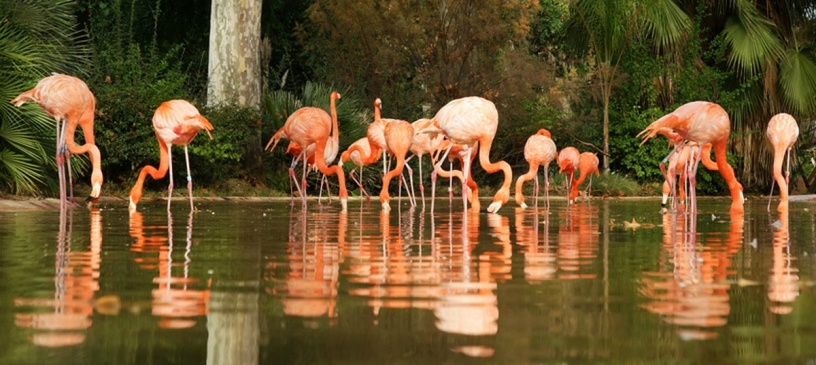 Barcelona Zoo
If you come to visit the capital of Catalonia, ​​we will help you to find the best vacation rentals in barcelona. We offer apartments of different types, renovated and well furnished in all areas of Barcelona!
Open air activities
As the evening arrives, the park transforms in a circus spectacle. The youth of the city flock to the park to practice their hula hoop, juggling, and slackline skills. You can even give it a whirl yourself.
Anyone looking to keep in shape can take part in the capoeira circles or the acroyoga workshops. And what better place than surrounded by nature and peace? Put yourself to the test ;)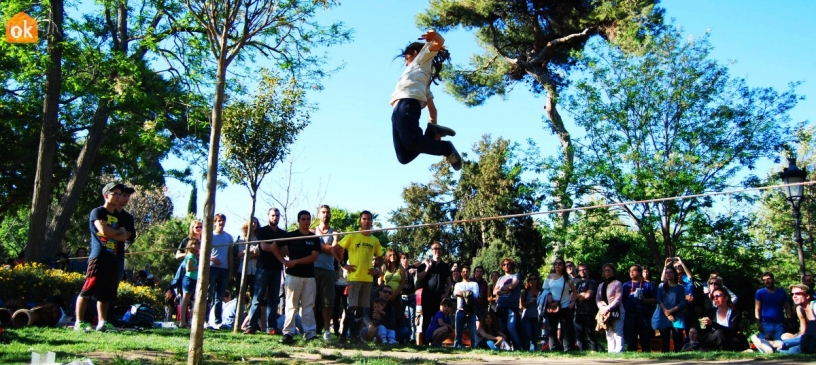 Slacklining in Ciutadella
Live music and African dance
The activities and strolls through the park don't necessarily need their own soundtrack, but they certainly get one thanks to the frequent influx of musical groups that organize events in the area. Each Sunday you can expect jam sessions involving guitars, percussion, trumpets, accordions, and more. All in all, it's that cherry on top of the already wonderful atmosphere of the park. A real treat!
If you're more into dancing, then in the centre of the park there are get-togethers where musicians play the drums and various African instruments throughout the day. Everyone is invited to join in and shake some moves to the rhythm, so don't be shy as the beats of the drum become more and more inviting, to a point where you just can't help but celebrate all this amazing park has to offer. These types of get togethers are frequented by Meet-up groups, a great way to make friends in Barcelona if you're new to the city. You can read more about making friends in Barcelona here.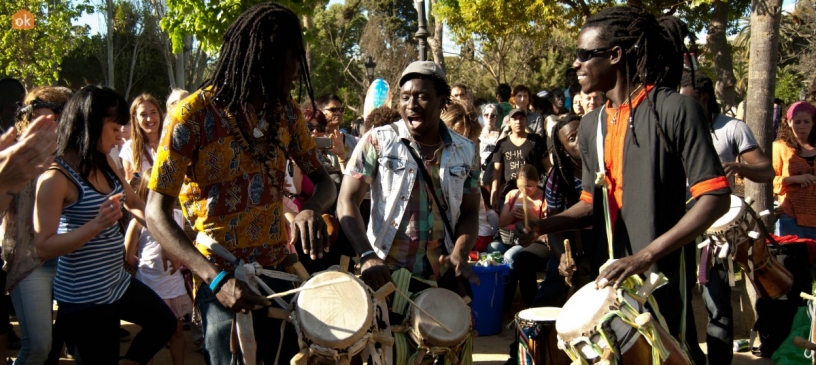 The beats of the drums are hard to resist here
Other images
Excursions in Barcelona
To make the most of Barcelona and fill your trip with unforgettable experiences and emotions, we offer you the excursions through the Catalan capital organized by our friends - the GetYourGuide team. Choose your excursion and fall in love with Barcelona: