Shopping Centre and Outlet Village: A little out of the way
La Roca Village
This is an Outlet Village with more than 100 luxury and high-end stores that offer their collections from the previous season at cheaper prices throughout the year. The village is not in Barcelona, but you can get there in about 30 minutes. The discounts are usually around 60% and even more during the sales. Open Monday to Saturday from 10am to 9pm.
Characteristics:
Play area for children
Free parking with more than 2000 spaces available
Bus service between Barcelona and La Roca Village
Easy access for people with reduced mobility, since the stores are at ground level.
VIP Card: You need to ask for it in the information centre to receive an additional discount of 10% except for items already discounted.
The brands that you can find here are:
Spanish: Desigual, Antonio, Miro, Lupo, the official store of FC Barcelona ...
French: L'Occitane, Comptoir des Cotonniers, Lacoste, Catimini, Sandro, Maje ...
International: Levis, Puma, Quicksilver, Tommy Hillfiger, Timberland ...
Web: La Roca Village
La Roca Village Outlet
Viladecans The Style Outlets
The new store opened its doors recently, in 2016, in the city of Viladecans. The outdoor shopping complex occupies 19,000 m2, where there are approximately 70 stores. This is an ideal option for those who are looking not only for luxury brands, such as La Roca Village, and do not want to spend a lot of time getting to the outlet. The train will take you from the city centre in 20 minutes.
Brand catalogue:
The Catalan companies: Cottet, Etxart & Panno, La Mallorquina, Naulover or Textura
National and international brands: Adolfo Domínguez, Calzedonia, Converse, L'Oreal, Desigual, Le Coq Sportif, Nanos, Adidas, Nike, Skechers and Festina
"Edible" brands like Lindt and Haribo.
How to get there:
By train or bus. The Rodalies Renfe train with the R2 and R2 Sud lines from Sants Estació station
By car: 15 minutes. Address: Carretera de la Vila, 90, 08840, Viladecans, Barcelona.
More information on the official webpage: Viladecans The Style Outlets
Viladecans Outlet
Heron City Shopping Centre
In this shopping centre you'll find many bargains with stores from Desigual, Mango, Diesel, Bershka, Triump, Pull & Bear and various shoe shops. The precinct includes a play area for children at €5/child which includes many activities for those ages between 4 - 12 years, so everyone can have fun! There are also restaurants to keep you fueled and a cinema to chill out afterwards.
Address: Avinguda Rio de Janeiro 42
Web: Heron City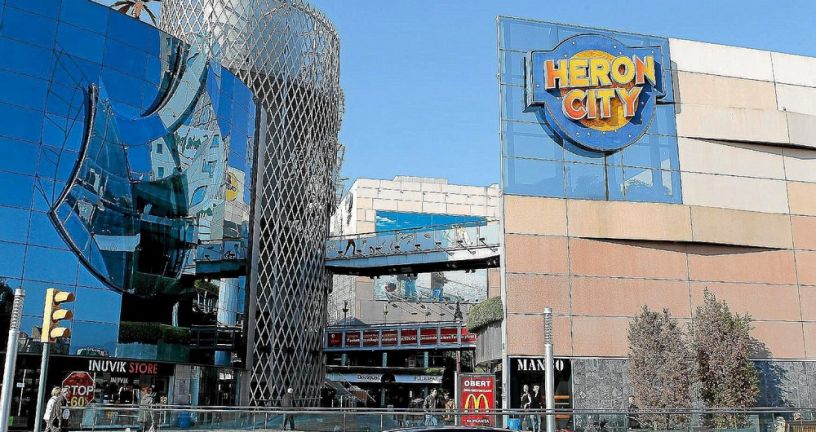 Heron City Shopping Centre
Brand Outlets
There are a number of Mango outlets around Barcelona, so you can shop at great prices in most parts of the city with discounts between 20% to 40%, which isn't bad. The most known outlets from Mango are around Tetuán (Line 1 on the Metro), where you'll find a large selection of clothes, shoes, bags and accessories and a Mango Outlet that specialises in night dresses.
Opening hours are from 10am to 9pm. 
Addresses:
Carrer de Girona, 37 (Metro 1: Tetuán)
Avenida Pau Casals, 12 – This outlet specialises in night dresses.
Website: Mango Outlet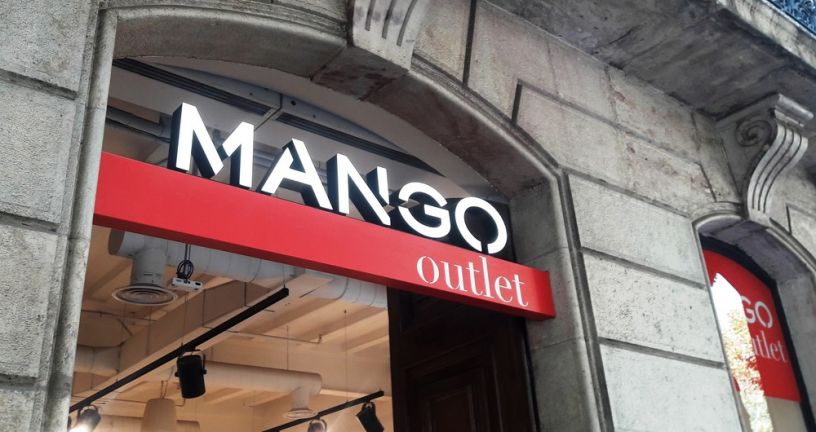 Mango Outlet
Alma-Zen: Desigual
The discounts can go from 30% to 70% in all its range of original clothing for men, women or children. New products usually arrive on Wednesdays or Thursdays. It is open between 10am and 9pm. There is a second Desigual Outlet in the Maremagnum shopping center (2nd floor).
Address: Carrer Diputació, 323
Factory Shop Burberry
The famous English brand Burberry now has a place under the Barcelona sun by opening an Outlet for classic style clothes here. You will find clothes for the whole family with discounts that go from 50 to 70%. This Outlet is right in the centre, so it can be easily reached. Their hours are from 10am to 8:30pm.
Address: Carrer Valencia, 640 (Metro 1: Clot)
Lefties: Zara
Lefties stocks out of season clothes from Zara and other brands like Bershka, Pull and Bear, Oysho and more. Here you will find last seasons' lines, discontinued lines or clothes with slight defects. You'll also find clothes designed specifically for the store. Barcelona is home to two Lefties stores in the centre. The first is by Plaça Universitat (Metro Line 1) on Carrer Pelai, 2 and it has two floors. The second is at Maremagnum shopping centre.
Web: Lefties
Lefties
Custo Outlet
Custo is one of the most representative brands of Spanish fashion. Any garment, accessory or shoe that you're looking for can be found here. It's open from Monday to Saturday from 10AM to 9PM and on Sundays from 12AM to 8PM, which is fine for when you don't have much free time during the week.
Dirección: Plaça de Pi, 2
Nice Things Outlet
Spanish women's fashion brand with an open mind. There's a section for babies in the lower part of the store. The tones are very neutral with discreet patterns. Here you'll find products discounted up to 60% off retail price. In addition to clothes there are bags, scarves and jewellery.
Address: Carrer Girona, 38
Web: Nice Things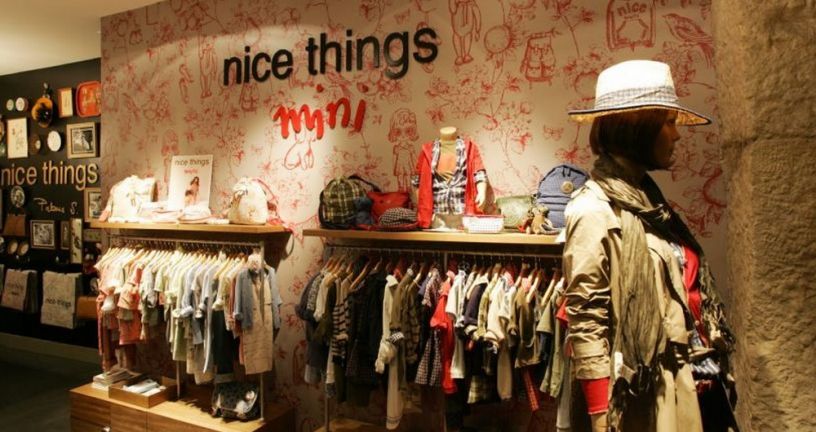 Nice Things Outlet
Creators Space
This store specialises in the sale of stock from lesser known Spanish designers in the international market. You can find names like: Julie Sohn, Jesus del Pozo, Gabale, David Delfin, ETXART & Panno, Roger O., Jordi Labauda ... It is open Monday to Saturday from 10am to 8:30pm.
Address: Comtall, 22
Multi-brand Outlets
Montana Outlet
There are various around Barcelona and it's where you can find the last stocks alongside to-date collections from brands like New Zealand Auckland, Miss Sixty, Pepe Jeans and more. In fact there are more than 50 brands present in these outlets that are open from 10AM to 8:30PM.
Outlet Number One
There are two of these in Barcelona. There are brands like Superdry, Ralph Lauren, Liu Jo, Diesel, Kaporal, D&G and more with discounts up to 60%. With so many options you'll surely find something. It's open from 10:30AM to 8:30PM.
Address:
Carrer Aragó, 284
Carrer Comte de Salvatierra, 6
Web: Outlet Number One
The Outlet Born
D&G, Cavalli, Diesel, Versace and Armani are just some of the brands on offer here… There is also a large selection of small Italian brands like ZonaBrera, Olyo and Nosit… That's not all though, there is Fiber and Patricia, which specialise in manufacturing shirts and leather. It's open from Tuesday to Friday from 11AM to 3PM with a 2 hour break and then 5PM tp 8:30PM. On Monday it opens from from 5PM to 8:30PM. Finally, on Saturday it's open all day from 11AM to 9PM.
Address: Carrer del Bonaire, 5
Web:
Outlet Born