There's plenty to eat; paella, tapas, seafood, meat, or vegetarian food... And to drink? Sangría, beer, and cocktails... Where to go? The city centre close to the beaches? Or the alternative district of Gracia.
Tapas
Well then, let's take it step by step, starting with pintxos and tapas. You've surely heard of tapas; tasty snack-sized mediterranean dishes. It's a versatile food that you can snack on, dine on, have a brunch, celebrate with friends on a terrace, and more. They can be taken cold like pan amb tomaquet (bread with tomato), Iberic ham, olives, and gazpacho; or hot like Andalusian calamari, cod balls, croquettes, and more.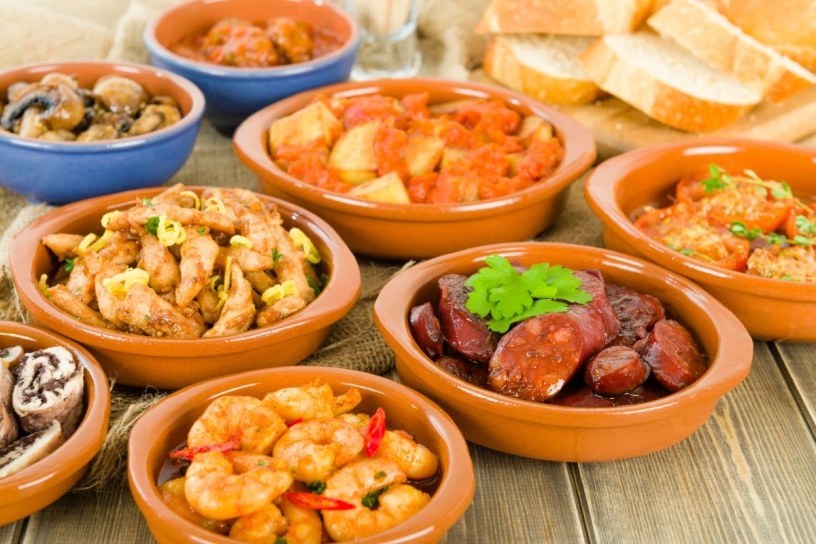 Tapas
The Catalan capital is full of tapas bars. Overall, the average cost is between €3 to €7, depending on if you choose vegetables, meat, or fish. Unlike in other parts of Spain such as Andalusia and Madrid where you get free tapas with every drink, in Barcelona this isn't commonly practiced.
But, surprise! There are some bars where you do get free tapas with every drink: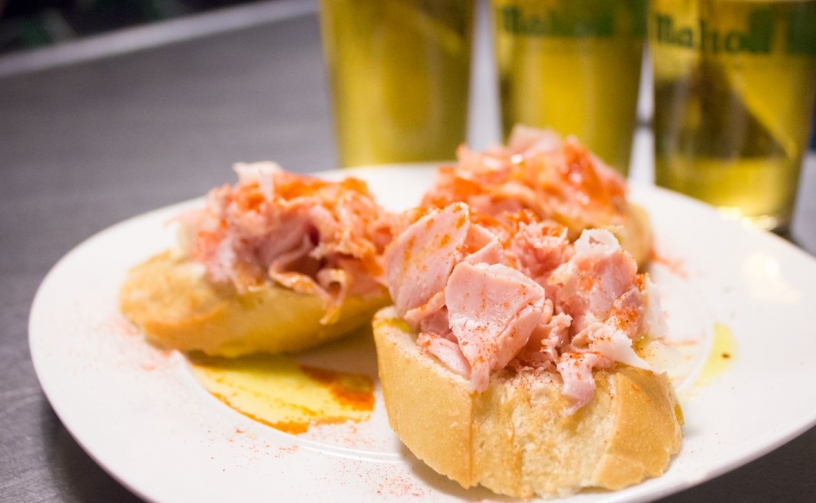 La Gata Mala
Gata Mala (Gracia): Here you get tapas with every drink. The location is very nice and staff are friendly. It is located on Carrer Rabassa, 37, open daily from 18.30 to 01.30.
Ambientes del Sur (Eixample): Also here, for every drink you get tapas. The first is the simplest tapas on the menu, but if you keep drinking, the tapas becomes increasingly sophisticated. Beer + tapas here is €1.80. This restaurant is located on Carrer Viladomat, 85
Atrapatapa (Eixample): With €1.30 you get a beer with complementary tapas. The atmosphere is family-friendly, and the tapas are simple but varied. This restaurant is located on Comte d'Urgell, 77.
If you come to visit the capital of Catalonia, ​​we will help you to find the best apartments for rent Barcelona. We offer apartments of different types, renovated and well furnished in all areas of Barcelona!
Pintxos
What are pintxos?? In the same vein as tapas, these are versatile dishes suited to many occasions, they differ in that they are all kept together on a toothpick and attached to a piece of bread. A toothpick is called a "pintxo" in Basque - where the dish is most popular- and thus the name. It's spelt pincho in Spanish, pronounced in the same way. Ingredients vary from sausages to squid, including things like tuna with grilled courgette, smoked salmon with goat cheese, or tortilla. The list is endless with each pintxo tastier than the last!
Ever been to Carrer Blai? It's found in the neighbourhood of Poble Sec at the foot of Montjuïc and it is known for being the street with the highest concentration of tapas bars per square meter in the city. Here you really have much to choose from, which is the main attraction for those among us that live here. The classic beer + pintxo combo costs about €1.50 - €2 . If you simply want to eat pintxos without the drink they are about €1 each (or €1.80 if fish).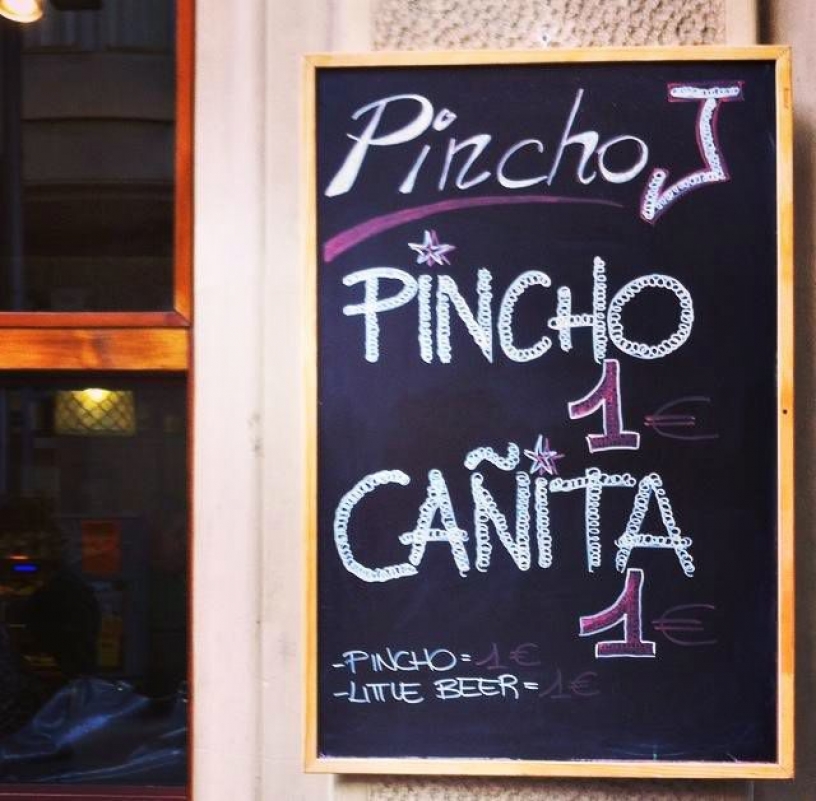 Bar Pincho J
Pincho J - Carrer Blai, 26: Best known for offering something called the Bomba, a kind of spicy ball with meat and potatoes inside. Warning: It. Is. Spicy! For €2 you can combine a beer and pintxo.
La Esquinita de Blai: A beer is €1 here; a little more if it is ordered with a pintxo. For a recommendation, order the pintxo with butifarra (Catalan sausage) or the mini-burgers.
Blai 9 - Carrer Blai, 9: Quality pintxos here. A beer is €1 and the pintxos are €1 or €1.50 each. The waiting staff are friendly and the service is responsive.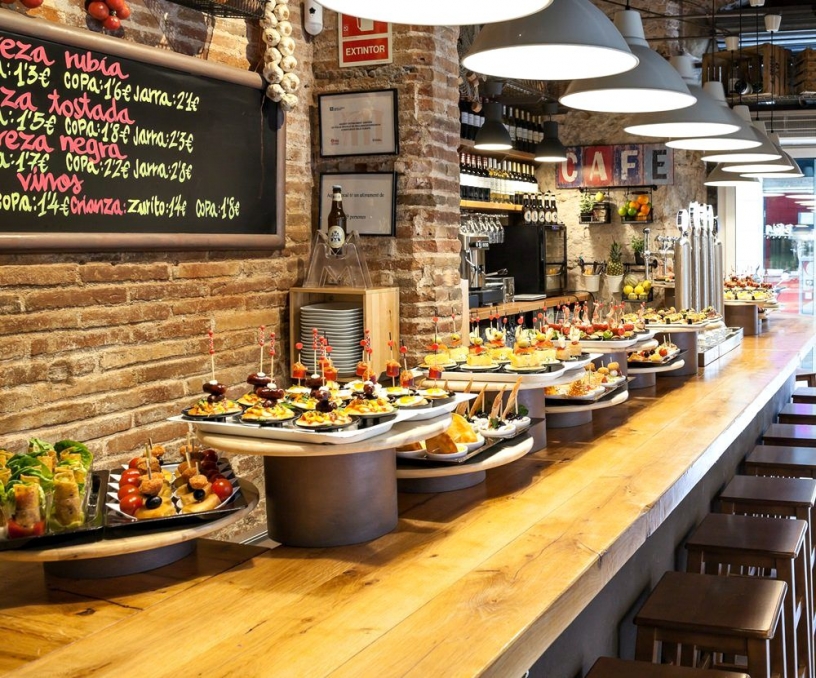 Bar Blai 9
Okay, let's not do a list of the entire street as there are just too many! The power of knowledge is now with you to go and discover your own gem...
Similar to pintxos, there are also the so-called montaditos. A piece of bread topped with various ingredients, but without the pintxo to hold it all together. Montaditos are sometimes scaled up to the size of small baguettes.
In Barcelona there are franchises of low-cost montadito joints which in recent years have become well-known throughout the city. Chains like 100 Montaditos and La Sureña (Spanish website), the latter of which offers montaditos for €1 and cheap drinks.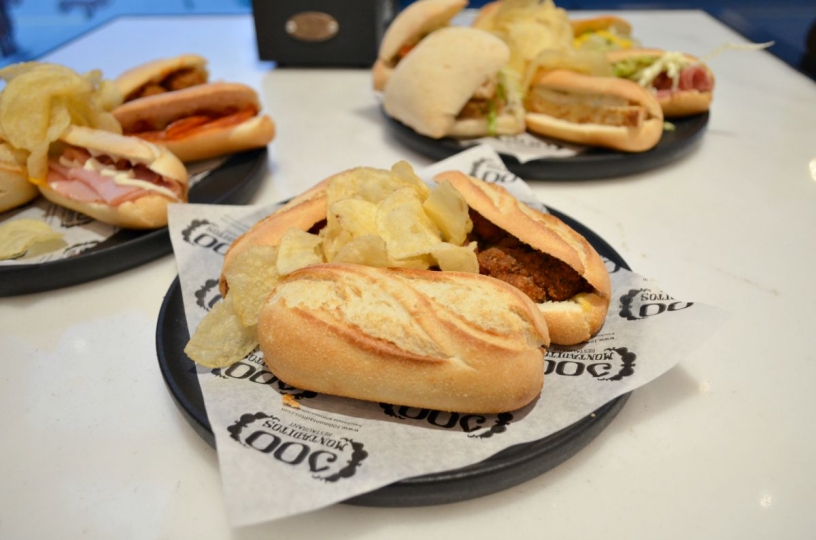 100 Montaditos
These franchises offer discounts on certain days. For example, Mondays at 100 Montadito will land you a beer and montadito for €2. Wednesdays sees all the dishes hit €1. The quality is great, so try them out!
Mojitos
Who wouldn't want a good mojito once in a while in Barcelona? In fact, this word is best known among others like Cubata, Caipirinhas, in addition to the more elaborate cocktails ...
In Barcelona, cocktails are particularly good! If you want to know the best places to grab one, perhaps the best places can be found in the Gothic Quarter, where there are 3 bars with the best mojitos for great value. The location is Carrer Mercè and the locales are El Rabipelao, El Bomóon, and El Sor Rita.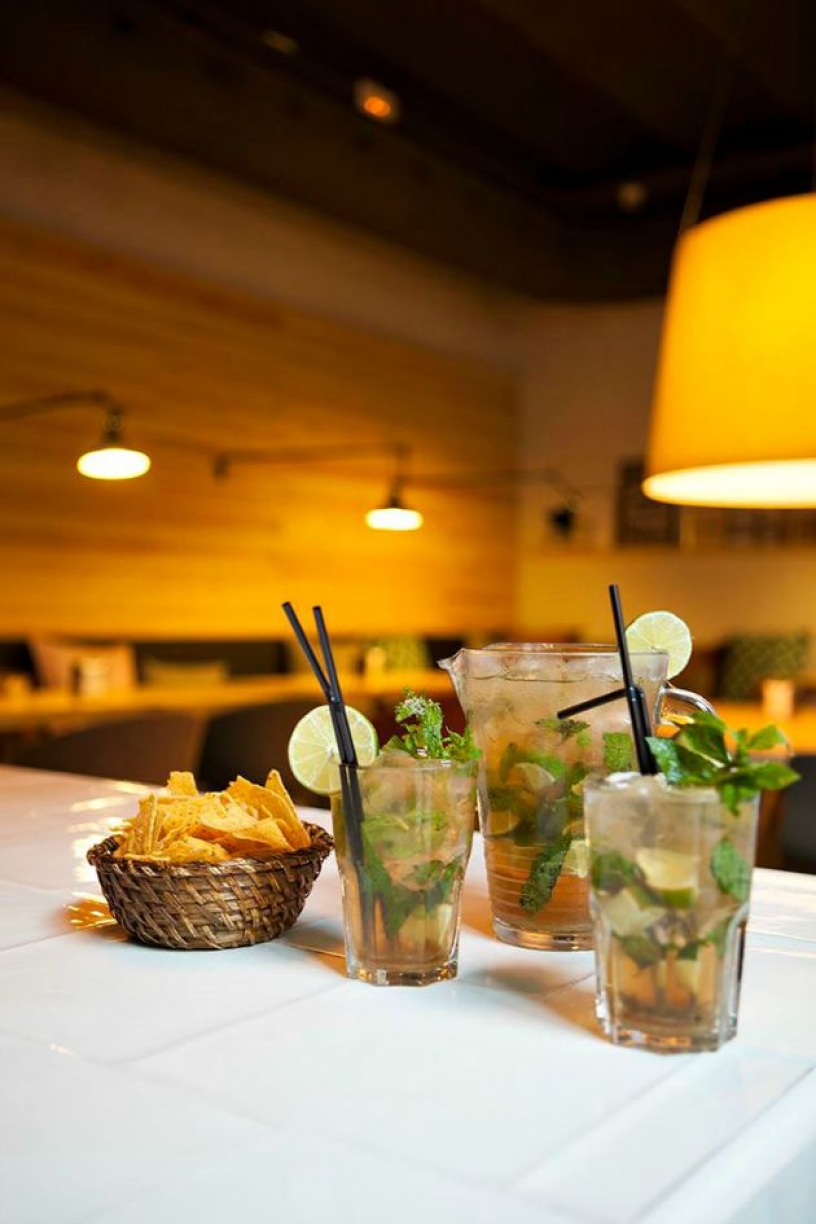 The Mojitos of Barcelona
The first two are Venezuelan. At Rabipelao you can also sample some Venezuelan cuisine. At Bombón there are salsa and merengue dances. In both, a simple mojito costs €3.50, but if you want a more elaborate mojito or a large glass it will cost a little more. Sister Rita on the other hand, is a very alternative style bar, but known to many in the city.
At first glance you'll be amazed by the especially extravagant interior decoration, with one wall coated in photos of historical Spanish artists and another in pictures of saints. Hanging from the ceiling are shoes and trousers! Original, right?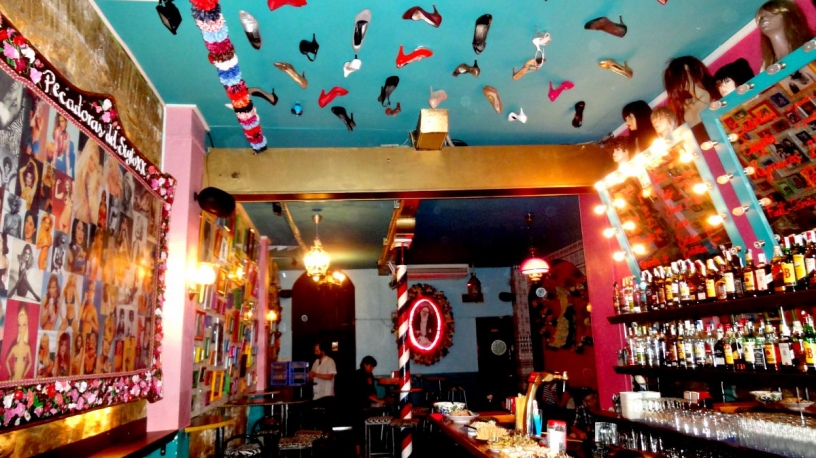 Bar Sor Rita
Cheap kind of goes out the window in a place like this, with a mojito costing €6. If you prefer, you can always grab a beer for €1.50. On Tuesday though, a deal is organized where €6-€7 can get you a beer or a glass of wine with some montaditos from a buffet (see their website)
A little further from Carrer Mercè, you can go to the following locations if you want to sip a cocktail without spending a fortune:
Nevermind - Escudellers Blancs, 3 (Gótico): This place is ideal for lovers of rock and grunge. If you come before 22h, you can enjoy a cocktail for €3.50, and you'll even get free popcorn! Don't ask why, you just do!
Bar Absenta - Hospital, 75 (Raval): If you like beer, you have to come here. It's €1 - 1 beer! Distilled drinks are well known here at €4. The mojitos are €5. A handy tip for those who need coffee; you can come here during the day and get a coffee to go for just €0.50.
Sugar - Rauric, 21 (Gotico): Come here for the sounds of disco, funk, and reggae. Beers are going for €1.50 and cocktails start from €2.50. Do you need another reason?
Reading this alone is enough to whet your appetite. So if you're already in the mood, why not visit one of these locations? You could even find one of you own using one of these useful mobile apps for living in Barcelona. If you know a great bar of your own where you get a free tapas or pintxos dish with your drink, let us know and we'll add it to the reader recommendations!
Map of locales mentioned in the article
Excursions in Barcelona
To make the most of Barcelona and fill your trip with unforgettable experiences and emotions, we offer you the excursions through the Catalan capital organized by our friends - the GetYourGuide team. Choose your excursion and fall in love with Barcelona: