In Catalonia it's always a good time to enjoy a good churro with hot chocolate. They can be enjoyed in renowned cafés locally known as "Granjas" - literally meaning "farms" - in reference to the old milk factories.
You can find them all over the city, but they are mostly concentrated in the centre, particularly the Born district - home to the famous Chocolate museum. Enough of the build-up though. You're quite obviously keen to dip your churro at one of this historic locales!
Anna and Elsa are ready to discover the best chocolate and churros!
1. Granja La Pallaresa:
La Granja Pallaresa has been recognized as the best in the city, so we started with it. The decor is very traditional with many close-together tables and a Barcelona theme spread throughout the room, giving a family atmosphere to the place.
Where is it? Calle Petritxol, 11, Gòtic (Metro Liceu L3)
Opening hours Monday - Saturday from 9AM to 1PM and 4PM to 9PM. Sundays from 9AM to 1PM and 5PM to 9PM
Price €5 includes a mug of hot chocolate and a ration of 5 churros.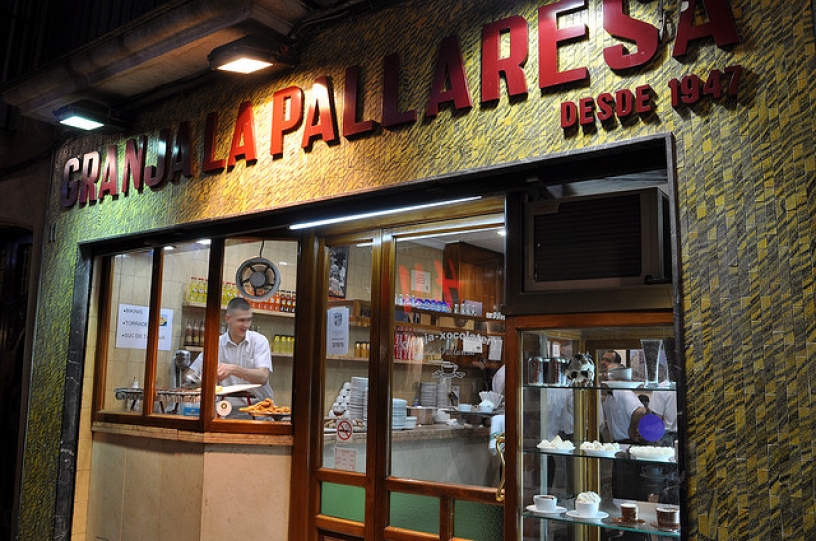 La Pallaresa
2. Granja Viader:
This Granja is a family business; in fact, 5 generations have passed through managing this locale that has an intimate atmosphere. It's very similar to the aforementioned Pallaresa in terms of environment and style. You can read more about Viader in our article about unique locales in Barcelona.
Where is it? Carrer d'en Xuclà 6, Raval (Metro Liceu L3)
Opening hours Monday to Saturday from 9AM to 1:15PM and 5PM to 9:15PM
Price €6 Includes a mug of choclate and a ration of chocolate.
Website http://www.granjaviader.cat/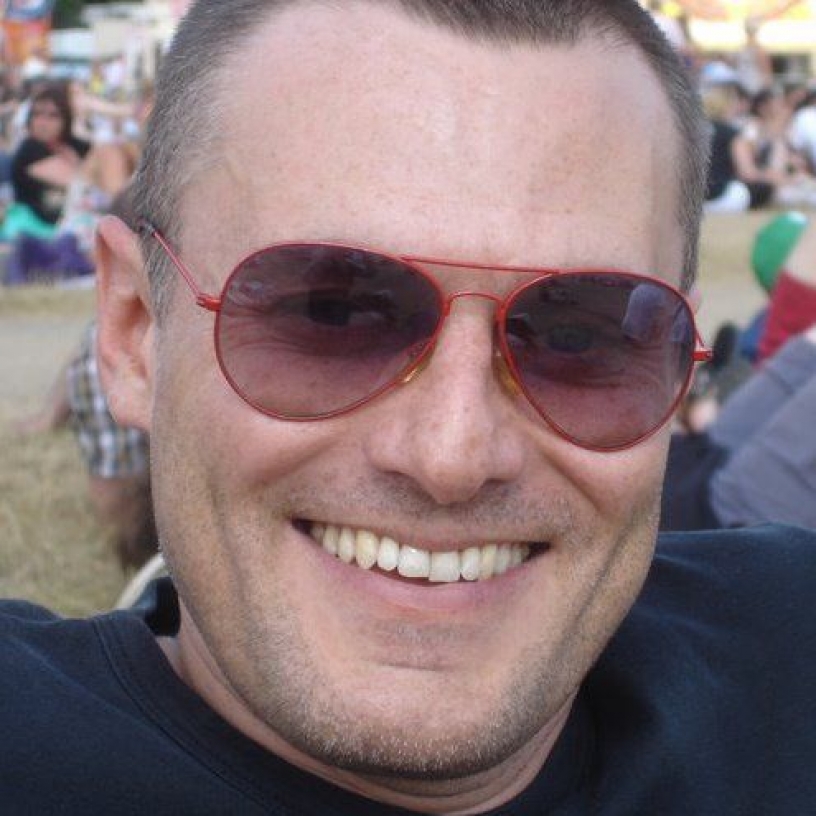 Granja Viader is my kind of cafe. Steeped in history, with smartly dressed waiters and a delightful deli thrown in. This is the home of the beautifully branded Cacaolat, with old signage covering the walls. Elderly Catalans get dressed up to visit Granja Viader. All these elements make it well worth a visit for chocolate and churros or anything else on the menu.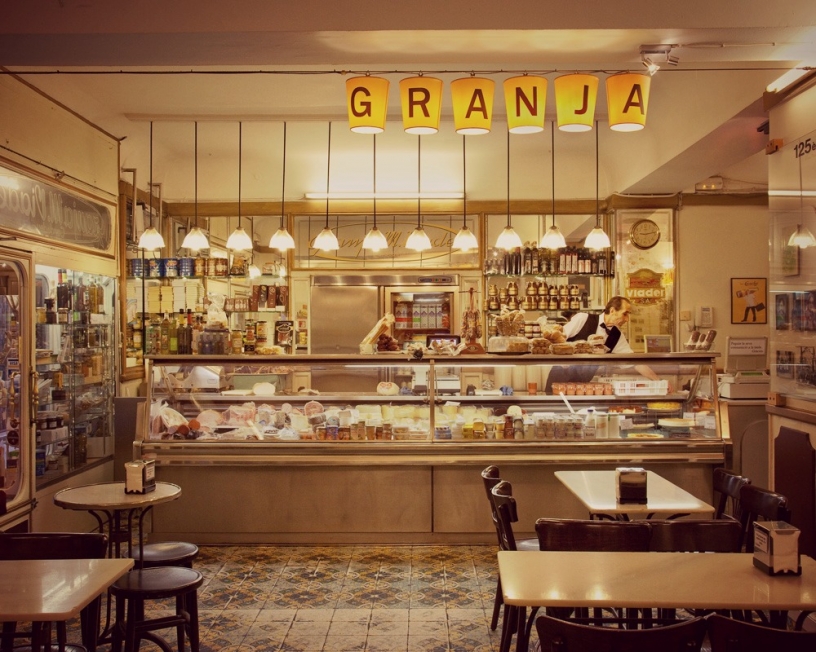 La Granja Viader
If you come to visit the capital of Catalonia, ​​we will help you to find the best monthly rentals in barcelona. We offer apartments of different types, renovated and well furnished in all areas of Barcelona!
3. La Xocolateria:
The beauty of this place alone will convince to come and have a hot chocolate with churros, since all the architecture was carefully designed. The products are of high quality, something demonstrated through their croissants, which were were selected as the best in Spain in 2015.
Where is it? c/ Fusina 5, Born (Metro Jaume I L4)
Opening hours Sunday to Thursday from 9PM to 8PM. Friday and Saturday from 9AM to 9PM.
Price €5 for a mug of hot chocolate and rations of churros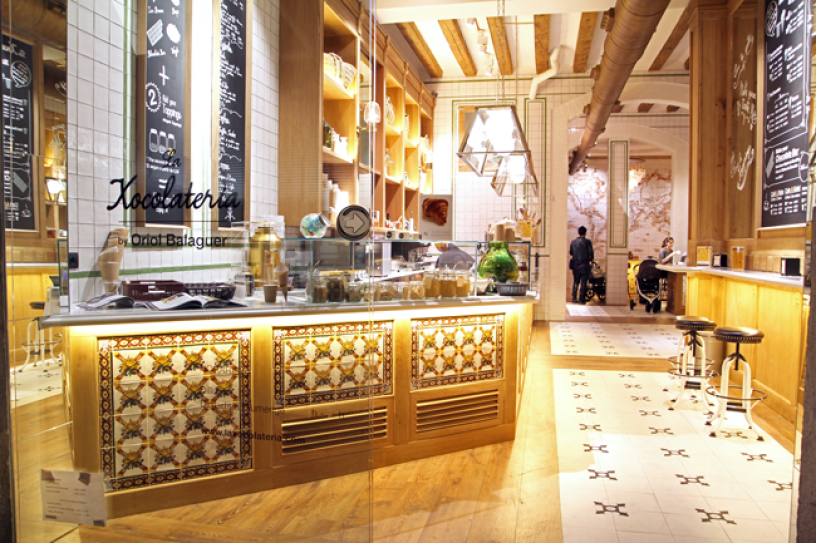 La Xocolateria
4. La Granja Dulcinea:
This locale is very old and inviting. Much of the place is wooden giving a charming rustic feel to the place. Ideal for a warm hot chocolate on a cold day! It's also found on the same street as La Pallaresa. A large number of locales selling sweet treats along this street has made it so that it is known locally as "Chocolate Street".
Where is it? Calle Petritxol 2, Gòtic (Metro Liceu L4)
Opening hours Monday to Sunday from 9AM to 1PM and 5PM to 9PM
Price €5 (Chocolate & Churros)
Website http://granjadulcinea.com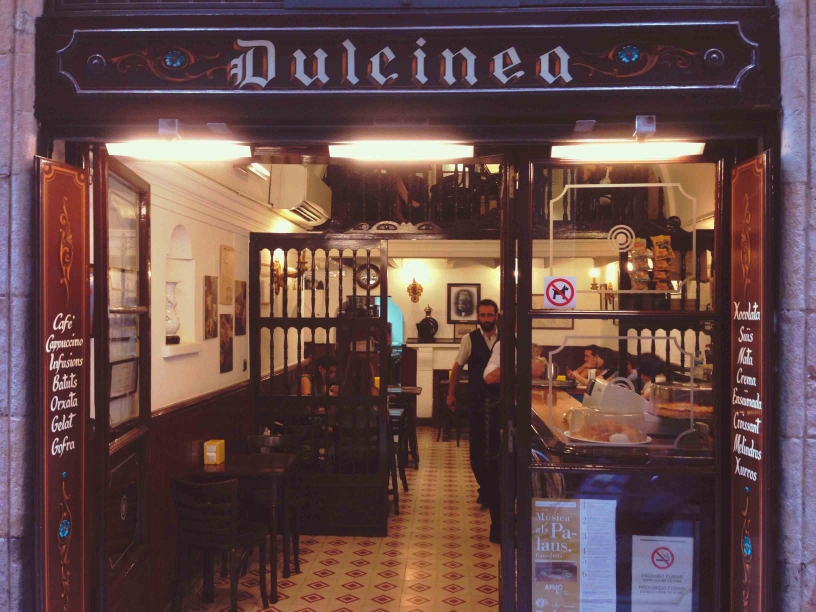 La Granja Dulcinea
5. La Nena:
If you're searching for a family-friendly locale, this is the place for you. There is a corner here specifically for kids to play, you can also choose between a large variety of hot chocolates here, perhaps the largest selection you'll find under one roof in Catalonia. There are ecological products and you can always accompany your chocolate with delicious cakes or desserts.
Where is it? Carrer de Ramón i Cajal 36, Gràcia (Metro Joanic L4 or Fontana L3)
Opening hours Monday: 8:30AM-14PM and 4PM-10PM, Tuesday to Friday: 8:30AM - 10:30PM, Saturday: 9AM - 10:30PM, Sunday: 9:30AM - 10:30PM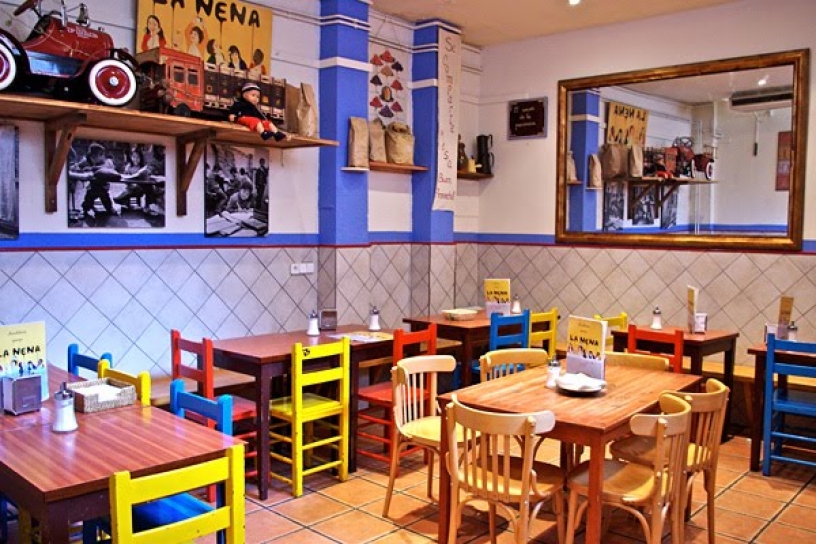 La Nena
And that's the top 5! Naturally there are many other notable locales, including Granja Catalana, Chocolates Valor, or the well-known Café Mistral. The list is endless! You can also find other premises where they only sell churros. For example, the Xurreria where you can buy rations for €1.20 or the new Comaxxuros on Carrer Muntaner, where you can find the most original churros!
Mapa
Excursions in Barcelona
To make the most of Barcelona and fill your trip with unforgettable experiences and emotions, we offer you the excursions through the Catalan capital organized by our friends - the GetYourGuide team. Choose your excursion and fall in love with Barcelona: