Where Does Catalan Cuisine Come From?
Catalan cuisine is at the crossroads of different cultures bordering the Mediterranean basin. This can be explained by the historical legacy of Catalonia, which has an advantageous geographical position on the Mediterranean Sea, which has allowed it to trade with people such as the Romans, Phoenicians and Greeks in the past. Therefore, we still find today the influence of French gastronomy, Italian, Greek, Provençal, but also Arabic and Jewish.
Typical Catalan dishes often mix seafood and mountain products (referred to in Catalan as "mar i muntanya"). Barcelona is located between the sea and the mountains, the city is an excellent place to enjoy this type of dish as you can enjoy fresh products.
Catalan gastronomy also has the particularity of offering dishes combining sweet and salty. A number of savoury dishes are seasoned with honey, cinnamon, almonds, bread crumbs or dried fruit.
Catalan specialities have an abundance of vegetables, fish and meat cooked with quality olive oil. They are therefore varied and balanced dishes. As you might expect, all these dishes can be accompanied by a good local wine.
We will give you a list of the typical dishes that you must taste in Catalonia, also see our article on the Catalan dishes!
Top 20 Typical Catalan Dishes
Calçotada
The calçots are a kind of onion native to southern Catalonia. These onions, which have the peculiarities of being long, tender and sweet, are cooked on the embers. We must remove their first skin and then be able to enjoy them in romesco sauce. The "calçotadas" are a moment of conviviality rooted in Catalan traditions.
Calçots cooked on embers
Conill amb cargols
This Catalan rabbit is cooked in a very scented sauce with snails. Snails have the particularity of being not boiled but cooked, this gives the dish more flavour. This refined dish is usually cooked during the patron saint festivals, it will be perfect to warm you during a winter evening.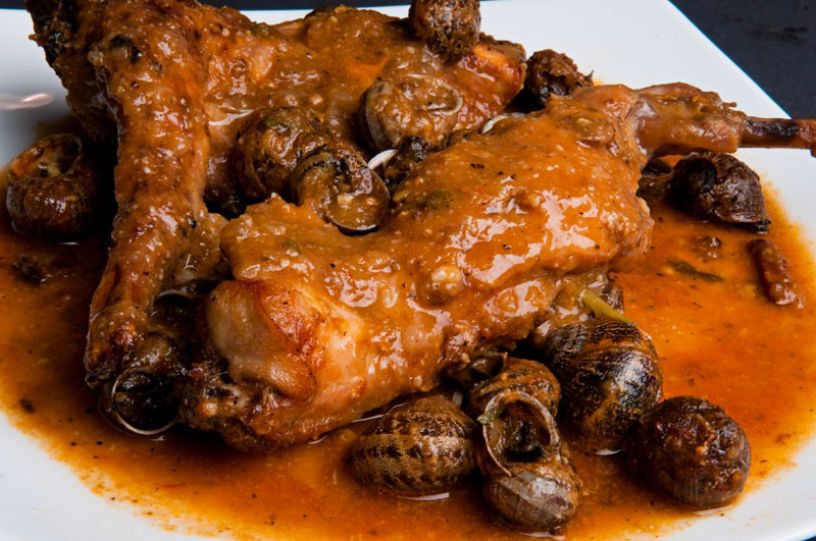 Rabbit with snails
Sarsuela
This dish is originally a bourgeois dish from Barcelona. The sarsuela must be made with high quality fish caught the same day, so it is a fairly expensive dish that is usually eaten with family on public holidays or Sunday midday. The fresh fish is cooked in olive oil and then simmered with a crushed tomato sauce called sofregit. Everything is usually garnished with onions, garlic, parsley, bay leaf, paprika or saffron. Finally, we add crustaceans (langoustines, squid, mussels and small clams).
Speciality with fish and shellfish
Suquet of peix
The suquet of peix (which means "fish stew" in Catalan) is a kind of local bouillabaisse. This typical dish of Barcelona gastronomy can be prepared with several types of fish, as well as prawns and clams. It is accompanied by pieces of potatoes and a light saffron sauce, giving it an orange colour.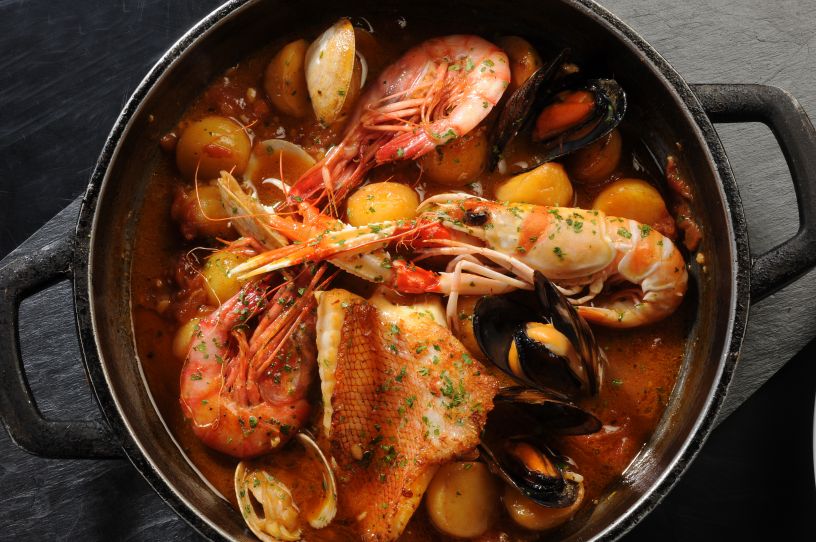 Fish stew
Fideuà
This dish originally from Valencia came to Catalonia. It is the same principle as a paella to which the rice is replaced by pasta (vermicelli) cooked in a fish broth. There are shrimps, prawns, chicken, peppers and tomatoes, but sometimes pieces of cuttlefish or squid. It can be enjoyed with aioli or simply lemon.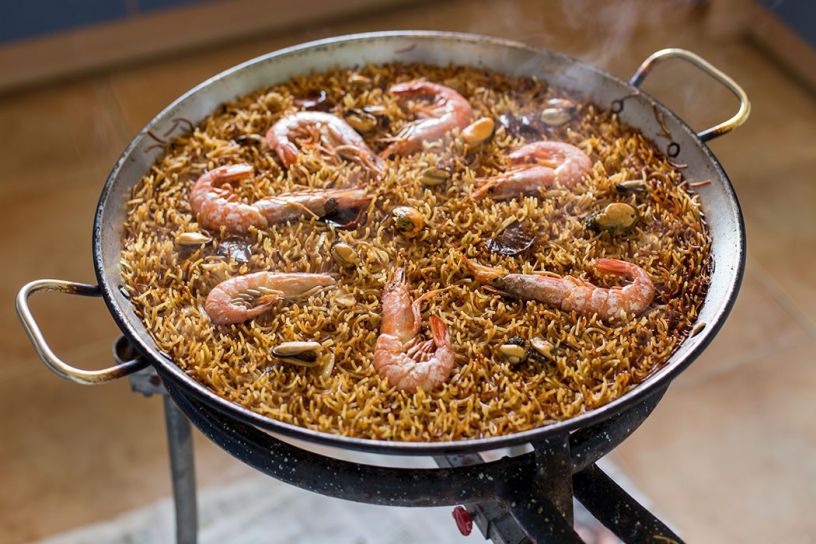 Vermicelli paella
If you want to come work or have a holiday in Barcelona but you have a small budget, it's possible! Look at our cheap accommodations in Barcelona.We offer apartments of different types, renovated and well furnished in all areas of Barcelona!
Escudella i carn d'olla
This local stew was once a very popular winter dish in Catalonia. This typical dish is made of beef, pork and chicken, as well as vegetables (potatoes, carrots, chickpeas). Everything is cooked together in a pot. These include pork balls ("pilota") that flavours the dish. Previously, it was customary to eat the escudella (the broth) first then the carn d'olla (the pieces of meat).
Pot-au-feu local
Arròs negre
This dish from Valencia (meaning "black rice" in Catalan) is also served in Catalonia. It is prepared mainly with rice and cuttlefish. The ink of the cuttlefish colours the rice giving it this black colour. This speciality is most often accompanied by other crustaceans (shrimps, crabs, mussels).
Rice with squid ink
Faves ofegades (or catalana faves)
This Catalan recipe is cooked with tender beans, bacon and black and white botifarra, fresh peas and mint. They are ideally harvested in the spring and cooked the day after they are picked to be as fresh and tender as possible.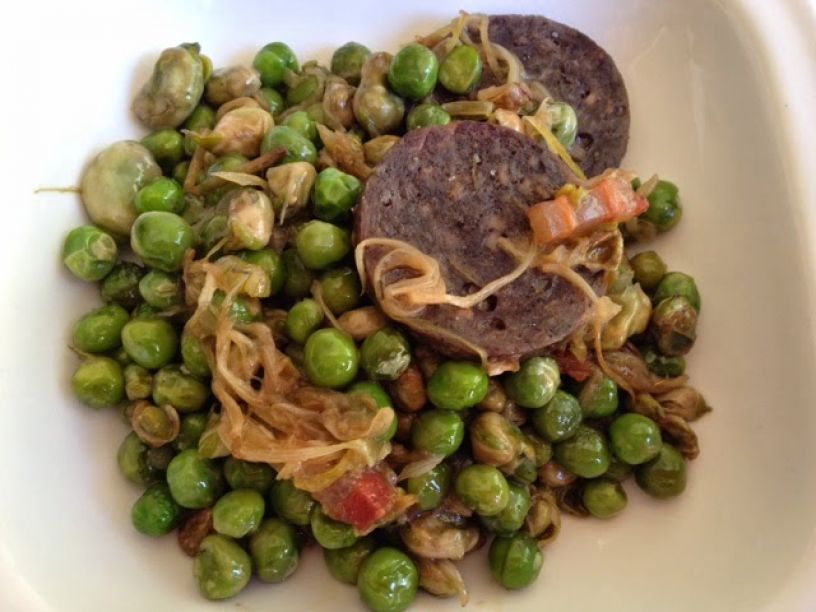 Catalan beans
Bacalla at the llauna
This dish is considered a typical recipe of Barcelona. The pieces of cod (bacallà) are fried in a pan before being placed in the oven on a plate (llauna). A sauce based on minced garlic, roasted red pepper, chilli, tomato, bay leaf and white wine is then placed on the pieces of cod.
Fried cod pieces
Bacallà amb panses i pinyons
This Catalan speciality is prepared from cod with raisins and pine nuts, accompanied by a tomato sauce with a soft-boiled egg. The quality of a good cod is essential for the dish to be successful. Some add a little fried red pepper or white wine.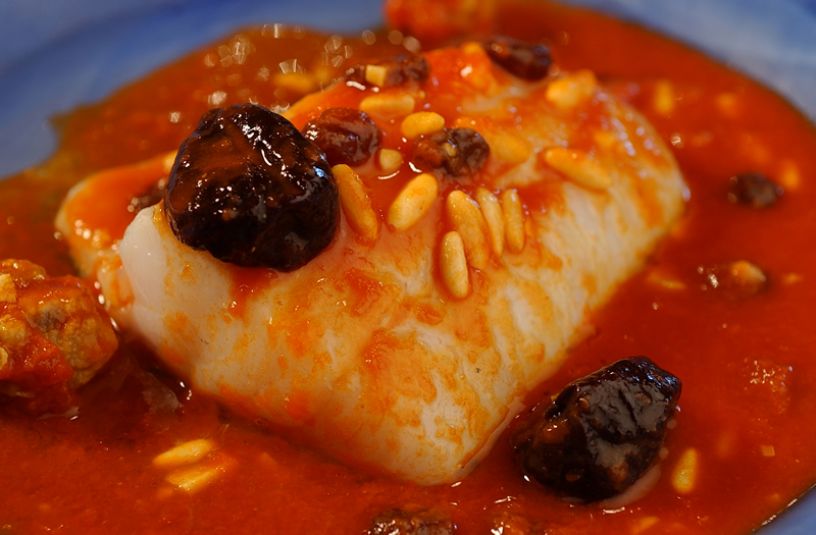 Cod with raisins and breadcrumbs
Tiro' amb naps
This culinary speciality is typical of All Saints Day. It is mainly prepared with duck and turnips of Talltendre preferably. They are black turnips different from those we usually see and found only in Cerdagne. It has a very important seasoning from garlic, onion and white wine.
Duck with turnips
Coca de recapte
The Catalan word "recapte" refers to a supply of edible things to consume or leftovers of holiday meals. This Catalan dish is nothing more than a homemade pie. Onions, aubergines, peppers, tomatoes, red peppers are arranged on a cooked dough. Other foods can be added such as tuna or sardines.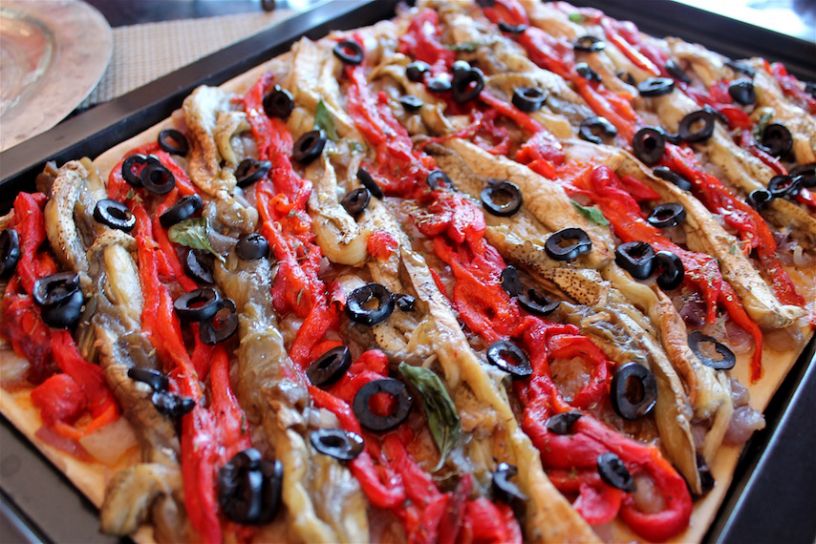 The cousin of the pizza!
Fricandó
The majority of traditional Catalan dishes are of rural origin, however this is not the case with this speciality which was born in the cities. This Catalan stewed dish is prepared with very fine pieces of beef and is accompanied by a sauce made with chopped dried fruits. There are also mushrooms (mousseron or blood lactate).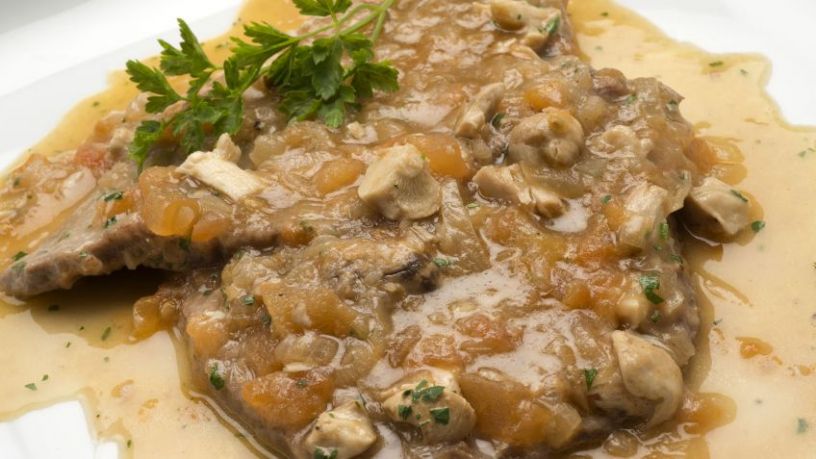 Beef with mushrooms in sauce
Botifarra amb mongetes
The "botifarra" is a Catalan sausage, in this dish it is cooked with white beans returned in sausage oil. It is a very simple and energetic dish that has become very popular in inns and restaurants in the 19th century.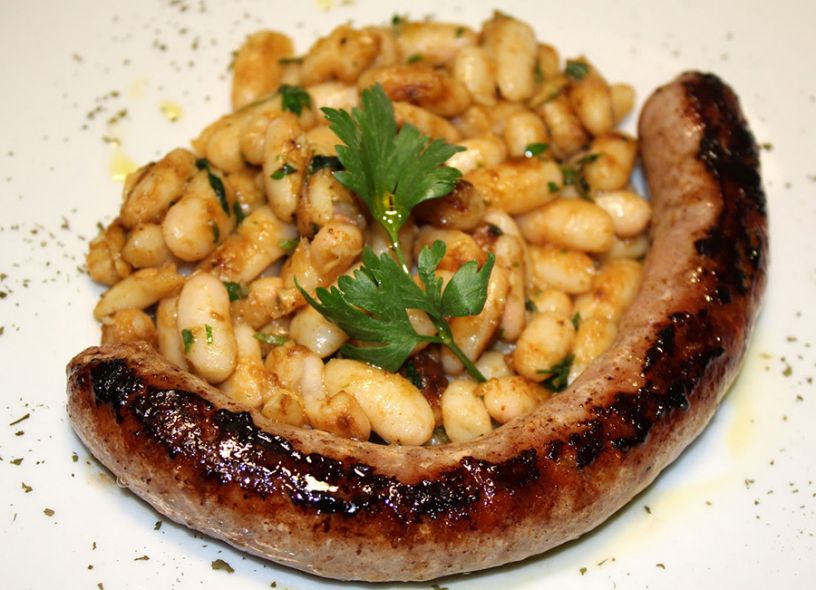 Sausage and white beans
Espinacs amb panses and pinyons (or espinacs with catalana)
Of medieval origin, this typical dish is timeless and is still on our plates today. The recipe of this speciality is simple, it is spinach cooked in salt water, garnished with pine nuts, raisins, ham and garlic.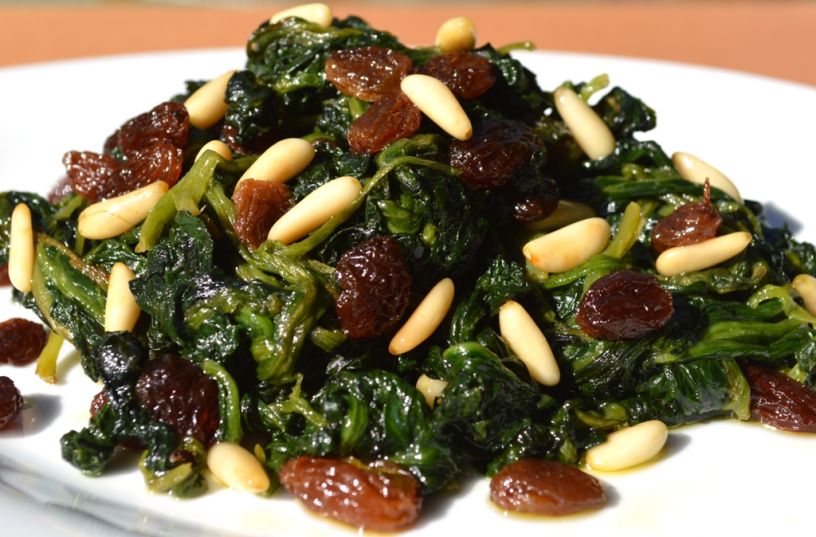 Spinach with raisins and breadcrumbs
Peus de porc estofat
This Catalan speciality is prepared with stewed pork legs, puréed onions, tomatoes, garlic, bay leaves, wine and picada. The meat requires slow cooking. Potatoes and beans can be served as an accompaniment. Depending on the season, there may also be some mushrooms.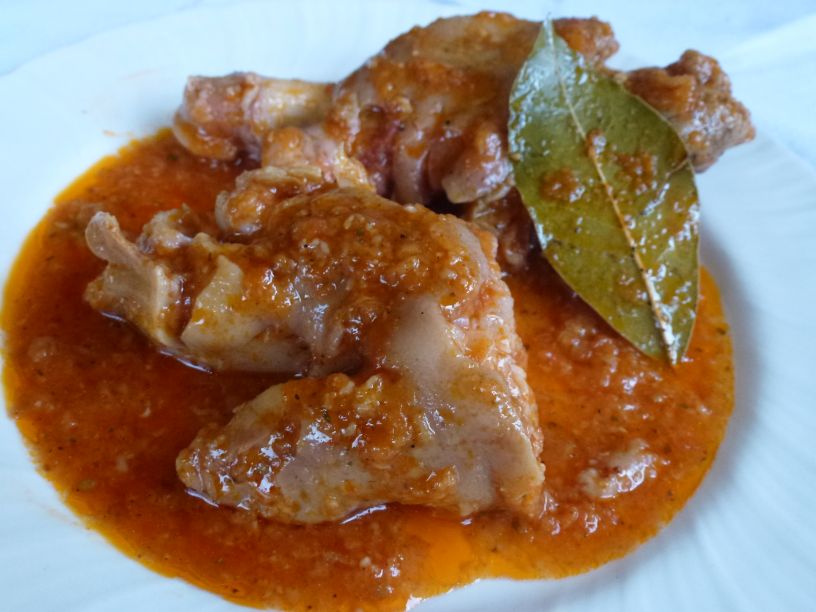 Stewed pork feet
Cassola del tros
This dish is a typical meal of the city of Juneda. It is a stew of rabbit, pork confit and snails with potatoes, spinach and grilled peppers. Nowadays, there are many different recipes, but Juneda's original recipe is only made with pork and using a clay pot.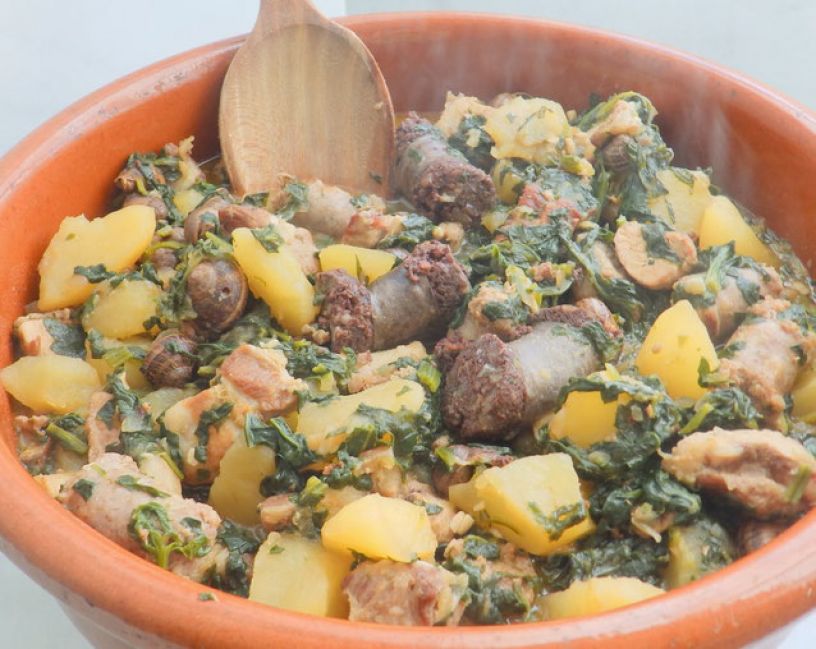 Rabbit, pork and snail stew
Mariscada
Galicia is particularly known for highlighting seafood in its gastronomy. It also tastes delicious in Catalonia. Here, we like to prepare them by tossing langoustines and prawns in the pan with olive oil and garlic. Seafood is usually eaten on holidays or events to celebrate.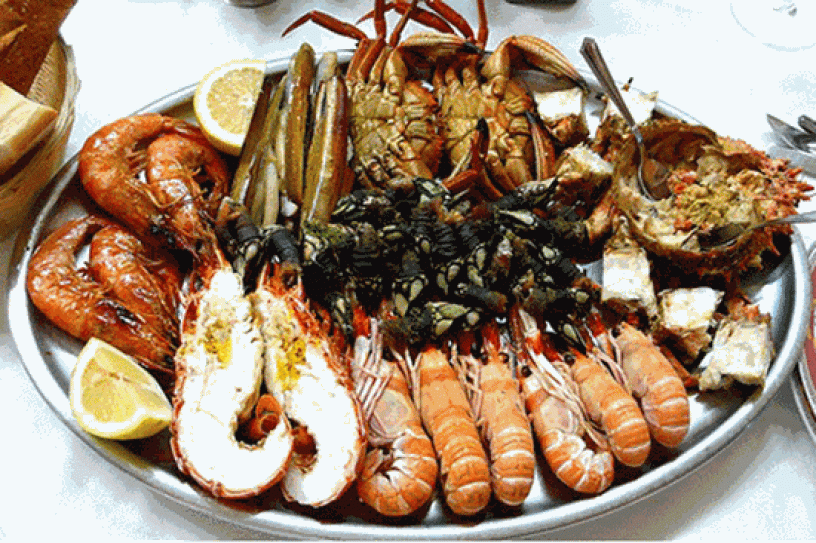 Seafood platter
Daurada a la sal
The sea bream served in this dish is surrounded by a crust of salt before cooking. It's a delicious way to cook sea bream! Cooking salt in the oven is an ideal way to keep all the aromas and juices inside the fish. This recipe can be applied to other fish, such as the salt bar for example.
Sea bream in salt crust
Cargols a la llauna
It is one of the most typical dishes of Catalan cuisine. Especially in Lleida, a Catalan city where every year since 1980 a gastronomic event (named Aplec del Cargol) celebrates snails. It is a very simple Catalan dish, the snails are cooked preferably on the grill or in the oven with salt, oil and chilli in an iron dish. The goal is to "drool" the snails until they have no drool and are thus ready to consume. They are usually served with aioli and romesco sauce.
Snails cooked in the grill or in the oven
Excursions in Barcelona
To make the most of Barcelona and fill your trip with unforgettable experiences and emotions, we offer you the excursions through the Catalan capital organized by our friends - the GetYourGuide team. Choose your excursion and fall in love with Barcelona:
Catalan Sauces
Romesco
It is a sauce from Tarragona, made from tomatoes, fried bread, toasted almonds, red peppers, garlic, vinegar, herbs and spices.
Picada
This sauce is made with almonds, garlic, pine nuts, walnuts, hazelnuts, bread and parsley, all pounded in a mortar with oil.
Sofregit (sofrito in Castilian)
It is a sauce made from tomatoes and onions chopped and fried in olive oil.
Allioli
In Catalonia, it is prepared with olive oil and garlic, without egg yolk. This succulent sauce is usually used to accompany hot dishes or cooked food.
The name "allioli" comes simply from the ingredients that make it up: "garlic and oil" gives in Catalan "all i oli".
Restaurants Serving Catalan Dishes
We advise you to go at least once to a good restaurant with traditional Catalan cuisine. This will allow you to have a good overview of the local specialities and experience the less touristy Barcelona.
Interior of the restaurant 7 Doors
7 Doors
Neighbourhood: Barceloneta
One of Barcelona's oldest restaurants, housed in an elegant 19th-century setting.
They serve regional dishes in large portions, such as: lobster, different paellas every day (shellfish, rabbit or snails ...), many fresh seafood and more consistent dishes, such as a stew of beans black herbs with pork sausage.
Reservations are only available for certain tables, so we advise you to arrive early at night!
Can Vilaró
Neighbourhood: Sant Antoni
This restaurant offers typical Catalan home cooking. It is a classic and authentic restaurant that welcomes a number of loyal regulars.
Located in front of the Sant Antoni Market, Can Vilaró offers a large number of traditional dishes such as traditional Catalan soup and stew "escudella", "fideuà a la cassola" (a hearty dish of vermicelli cooked in a saucepan), lentil dishes with chorizo ​​sausage, meatballs and leg of lamb.
You can also enjoy dishes that are more difficult to find in the city, such as salted cod with vegetable and tomato sauce, grilled foie gras with real fries, baked pork jowls, cooked pork tripe and "Arroz a la cubana" (rice with tomato sauce and fried egg).
You can not go more local!
The Havana
Neighbourhood: El Raval
Originally opened in 1897, this restaurant has kept its name and commitment to homemade Catalan cuisine over time. Currently, there are two sisters and their families who run this establishment. We find loyal customers who appreciate the familiar and welcoming warmth of this place.
As for the cuisine, the restaurant offers a variety of traditional Catalan dishes well prepared and ideal for sharing! On the menu you will find dishes such as squid rings, tripe, meatballs with cuttlefish, stuffed squids, artichokes and aubergines.
We advise you to try the Catalan cannelloni, the béchamel and the filling are excellent! Homemade custard and "crema catalana" are also succulent. You will also find a nice selection of wines.
Agut
Neighbourhood: El Gòtic
This restaurant offers traditional gourmet cuisine in a splendid setting. The walls covered with paintings will make you think of a high-end art gallery. You will find cuisine, chefs, dishes and a high quality service.
At Agut you can find dishes that are normally difficult to find such as calf brains or frog legs.
You can also enjoy local dishes such as a salad of duck gizzards with a foie gras vinaigrette and aubergine flan with goat cheese, beef ribs with breaded artichokes, a stew of oxtail, a duck breast, duck with cranberry sauce, and braised lamb cheeks with aromatic herbs and baked potatoes.
The desserts are homemade, varied and beautifully presented. The wine list should also please you!
Can Boneta
Neighbourhood: Eixample Esquerre
Not too far from La Rambla, you will come face to face with this restaurant of traditional Catalan cuisine. The kitchen is in run by the Boneta family, Joan Boneta (former architect who has become a cook) has built this exceptional place.
You can eat typical dishes such as a glass of thick salmorejo (another version of gazpacho), fresh vegetables from the garden, cod with ratatouille, pasta with bacon and mushrooms...
You will be surprised by the very imaginative Catalan tapa and the small dish, you will not find any croquettes or typical tapas!
We advise you to go there for lunch, they offer a very good menu.
If you do not feel like eating a hearty meal, you can opt for some tapas. We show you in this article 5 addresses of restaurants where you can taste excellent!
Typical Catalan Products
Catalonia has many products that have the official European label "Protected Designation of Origin" (PDO) or "Protected Geographical Indication" (PGI). These two labels are a guarantee of excellence for local producers. They are attributed to typical products from a region that gives them a specific character and unmistakable flavour. You will of course find all these products in Catalan cuisine.
Catalan products with the PDO label
The rice of the Ebro Delta
The different varieties of oil (Empordà oil, Terra Alta oil, Baix Ebre and Montsià oil)
The hazelnut of Reus
The pear of Lleida
The butter and cheese of L'Alt Urgell and La Cerdanya
The ganxet bean
The beans of Santa Pau
Catalan products with PGI distinction
The clementine of Terres de l'Ebre
The potatoes of Prades
The Calçot de Valls
The nougat of Agramunt
The veal of the Pyrenees
Country bread
The salchichón of Vic
The chicken of the Prat
The apple of Girona
We hope you enjoy your meal... let's eat!