At least once in life each of us returning from a trip, have brought back home what seemed to be a nice souvenir, but turned out to be of dubious value upon reflection. A souvenir of a place visited eventually becomes junk confined to a bedroom drawer, or a gift to flog off to an unsuspecting friend. In tourist cities like Barcelona there are souvenir shops on every corner, especially around the historic center in areas like Born or Raval, you run into stores every two steps, and not to mention along Las Ramblas...
If you want to come work or have a holiday in Barcelona but you have a small budget, it's possible! Look at our budget accomodation in Barcelona.We offer apartments of different types, renovated and well furnished in all areas of Barcelona!
Let's face it though, these shops are selling mass produced and rather boring products, seen 1000s of times and of questionable quality; T-shirts, cups, plates, hats, etc, with a symbol of the Sagrada Familia, La Pedrera or a mosaic of Gaudí slapped on for good measure. Also, let's not talk about the simply naïve items like Mexican hats (though it's pretty hilarious to see people silly enough to buy one)! Here we deal with the best gifts though, we also have an article on the the absolute worst souvenirs of Barcelona. ;)
So then... Where can I get original souvenirs?
The city is full of shops, boutiques, and small galleries where you can find very original gifts, but if you want the most original of all , we recommend these three stores:
WAWAS BARCELONA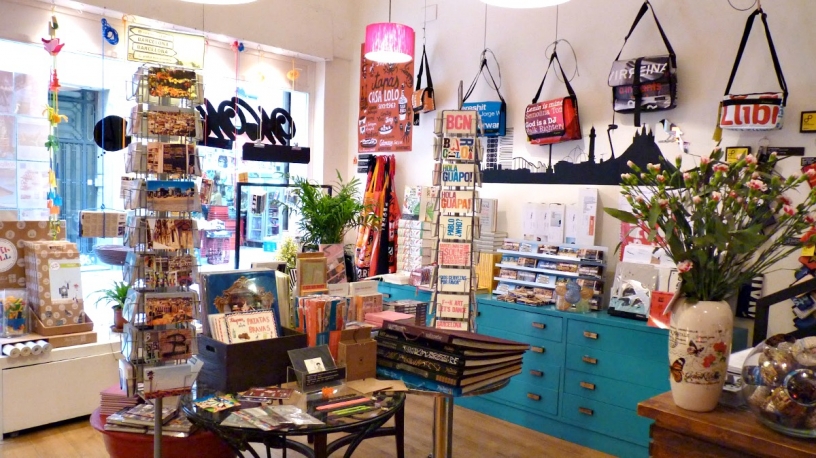 Wawas shop
This shop is located in the Born neighborhood on Carrer Carders, not far from the Picasso Museum. This fantastic space was opened by two sisters who love the culture around souvenirs and it's where you'll find designer items, decorations, cards, and books, which will all remind you of the city long after you leave, yet now with a heap more of unusual and unique style ;).
The place is small but very bright and everything inside is organised perfectly, divided into sections; postcards with various images of Barcelona in a more authentic representation. The same goes with the cups and decorative items such as posters, photography books and traditional recipes. Though not at all Catalan, the shirts that pay homage to flamenco have an artistic flair. There is also a fantastic corner for Lomography.
Art Montfalcon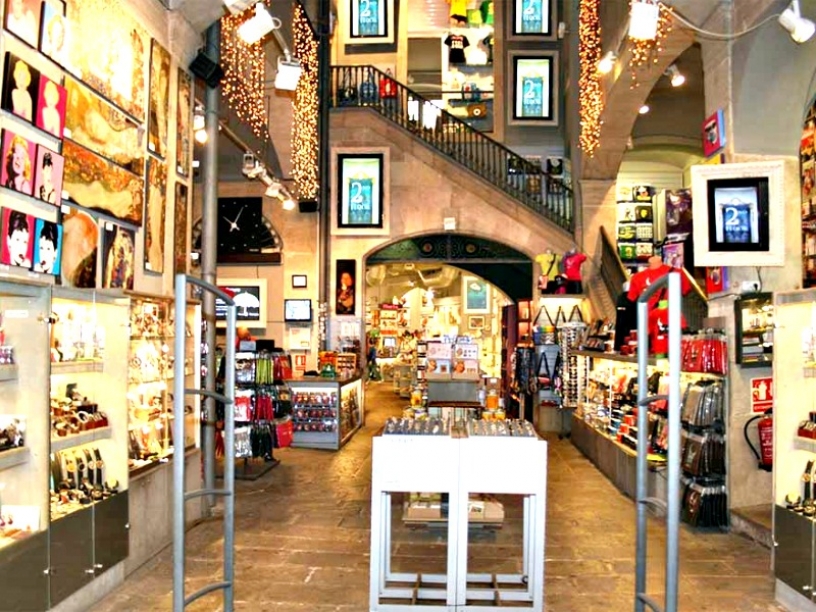 Art Montfalcon Shop
This shop (or art gallery) is located in the Gothic Quarter in Carrer dels Boters, 4 . It is a historic place opened in 1903 as a small shop run by Fernando Montfalcon and his wife. Over the years it has become a gallery and since then it has increasingly given space to new sections dedicated to the touristic side of Barcelona.
Within this artistic space, you will find interesting souvenirs: jewellery, ceramics, various appliances, bags, posters, artwork, and more! Among the most interesting objects indestructible maps of the city and bed-sheets upon which you can write and draw;).
Excursions in Barcelona
To make the most of Barcelona and fill your trip with unforgettable experiences and emotions, we offer you the excursions through the Catalan capital organized by our friends - the GetYourGuide team. Choose your excursion and fall in love with Barcelona:
Barceloning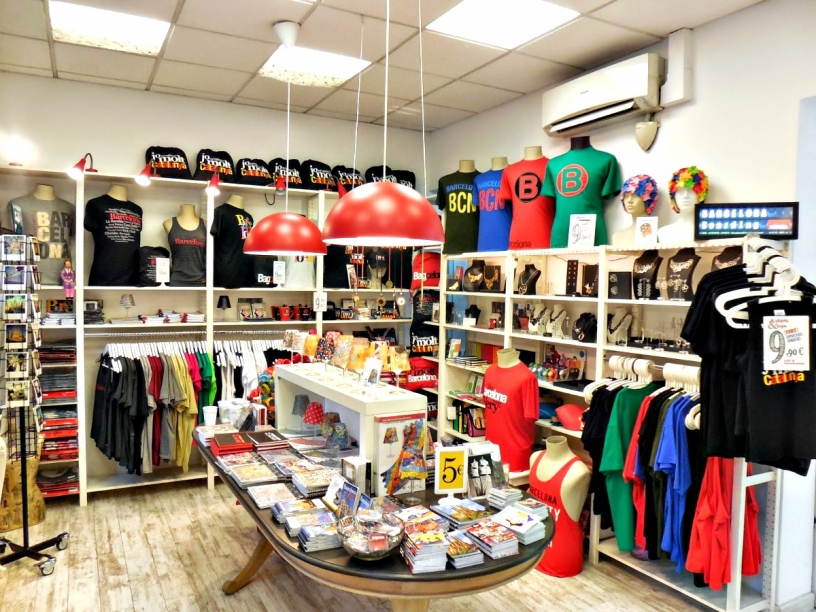 Barceloning Shop
Among the four on the list, perhaps the least different is Barceloning. It is near the Sagrada Familia on Carrer Mallorca, 332. Besides its own production of items, here you'll also find third-party products that reflect the style of the store, for example Watchcelona watches, Xavier Mor Chocolate, guides, triangular books, and many other things ...
What about food?
Few tourists think about it, but what better souvenir to take home than a local delicacy? True, it is not always easy, because you depends on customs where you are heading and the journey time, but you can find the perfect spot in your suitcase various delicacies. Here is a list of typical products from the city that you can take easily on the return trip: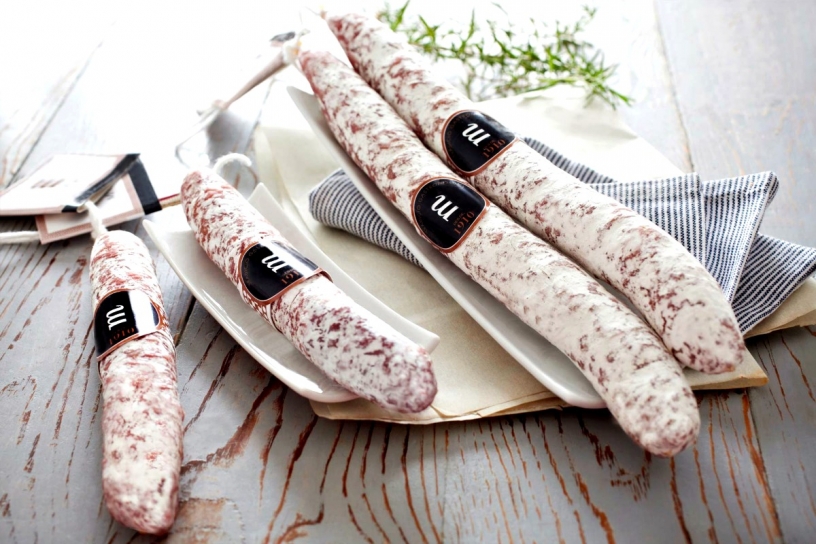 Fuet de Vic
Local cured meats: Take Fuet for example (Fuet de Vic from a small town near Barcelona), similar to salami. There is also chorizo, deep red coloured cured meat, sort of like pepperoni in that it is spicy. Also don't forget about Serrano and Iberic ham, the former is easily available in the UK, but the latter is quite hard to find so well worth stocking up on. Finally there is Mallorcan sobrasada, thick sausage meat ideal for spreading, made from pork, paprika, and salt.
Goat cheese. Okay, maybe not ideal to put in the suitcase, but if you can, really worth it.
Sauces: If you plan on checking in your baggage, this is possible! It's not possible if you plan on bringing the sauces in hand luggage though due to airport restrictions in Spain. You simply must choose allioli sauce, a kind of mayonnaise with garlic; salsa brava, a spicy red sauce perfect with potatoes (the famous "patatas bravas"); Romesco sauce made with almonds, tomatoes, garlic, vinegar, and olive oil; and finally Samfaina, made with eggplant and peppers. Gotta buy 'em all!
Sweets:Carquinyolis (almond cookies) or Panelletsin autumn (marzipan sweets).
A bottle of cava: the typical fizzy wine of the region! Remember; you can't take it through hand luggage with it!
That's that for souvenirs! We hope you enjoyed the article and that it will be useful during your next trip to Barcelona. If you find another original store, do not hesitate to leave it in the comments and we'll add it to this post!