Which are the best areas to stay in Barcelona? — Infographic
According to our survey, the best locations to stay in according to migrants who have moved to Barcelona are: Gràcia (18%), Poblenou (10%), Sarrià - Sant Gervasi (9%), Born - Sant Pere (9%), and Eixample Dret - 8% + Eixample Esquerre 8%, as the demographic shows below.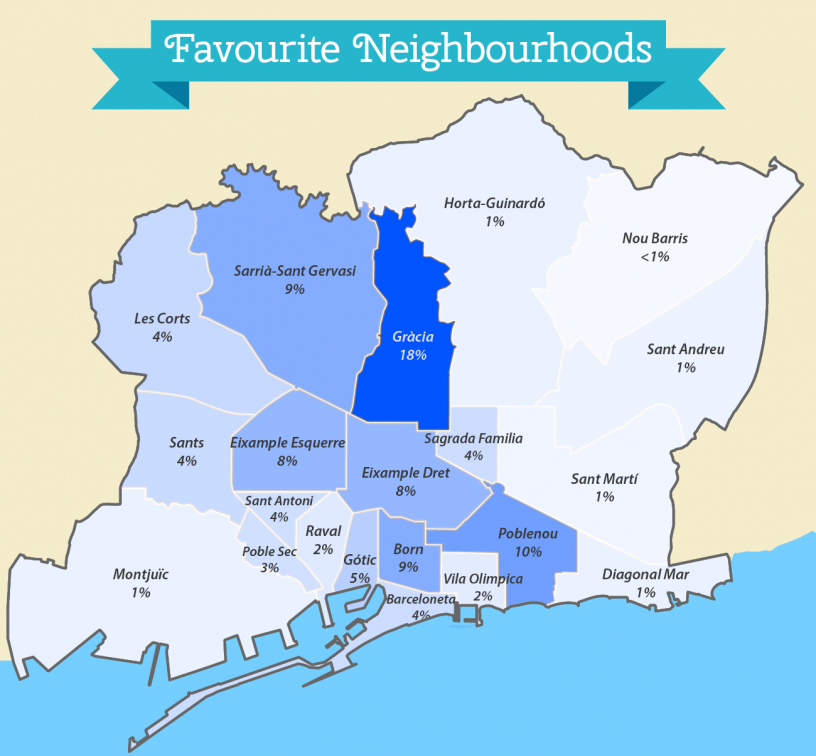 The best areas to stay in Barcelona, according to migrants.
If you come to live in Barcelona and need you an apartment, you can rent a room or an apartment for days but the best solution is to book monthly rentals. Finding a definite apartment requires a certain dedication, it is not easy and can easily take a few months. Enter your monthly period in our long term rental search engine in Barcelona.
1. Gràcia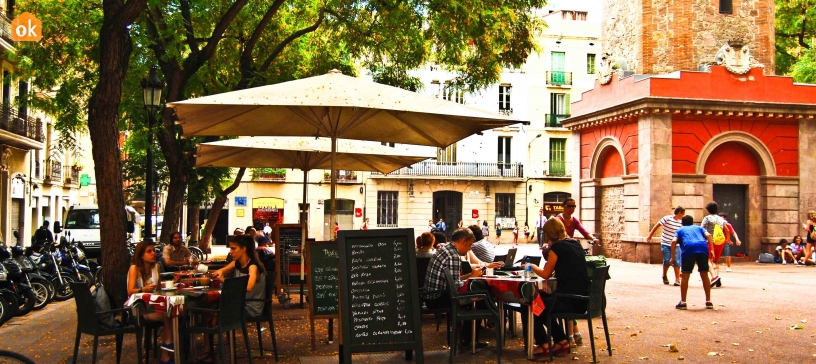 Restaurant Terraces in Gràcia
If you wonder where to stay in Barcelona, Grácia is an excellent choice for anyone who wishes to experience an authentic Barcelona lifestyle amongst the Catalans. Here you'll find an endless supplies of bars and restaurants, as well as designer shops, small boutiques, and attractions like Park Güell. Gràcia is a mish-mash of all Barcelona has to offer in one area and you will find are cheap places to stay and larger than in the centre. We have a long list of monthly rentals in Gràcia in case you choose to stay here.
Comments about Gràcia from people who live in Barcelona
"Neighbourhood with nice atmosphere, a lot of cultural life day and night. Alternative stores. Little traffic as many streets are one-way." / "It is a neighbourhood that has nice architecture and an atmosphere of a small town in the centre of a metropolis." / "Because it is a very cozy and local area, where you will find the real local culture with a lot of small bars and shops, without tourists." / "It feels central despite not being in the city centre - there are good transport connections. It's full of bars and shops. / "A district with everything you could possibly need that still retains an authentic feel in most parts."
Things to see
Plaça de la Vila de Gràcia: With its charming clocktower, this neighbourhood square is an unmissable point of the city.
Fundació Foto Colectania: This center has more than 2,000 photographs from the 50s to the present Spanish and Portuguese photographers. (Carrer de Hulián Romea 6)
Park Güell: One of Gaudí's largest projects, where he seamlesly fuses nature and manmade constructions to form a park that can only be compared to Wonderland itself.
Bars and restaurants
El Toc de Gràcia: This restaurant has reinvented Catalan cuisine with a blend of unexpected flavors like Croquet Soup. (Carrer Bonavista 10)
L'Anxoveta: To enjoy traditional tapas in a simple, modern atmosphere, accompanied by a beer or glass of sangria. (Carrer de Sant Domènech 16)
Kibuka: A Japanese that offers proper sushi, alongside creative additions like Feta cheese makis.(Carrer de Goya 9)
Velcro: To enjoy one of the best gin and tonics in the neighborhood, also a good place to watch the FC Barcelona matches. (Carrer de Vallfogona 10)
Shops
Vintage Music: It is a shop full of vinyl records and vintage accessories, almost like a museum.(Carrer del Torrent de l'Olla 31)
Delishop: For a grocery trip through international cultures, you can find many unique products across the five continents here. (Travessera de Gràcia 141)
Olokuti: All products here are based on fair trade and solidarity, both clothes and cosmetics. (Carrer d'Astúries 36)
Video presentation of the Gràcia neighbourhood
2. Poblenou
The formerly industrial area Poblenou in the Sant Martí district, is the best location to stay in Barcelona for 10% of expats. It's an area transformed with penthouses and skyscrapers like Torre Agbar, in addition to golden sand beaches within a short walk. Rambla del Poble Nou remains authentic, featuring futuristic and modern architecture being more and more developped, keeping the original soul with buildings like the Vila Casas Foundation and the Museum of Music. If you'd like to stay in this zone, we have a list of apartments to rent in Poblenou.
Comments about Poblenou from people who live in Barcelona
"Clean neighbourhood. Open spaces, beaches, and places to park." / "Authentic, family-friendly, close to the sea, not far from the centre" / "Not in the city centre so less noisy, close to the beach, many amenities" / "Close to work and beaches."
Things to see
Distrito 22@: This area reflects the future of the district with old warehouses transformed into modern offices. New buildings have emerged, such as the Media-Tic, covered with solar panels.
Torre Agbar: This building has become a symbol of Barcelona, built by Jean Nouvel, it is inspired by the original works of Gaudí. It stands at 142 metres tall.(Avinguda Diagonal 211)
Museu de la Música: This museum shows the evolution of music with more than 500 instruments on display.(Carrer de Lepant 150)
Bars and restaurants
Santa: With designer décor, Chef Paco Guzmán offers creative cuisine in a young and cheerful atmosphere. (Avinguda Meridiana 2)
El Rebost del Poblenou: Ideal for a hot dish to take away, an interesting concept for people who work in the area. They also have a large selection of sandwiches and cakes. (Rambla del Poblenou 77)
El Tío Che: The locals are very fond of their cocktails, there are also horchatas and slushies. (Rambla del Poblenou 44-46)
Shops
O Lusitano: Specialized in Portuguese products, you find sweet and savory products such as jams, wines, and pastries. (Carrer de Castanys 23)
Els Encants Vells: One of the most popular markets in Barcelona, with a fascinating environment. Here you will find furniture, antiques, and clothing. (Plaça de les Glòries)
Diagonal Mar: A shopping center of 80,000 m2 with more than 150 stores. Perfect for a day of shopping in the city. (Avinguda Diagonal 3)
3. Sarrià - Sant Gervasi
Sarrià - Sant Gervasi, scored a little higher than Born, though both had a 9% share of the survey despite their differences. This district is a peaceful residential area with an authentic vibe and many green areas like gardens and parks, it's a very beautiful and natural environment where to stay in Barcelona. Architecture here is elegant and mostly neoclassical, similar to central London. There are decent transport options that go directly to the city centre - Plaça de Catalunya, so if you want to stay here, take a look at our flat rentals in Sarrià - Sant Gervasi
Comments about Sarrià - Sant Gervasi from people who live in Barcelona
" Just outside the centre but quiet and secluded. Buildings are in good condition and lots of green areas." / "There's less traffic." / "Compared to other districts, it's safer." / "Calm but not too calm. Safe..." / "The neighbourhood has everything and is peaceful."
Things to see
Tibidabo: Situated on top of the Collserola mountain range, this amusement park also has an unbeatable view of the city.
Tour Bellesguard: This monument is a secret hidden gem from Antoni Gaudí, unbeknownst to tourists and locals. A modernist-neogothic blend of styles atop ruins of an ancient castle. (Carrer Bellesguard, 16-20)
CosmoCaixa: Barcelona's science museum is an interactive day out with 9 floors and lots of things to do.(Carrer d'Isaac Newton, 26)
Bars and restaurants
Bar Tomás : This tapas bar is known for its wonderful patatas bravas and croquettes. (Carrer Major de Sarrià, 49)
El Vell: Here you'll find traditional dishes amongst an original and rustic decór. One of the specialties is paella. (Major de Sarrià, 93)
Shops
Foix de Sarrià: A patisserie that opened in 1886 is now the go-to place for locals in Sarrià for all kinds of desserts. (Major de Sarrià, 57)
Cookiteca :The go to place for anyone who needs to kit out their apartment's kitchen. With cool gadgets on sale and cooking workshops. (Major de Sarrià, 74)
Video presentation of the Sarrià - Sant Gervasi neighbourhood
4. Born
Born
Born is the best place to stay in Barcelona regarding to the different "old city" districts of the city, easily topping the Gótic, Raval and Barceloneta areas. Unlike Sarría - Sant Gervasi, which had a similar score, Born is a more lively area to stay that has been gaining popularity since the 90s. It's here you'll find little streets with many locally owned shops, restaurants, and places of interest. The Born area is well-connected and due to its old city location you can certainly walk to everything important, including the beach, in just a few minutes. For those looking to stay here, check our apartments to rent in El Born.
Comments about Born from people who live in Barcelona
"I like the areas made lively by people and the architecture is pleasant." / "It's the most beautiful district" / "It has small stores, lots of squares, and good restaurants. Close to the park and the sea." / "Restaurants, great vibe, and great places" / "Nice cosy neighbourhood."
Things to see
Palau de la Música Catalana: This concert hall was built between 1905 and 1908. It's a modernist masterpiece by Lluís Domènech i Montaner and was declared as a protected UNESCO World Heritage site. (Carrer Palau de la Música, 4-6)
Mercat de Santa Caterina: This market was inaugerated in 1848 and was the first covered market in Barcelona. It was recently renovated with a new iconic colourful and wavy roof inspired by Gaudí. (Avinguda de Francesc Cambó, 16)
Parc de la Ciutadella: This is the largest park in Barcelona, created for the Universal Exhibition of 1888 to replace a socially-blighted fortress built by Philip V. It's now a beautiful place to stroll with lots of activities including rowboats and a geological museum. (Passeig de Picasso, 21)
Bars and restaurants
Pla de la Garsa: Here you can use your tastebuds to explore the history of Catalan cuisine, with authentic dishes like garum. (Carrer dels Assaonadors, 13)
Espai Barroc: A unique and ideal place to grab a drink, found in an 17th Century stately home. Choose between the exterior terraces or interior full of antiquities. (Carrer de Montcada, 20)
Cafe de la Princessa: A gorgeous locale, inside a 19th Century palace, offering mediterranean and exotic cuisine. (Carrer dels Flassaders, 21)
Shops
Villa Viniteca: A wine temple of sorts, you'll find not just big name brand Spanish and Catalan wines to appreciate, but also other drinks. (Carrer dels Agullers, 7)
Bubó : This patisserie is a jewel, featuring sweet creations from the renowned Carles Mampel. (Carrer de les Caputxes, 10)
Ivo & CO Butik: For retro and antique items, this is your store. Vases, slates, soaps, and tin boxes to give any home a vintage touch. (Plaça Commercial, 3)
Video presentation of the Born neighbourhood
5. Eixample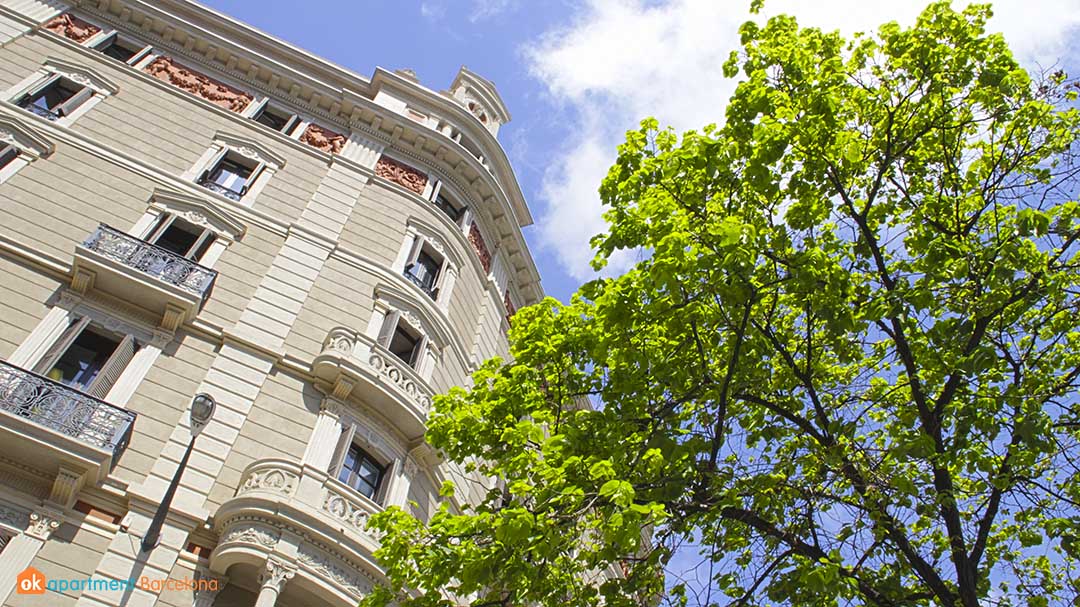 Eixample
The Eixample district is made up of two neighbourhoods - Eixample Dret and Eixample Esquerre. Both of these neighbourhoods scored 8% in the survey of the best areas where to stay in Barcelona. This district is known for its large number of important attractions, like the houses designed by Antoni Gaudí along Passieg de Gràcia. In 1860 this district was designed by Ildefons Cerdà as an expansion of the city. You will find a lot of modernist style buildings here, neatly laid out in blocks. If you are looking to stay in this area, the district is divided into two main neighbourhoods where you can fin an apartment in Eixample Dret or Eixample Esquerra
Comments about Eixample from people who live in Barcelona
Eixample Dret
"It's a central part of the city but far from the chaos of the old city." / "It has an incredible range of clubs and supermarkets and is more beautiful than the other districts."
Eixample Esquerre
"It is a quiet and very local neighbourhood without many tourists." / "It's central but not saturated with people"
Things to see
La Pedrera: Built by Gaudí, at the request of Pere Mila, it has a style that is slightly reminiscent of ocean waves. (Passeig de Gràcia 92)
Casa Batlló: Another famous work of Gaudí, with a sublime and colorful facade covered in ceramics. Its roof represents the skin of a dragon - a guaranteed trip to dreamland. (Passeig de Gràcia 43)
Universitat de Barcelona: This beautiful building was built by Elies Rogent in the nineteenth century in a Romanesque Revival style. (Grand Via de les Corts Catalanes 585)
Bars and restaurants:
ME: For an unusual dining experience, fusion cuisine with influences from Vietnam and New Orleans. (Carrer de París 162)
Monvínic: In this "cathedral of wine", you can enjoy a glass with a unique decoration.(Carrer de la Disputació 249)
XIX: The bar offers a jovial atmosphere in which to enjoy a Gin Tonic. (Carrer de Rocafort 19)
Shops
Cacao Sampka: For chocolate lovers, this beautiful store offers a wide range of chocolate in the form of tablets, snacks, ice cream... Ranging from classics to the most exotic tastes. (Carrer del Consel de Cent 292)
Vinçon: Here you will find designer objects such as lighting, furniture, electronics, stationery, and more (Passeig de Gràcia 96)
Ailanto: Enjoy this collection of clothing, jewelry and shoes with a retro touch in collaboration with the Hazel brand. (Carrer d'Enric Granados 46)
Video presentation of the Eixample district
Eixample Dret neighbourhood video
Eixample Esquerre neighbourhood video
Barcelona is the city for everyone. No matter which area you choose to stay at, in the centre, uptown or next to the beaches you'll always have an unforgettable experience. So, go ahead - pick one.
Map of points of interests mentioned in this article