Planning a trip to Barcelona but scared it's going to cost the earth? Don't worry, you don't need to have bags of money to have a great time in the Catalan capital! I have saved you time and energy by summarising the best things to see and do for free in Barcelona.
Barcelona Attractions
You don't always need to pay to go sightseeing in Barcelona! The city resembles a large outdoor museum with its typical, modernist buildings dotted around the city. Of course, you can pay to go inside these attractions, but you can also have just as much fun admiring them from outside for free! 
If you are coming to study in Barcelona we advise you to look at our student accommodations in Barcelona.
The Sagrada Familia
One attraction worth seeing is the Sagrada Familia - the symbol of Barcelona. You don't necessarily have to pay entry to admire this work of art. Instead, you can choose to sit and relax with a picnic in Plaça de Gaudí Park in front of the basilica and take in the view. Walk around the building and admire the finer details of the Gaudí work, such as the Magic Square!
Did you know that 80% of tourists only admire the Sagrada Familia from the outside?
Where is it? 
Carrer de Mallorca, 401, 08013
How to get there
Metro: L2, L5, Sagrada Familia
Bus: 19, 33, 34, 43, 44, 50, 51
Opening hours
April to September from 9am - 8pm. October to March from 9am - 6pm.
Read more about the exterior of the Sagrada Familia in the following article. You can even learn about the interior… who needs to buy an entry ticket?!
The Magic Fountain of Montjuïc
Every year, around 2.5 million people visit the Magic Fountain of Montjuïc to see a bewildering display of colour, lights and water dancing to the rhythm of the music, and all for free! Be careful though, there are different opening times at different times of the year, so check out this article to make sure you don't miss out on this spectacular show!
Where is it?
Plaça de Carles Buïgas, 1, 08038
How to get there
Metro: L1, L3, L8, Espanya
Train: R5, R6, R50, R60, S3, S4, S8, S9, Espanya
Bus: 13, 23, 37, H12, H16, 150
Opening hours
The opening hours change throughout the year. Take a look at the article above for the opening hours all year round.
Modernist Route
One of the most iconic neighbourhoods in the Catalan capital is Eixample and is the perfect area to kick off your free sightseeing tour. This area is jam-packed with architectural masterpieces. Start your journey at Plaça de Catalunya and walk up the famous Passeig de Gracia. This street is home to some of the city's most famous and beautiful buildings, such as Casa Batlló and La Pedrera, also known as Casa Milà. If you want to read more about these Gaudí works, check out the following two articles.
However, there are many more works to discover on streets off the beaten track. One of the best ways to see the hidden gems of Barcelona is to walk around without a map or a plan! They're dotted all over the neighbourhood, so get your comfortable shoes on and get walking!
If you want more information about which routes to take and which buildings to see, read the following article.
Barcelona Beaches
If you're coming to Barcelona in the warmer weather, without a doubt one of the best free activities is to go to one of Barcelona's many beaches! The sea is the perfect temperature for swimming in the warmer months so head down with your towel and suncream at the ready and relax on the beach! Of course the beaches become very popular during the summer. This can be an advantage if you're looking to play football or volleyball on the beach, however if you prefer a bit more peace and quiet, I would suggest going further up the coast to either Bogatell Beach or Nova Icaria Beach.
Make sure you keep an eye on your belongings and never leave them unattended! You wouldn't want to walk back to your apartment naked after having your bag stolen…
Hate coming back from the beach with awful tan lines? Why not head to Barcelona's nudist beach…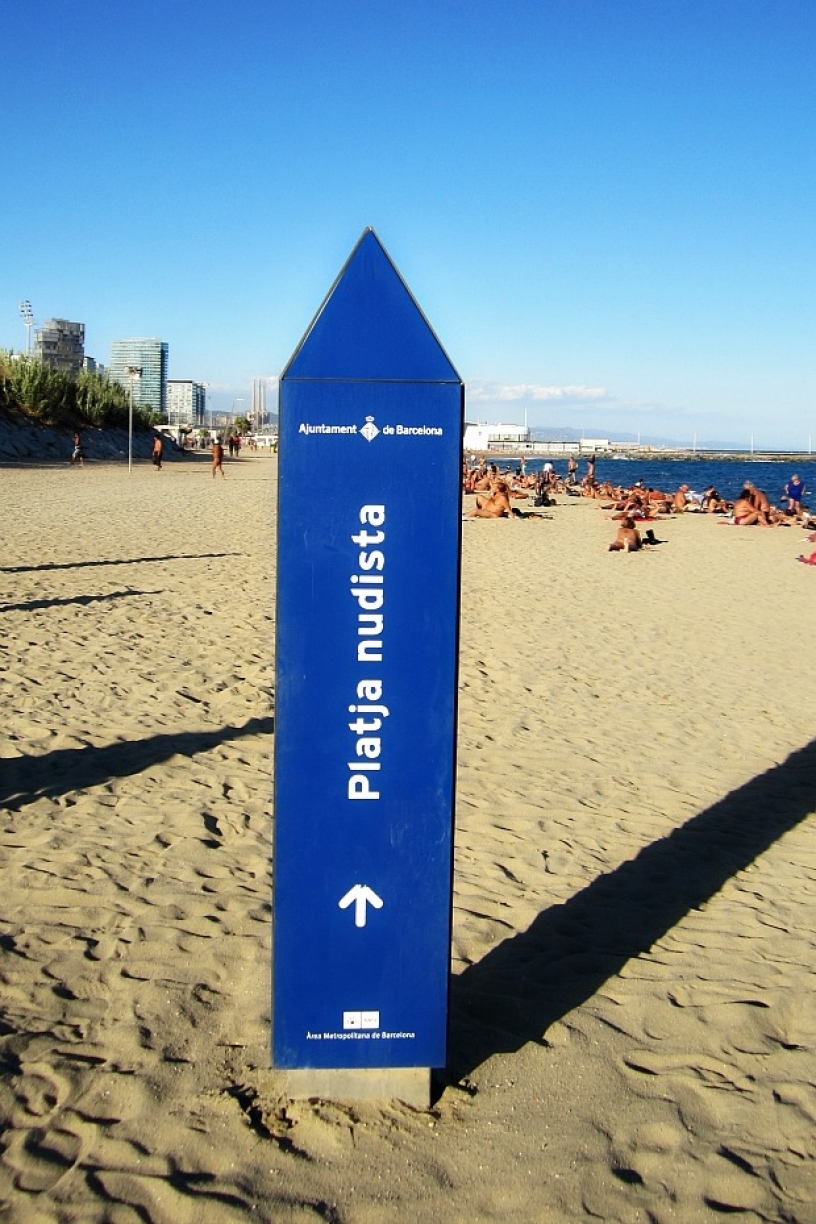 Mar Bella Beach
Ciutadella Park
Parc de la Ciutadella is one of the largest parks in Barcelona with a total area of about 17.42 hectares. You can truly escape the hustle and bustle of the city, kick back and relax under the palm trees here. There is a lake, table tennis, fountains, sculptures and so much more to discover. The park is also home to the Catalan Parliament Building, Barcelona Zoo, the Museum of Zoology and the Museum of Geology.
Where is it? 
Passeig de Picasso, 21, 08003
How to get there
Metro: L1, Arc de Triomf or Ciutadella | Vila Olimpica, L4
Bus: 39, 40, 42, 51, H14, H16
Opening hours
23 March to 22 September: 10am - 8pm
23 September - 22 March: 10am - 6pm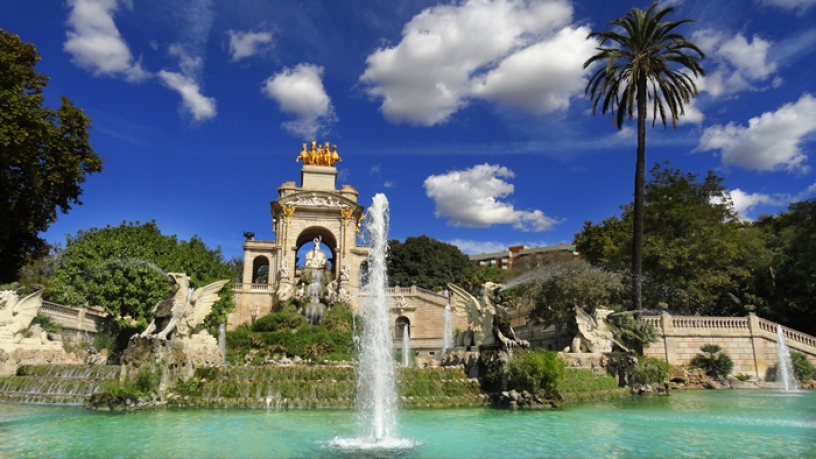 Ciutadella Park
Discover more green spaces to escape to in Barcelona in this article:
Museums in Barcelona
Did you know that there are over 55 museums in Barcelona? Many of these museums open for free on Sunday afternoons and even more open for free on the first Sunday of every month. Since Sundays are lazy in Barcelona and many shops and restaurants don't open, this could be the perfect way to spend the day.
Some of the most popular museums you can enter for free include:
For more information on these museums, check out this article:
Shopping in Barcelona
The Catalan capital is an incredible city for shopping and will never leave you empty handed. There is a huge variety of shops, from large retail stores to quirky independent shops all over the city. Some of the most popular shops include Zara, Bershka, Massimo Dutti, Stradivarius, H&M, Pull & Bear, Calzedonia, Sephora, El Corte Inglés and many more. The clothes and accessories are also very reasonably priced!
If you're on a very tight budget, cheap out the outlets in Barcelona:
Churches in Barcelona
The Sagrada Familia is of course the most famous church, however it's not the only one in Barcelona! There are beautiful churches dotted all over the city, most of which you can enter for free.
Some churches won't let you enter if your shoulders or knees are on show, as it is seen as disrespectful! For this reason, there are often people outside the church selling shawls so you can cover up and go into the church without any problems.
Cathedral of Barcelona
One of the city's most famous churches is the Cathedral of Barcelona in the Gothic Quarter, the historic centre of Barcelona. It's renowned for its Gothic architectural style with its gargoyles and pointed arches. The inside is equally as beautiful as the outside and deserves to be appreciated. Entry to this work of art is free.
Where is it?
Pla Seu, s/n, 08002
How to get there
Metro: L1, L3, Catalunya or L4, Jaume I
Bus: 45, V15, V17
Opening hours
Weekdays:
For worship and prayer: 8:30am - 12:30pm and 5:45pm - 7:30pm
For cultural and tourist visits: 12:30pm - 7:45pm
Saturday:
For worship and prayer: 8:30am - 12:30pm and 5:15pm - 8pm
For cultural and tourist visits: 12:30pm - 5:30pm
Sunday and public holidays:
For worship and prayer: 8:30am - 1:45pm and 5:15pm - 8pm
For cultural and tourist visits: 2pm - 5:30pm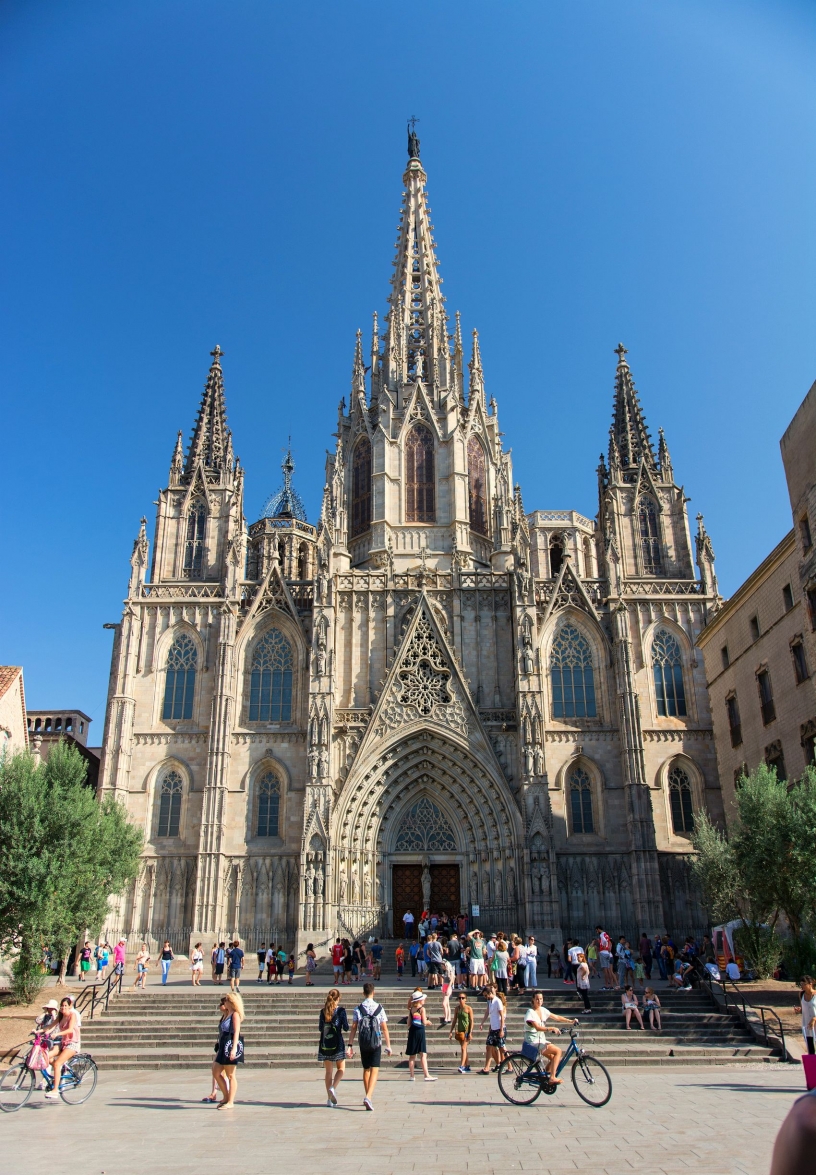 Barcelona Cathedral
Tibidabo Barcelona
When strolling around Barcelona, it's likely that you will have noticed an imposing church looking over the city. This impressive church can be seen from almost any point in the city and is definitely worth a visit. Once you reach the top of the Tibidabo mountain, you will be rewarded with breathtaking views over the Catalan capital which you can admire for as long as you like. You can also take a look inside the church for free and attend Catalan church services.
Where is it?
Cumbre del Tibidabo, 08035
How to get there
Metro: L7, Avinguda del Tibidabo.
Change to Tramvia Blau or Bus Nr.196.
Then use the Funicular del Tibidabo.
Opening hours
Catalan services from 8am - 10am | 11am - 12pm | 5pm - 7pm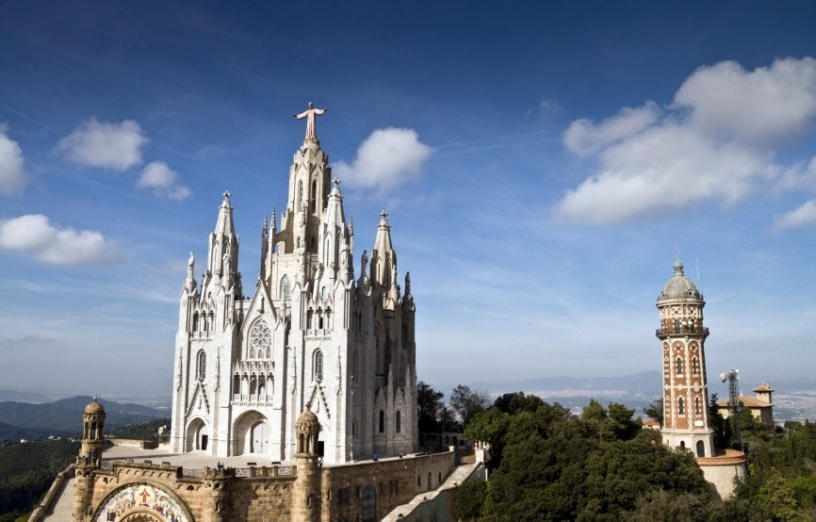 Tibidabo Church
Santa Maria del Mar Cathedral
This beautiful church in the heart of the Born neighbourhood is a classic example of Catalan gothic architecture with octagonal towers, arches and gargoyles. And the best part? You can walk into this church and take a look around for free!
Where is it?
Plaza de Santa María, 1, 08003, Barcelona
How to get there
Metro: L4, Jaume I
Bus: 17, 19, 40 and 45
Opening hours
Monday to Saturday: 9am - 1:30pm and 4:30pm - 8pm
Sunday and public holidays: 10am - 1:30pm and 4:30pm - 8pm
Bunkers del Carmel
On top of the Turó de la Rovira hill in the district of El Carmel, the Bunkers del Carmel its proudly overlooking the city of Barcelona. The old military bunkers offer the best panoramic views of the city and the perfect place to chill out with friends. If the weather is good, you can even see past Badalona and Barcelona El Prat airport.
Head up with your picnic blanket, drinks and snacks and watch the sun set over the city whilst drinking in the breathtaking views.
Where is it? 
Carrer de Marià Labèrnia, s/n, 08032
How to get there
Metro: L4, Alfons X or L5, El Carmel
Bus: 92, 119
Neighbourhood Festivals
One of Barcelona's unique quirks is its annual neighbourhood festivals! Every year, each neighbourhood to celebrate the area and the people living there. There are free concerts, activities, shows, and Catalan traditions such as the Sardana dances and human towers!
These celebrations are incredibly popular and guarantee a good time. Some of the most popular festivals include La Mercè, the Festes de Gràcia and the Festes de Sants. If you want to know more about all of the neighbourhood festivals, read this article:
Parking for Free in Barcelona
When coming to Barcelona, one of your greatest challenges will be finding somewhere to park for free and without getting a hefty fine! Parking in the centre of the city is not free. There are different zones which are mainly reserved for residents, however there are certain times where these areas become free to park in. There are certain areas where you can park for free however.
Luckily, we have written this helpful article which carefully outlines where to park for free and how to avoid getting fined.