In the Catalan capital you will not get bored! Whether you're into sports or relaxation, the city offers a lot of options for every taste and budget.
1. Enjoy the sun sitting comfortably on the terrace of a bar
Bar with terrace
If you come to visit the capital of Catalonia, ​​we will help you to find the best vacation rentals in barcelona. We offer apartments of different types, renovated and well furnished in all areas of Barcelona!
As you know, the terraces of the bars are - in summer - the favorite meeting point for friends and families. It is the perfect place to eat and drink while enjoying the good weather of Barcelona. The list of bars in the city is endless.There are so many beer gardens that it's impossible to choose! Want to be in the center or prefer to be near the sea? Can't decide between modernist Eixample, multicultural Raval, or bohemian Gracia and the stately Sarria? That's okay! Here are some tips.
If you find yourself in Ciutat Vella, then you're advised to visit the small squares of the Gothic Quarter, like Sant Josep Oriol or Plaça del Rei. Here you will find many bars with terraces and a dose of culture to go with it afterwards as you follow the history of Barcelona. If you reach Rambla del Raval, you can sit on a terrace in one of the most multicultural parts of the city. Otherwise for something much more "local" there is always Gràcia in the north.
Of course, the beach chiringuitos - small bars on the seafront - are a great way to get a cooling refreshment while sunbathing (albeit at a higher price). The sea air is always pleasant and if you spend the day along Barceloneta you may end up feeling you're in California amongst the roller-skaters, surfers, and all round fashionistas. If you want a more authentic coastline then head up to Mar Bella beach in the Poble Nou neighbourhood.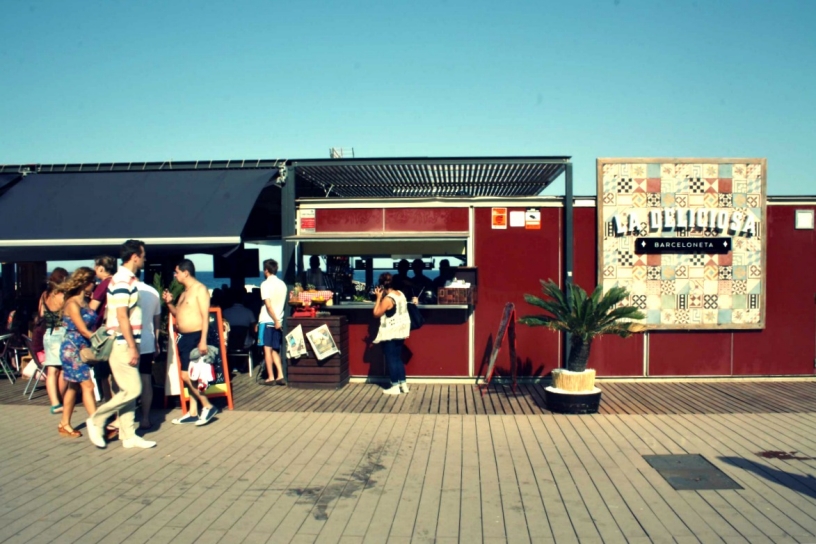 Chiringuito
Excursions in Barcelona
To make the most of Barcelona and fill your trip with unforgettable experiences and emotions, we offer you the excursions through the Catalan capital organized by our friends - the GetYourGuide team. Choose your excursion and fall in love with Barcelona:
I can't suggest one bar in particular, but if you want some suggestions then take a look at this article from Timeout magazine, where you can find some really cool places.
For lovers of smoothies, natural fruit juices, and shakes then some locales you might want to check out are Bar Mendizábal (in Raval - c/ Junta de Comerç, 2), Orgànic (in Raval - c/ Junta del Comerç, 11) or La Clandestina (in the Gothic Quarter - Baixada de Viladecols, 2).
2. Have a picnic
A picnic with friends and family
There is nothing more relaxing than a picnic with friends or family in a park, and this is the perfect season! Prepare food at home, put everything in one basket, grab a checkered tablecloth and ... Voilà. The hard part comes now: Which park should you choose?.
Ciutadella Park is without a doubt a favourite urban park amongst both locals and tourists. It is in fact much more than a park... You will come across artists, musicians, dancers, slack-line walkers, acroyoga practitioners, and all kinds of people.... There is also Barcelona Zoo, a lake that you can row a boat around, and lots of nature! Perfect for a picnic or walking your dog!
Alternatives include Park Laberint d'Horta, a beautiful park with a labyrinth that's perfect for children or a partner (the picnic area is outside the park). There's also Joan Miró park and Park de Cervantes if you want to occupy some of the lesser known parks of the city. In fact this park can be found on Avinguda Diagonal in the Les Corts neighbourhood (home to Camp Nou from FC Barcelona). It's the perfect place as during the summer and spring it's full of colour with climbing wall roses, flowers that open and sprout in all their splendor, fragrant shrubs, and trees... Do not miss it!
Another option is to attend the well-known summer event - Piknic Electrònik, which is celebrated every summer Sunday (from June 28 - September 20) in Montjuïc. If you want to visit other city parks for picnics, I advise you to take a look at this article.
3. Everyone to the water! Barcelona's beaches.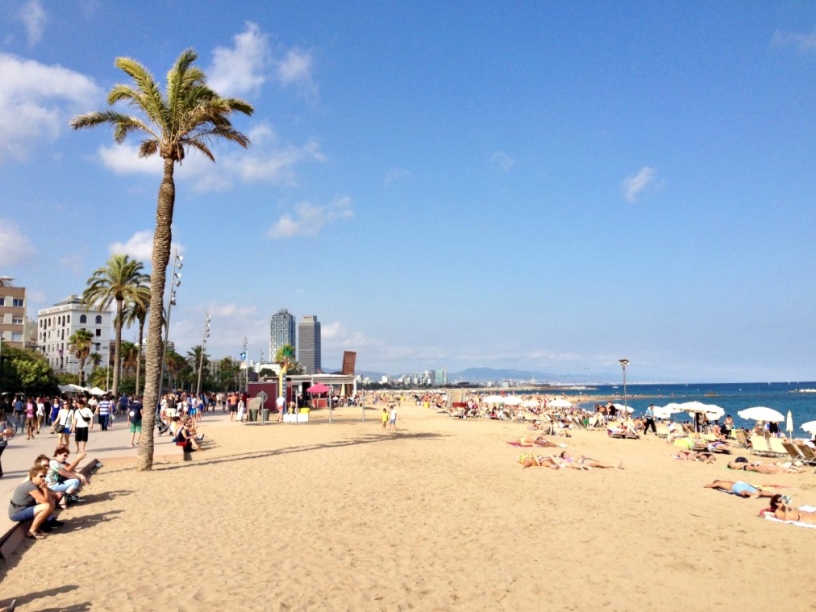 Barceloneta Beach
Pick whichever you want. Sunbathe, take a dip, go surfing, drink a delicious mojito, it's all on you. The beaches of Barcelona offer this and more, like beachside restaurants, sports activities, and attention for people with physical disabilities or reduced mobility. The beach is one of the best places to relax, play sports, or simply pass time chatting with friends under the warm mediterranean sun.
The most famous beach is without a doubt Barceloneta, because apart from being easily accessible via Metro (Barceloneta station - Yellow Line L4) there is also a large concentration of chiringuitos and facilities. There is also San Sebastià beach, Bogatell, Mar Bella (which has a space dedicated for practicing naturism and is also popular amongst the gay collective of Barcelona).
To get to know all of the beaches you can visit here.
However, if the sand isn't your thing but you still want to get some sunshine then there are tw0 places you can do just that. One is on the small square by the Museu del Disseny (Design Museum), by Torre Agbar. Here there are tables, chairs, and hammocks to have a coffee and get some sun. The other place is the area at the foot of Hotel Vela, you'll still be by the sea but far from the sand, and you can enjoy the sea breeze and beautiful views ... But wherever you go, do not forget some sunscreen!
If you want to go swimming, but you're not a "beach person" take a look at this list of swimming pools in Barcelona.
4. Sports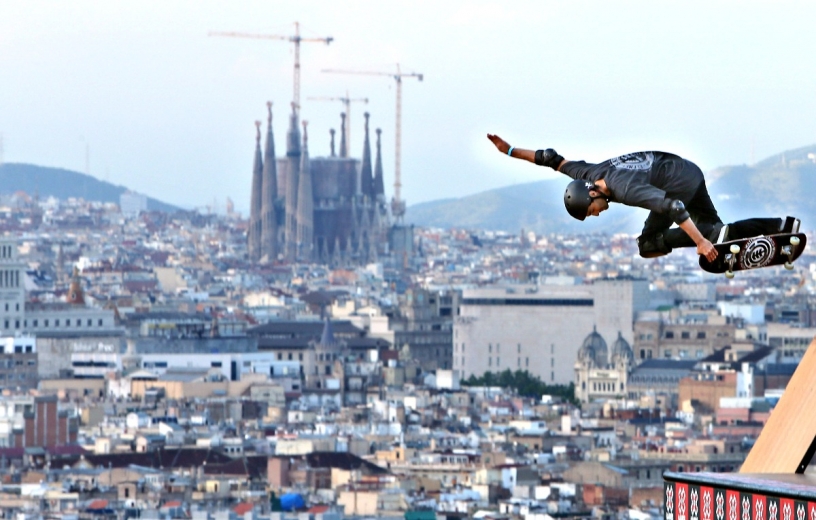 Skate park in Barcelona
You know, Barcelona is a super active city. During these months especially, you will notice when walking through the streets the amount of runners, skaters, roller-skaters and people practicing sports at the park or beach. Talk to people and see many here play sports, go to the gym (here's a selection of affordable gyms in Barcelona) or do aerobics or yoga. Time for us to get active too!
There are associations organizing courses to learn skating, skate parks to practice at and do stunts, and groups organizing skate nights out in the city.
Even for those who like running there are associations and groups that organize trips and events to run together. The group Barcelona Casual Runners is a multicultural group that organizes outings every Tuesday and Thursday, which combine the sport with foreign languages: do some sports and practice a new language at the same time! It is a group created on the website Meetup.com here and now exceeds 1500 subscribers/runners.
If you are a fan of yoga then you must go directly to Ciutadella park! Here there are constant yoga classes and other acroyoga related activities.
5. Escape the city!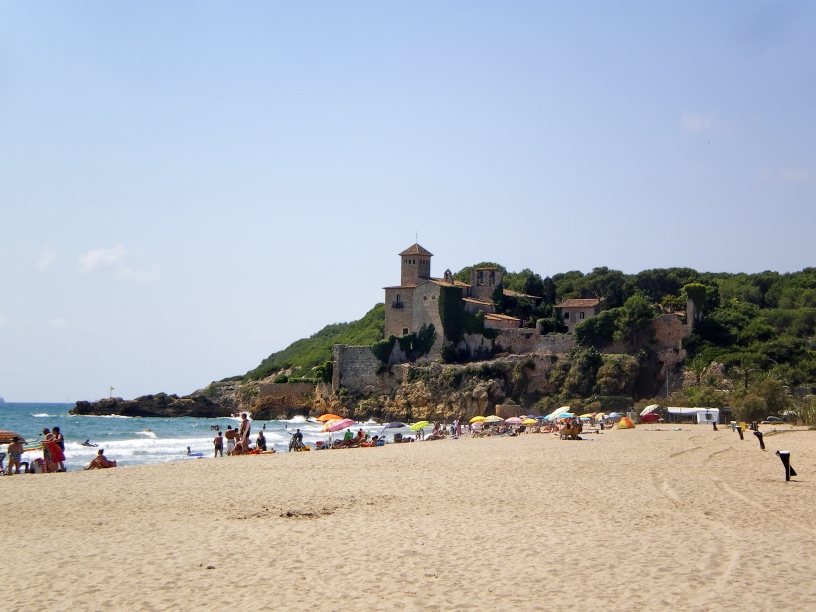 Altafulla beach
If you want to know what's outside of Barcelona, what better time to organize a trip outside the city, if not summer? . So, where should you go? Well we have an entire article dedicated to day-trips outside of Barcelona. Otherwise, anywhere with the sea nearby is a safe plan. Catalonia ranks third in Spain for the region with largest number of blue flag badges (89 in total - Galicia has 123 and Valencia has 120). Why not discover them?
Consider the charming village of Altafulla, an hour from Barcelona by car or train; or Torredembarra, one of the most popular villages of the Costa Dorada. At 5 kilometers long, this beach is perfect for all, especially for families with children. It is very safe with shallow waters. And then there is Ametlla de Mar in the Terres de l'Ebre, one of the most beautiful beaches of the Catalan coastline.
I will stop here because if I go on, I run the "risk" of packing up and going myself! :) I hope this article has been helpful, and I leave you with one last tip; if all these activities have awakened your desire to come to Barcelona, check out our summer apartments! Now go have fun! ;)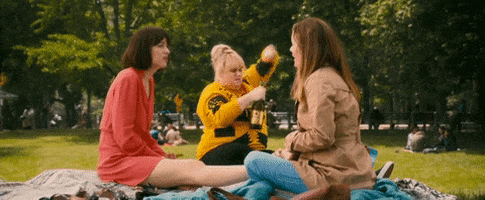 Don't stay at home this summer!