The Eixample Dret Backstory 101
The reason why Eixample Dret exists is rather straightforward. The city of Barcelona was mainly what we know today as the "old city". There was only the Gothic Quarter, Raval, Born, Barceloneta, and the neighbourhoods in this small zone that were enclosed by the city walls. The population was booming and the city was quickly becoming overcrowded, so the walls were torn down in 1856 to accommodate the only solution - expansion. Eixample literally means expansion.
A civic engineer by the name of Ildefonso Cerdà was recruited. He planned a magnificently structured grid system of chamfered squares, so that every intersection in this area lets in more light and easier turning for traffic (you can only imagine how difficult it would be to get a horse and carriage to turn at 90º).
Little by little Barcelona was growing both in size and reputation. It was between the 8th April and 9th December in 1888 that the first Universal Exposition was held in Spain, which left many gems in the area like the Arc de Triomf that served as the entrance to the exposition. You may have read that the famous frenchman Gustave Eiffel presented his plans for an iron tower to be built for the 1888 Barcelona Exposition only to have it rejected. The Eiffel Tower went on to appear the following year at the Paris Universal Exposition in 1889. However, Eiffel was already involved with his masterpiece project in Paris as early as 1886... So... Hmm...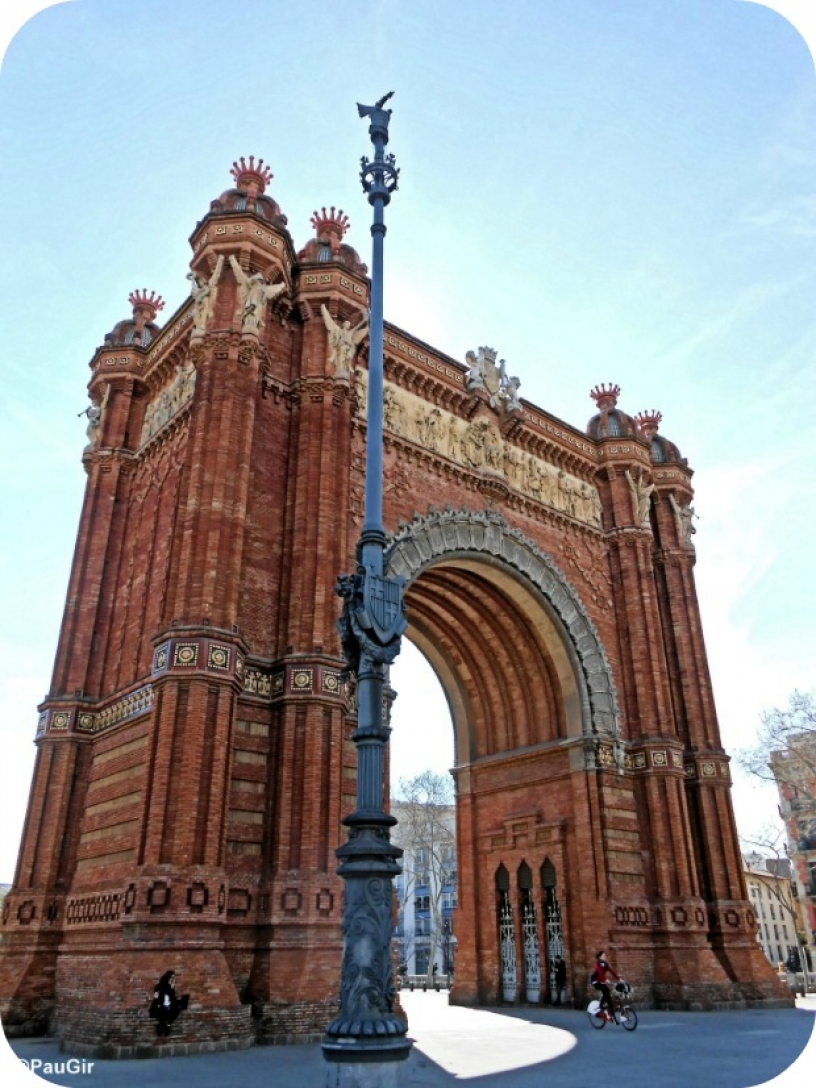 Arc de Triomf by Josep Vilaseca i Casanova
The Marvels of Passeig de Gràcia
Getting back to Eixample, its streets will take you back in time. If you take a look at the works on display here, you will find the best examples of architecture of the time.
The area truly is a modernist paradise where the middle and high echelons of society frolicked and mingled their way around. The area is served by Passeig de Gràcia, the golden mile of Barcelona where you'll be constantly looking upwards in awe as it is home to endless iconic buildings.
Take Casa Batlló, an authentic colourful architectural representation of the St. George and the Dragon tale through the mind of a genius known as Gaudí.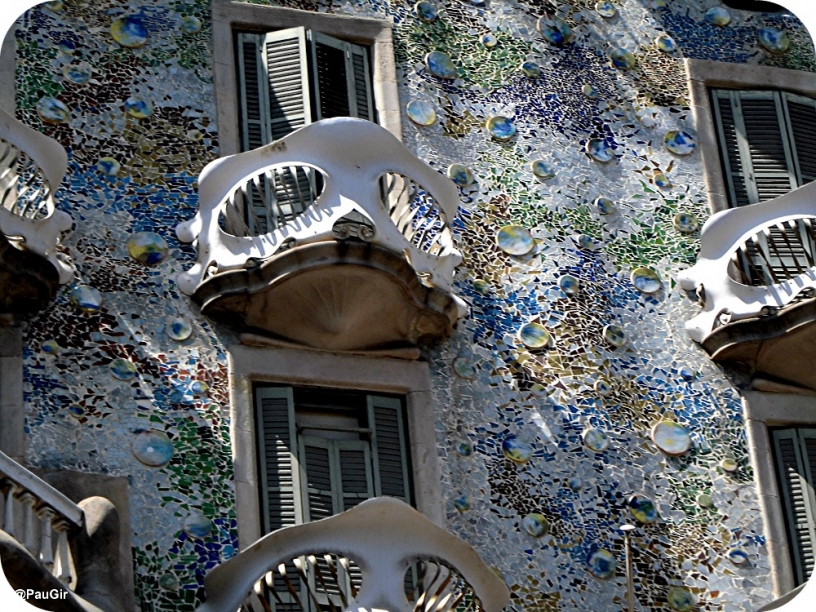 Casa Batlló Balconies
Right next door is another masterpiece from the modernist era - Casa Amatller by Josep Puig i Cadafalch. If you look closely, you can also find the tale of George and the Dragon on the façade of his work too. A lot less metaphorical than Gaudí, but still beautiful. You can find examples of dragons in architecture all across Barcelona.
These two buildings are part of what is known as the Block of Discord, so-called owing to that fact that is has more than its fair share of unique buildings that broke boundaries. You'll also find Casa Lleó Morera by Lluís Domenech i Montaner in this block, in addition to other works.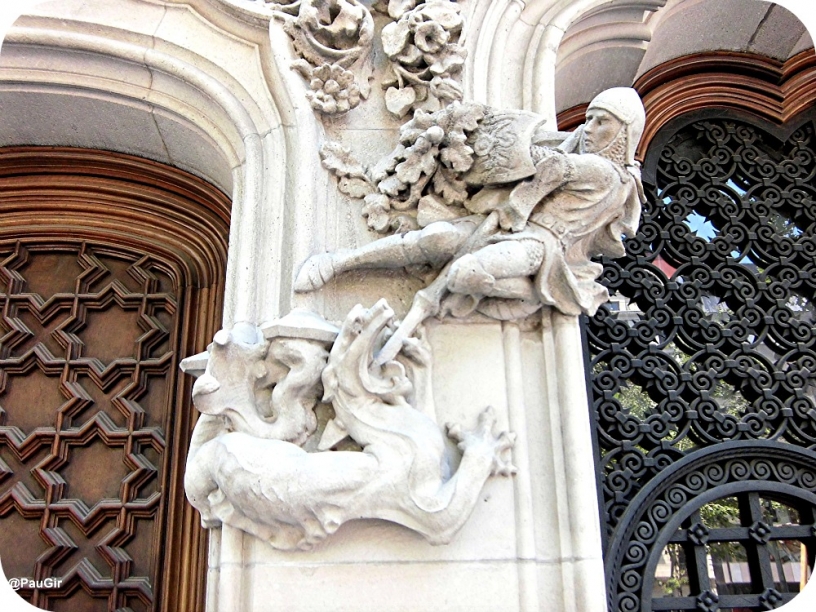 Casa Ametller Detail
Walking on some more and you'll bump into a building officially known as Casa Milà. A building locals used to mock by calling it La Pedrera; (The Quarry) a name that slowly became a term of endearment as people realized there was nothing like it in the world. Try finding a straight line in this building, it's so hard to do that Mrs. Milà complained there was nowhere to put her piano against. Gaudí's response? Then play the violin.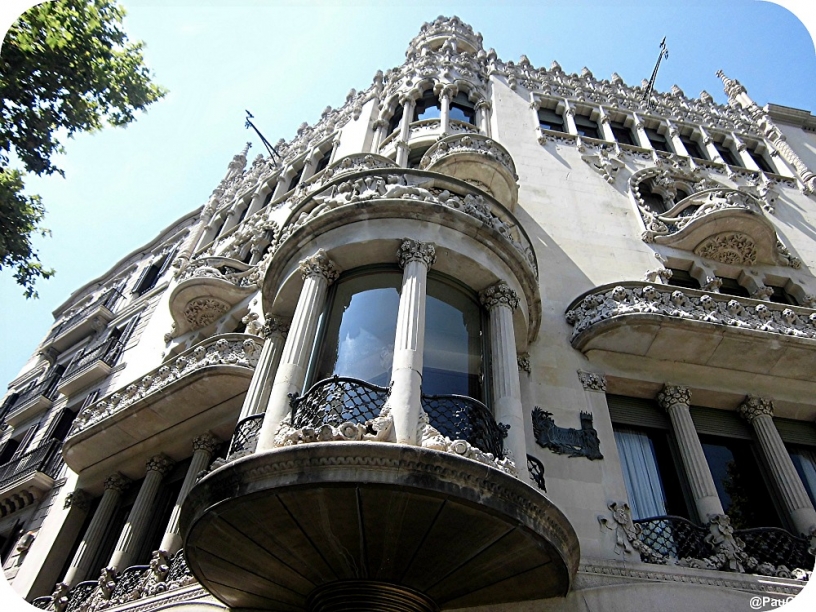 Casa Lleó Morera by Domènech Montaner
If you want to come work or have a holiday in Barcelona but you have a small budget, it's possible! Look at our cheap accommodations in Barcelona.We offer apartments of different types, renovated and well furnished in all areas of Barcelona!
Other works to see
You might see queues of people waiting anxiously to get a glimpse of the interior of the world-famous Sagrada Familia, which of course is a highly recommended building to visit. If you want to skip the crowds though look for there following buildings: Casa Puntxes, Casa Viçens (technically in Gràcia), Hospital de Sant Pau, and La Monumental; or you can read on how to avoid queues for attractions in Barcelona
The list goes on, but half the fun is strolling around and finding these gems for yourself! It only takes a little faith, but a walk off the beaten path in Barcelona is highly rewarding. Go for it!
Interior Sagrada Familia
With a stroll through Eixample you'll learn that a rock isn't just a rock, but rather in the hands of a master mason is an expression of art and will. There's no better place in the world to have this epiphany than in Barcelona. If you still want to see more beautiful buildings in this zone, you can find more in Part 1 of our Modernist sightseeing route article.
Other images
Excursions in Barcelona
To make the most of Barcelona and fill your trip with unforgettable experiences and emotions, we offer you the excursions through the Catalan capital organized by our friends - the GetYourGuide team. Choose your excursion and fall in love with Barcelona: