Beat the heat at a pool in Barcelona, because while there are plenty of outdoor activities to do, not all will necessarily keep you cool. Here are 7 different pools around the city that will let you enjoy the summer without succumbing to the weather.
If you come to visit the capital of Catalonia, ​​we will help you to find the best vacation rentals in barcelona. We offer apartments of different types, renovated and well furnished in all areas of Barcelona!
1. CEM Parc de la Ciutadella - Born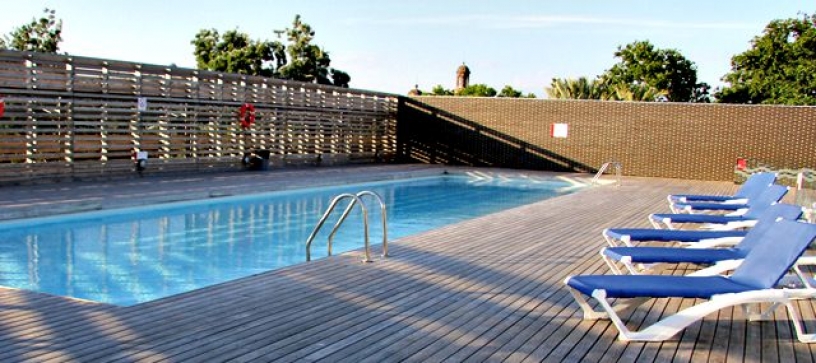 Cem Ciutadella
This pool is located not very far from the city centre, close to Ciutadella Park (Passeig de Circumval·lació, 1). There is both an indoor and outdoor pool here as well as a gym and sauna. It has a very calm atmosphere, making it ideal for swimming in peace or passing a slow morning reading a book under the sun. With a ticket you could stay all day if you wanted to enjoy all the services.
Open Monday to Friday from 7:00 to 23:00. Open Saturday and Sunday from 8:00 to 20:00. It is closed on January 1, November 1, December 25 and 26.
The outdoor pool specifically is open from May 1 until September 30 Monday to Friday from 10:00 to 20:00 and weekends and public holidays from 10:00 to 19:30.
Entry costs €15 for adults and €7 for children between 6 - 18 years. If you're interested in going more than once then you can even buy a pass here (Spanish).
2. Club Natació Atlètic – Barceloneta
Club Natació Barceloneta
A bit further away by Barceloneta beach is Club Natació Atlètic (Athletic Swimming Club). The site has an indoor pool and two outdoor pools with views over the Mediterranean sea. Here you can swim between lanes or take a dip and enjoy the views. There is also a nice terrace where you can make the most of the sun.
You can get here via Metro getting off at Barceloneta with Line 4 (the yellow line). Open Monday to Friday from 6:30 to 23:00. Saturday from 7:00 to 23:00. Sunday and public holidays from 8:00 to 17:00.
Tickets cost €12 for adults and around €7 for children up to 10 years old. You can get more details information about prices and club activities on the official website.
Excursions in Barcelona
To make the most of Barcelona and fill your trip with unforgettable experiences and emotions, we offer you the excursions through the Catalan capital organized by our friends - the GetYourGuide team. Choose your excursion and fall in love with Barcelona:
3. Piscina Municipal de Montjuïc - Sants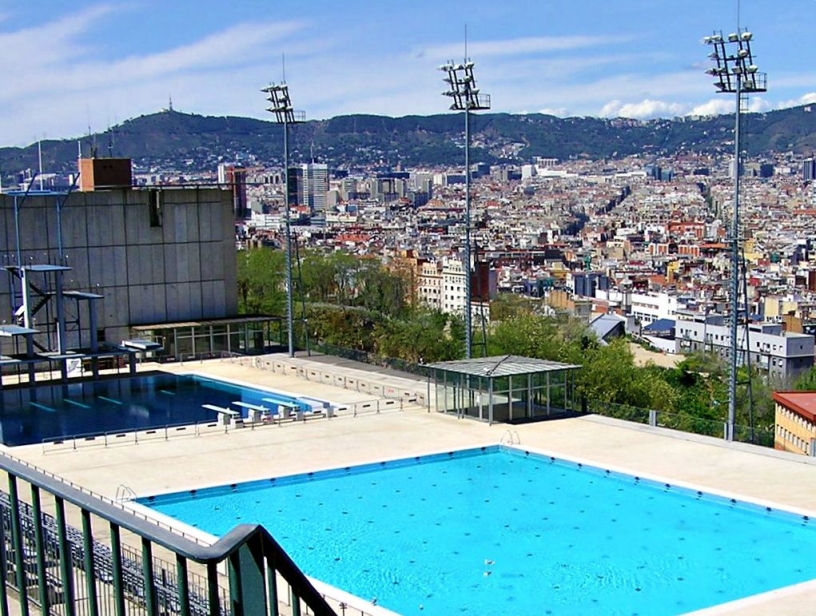 Piscina Municipal Montjuic
If you know Barcelona, then you already know Montjuïc. Here you can find tonnes of attractions and museums like MNAC - The National Art Museum, Joan Miró Foundation, the castle and it's gardens, the Olympic ring... But maybe you didn't know about the fantastic outdoor swimming pool amongst the gardens of this mountain? It's called Piscina Municipal de Montjuïc and it's known to be one of the best in Barcelona.
It was opened in 1929 and has always been home to large-scale aquatic sports competitions. It's also known for being one of the venues for the 1992 Olympic Games. Locals don't just appreciate it for this, but also the stunning landscape views over the city. There are two pools one for diving and another large 25m pool for swimming freely.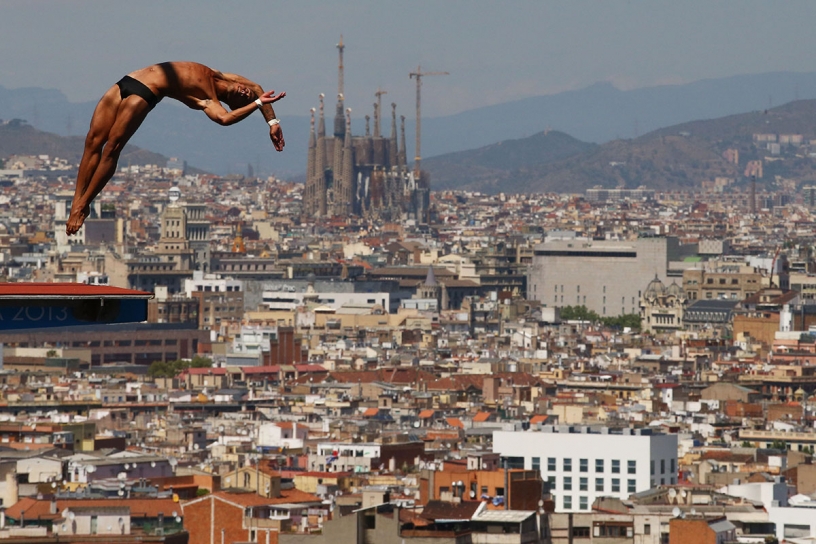 Spectacular image of World Swimming Championships from the pools of Montjuic
The facility is located on Avenida de Miramar, 31 and opens daily from 11:00 to 18.30. The most convenient way to get to the pool is taking the 55 bus from Plaça de Catalunya. Entry is €5.63 for adults and €3.93 for children (6 - 14) and seniors (64+). Under 5s go free.
4. Fòrum Bathing Area - El Besòs i el Maresme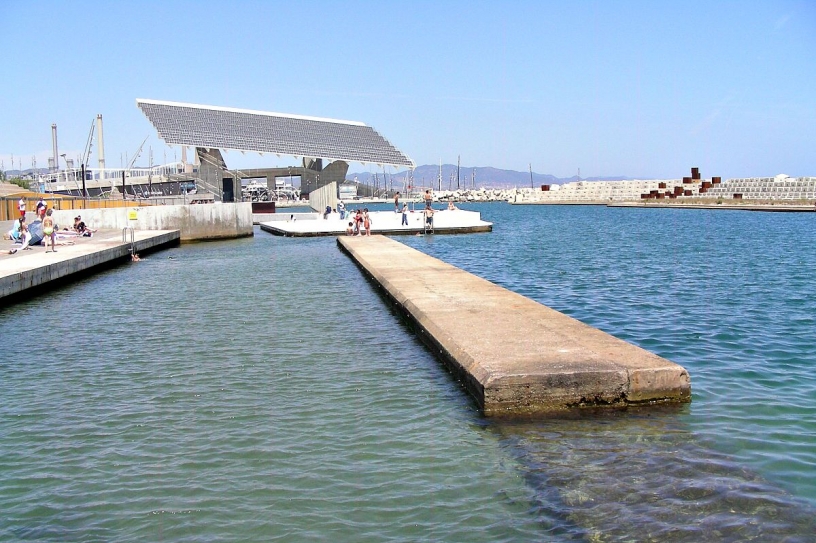 Banys del Fòrum
This option is a little different, Banys del Fòrum take advantage of the sea and is a section of the coastline cordoned for swimming in the salt water. It can be found in the Fòrum area and is rather unique. You get the beach experience without the beach... And the pool experience without the pool! Either way it's a refreshing alternative! There is even an assisted swimming service for visitors with physical disabilities.
This beach without sand can be found in Parc del Fòrum and is easy to access with the Metro exiting at Maresme-Fòrum on L4 (the yellow line). Like all of Barcelona's beaches, you can go whenever you feel like it. The extra services (primarily assisted swimming) are available every day during July, August, and the first fortnight of September from 11:00 to 14:00. These services are available at a reduced schedule in June and the last fortnight of September only on weekends and public holidays from 11:00 to 14:00. Entry is free.
Barcelona also has pools that are particularly suitable for children as they are shallow and easy to access. Children can swim, paddle, and play in these pools with fewer risks. These are great places for kids and parents to make friends and meet new people. Here are the most known in the city:
5. Torre de les Aigües - Eixample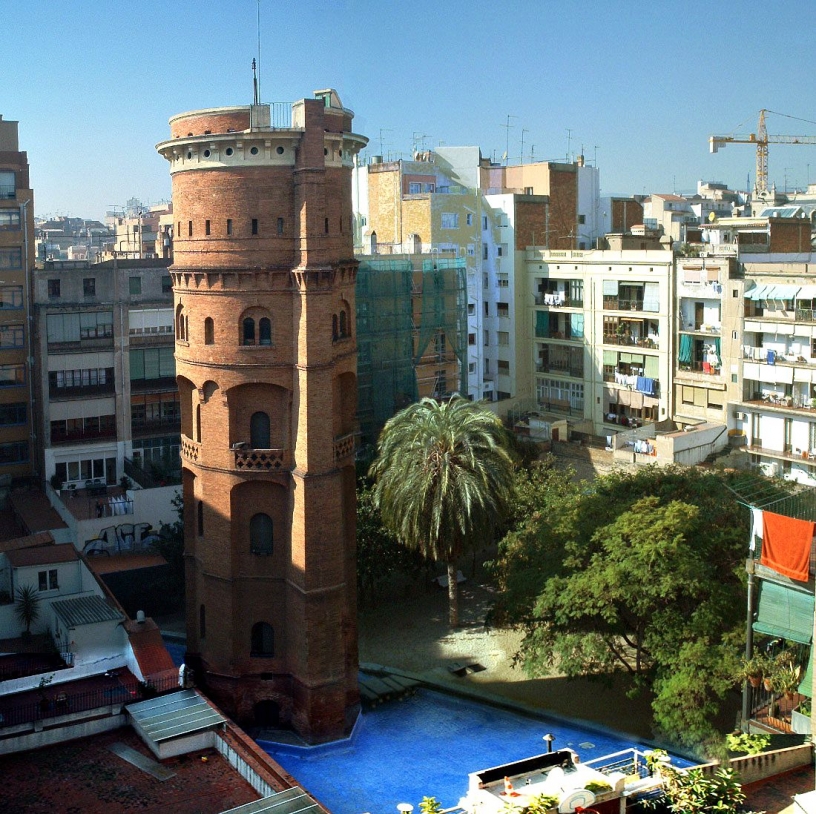 Platja de l'Eixample
This pool was created within an apartment block in Eixample Dret. It was built in 1870 to provide running water to the new buildings in the neighbourhood through underground water systems that still function today.
Locals refer to it as "Platja de l'Eixample" (Eixample beach) and it's a modestly sized area with a small paddling pool at the foot of the majestic Torre de les Aigües (Water Tower). It's a great place and a great alternative for parents who want to relax and stay refreshed with their children and avoiding the coast.
This space is located on Carrer Roger de Llúria, 56. It is open from June 25 to September 10 every day from 10:00 to 20:30. To get to this pool, take Metro L4 (yellow line) to the station called Girona. A ticket will cost €1.55. Entry is free for children under one year and people over 65. For details and more prices including week and monthly passes, visit this webpage. One of our favourite family holiday apartments is quite nearby, you can see it (along with others) in this article.
6. Parque de la Creueta del Coll - Gràcia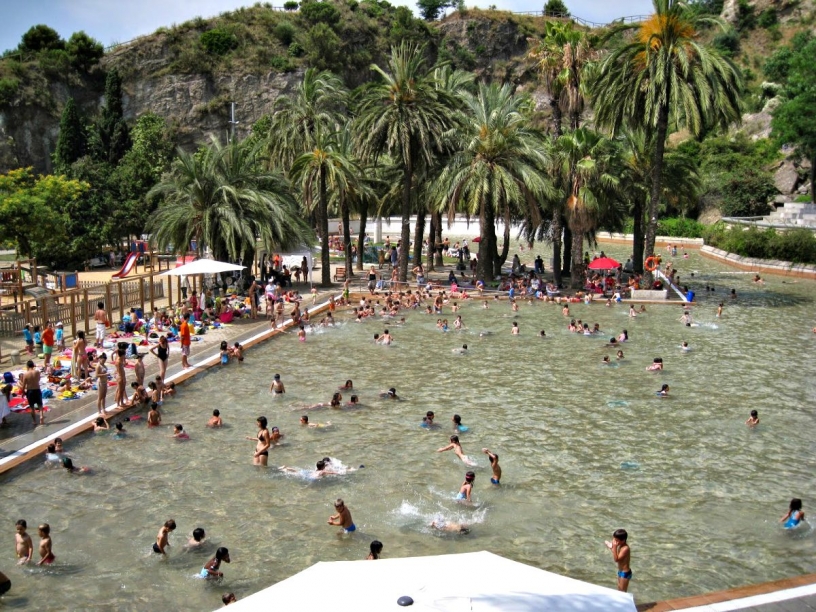 Parc de la Creuta de Coll
This pool can be found in Parque de la Creueta del Coll in uptown Barcelona. It's one of the newer parks of the city, built in 1987. The lake is converted and doubles as a pool in the summer months, attracting families from all over the neighbourhood.
Nearby there are palm trees, a playground, two ping-pong tables, and a basketball court. The pool is not very deep and is great for children. Moreover, there are ramps to enter, which allow children to become familiar with the water gradually.
The park is located on Passeig Mare de Deu del Coll, 77 and can be reached via Metro line 3 (green line), exiting at Vallcarca. The pool is open every day from the end of June until the first week of September from 10:00 to 20:30. General admission is €2.35 and for large families it's €1.10. Children under one year and seniors over 65 can enter for free.
7. Lago de Can Dragó - Sant Andreu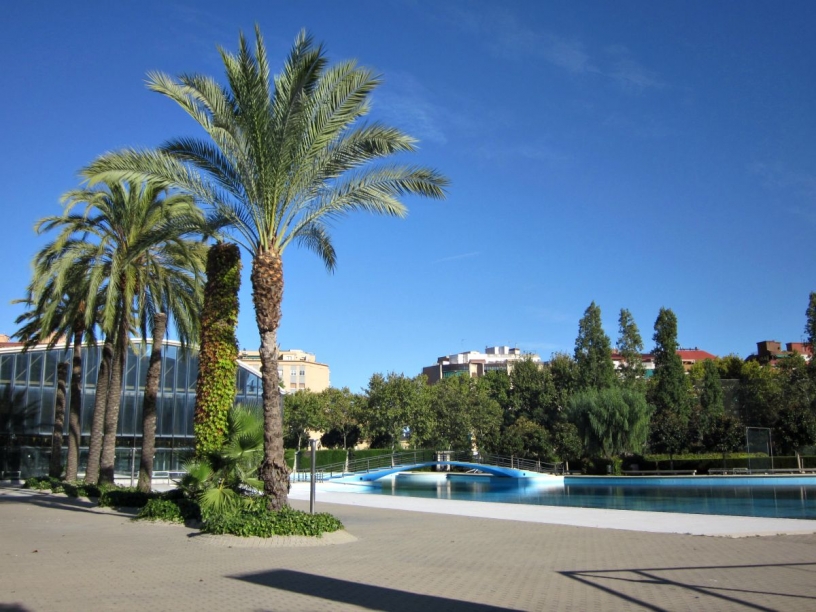 Piscina de Can Dragó
A large artificial lake that's especially loved by locals living in the Nou Barris district. With more than 15,000 m², it's the largest pool in Barcelona. It's a great place for the whole family and the depth of this pool runs between 0.10m to 1.30m, which means children can go as far as they feel comfortable as the depth only changes gradually.
There is also an area with various services and a bar where you can grab a sandwich and soft drink after a swim.
This open space is found on Carrer Rosselló i Porcel, 7-11 and you can get there via Metro Line 1 (red line) exiting at Sant Andreu. This pool is open every day to the public from June 20 to August 30 from 10:30 to 19:30h. Entry costs €7.10 and varies for children depending on age. For details and more prices, visit the webpage.
And that's the list of the best pools around the city! If you know some other places, including some of the unmentioned neighbourhoods, then leave a comment and we'll even include it!
Katy has already found her favourite pool in Barcelona
Map of swimming pools in Barcelona