There are many squares in the Catalan capital, each one with its own monuments of distinct style and era, unique bars, fountain, and green spaces. There are the central plazas that everyone knows like Plaza Catalunya, Plaza Real and Plaza Espanya, and then there are more hidden plazas. You might hear about them through gossip or reading articles like this ;)
If you are coming to study in Barcelona we advise you to look at our student accommodation in Barcelona.We offer apartments of different types, renovated and well furnished in all areas of Barcelona!
There are simply loads and seeing them all will be a tad difficult, which is why you'll need a list like this to discover the authentic Barcelona. They're all easy to reach, but lets start with the most central, those of the Gothic and Born neighbourhoods!
Plazas in the Gothic Quarter
1. Plaça de Sant Josep Oriol and Plaça del Pi
Leaving from Plaza Cataluña, where Las Ramblas begin, we head towards the sea. The first two squares to discover are Plaça de Sant Josep Oriol and Plaça del Pi, one next to the other.
Plaça de Sant Josep Oriol is one of the most pretty Plazas in the central city. However, it's a place many choose to pass through -including tourists- to get from point A to point B, but not to stop and take in. It's certainly one of the most beautiful in the Gothic quarter, so take some time to look around a bit more.
It is full of painters that exhibit their works on weekends. It is pleasant to curiously discover the paintings that represent the city with an artistic and elegant touch. There are many bars around the square, the most famous of which is the historic Bar del Pi, taking its name from the adjacent square.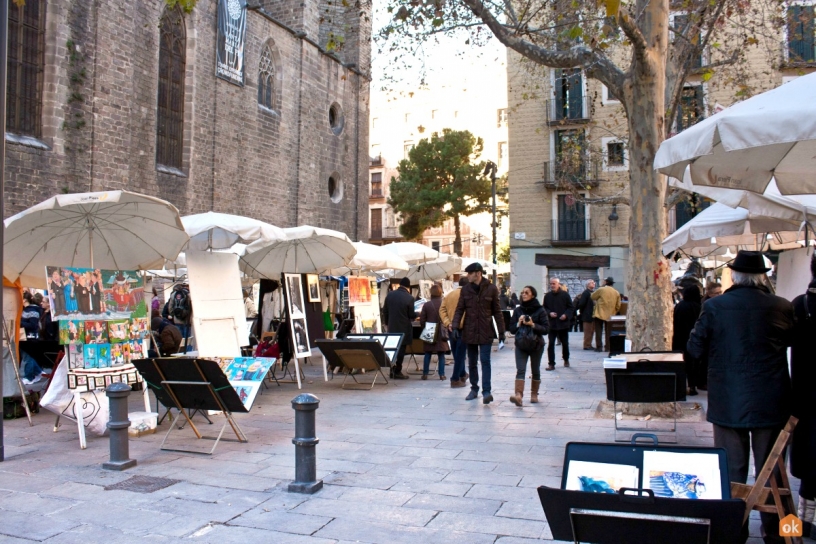 Plaça de Sant Josep Oriol
Plaça del Pi is a little square that hosts the artesenal fair, a market that sells typically local catalan products like embutidos (dry-cured sausages), cheeses, turrons, honey, marmalade, wine, and more... The square is called "Plaza del Pino" because since 1568 there has been a pine planted in the centre (substituted each time it withers, of course). The last was planted in 1985.
Arriving at this square is amazing, especially if you come in from Calle Petritxol, a very narrow street from which you cannot see much. Without knowing where you are, suddenly before yoy appears this plaza with its imposing church Santa maria del Pi.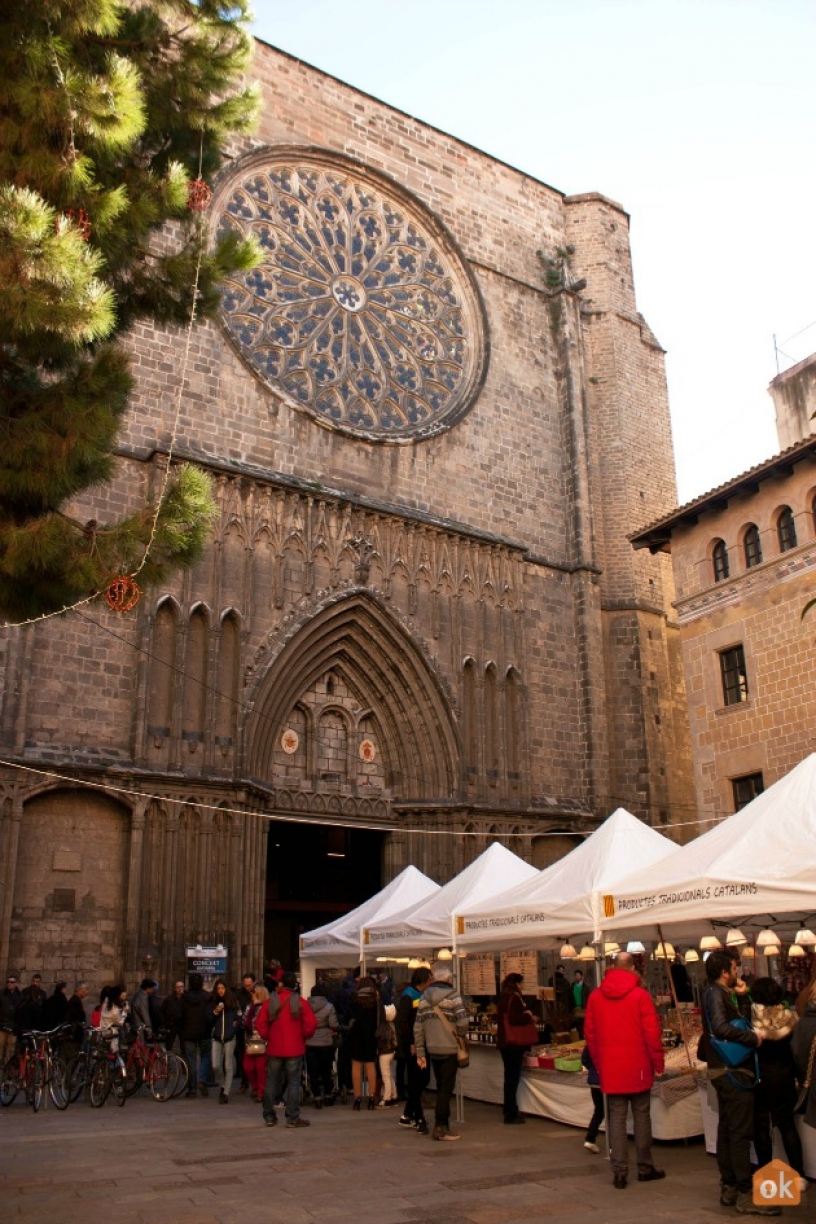 Plaza del Pi
Excursions in Barcelona
To make the most of Barcelona and fill your trip with unforgettable experiences and emotions, we offer you the excursions through the Catalan capital organized by our friends - the GetYourGuide team. Choose your excursion and fall in love with Barcelona:
2. Plaça Sant Felipe Neri and Plaça del Rei
Now moving to the left, towards the Via Laietana and near the Cathedral there are two squares, small and very hidden...
Plaça Sant Felipe Neri, despite being a stone's throw from the Cathedral, is a small square still unknown for some people who live in the city and many tourists. This is because you can only get there via two narrow streets from the oldest part of town and unless you want to get it on purpose, it will be difficult to find.
See those holes in the facade of the church? They are holes created during the 1938 civil war from bombings. This is one of the many curiousities of Barcelona, that more people should know.
This plaza emanates a grand sensation of peace and tranquility despite being a few meters away from tourist areas such as the Cathedral, where thousands of people pass each day.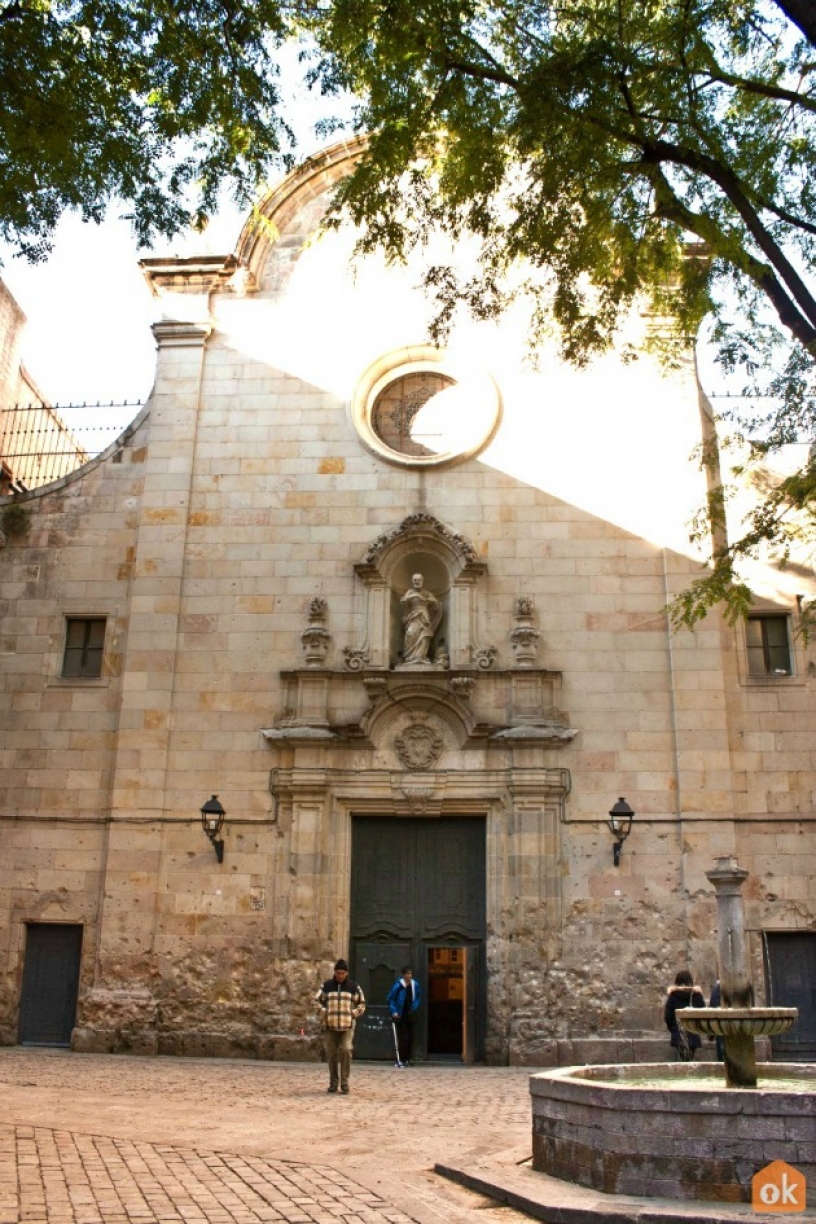 Plaza Sant Felipe Neri
The other small square next to the Cathedral is the Plaça del Rei, also super central but hidden by numerous buildings. With its medieval style, you'll feel like you've travelled through time! I consider it one of the treasures of this neighbourhood and it features on the Medieval tour through Barcelona.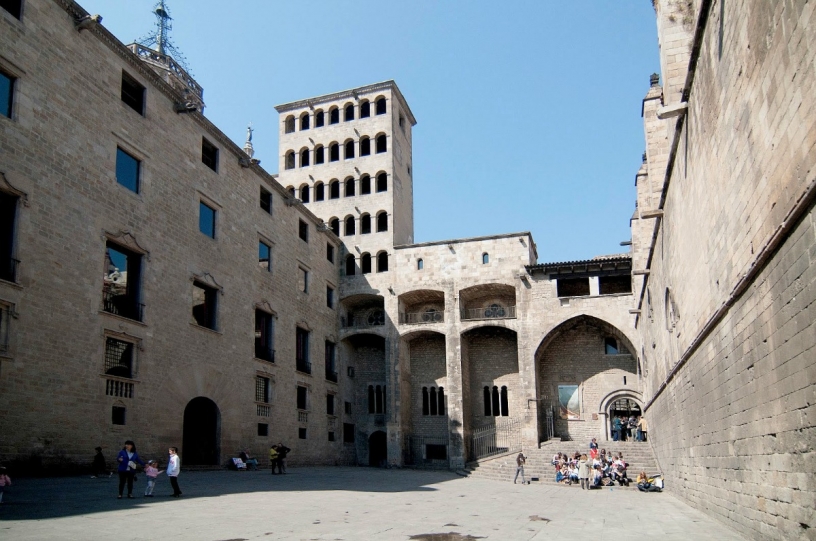 Plaça del Rei
3. Plaça de Sant Miquel
This square is reached by going further towards the sea. Behind Plaza Sant Jaume - where one can find the Palau de la Generalitat - is this small square. It is just around the corner and you can get to it from different streets, but in reality it is quite hidden and most tourists come to it only by chance.
Even though it is in one of the oldest neighborhoods in the city, it is surprisingly modern, with many new buildings and an all-round peculiar architecture. Here there are some bars, restaurants, and a playground.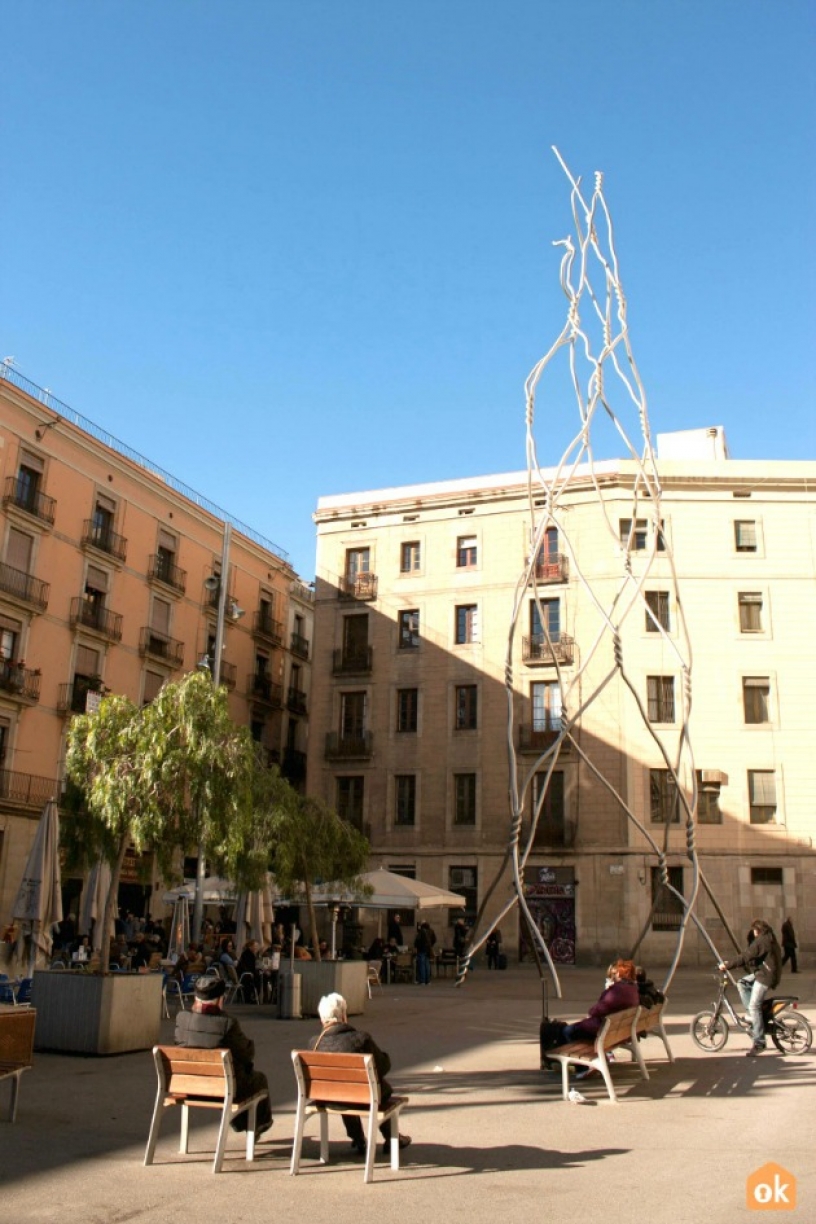 Plaza de Sant Miquel
4. Plaça George Orwell
Further down still but moving to the right on this occasion, you'll find the Plaça George Orwell - tiny, with a playground, vegetarian restaurant, Greek take away, tattoo parlour, vintage shop, and a wonderful little exotic place that opens till late called El Oviso. Just a few metres away and you are already in Las Ramblas!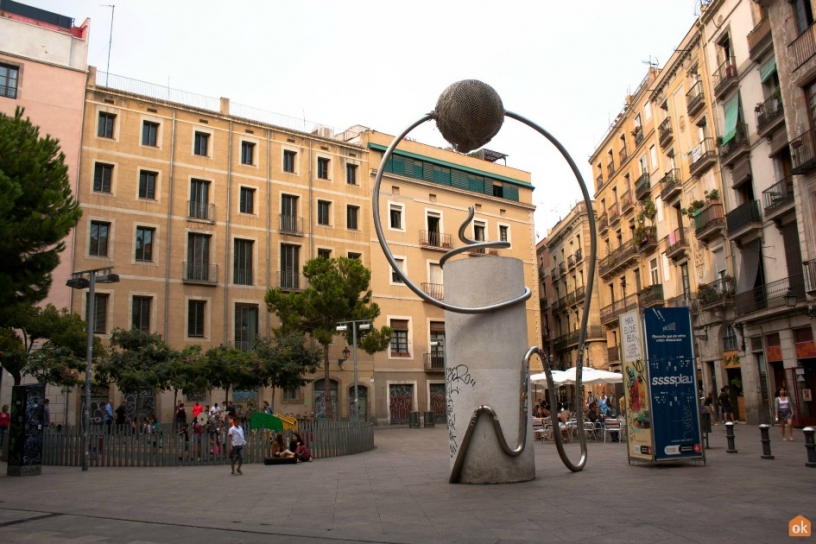 Plaça George Orwell
In the Born district…
If you cross Via Laietana, within minutes you reach the center of Born, one of the liveliest districts of Barcelona. Where are the most hidden squares? Here are two highly recommended ones.
1. Plaça de Sant Agustí Vell
This square is also one many people pass through but don't stop... but it's actually a very pretty, mysterious and elegant square. Hidden between the medieval and modern buildings, it's covered by many trees and has an charming fountain in the center. Also there are small bars and the Arc de Triomf and the Parc de la Ciutadella are just a 5 minute walk away.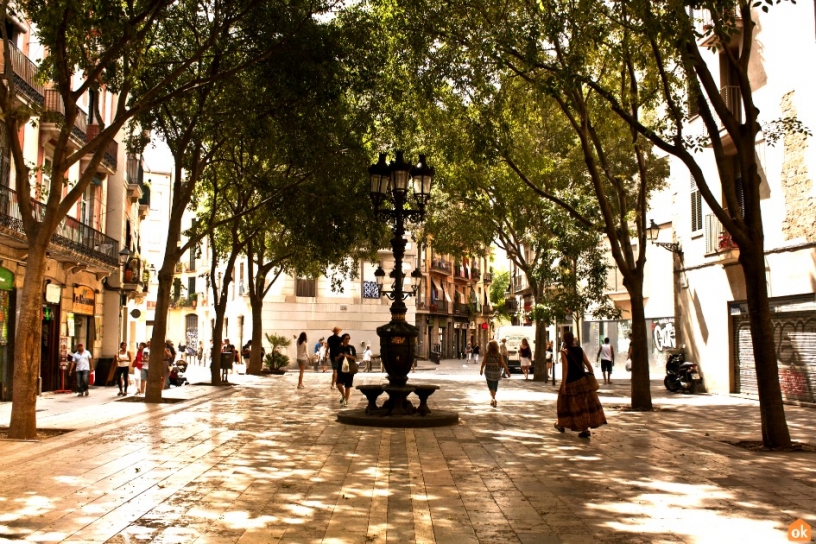 Plaça de Sant Agustí Vell
2. Plaça de Pons i Clerch
This small square can only be discovered if you've got a bit of a sweet tooth and you're visiting the Chocolate Museum (the museum in fact is two minutes away). The square is super hidden and frequented mostly by those who live in the neighborhood. It is located between Carrer de la Princesa and Carrer del Rec next to Born Market. There are many decent but touristy places nearby where you can get a vermouth and try some tapas just around the corner. One places that stands out though is Tantarantana. Recommended! ;)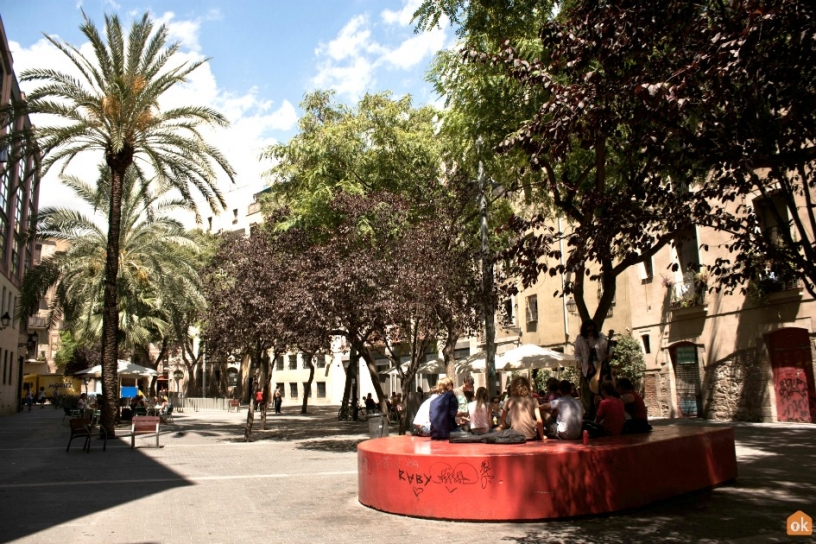 Plaça de Pons i Clerch
We'll stop here for now... Give you some time to discover these lovely places. Just don't take too long because there's already a part 2 of this article - where you will discover the squares of neighbourhoods like Raval, Barceloneta and Gracia! ;)
While you're at it, you can view photos of all the places mentioned in the article here.
If you are intrigued by the central areas of Barcelona, take a look at our apartments where you can opt to stay nearby in the Gothic Quarter or in the lively Born area.