Barceloneta
(Beach)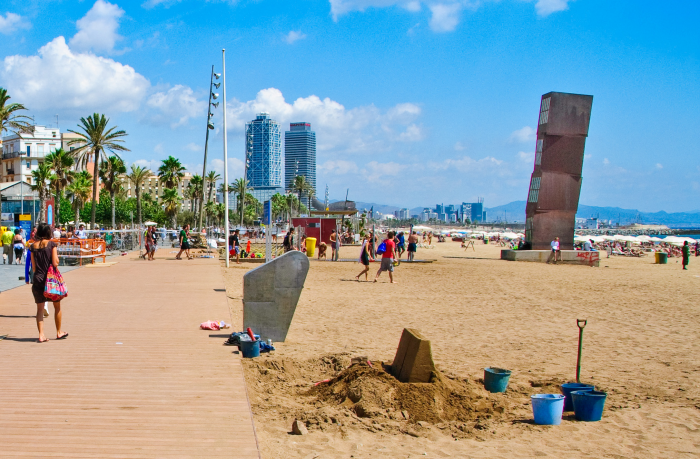 The most famous beach in Barcelona.
If you come to visit the capital of Catalonia, ​​we will help you to find the best apartment in Barcelona. We offer apartments of different types, renovated and well furnished in all areas of Barcelona!
At approximately 1100 metres in length, Barceloneta beach - which started out as a small fishing village in the city - is one of the largest beaches in Barcelona if including Sant Miquel, Sant Sebastià, and Somorrostro, making it the perfect place to enjoy the great outdoors of Barcelona
It is also one of the oldest and most traditional (just take a look at it's history, making it a favourite for tourists, but a stroll by the seafront will also show you that it's home to many modern sculptures along the coast. With its proximity to the Metro (Barceloneta) and many bus lines, most people come here via public transport.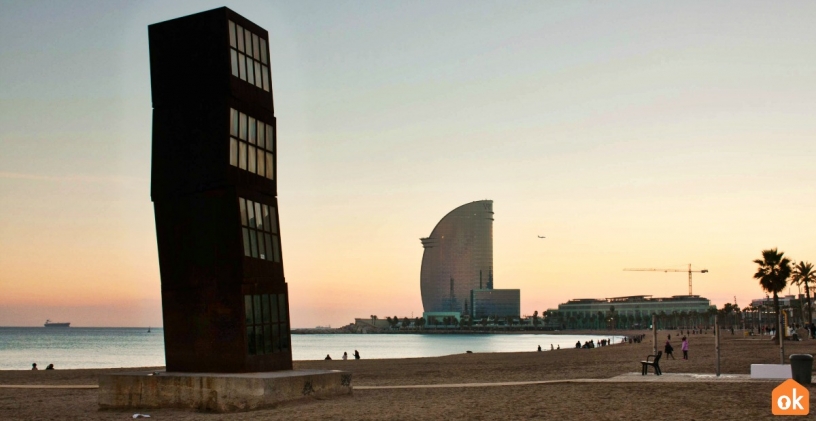 Sunset from Barceloneta
Excursiones por Barcelona
Disfruta al máximo de Barcelona y llena tu viaje de experiencia y emociones inolvidablesreservando una excursión por la capital catalana con nuestros amigos - el equipo de GetYourGuide. Enamórate de Barcelona para siempre:
Services
Its size makes it a suitable beach for lots of leisure activities, for example it's equipped with:
3 Volleyball courts
1 Foosball table in front of Hospital del Mar
There is also a children's playground to the west
Ping-Pong tables
Gym area
"Biblioplaya" (Beach-Library) to read while relaxing in the sun
Beach centre, for more information and activities
Restaurants
Parasol and deck chair rental
Bike rentals
Lockers
Showers and public restrooms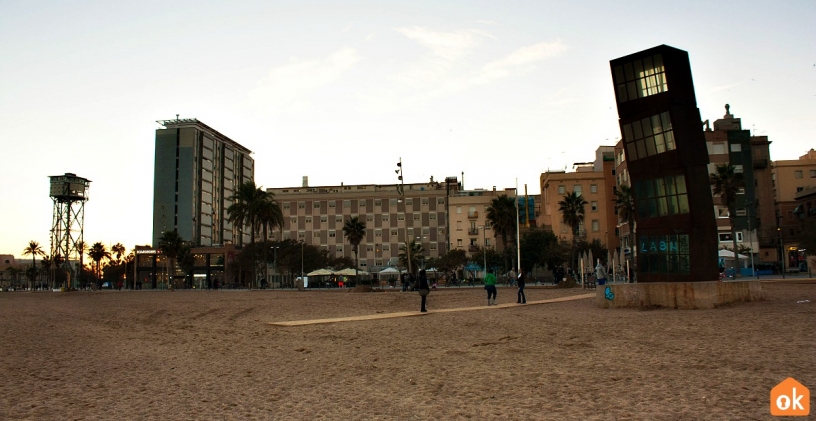 At the other side of the beach
If you come to visit Barcelona, ​​we advise you to stay in an
apartment close to Barceloneta
. In this way, you will be close to everything, save and gain comfort.
See more photos of Barceloneta over on our Barceloneta Pinterest Board!
Useful information
Location:Between Calle del Almirall Cervera and Port Olímpic, in theBarceloneta District
Length: 578 metros - Width: 89 metres
Limits: Between Sant Miquel beach and Somorrostro beach
How to get there:

Bus: Lines 14, 16, 17, 36, 39, 40, 45, 51, 57, 59 and 64.
Metro: Barceloneta and Ciutadella, L4 (Yellow).
Tram: Ciutadella-Vila Olímpica.

Accommodation near this beach: If you want to stay close to Barceloneta beach then take a look at these holiday rentals!
Accommodation close to other beaches: Here
Excursions in Barcelona
To make the most of Barcelona and fill your trip with unforgettable experiences and emotions, we offer you the excursions through the Catalan capital organized by our friends - the GetYourGuide team. Choose your excursion and fall in love with Barcelona:
Other images
Other attractions in Barceloneta
Do you like this post?
Click here!

0/5 - 0 vote
Share your thoughts
Apartments in Barcelona
€1050

Berenguer Soria 4

|

|

36m²

Monthly rental next to the beach for up to 4 people with air conditioning
Related articles
Tired of reading about Barcelona? Find an apartment and stay there!