Dogs on the Metro
You won't have much trouble moving around the city with your pet! In fact, since 1 October 2014, dogs can travel with you on the Metro.
If you come to visit the capital of Catalonia, ​​we will help you to find the best apartments in barcelona city centre. We offer apartments of different types, renovated and well furnished in all areas of Barcelona!
The new ordinance on animals has changed the rules of the public transportation network (TMB) (Transports Metropolitans de Barcelona). Those travelling with pets need to follow certain rules, for instance the obligatory use of a muzzle and non-extending lead. It's also prohibited to travel during the most crowded hours, which are defined as 7:00 - 9:30 and 17:00 - 19:00. Various owners enter the Metro during these times anyway, so long as it's not crowded it is generally accepted, but you can never be too careful.
Finally and importantly, make sure you pet is chipped and in the city census too, if something happens they will want to scan the dog and if for whatever reason they find you haven't adhered to this, you'll be in trouble and probably fined.
And of course, though not new by any means, guide and assistance dogs including those for blind people can travel without any problem or limitations.
Public spaces for pets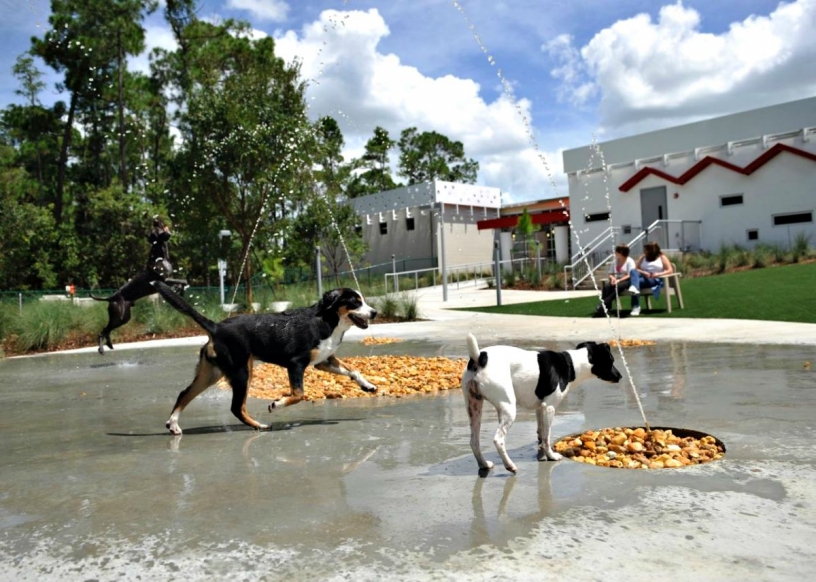 The Catalan capital has a selection of parks and public spaces where you can go for a walk with your pet. The city has 105 areas for dogs and about half of them have an average size of 300 to 400 m². All have gloves and bags dispensers to pick up after a dog, fountains where dogs can drink and cool off, and rest areas with shade under trees. At the entrance to each area are the rules of space in order to know them and respect them.
But 105 areas in Barcelona is still little space for our pets, considering how many pet owners there are here. For this reason, last spring 2014, Barcelona City Council launched the first phase of a strategic plan with the aim of creating more spaces for dogs. The idea is to expand space and make sure every district of the city has at least one specific area of around 700 sq m. Despite this, we're still seeing popular unlisted spots for dog-owners disappearing, like the one around Plaça de Lesseps - with a large part of the green area converted into a kids play area and the remaining green spaces fenced off.
Consult the full list of official designated dog areas in Barcelona.
Parc de l'Estació del Nord, though, will aim to triple the surface area. Other districts like Ciutat Vella, Les Corts, Sarrià-Sant Gervasi, Guinardó-Horta, Nou Barris, and Sant Andreu, are developing new areas. There were 104 areas in March 2014 for dogs, so far it doesn't seem to have increased much.
Here are some recommendations for public areas that you can spend with your precious pet!
Parc de la Ciutadella (Passeig Picasso 1 | Ciutat Vella): In this beautiful park you can go for a walk with your dog. It is one of the best places in Barcelona where you can entertain and have fun with your pet because there are many green areas and long paths ideal for running. Besides, you could even relax yourself by boating or taking yoga classes.
Jardins Joan Brossa (Plaça de Dante | Sants-Montjuic): These gardens are perfect for strolling, jogging, and relaxing with your dog. Here you can enjoy a spectacular view of the city too.
Parc de l'Estació del Nord (Almogàvers, 27-61 | El Ensanche): This large sunny park is structured on two levels. At the entrance of Carrer Lepant there is a lower level where you'll find a dog area and a children's area. The upper level is right in front of the train station where there are two sculptures in the land-art style, i.e. in harmony with nature. The sculptures are Cielo Caído and Espiral Arbolada (sculpted by Beverly Pepper). Check them out.
Parc de Collserola (Carretera de l'Església, 92): More than 8000 m2 of protected natural park that you can read about in our article. You dog will have a fantastic time running around here.
Parc de la Barceloneta (Passeig Marítimo | Ciutat Vella): A large green area full of trees and shrubs, structured in three main zones that open up to the sea.
Parc de Carles I (Avingude Icària 90 | Sant Martí): In this area, not too far from Ciutadella Park, you can walk among cypress trees and water channels.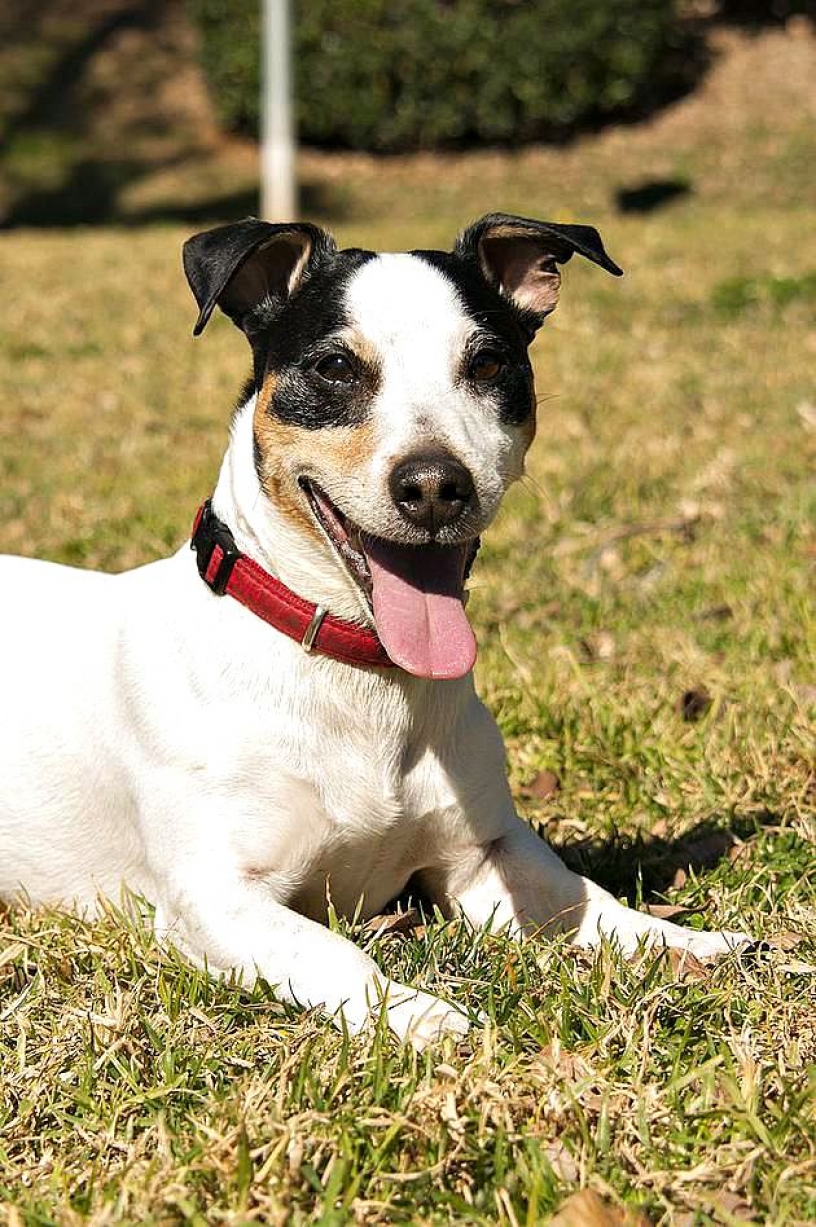 Don't forget about Park Güell! It's one of Gaudí's works. Here you can walk your dog on a lead around the non-monumental areas without problems up to the fantastic viewpoint at the top of the park.
If you want to escape Barcelona with your dog, you can visit Caniparc with them. It's a 20,000 sqm outdoor space near Caldes de Montbui. This is an authentic water park for dogs with numerous facilities, training courses, water games, and more ... Check out the official website! ;)
Excursions in Barcelona
To make the most of Barcelona and fill your trip with unforgettable experiences and emotions, we offer you the excursions through the Catalan capital organized by our friends - the GetYourGuide team. Choose your excursion and fall in love with Barcelona:
Dogs on the beach
Don't even think about taking your dog to the beaches of Barcelona, at least outside of the winter months. From April to October it's strictly forbidden to bring pets along. During winter it's permissible if the dog is on a lead or clearly "under control of the owner" off of a lead, you will spot dog owners along the beaches in the winter months. The exception is guide and assistance dogs, who are allowed access all year round.
If you want to enjoy a day of sun and sea with your pet in the summer, the best option is travel to the Costa Brava, where there are two beautiful beaches for dogs: Rubina Beach in Roses (160 km from Barcelona) and Platera Beach in Estartit (140 km from the capital).
We might not have to wait much more to get a dog-friendly beach in Barcelona. There is a petition that has already collected 31,000+ signatures asking the council to create a beach accessible for dogs. Those supporting the initiative have declared a commitment to "keep the beaches clean and behave responsibly regarding any inconvenience pets can cause." We can cross our fingers!
Eating with Fido...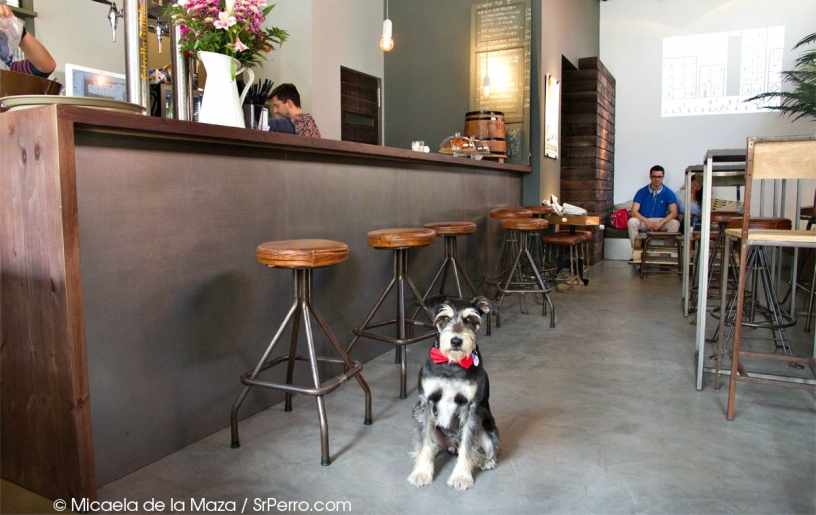 How often do you go out for dinner and your pet looks at you with those eyes as if to say "Can I come, please?" ... And often unfortunately they have to stay home. In Barcelona there are many bars and restaurants that accept pets. You'll find some recommended here, but you can also visit srperro.com, which has a complete guide to places where you can eat out alongside your pets.
Can Solé (Sant Carles, 4 Barceloneta): One of the classic Barcelona restaurants to eat rice and seafood dishes. The staff here are very friendly and nice... Even more if you go with your dog! ;)
Bar Calders (Parlament, 25 Sant Antoni): They are very kind to animals! If you go, they'll give your dog water and maybe some snacks. The interior space is small, your will dog probably prefer to stay with you on the exterior tables!
Bar Lobo (Pintor Fortuny, 3 Raval): It is a tapas and fast food bar of excellent quality. It has numerous terraces to sit peacefully with your pet.
Sol i Lluna (Verdi, 50 Gracia): Here your dog will feel 100% loved! At the entrance there is always a bowl of water and you can enjoy French cuisine with vegetarian, vegan, and an assortment of cheeses. Remember though, your dog can't digest cheese well so think about what you feed them!
Hits (Carrer Sant Pere, 3, Sitges): Feel a bit homesick from time to time? There's a quaint dog-friendly British bar in Sitges that will bring your palate back to the green and emerald isles. Full english breakfasts, fish and chips, Sunday roasts, sheperds' pies.. Why not turn your visit into a complete day out? Get on a train with your four-legged friend (muzzle and lead) and head on down to Sitges. Afterwards you can discover the gorgeous town centre or head to the beaches (October - April)!
Pet-friendly apartments
With OK Apartment Barcelona you can find various apartments where pets are permitted for both holidays and long-term lets. The only thing you'll need to do is notify us in advance! These are mainly spacious apartments. You'll be able to bring not just your stuff, but their's too; toys, food, litter boxes and all. Take a look at the page and choose the place most suitable for you and your pet!