Are you ready? Fairs and conventions of all kinds, activities for the whole family, events for the geeks, races, concerts... it just doesn't end! With these events you'll find it easy to have a great time in Autumn in the Catalan capital.
Parties
If you come to visit the capital of Catalonia, ​​we will help you to find the best apartment in Barcelona. We offer apartments of different types, renovated and well furnished in all areas of Barcelona!
Festa Major de Sarrià
Tradition, music, fire and dance in one of the most historic neighbourhoods in Barcelona. Sarrià was a separate town until it was taken in by the Catalan capital. This makes the festivals more authentic. Look at everything you can find here.  
Festa Major de Les Corts
Les Corts, another district that joined Barcelona when it was still a town as its own entity. These old districts have their own traditions, therefore the festivities are all authentic. Check out the programme:
Halloween! Sorry, Castanyada
Naturally, Catalonia also celebrates the night of witches, or the day of the dead on 31 October and 1 November. Here it is known as Castanyada. You will find thousands of costume parties at various nightclubs and bars around the city. Do you want to know how it is celebrated and the history of this popular event? Do you want to know which activities are the most fun on Halloween? We have them here in this article!
Oktoberfest
Do you want to experience in person the Oktoberfest - German beer festival par excellence - but you can't go to Munich? Don't worry! Over the past few years Barcelona has had its own version of this event at Fira Montjuïc, which returns once again! Sample the finest German beers and tradition dishes. If you're going as a group remember to book a table!
Music
Primavera Club
How? We still haven't talked about a music festival? It's okay, in Barcelona there are many concerts every month and in October it's Primavera Club, which, as its name suggests, is related to the famous Primavera Sound. Therefore, you can enjoy emerging bands or Indie in famous concert halls around the city. You have lots of concerts to choose from!
Voll-Damm Barcelona Jazz Festival
If you want more music this October you're in luck. Voll-Damm Barcelona Jazz Festival returns. Do you like Jazz? Then do not miss this festival!
Sitges Film Festival
Do you like fantasy and horror films? Then you have to know about this festival, the first fantasy film festival in the world which this year is celebrating its 49th edition. You can enjoy numerous fantasy and horror film showings from around the world, awards, exhibitions, meet the directors and famous interpretors and participate in the classic Zombie Walk in which you can dress up as the living dead and cause panic on the streets of Sitges!
Sports
The Colour Run Barcelona
Ready to participate in the most fun run on the planet? On 1 October the third edition of the Color Run comes to Barcelona. A timed race where its important not to run, but to have a great time!
Barcelona Triathlon
This run is more serious then the Color Run but equally appealing. If your thing is to get up on Sundays and run, if you have a runners spirit, if you are prepared, go hard! Run!
Expositions
Barcelona Erotic Show 2018
To make those chilly October nights turn hot there's only one event. Are you ready for the Barcelona Erotic Show? This convention is dedicated to all things sexual, erotic, and adult. Do you dare to attend?
Tattoo Expo
Skin is the canvas and Barcelona is the art gallery! Another of the most anticipated alternative events is the Tattoo Expo, in which hundreds of artists gather to show all their tattoo art. Workshops, live tattoo demonstrations, and endless surprises!
Barcelona Games World 2018
Do not miss any event this month! Barcelona will have its own big event called Barcelona Games World 2017. Get ready for huge gaming competitions and the chance to try all the latest and upcoming releases in the industry! From 5 - 8 October with Games Party, Games Pro, Games Expo and Games Arena.
Barcelona Meeting Point
Do you want to know the latest trends in the real estate industry? Barcelona Meeting Point (BMP) is your must-see!
Eurosteamcon Barcelona
Yes, October is full of curious events and this is one of our favourites! If you're a sucker for stories about time travel and Victorian era sci-fi, and are up for a spot of tea, ol' chap; then stop by the international Steampunk Convention! Steam-what? If you want to learn more click here or go directly to the convention... It's just 3 euros!
Salón Náutico
All aboard! Barcelona's Salon Náutico sets sail, full of treasures including expositions, workshops, amazing water-sports (Flyboarding, surfing, wakeboard...), and the change to drive boats moored at the dock. Are you ready, matey?
Climate in October
Average temperatures
Barcelona benefits from excellent weather in October with the probability of sunny days being 81%. The average temperatures fluctuate between 19ºC at night and 25ºC at midday. With 7 hours of sun during the day and sea temperature of 22ºC, its the perfect climate for sunbathing and enjoying the sun.
Average temperature: 20°C.
Maximum temperature: 24°C.
Minimum temperature: 16°C.
Sunrise: 7:49h - 8:20h
Sunset: 19:32h - 17:49h (halfway through the month the clocks change)
Benefits and drawbacks of travelling in October
October is a good month to visit Barcelona. The temperature has dropped and autumn has just begun. Here you hace our comments:
Advantages
The high temperatures of summer have gone and everything is more calm. But you can still take advantage of the beaches, although only to walk along. The city has returned to normal life and the centre is less busy than during the summer. Also, there are still parties and festivals celebrated in various neighbourhoods and many events that mean you won't have to stay at home.
Excursions in Barcelona
To make the most of Barcelona and fill your trip with unforgettable experiences and emotions, we offer you the excursions through the Catalan capital organized by our friends - the GetYourGuide team. Choose your excursion and fall in love with Barcelona:
Drawbacks
There is routine, people are at work, and you can't bathe on the beach. But we still couldn't find many drawbacks to coming to Barcelona. It's a city that never stops and there's always things to do. So enjoy. ;)
How about that? Isn't October a really cool time to go out and have fun in Barcelona instead of staying at home? No need to delay, you can already start planning your month with all this info! If you want to stay up to date with what's going on in the city then you can follow us on Facebook, Twitter, Google +, and Instagram!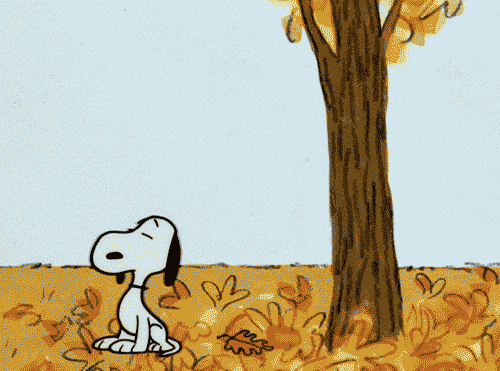 If Snoopy can have this much fun in October, so can you!