EurosteamCon - Steampunk Fair
When: 26-27 October
Where: Casino l'Aliança del Poblenou on Rambla del Poblenou, 42
Price: Early bird ticket: €10. Regular ticket: €12. Box office tickets (on the day of the event): €14. Children under 12: free entry
Buy Tickets: Visit this page for more information on how to get a ticket to Eurosteamcon Barcelona
Travel to a sci-fi victorian era... in Barcelona!
If you come to visit the capital of Catalonia, ​​we will help you to find the best holiday apartments in Barcelona. We offer apartments of different types, renovated and well furnished in all areas of Barcelona!
The Barcelona Steampunk Fair is back for another year and organized under the EuroSteamCon brand. Just like last year, the fair will become a stage where designers, artists, artisans and performers will show their creations, in addition to participating in various activities.
What is Steampunk?
The name "Steampunk" started as a joke. There was a movement in science fiction to write in a genre known as "Cyberpunk". When various writers began exploring similar concepts and ideas but setting them in a pseudo Victorian world one of those writers, K.W. Jeter jokingly coined the term "steampunk". As a tongue in cheek descriptor it stuck.
Steampunk started as a literary sub-genre within science fiction during the turn of the 20th century, that incorporates technology and aesthetic design. It's all about mixing the old with the new: fusing the usability of modern technology with the design aesthetic and philosophy of the Victorian age.
Steampunk is inspired by the works of authors like H.G. Wells and Jules Verne. Over the years, this sub-genre has evolved into an artistic and sociocultural movement and not just a literary one. Steampunk takes place in a world where steam technology remains the dominant industry and usually takes place in Victorian England. It incoroporates elements from genres such as fantasy, horror, historical fiction and more, making it a hybrid genre. The term steampunk often refers to many works of fiction in the 1950s or 1960s.
Simply, Steampunk could be described by the slogan "What the past would look like if the future had happened sooner".
Values
The steampunk community is incredibly diverse and includes writers, musicians, model makers and more! Steampunks try to take the best parts of the past and make them part of a bright future. Good manners and polite conduct are highly valued and encouraged by setting an example for others. They believe things should be made to a high quality so that they last for a longer period of time, thus benefiting the environment. This is why creativity is encouraged. Because of these values, they have also been asked to collaborate in educational and arts projects across the globe.
Steampunk Fashion
A sub-genre of the movement, steampunk fashion is a mixture of fashion trends from different historical periods. Characters from the 19th century are common, such as explorers, soldiers, countesses etc., to more contemporary styles such as burlesque, goth, vampire etc. The 19th century clothing tends to be more common. Steampunk costumes are among the most complex and imaginative you'll see at fan conventions, however the main themes are Victorian-inspired silhouettes, leather, buckles, faux-vintage armor, retrofuturistic weapons, and lots of bronze and brown. The outfits are often finished off with prominent accessories, such as goggles, top hats, or mechanical gadgets.
You will often find women wearing dresses complete with petticoats, corsets and some kind of headwear such as a floral pin or feminine top hat. However, not all women wear dresses. Some prefer to dress as a pilot, air pirate or an engineer. Elegant, fingerless gloves are also a common item wom by many steampunk women.
Men often dress in traditional Victorian style, wearing suits with vests, top hats and long, straight coats. These are often paired with high leather boots, gloves and goggles. Explorers, aviators and air pirates are common characters to dress as amongst steampunk men.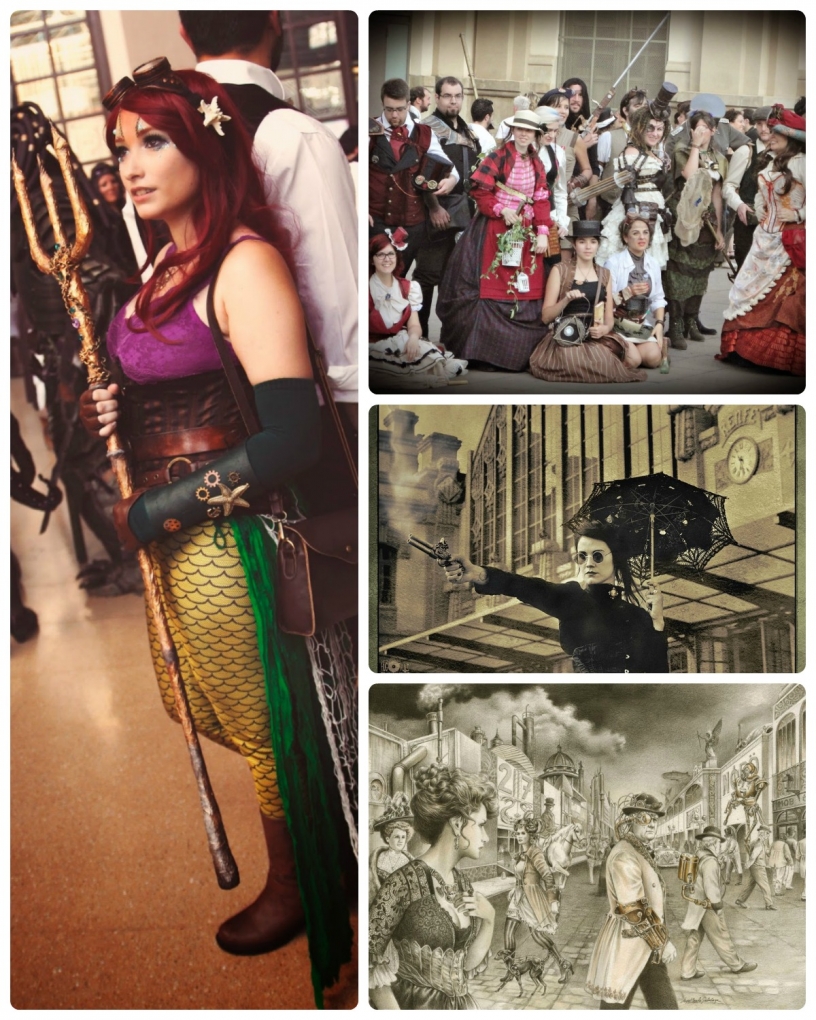 Don't miss the EuroSteamCon Steampunk fair in Barcelona (Illustration by Teo Perea)
Excursions in Barcelona
To make the most of Barcelona and fill your trip with unforgettable experiences and emotions, we offer you the excursions through the Catalan capital organized by our friends - the GetYourGuide team. Choose your excursion and fall in love with Barcelona:
Music
Steampunk music can be described as eclectic, with common influences from gothic, synth-pop, industrial, dark wave and new wave with hints of orchestral, ragtime, folk amongst many more. The performers also wear typical steampunk clothing and often modify their instruments to make them sound more authentically Victorian. Below are some examples of typical steampunk musical performances:
Do you like this post?
Click here!

5/5 - 1 vote
More events
Share your thoughts