MNAC - National Museum of Art
(Museum)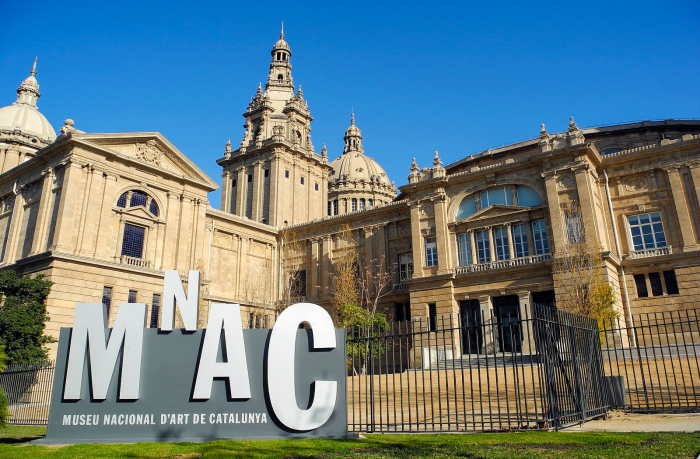 The MNAC museum, also known as the National Museum of Art of Catalonia, is one of the most important art museums in Catalonia and offers an artistic journey through time, going back almost one thousand years. It's an essential visit in Barcelona as it is home to the most complete collection of Medieval Catalan art, as well as a set of Romanesque wall paintings. The journey will bring you all the way to the modern era, whose collection features movements as great as Modernism and Avant-Garde sculptures.
A Complicated Construction
The MNAC is housed in a building known as the National Royal Palace and was built by Eugenio Cendoya, Enric Catá, and Pere Domènech i Roura. It was erected between 1926 and 1929 for the Universal Exposition. The objective was for it to house more than 5000 works of art from around the country. Not so long after the palace was built, it was already seen as the future base for MNAC in 1934, but was initially criticized for the speed of its construction, saying that it would not be of sufficient quality to play up to this role. Eventually the project went ahead, when in the 1980s, the Italian architect, Gae Aulenti, took care of all these problems. The works finally ended in 2004.
The style of "Revival"
According to the preferences at the time, the building was constructed in the style of bygone eras, mixing Baroque with the renaissance. It took inspiration from other famous buildings, like St. Peter's Basilica in the Vatican, and St. Paul's Cathedral in London. However, this mix from various sources adds up to something very unique, even on the inside, where most of the interior is decorated in a 19th century style.
What can you find at MNAC?
If MNAC is famous for anything, then its the large collection of Romanesque, Gothic, Baroque, Renaissance, and Modern art. Despite this, you will also find smaller collections of drawings, prints and posters, photography, coins, and murals. Full information on the collection can be found on the Official MNAC Website. There is also a rooftop terrace with stunning views, as mentioned in our guide to Barcelona's best terraces.
This museum is one of the best adapted for access to people with mobile impairments, it also surrounded by free places to park!.
Other attractions in Sants
The Olympic ring

The Olympic Ring of Montjuïc was the nerve centre of the 1992 Olympic Games in Barcelona.

Poble Espanyol

Poble Espanyol (Spanish Village) is a recreation of typical Spanish villages.

Fira de Barcelona - Montjuïc

When you come for a trade show in Barcelona, you'll certainly end up at the Fira de B...
Do you like this post?
Click here!

5/5 - 1 vote
Share your thoughts
Apartments in Barcelona
Related articles
Tired of reading about Barcelona? Find an apartment and stay there!