Nou Barris
(Districts)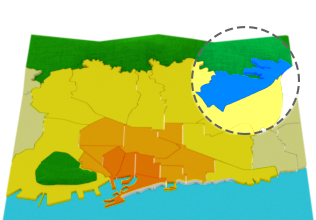 Nou Barris — Fourteen neighbourhoods make up the district
Nou Barris translates from Catalan to English as 'Nine Neighbourhoods', so you can probably guess the number of neighbourhoods that this district is made up of… Fourteen actually. Over time five more have been added as the city infrastructure improved and this part of the city was renovated. Today it's one of the most authentic residential districts with many parks and gardens, allowing you to experience the real Barcelona lifestyle.
We tell you the reasons why to stay here, its attractions to visit and the best places to eat and go shopping. If you're student you'll also be interested in learning about libraries, green areas and places to practise sports.
Why Stay Here?
If you come to visit the capital of Catalonia, ​​we will help you to find the best holiday apartments in Barcelona. We offer apartments of different types, renovated and well furnished in all areas of Barcelona!
Nou Barris is a quaint and not widely known district at the most north-western part of the city, close to the district of Sant Andreu. It's ideal for families that want to spend some peaceful moments together. With lots of parks it's ideal for those demographics and as an added bonus accommodation is much less expensive than the city centre. If you like to be in a quiet environment and close to nature, check out our selection of monthly rentals in this neighbourhood.
Attractions

Santa Creu Institution
The biggest attraction of the district is the large number of green spaces, like the very modern 17 hectare park around Plaça de ca N'Enseya, opened in 1999 and renovated in 2003. It's the second largest park in the city and has a range of significant buildings such as the Santa Creu Mental Instition (now a Library) and the Nou Barris Council Headquarters. The park is unique in that it is divided up into triangular sections and layouts, right down to the triangle fountains. Also in the zone is the park of Turó de la Peira and Guineueta Park. If you like sculptures, then you should visit those from Francesc Pi i Margall in Plaça Llucmajor.
Information for students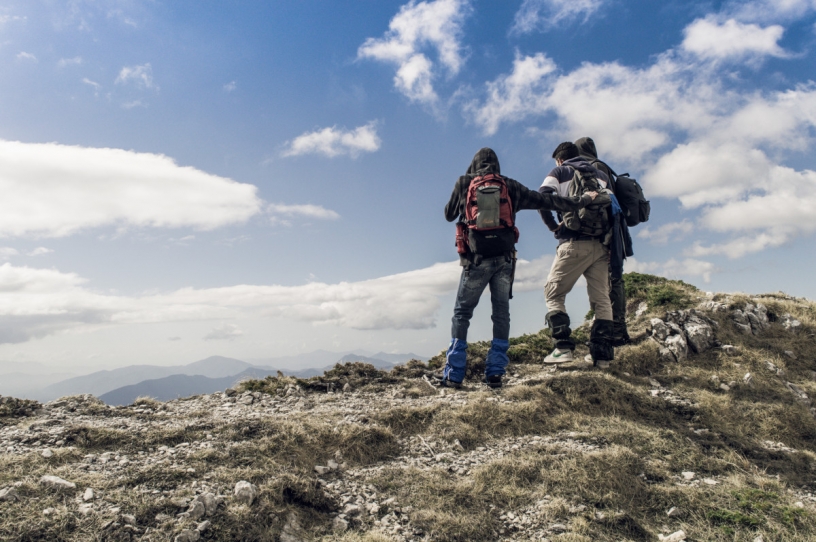 Hiking in the mountains with friends
Nou Barris isn't a favourite neighbourhood for students in Barcelona. Even so, here you can find the Institut de Govern i Polítiques Públiques from the Universitat Autònoma de Barcelona. Students of this university may be interested in knowing that we have private student apartments in this area.
Apart from university libraries, there are a few very quiet municipal libraries to study in silence, like Les Roquetes Library, Vilapicina i la Torre Llobeta Library, Canyelles Library and Zona Nord Library. You can also improve your language skills at a language school, there's Welcome Language School and Lenvi School in the district.
However, the best part of this district is undoubtedly its large green spaces and sporting facilities. To the north you'll find a mountain offering great forests to trek around. You also have the Parc Central de Nou Barris and Parc Turó de la Peira for more calm strolls.
In addition to the various football and basketball courts in the neighbourhood, there are also municipal sports facilities to practise all kinds of physical activities. You'll find the Centre Esportiu Municipal Artesania, Centre Esportiu Municipal Can Dragó and Centre Esportiu Municipal Can Cuyàs.
Excursions in Barcelona
To make the most of Barcelona and fill your trip with unforgettable experiences and emotions, we offer you the excursions through the Catalan capital organized by our friends - the GetYourGuide team. Choose your excursion and fall in love with Barcelona:
Where to eat

Bar in Nou Barris
La Esquinica is a cool little place to eat out at. There is a wide menu selection with all kinds of tapas at a good price. The Patatas Bravas are brilliant, with a friendly and attentive staff. It's a good sample of Spanish cuisine and culture.
If you can get over then name of El Freak & Do, you'll find an original and fun locale that serves up tasty Mediterranean cuisine. To step away from the tapas bars, step into All i Oli, a restaurant with top quality food at an even better value.
Shopping

Mercat de la Mercè
For your shopping needs, take a trip down Passeig Valldaura or Vía Júlia, zones with a diverse selection of stores. Supermarkets, banks, fashion boutiques, technology, home-wares, and more.
If you're looking for a bit of a fun and local shopping experience, stop off at the Mercat de la Mercè on Pg. Fabra i Puig. Established in 1961, this market has since offered the locals all kinds of fresh produce, like meat, fish, cereals, dairy, fruit, and much more.
Getting Around

L4 - The Yellow Line
Though it may be in the most northern part of the city, the Nou Barris has a massive selection of Metro stations
Llucmajor, Maragall, Via Júlia.
Vilapicina, Virrei Amat.
There are also a variety of buses that pass through the district, like lines 80, 81, 82, and 83 at Plaça Llucmajor.
Do you like this post?
Click here!

3.75/5 - 8 votes
Share your thoughts
Related articles
Tired of reading about Barcelona? Find an apartment and stay there!