We have have over 100 apartments to choose from for families, so you might have a hard time choosing the perfect one for you. Don't fret though, we've started you off with a selection of 10 of our favourites!
Consell Cent Gràcia II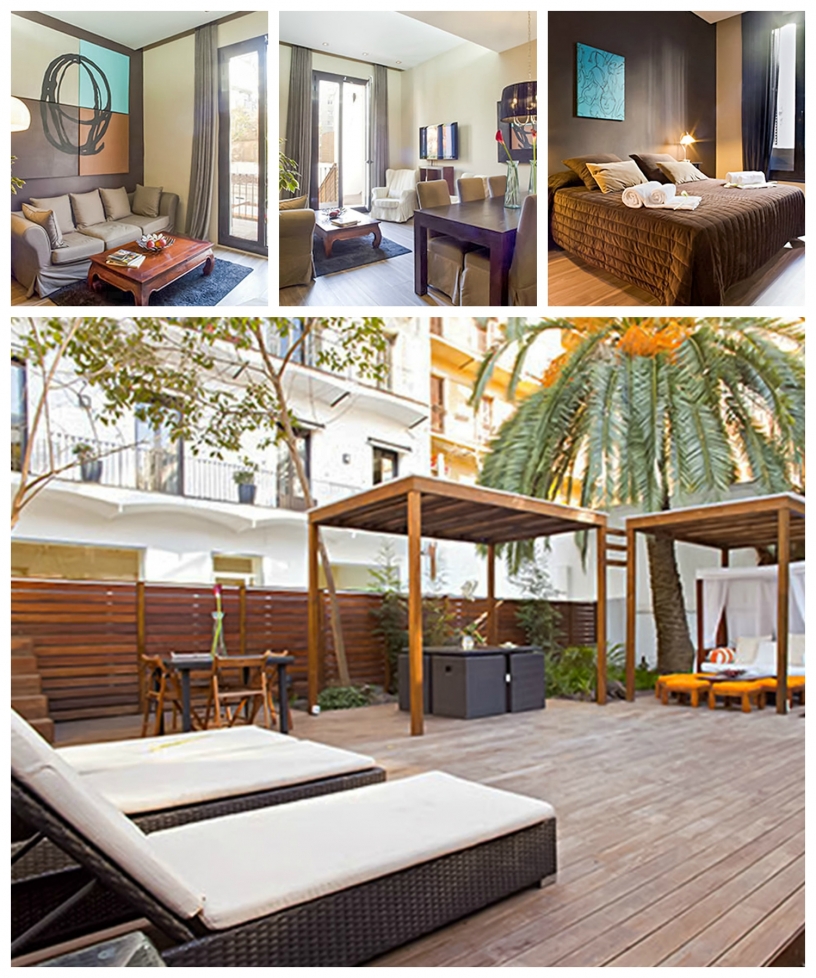 Amazing terrace with attractive wooden decking
Want to be right in the city centre where all the action is? This 150m² family apartment is right by Passeig de Gràcia - the main shopping high street of the city. The other great aspect is that there are 5 separate double bedrooms, so whether you're a family of 4, 5, or 6, the children all get entire double bedrooms to themselves! That's in addition to the stunning terrace where you can have fun or relax under the Spanish sunshine.
Recommended family activity near this apartment
Casa Batlló is just around the corner from this apartment. The zany colours and forms of this apartment building designed by Gaudí will have your children bewildered and probably wishing you could live there yourselves!
Apartment Park Güell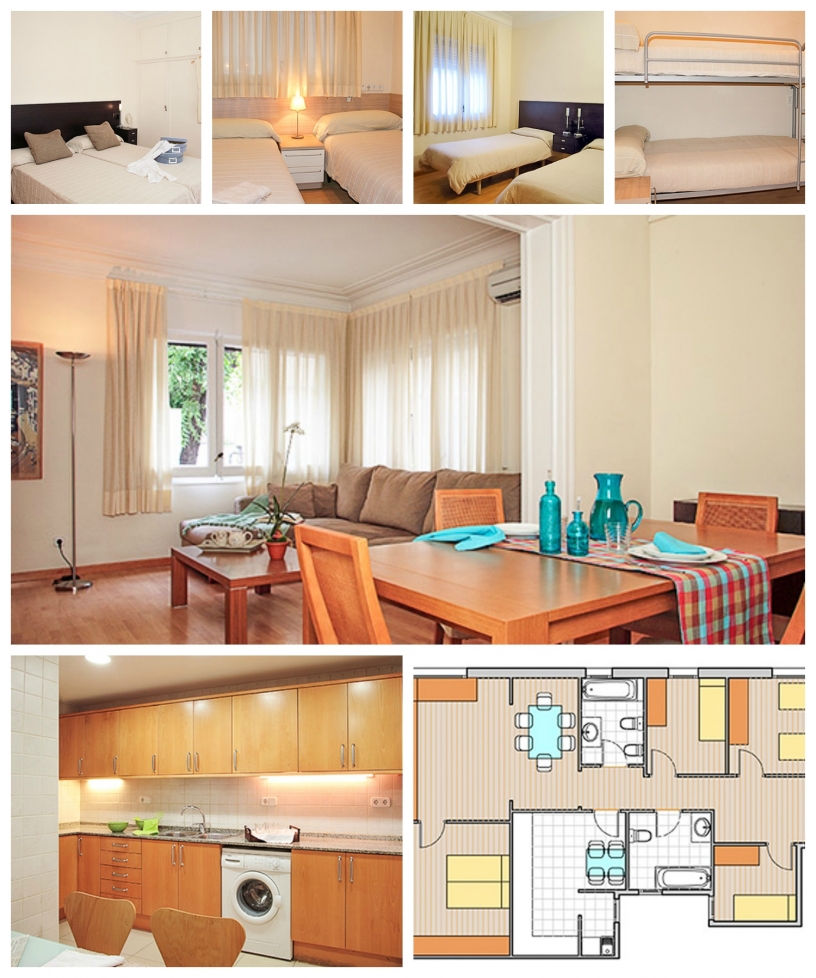 Warm and inviting 4 bedroom apartment near Park Guell
For a more peaceful time in Barcelona, you can stay in an uptown apartment like this one. With the metro just around the corner you can get just about anywhere in the city without having to rush. There are 4 double bedrooms; 3 with 2 single beds and 1 with a bunk bed. You can "mix and match" your rooms. If you want 2 double bedrooms and 2 twin bedrooms, you can simply separate or push the beds together to your liking!
Recommended family activity near this apartment
There are plenty of parks scattered in every direction around this apartment. With the beautiful "Jardins del Turo del Putxet" right on your doorstep, the kids will have plenty of places to play. Park Güell - another fantastical landmark created by Gaudí - is just 10 minutes away on foot.
Lepant Auditori II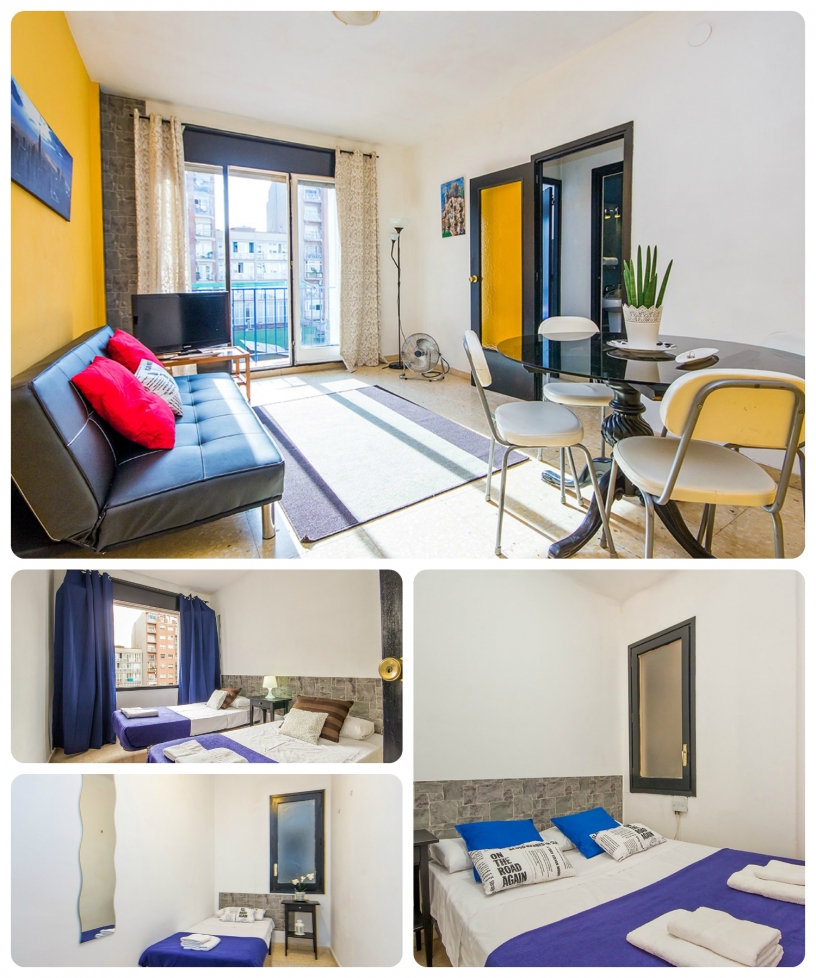 Beautifully designed apartment for families.
With a modern decór and room for up to 7 guests, you can easily make Lepant Auditori II your family's temporary home in Barcelona. We would recommend you book it during the low-season though, as there is no air-conditioning. If you can get by on fans during the summer, this place will be very light on your wallet compared to other accommodation. It has WiFi Internet access and a cot can be set up.
Recommended family activity near this apartment
Mercat dels Encants is a thriving marketplace. It makes for a great day out as all sorts of things are sold here that will appeal to the whole family, including toys that your children may like. Something here could make for an enduring souvenir that will end up being treasured for a lifetime.
Pau Casals Terrace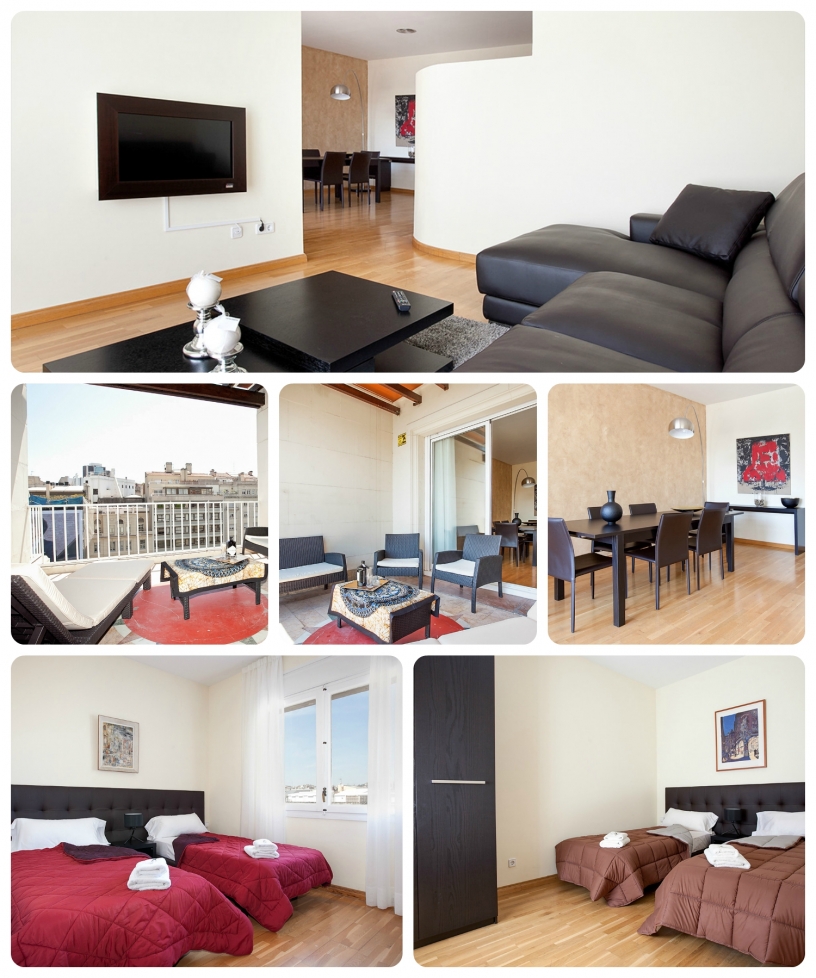 Elegant apartment with covered balcony terrace
This large apartment, as you might guess by the name, has a terrace! It's a small and charming one too. Inside we have a large space that measures over 175 m². Modern throughout, you will find a master bedroom with en-suite in addition to 2 twin bedrooms and a single bedroom. There are two bathrooms, internet access, and even an office (…just in case)!
Recommended family activity near this apartment
Turó Park is peaceful place that's full of sculptures and has a little terrace by an outdoor theatre, in addition to a kids play zone. A great family friendly area.
Padilla Attic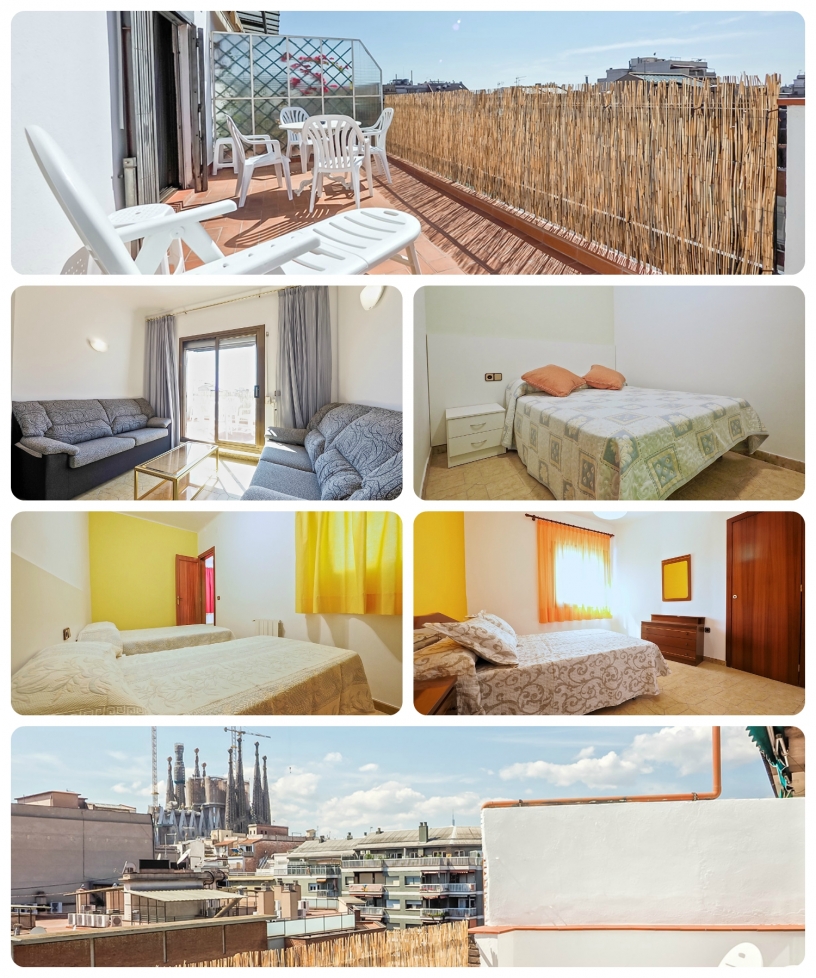 Apartment with terrace views of Sagrada Familia
Padilla Attic has a nice terrace too! It's by no means the biggest, but from here you can see the iconic Sagrada Familia boldly raising its spires in the distance. There are two double bedrooms, a twin bedroom, and a single bedroom. This accommodation is quite popular with families, so you'll need to book in advance. A cot can be set up here if you need it.
Recommended family activity near this apartment
You definitely have to visit the Sagrada Familia at least once in your lifetime, but afterwards, why not take a rest and head to Plaça de Gaudí next to it? Here you'll find a small kid's play area.
Gran Via Universidad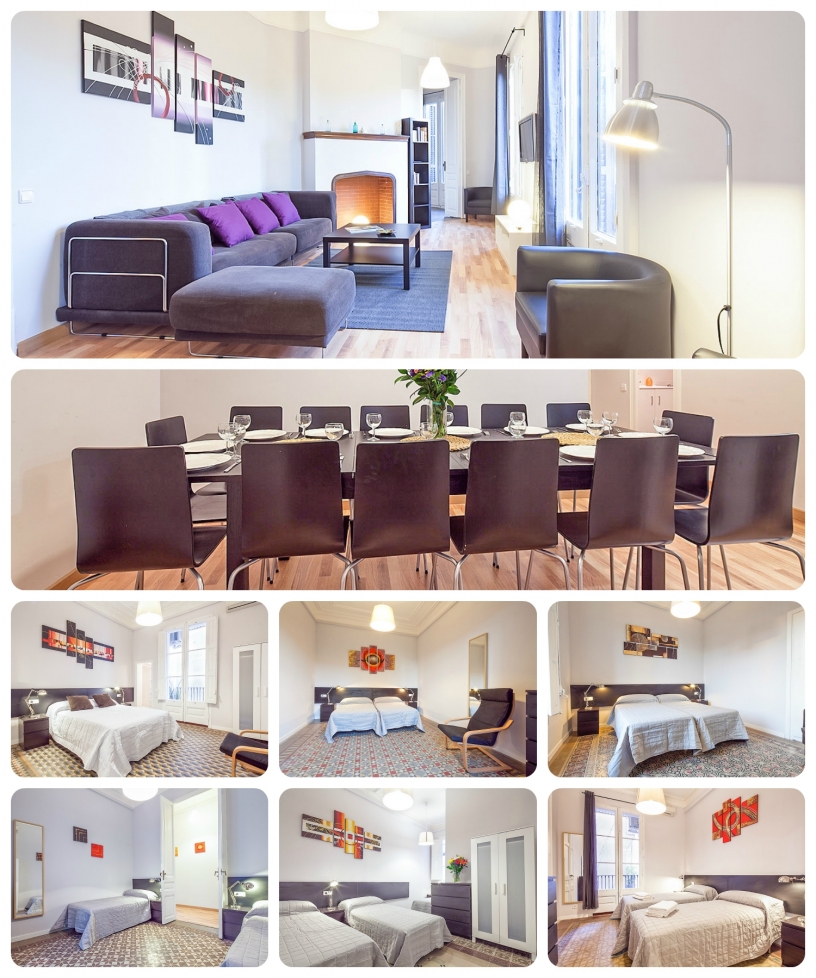 Gran Via Universidad has room for up to 20!
Okay, these apartments are pretty big, but what if you're visiting Barcelona as two families? Or maybe you're bringing some cousins, nephews, or grandkids. We're pretty sure there will be plenty of room for everyone in this 190 m² apartment for up to 20 guests (yes, you read correctly). You could even set up a cot. Due to it's capacity, it's very popular with groups and families, so plan in advance. It's cheaper than booking 5-10 hotel rooms!
Recommended family activity near this apartment
Being in the city centre, you can do all the usual sightseeing you would and bring the kids along. You might want to treat them though, so why not take them to the cinema? Aribau Multicines. It's on our list of Original Language Cinemas in Barcelona.
Provença Terrace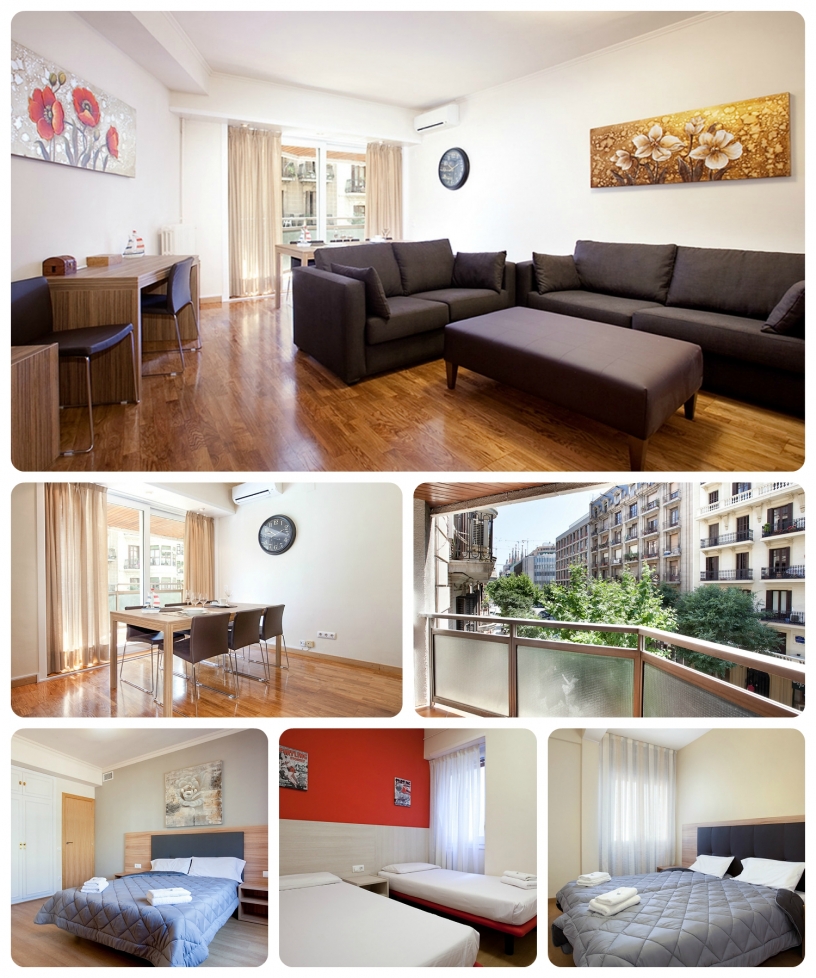 Modern family apartment with terrace
An all-round great apartment, right next to the metro so you can navigate the city with ease. It's also modern, has WiFi access, air-conditioning, central heating, and a nice little covered balcony. You can have 8 people stay here, with 6 single beds and a double bed. There are also two bathrooms.
Recommended family activity near this apartment
Passieg de Sant Joan is one of the most pleasant parts of Barcelona and there are many childrens' play areas along the way. It's also a short walk from Jardins de la Torre de Aigües, where your children can have loads of fun in the pool.
Provença Cartagena 6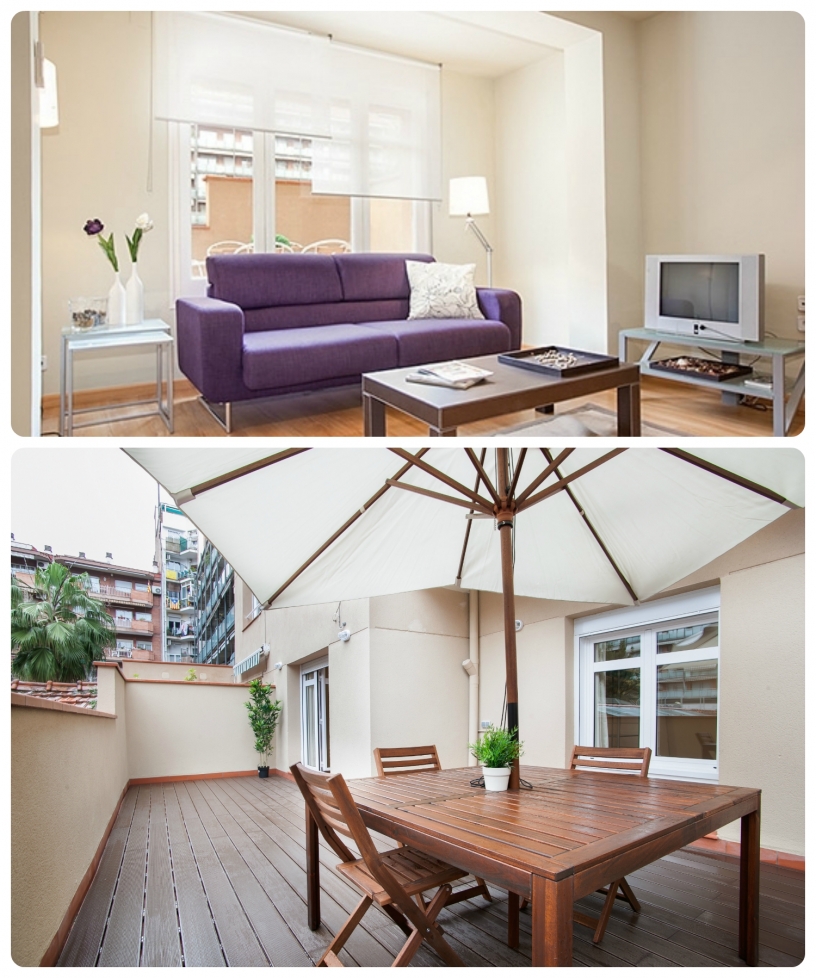 Provenca Cartagena is a modern apartment with a great terrace
The Spanish have a saying; "Bueno, Bonito y Barato" to describe something of really good value. You take the decent sized terrace, 4 bedrooms, air-conditioning, Internet access, fully-equipped kitchen, and it all adds up to a fabulous deal. If you need a cot here it's no problem, simply make it known during your booking.
Recommended family activity near this apartment
Like Padilla Attic, this apartment is also close to the Sagrada Familia and Plaça de Gaudí. You could also visit Hospital de Sant Pau, a modernist work of art created by a father and his son. There is also a childrens' play area right around the corner from the apartment on Carrer del Rosselló.
Corts Camp Nou 3-1
Located right next to Camp Nou and with a fantastic football theme!
Like football? Well you've scored with this apartment then. Look out the window and what do you see? Camp Nou, the home ground of FC Barcelona. It's fully modernised with a football theme throughout the 4 bedrooms (1 double and 3 twins). You can also request a cot here.
Recommended family activity near this apartment
If you've ever wanted to bring your kids along to a football match, there's no better place than Camp Nou, where you can watch a match with one of the best teams in the world.
10 - Taulet Montjuïc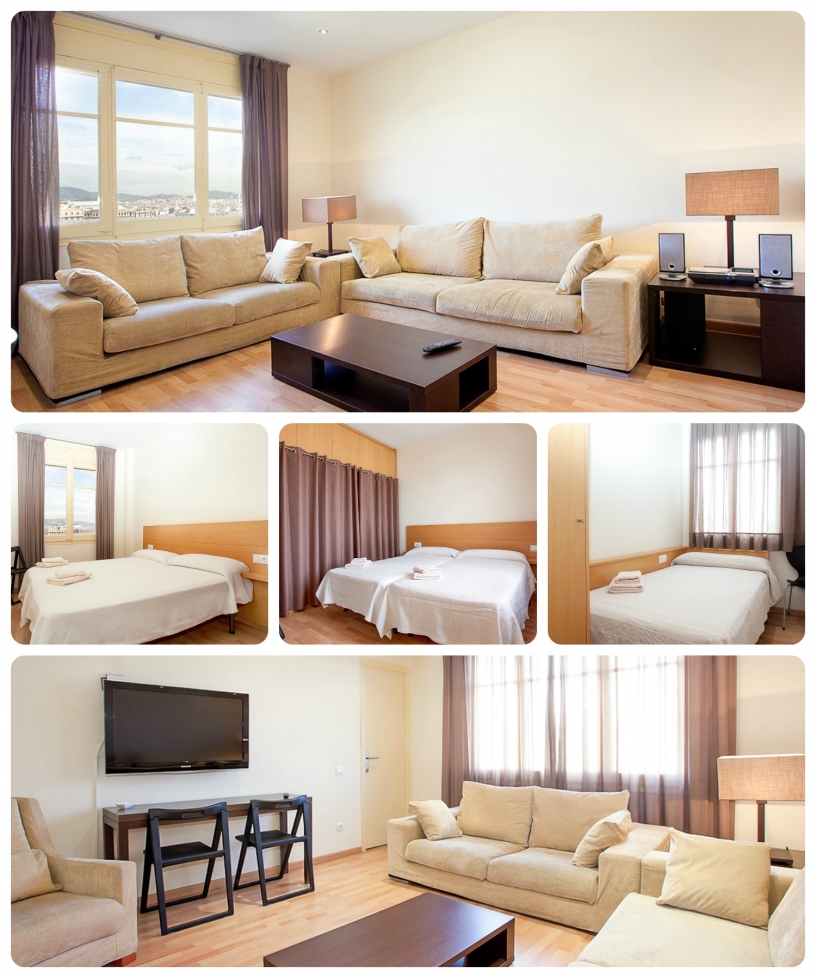 Family apartment ideally situated by Montjuic
Montjuic is one of the best areas to stay in Barcelona as it's full of attractions, yet you can easily reach the city centre. This is another flexible apartment with double bedrooms that can be set up with a double or two single beds. In addition there are two single bedrooms. It's fully equipped throughout (WiFi, air-conditioning, etc) and you can request a cot.
Recommended family activity near this apartment
One thing your children will always remember when you visit Barcelona is the gorgeous, bewildering, and whimsical show of the Magic Fountain of Montjuic. It's something that you absolutely must do! Shows are on almost every night and afterwards you can all dine out in one of the many nearby restaurants.
10 great places to stay for the whole family! What more could you ask for? Well maybe some more cool things to do in the city with kids. We've got you covered, take a look at these kids activities and outdoor activities. Otherwise you could always take a look at some of the exciting events on in Barcelona!
We also have a hand-picked selection of cheap accommodation that includes places for between 6-8 people. Take a look, you might just find a bargain for you!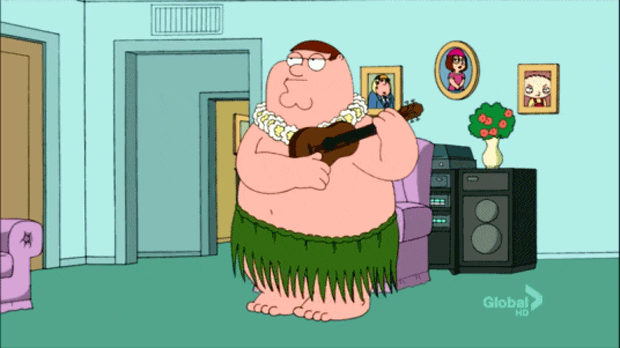 Peter's making the most of the space and privacy a family holiday rental gives.