Barcelona Festivals
Festival Grec
This edition of Barcelona's Grec Festival marks its 41st anniversary. You'll have a whole month of theatre, dance, music and circus across the city — from experimental works to the most conventional — for all audiences. It also has an extensive program for children and families.
Festival Cruïlla
It's the month of music! This time in Parc del Fòrum. This music festival has varied styles of music over three days and offers concerts from the most disparate genres, from reggae to hip hop, electronic music, and punk rock. Visit the event page by clicking below and grab your tickets too, they will sell out!
Rockfest Barcelona
Get ready for the heaviest festival in town! For the second year, the neighbouring town of Santa Coloma de Gramenet welcomes the Rockfest, a festival that brings together legendary rock heavyweights. The lineup this year is impressive, because it features Alice Cooper, Deep Purple, Europe, Metal Church and Alter Bridge. 
Guitar Festival
The Guitar Festival has been strumming rhythms since the beginning of the year. From 23 January to 6 July, all kinds of music are featured. The star of the festival is obviously the guitar. Artists who will be on stage are: Miguel Campello, Hindi Zahra, Muchachito Y La Banda del Jiro, Damien Jurado, Elefantes, Ute Lemper, Rick Astley and many more.
Barcelona Beach Festival — An electronic festival
One of the biggest festivals in July is going to be Barcelona Beach Festival. It takes place on 15 July at the beach by Port del Forum and Parc de la Pau. It's going to be the fourth edition, with the best electronic music of the moment. There are international DJs like Armin Van Buuren, Axwell Ingrosso, Dimitri Vegas Comme Mike, Hardwell, Martin Garrix and many others.
Mas i Mas Festival
From 28 July to 1 September this festival will be held in many places across Barcelona's city centre. Some of them at fantastic venues like Jamboree and Born Cultural Centre. Many talented artists will come, including Uri Cane and Imany. A festival that gives space to jazz, flamenco, classical music, techno music and more... It's already well known in the Catalan capital.
Unite with Tomorrowland
This year and for the first time, Tomorrowland will be live for everyone. Well, not for everyone but for some selected cities. Barcelona is one of the chosen ones! So with the name "Unite with Tomorrowland", the Belgian festival comes to Barcelona. It will be on 29 July in Santa Coloma de Gramenet. You can listen to artists like Axwell, Armin Van Buuren, David Guetta and Steve Aoki. Check below for more information:
Festival Jardins de Pedralbes
If you still desire more music, then you're in luck. There are still concerts scheduled in the Jardins de Pedralbes festival until 14 July. Among them are Birdy, Sting, Ludovico Einaudi and Yann Tiersen.
Costa Brava Festivals 
The Costa Brava is not only home to one unique and magical musical festivals in the country, but two! So if you want to make the trip out of Barcelona and get to know this region a bit, then there's no better way than using these two music festivals as an excuse.
Festival Castell de Peralada
This is held at the fabulous Peralada Castle. It's a multidisciplinary festival that brings big names in music, from opera to pop; dance, from ballet to modern; and theatre, from classics to contemporaries; in addition to hosting a musical of Geronimo Stilton. A magical atmosphere with the best performers!
Cap Roig Festival
The other is one of the most important summer festivals in Catalonia. It takes place at Cap Roig (Calella de Palafrugell) — one of the most beautiful botanical gardens in the world — and hosts major international acts such as Ben Harper, Woody Allen, Norah Jones and Jason Derulo. The concerts take place outdoors, surrounded by nature and wonderful views. It also has a dedicated programme to keep the youngest of the household entertained :).
Open-air cinemas
Mecal Air
We all want to spend a lot of time outdoors in summer. So, what better way to do it than watching short films with friends and a glass of wine? Mecal Air is the summer alternative to the classic movie theatres. Come and enjoy a combination of short films and food. Every Friday of June, July and August, and the first two Fridays of September.
Open-air cinema - Sala Montjuïc
Like cinema? Here you have the opportunity to see great classics films and recent blockbusters in a way that's unique and special — by having a picnic in the gardens of Montjuïc's castle. Every Monday, Wednesday and Friday during summer will see films screened here in their original language, plus subtitled in Spanish. Films like The Big Lebowski and American Hustle. Plus, you can enjoy concerts and masterclasses.
Open-air cinema on the beach - Cinema Lluire
What if you prefer the beach to the mountains? Well there's another open-air cinema in Barcelona during the summer called Cinema Lluire. This event takes place on Sant Sebastia beach each Thursday and Sunday. It shows the latest in independent movies, short-films, and live music. Unlike the one on Montjuic though, this one is completely free.
Other events
Pride Barcelona
The pride festival and parade is celebrated in Barcelona until 9 July 2017. The main days are Friday, 7 July and Saturday, 8 July. This year, HoliPride debuts with music on Saturday, 8 July at 12PM at Moll de la Fausta. The march starts at 4PM and is scheduled to end at 8PM upon reaching Moll de Fusta.
The Magic Fountain of Montjuïc
During the summer, the magic fountain runs its largest number of shows. July sees three shows every Wednesday to Sunday each 30 minutes at 9:30PM, 10PM, and 10:30PM. It's a show of light, water and music, in a spectacle that never fails to leave onlookers in awe. It's free, so why would you miss it?
Música als Parcs
In this 2017 edition, the programme includes 50 concerts, all for free. From June until the end of August you can listen to music in many parks across Barcelona. This event has been carried out for 15 years and includes the great quality music. The musicians this year include the Municipal Music School of Eixample, Nou Barris Municipal Music School, Thames Youth Orchestra and The Durham University Classical Ensemble. All the performers are between 16–35 years old.
'David Bowie is'
Concerning exhibitions, don't miss the show of the year — 'David Bowie is'. It's a temporary exhibition about the British artist and his incredible career. There are more than 300 objects including scene costumes, sketches, lyrics, photographs, musical instruments and much more. The aim of the exhibition is to show the influence of the artist in the world of art, not just music.
Photobook Phenomenon
The Photobook Phenomenon exhibition will be held during the summer months at the CCCB (Contemporary Culture Centre Barcelona). It deals with the impact of photo albums as a medium, from their inception to the present day, and how in recent years the resurgence of photo albums. You'll get to see a one-of-a-kind exhibition.
Well? You still think Barcelona is just for sunshine and beaches? Well, with some organising and forethought it can be much more than that; you can get sun and beaches anywhere, but these events will truly make your time unforgettable. Whether you're looking to spend a few weeks here or move here, we offer daily and monthly rentals that are ideal for the summer.
Here's wishing you fabulous July!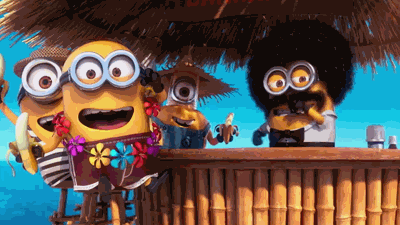 The minions are having great time in Barcelona