Park Güell
(Park)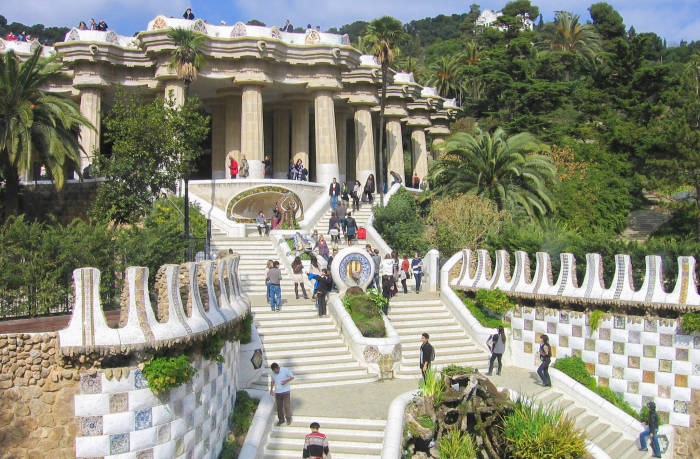 Park Güell is one of the most famous projects by Catalan architect Antoni Gaudí. The park is named after Count Eusebi Güell, who commissioned the development of the area into a luxury housing estate. The project took 14 years to complete between 1900 and 1914 and was ultimately a failure as only two houses were built. One occupied by Güell and the other by Gaudí.
If you come to visit the capital of Catalonia, ​​we will help you to find the best apartments for long term in Barcelona. We offer apartments of different types, renovated and well furnished in all areas of Barcelona!
In 1923, the local council bought the land and it was opened publicly for the first time. The entire park gained World Heritage Status from UNESCO in 1984.
The most important points of interest in Park Güell include:
The park entrance - where you will find the dragon fountain adorned with a colourful mosaic. (Gaudí has other examples of dragons in his architecture.
The columns - which support the main terrace. This area was apparently supposed to be used as a marketplace.
The main terrace - the heart of Park Güell, where children play and tourists sit on the vibrant benches overlooking the city.
The high point - you can traverse to the top of the park where you will see three crosses overlooking the park (Gaudí was a religious man), and you'll find fantastic views of the city.
Casa Museu Gaudí - Count Eusebi Güell managed to sell at least one house in the park, to none other than Guadí himself. You can explore Gaudí's home, get an idea of how he lived, and see work from a variety of his projects.
Why not discover the park as part of a Gaudí Route in Barcelona. Travel tip: Visit in the early hours with your partner for a more peaceful visit, with fewer tourists, the park becomes one of the most romantic spots in the city.
Excursions in Barcelona
To make the most of Barcelona and fill your trip with unforgettable experiences and emotions, we offer you the excursions through the Catalan capital organized by our friends - the GetYourGuide team. Choose your excursion and fall in love with Barcelona:
Information
Where?: Carrer d'Olot
How to get there?: Metro L3 (Lesseps or Vallcarca), Bus - Lines: 24 - 31 - 32 - H6 - 92 - 112. Or the Blue tourist bus.
Opening hours: Opens - 10:00. Closes - Nov to Feb at 18:00, Mar and Oct at 19:00. Apr and Sep at 20:00, May to Aug at 21:00.
Price of Casa Museu Gaudí: €5.50
Other attractions in Gràcia
Do you like this post?
Click here!

4/5 - 3 votes
Share your thoughts
Related articles
Tired of reading about Barcelona? Find an apartment and stay there!