Camp Nou
(Building / Construction)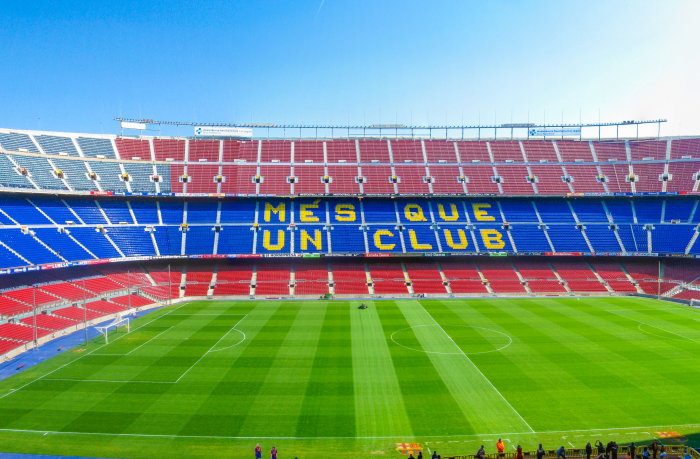 camp nou
Camp Nou stadium is the biggest of its kind in Europe, the home stadium to FC Barcelona, a team with one hundred years of history and over 100,000 members.
The stadium was built on 24th September 1957. The first official match in Camp Nou took place on 6th October 1957 between FC Barcelona and Real Jaén... FC Barcelona won 6 - 1.
At the FC BARCELONA MUSEUM you can admire an impressive list of achievements of one of the teams which holds the most sporting titles in world, including 4 European Champion Cups, won in 1992 (London), 2006 (Paris), 2009 (Rome) and in 2011 (London).
The visit also allows you the opportunity to view the stadium from the grandstand of Camp Nou, the biggest stadium in Europe (and sixth biggest in the world) with a capacity for 99,354 people. It has a height of 48 metres and a surface area of 55,000 sq m.
On 12th January 1998, it was recorded as an elite category stadium by UEFA and was the second stadium in Spain to achieve this. It is located on Avenida Arístides Maillol, in the district of Les Corts, very close to Avenida Diagonal.
Before you plan a visit, take a look at our selection of the top apartment close to Camp Nou and don't forget to read this article on how to skip the queues at this and other sites in the city.
Among the installations and facilities of the stadium include:
A small chapel next to the locker-rooms
The executive boxes
The VIP lounge
The press lounge
FC Barcelona Museum
Various departments of the club.
You can visit a majority of these facilities through the Camp Nou Experience.
If you come to visit Barcelona, ​​we advise you to stay in an apartment near Camp Nou. This way, you will know one of the most emblematic districts of Barcelona and save money since hotels are more expensive and offer you less space and comfort.
Information
Where?: Calle Arístides Mallol, 12
How to get there?: Metro Line 5 (Collblanc y Badal) and Line 3 (Maria Cristina, Palau Reial, and Zona Universitària)
Telephone: +34 902 18 99 00
Web: Camp Nou
Other images
Excursions in Barcelona
To make the most of Barcelona and fill your trip with unforgettable experiences and emotions, we offer you the excursions through the Catalan capital organized by our friends - the GetYourGuide team. Choose your excursion and fall in love with Barcelona:
Other attractions in Les Corts
Pedralbes Monastery

Pedralbes Monastery is a jewel of Gothic architecture in a peaceful setting.
Do you like this post?
Click here!

4/5 - 4 votes
Share your thoughts
Related articles
Tired of reading about Barcelona? Find an apartment and stay there!