Casa Batlló
(Building / Construction)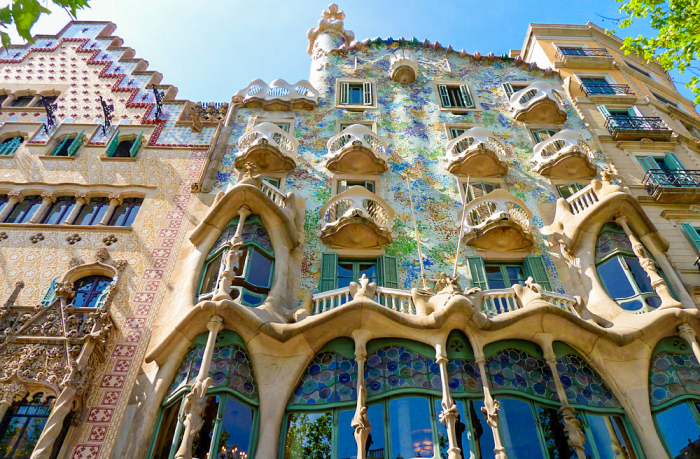 Voulez-vous visiter Casa Batlló à Barcelone? Lisez notre article et apprenez toutes les informations pratiques sur la visite de Casa Batlló, comment économiser de l'argent sur les tickets et ne pas oublier l'histoire : Gaudí, la construction de la Casa Batlló, toit de dragon, escalier et autres détails intéressants sur la perle architecturale de Barcelone . Si vous envisagez de venir vivre à la ville de Gaudi, consultez nos offres de location longue durée à Barcelone.
.
Historique de la Casa Batlló
Casa Batlló is an architectural jewel from Antoni Gaudi. Unique, abstract, and amazing; it was built between 1904 and 1906.
It is located on Passeig de Gracia in Barcelona, within the Eixample district. Its precise location is on the Manzana de la discordia or Block of Discord in English. On this block of buildings you will find works from other modernist architects like: Casa Amatller by Josep Puig i Cadafalch; Casa Lleó Morera by Lluís Domènech i Montaner; Casa Mulleras, by Enric Sagnier i Villavecchia; and Casa Josefina Bonet by Marcel·lià Coquillat.
We give you the opportunity to learn more about its history and about Antonio Gaudí's life. You will discover some curious facts and questions such as how long it took to build Casa Batlló and which materials Gaudí used to create it:
Casa Batlló is not just a building, it is already a legendary piece of art and architecture. The imaginations of Gaudí created a facade for Casa Batlló that is both original and fantastic, substituting the old facade for a new one made of stone and glass. It is one of the many representations of dragons in Barcelona.
The house measures more than 5000 sq m in total and faces Passeig de Gràcia, the rear of the building faces the courtyard of the block of buildings.
Now you can visit the main floor, former home of the Batlló family and the most magical space in the house.
This iconic building is popular amongst travellers, so if you want to beat the queues here (and at other places around the city) then read our article "Top tips to avoid queuing in Barcelona".
Visit Casa Batlló
Taking into account that now you know all the background of Casa Batlló in Barcelona, let me share with you my experience of visiting Casa Batlló. In the article I will tell about tips you should know about before visiting Casa Batlló, how to get a discount on tickets and how to get there:
If you still have some doubts about whether or not to visit Casa Batlló, check their web-page:
Other attractions in Eixample dret
National Theater

The Catalan NATIONAL THEATER, built by the architect Ricard Bofill, is covered by a c...

La Pedrera

The CASA MILÀ, better known as "La PEDRERA", was built by Gaudí between 1906 and 1910.

Plaça de Catalunya

Plaça de Catalunya is heart of Barcelona with many attractions nearby. You'll be pas...
Read more about Eixample dret ➯
Do you like this post?
Click here!

0/5 - 0 vote
Share your thoughts
€39

Passeig Gràcia V 4

|

|

45m²

Quiet apartment with air conditioning and free internet close to Plaça de Catalunya
Related articles
Tired of reading about Barcelona? Find an apartment and stay there!