It's well-known that holiday apartments are a more economic option compared to hotels, especially for families and large groups, Of course, there are still the luxury flats with prices higher than your average hotels for travellers without budgets. Generally, apartments are cheaper to rent further from the city centre... But is that always true...?
... Not at all. As you are about to see, this selection of 10 apartments includes cheap places to stay both in the centre in addition to some of the most pleasant parts of the city, with prices from €9 per person per night. This is a top 10 to give you an idea, but you could easily find others yourself; the main thing to look for are the special offers. You can also search this page.
Here's the top 10:
1. Baluard Beach II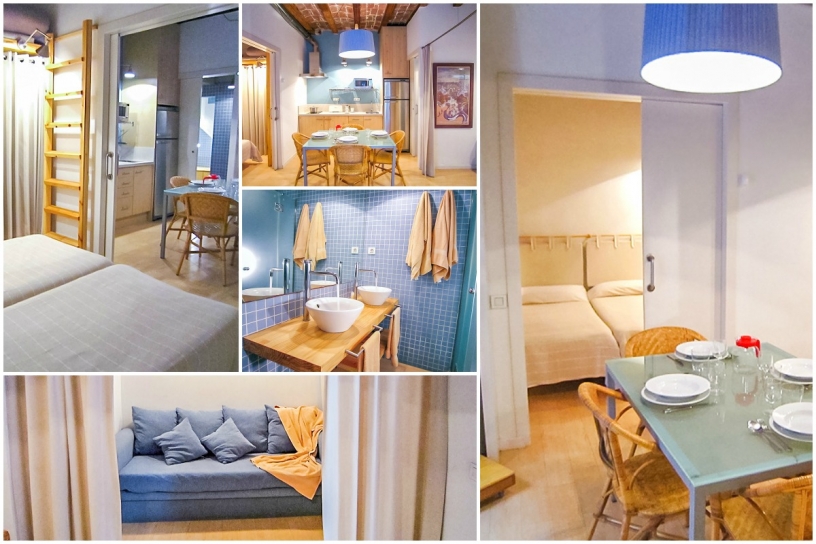 Right by the beach!
This apartment can accommodate up to 4 people. Despite its size of 35 m², it is fully equipped including air conditioning, wifi, washing machine, and dishwasher. Its location is unbeatable, the neighborhood of Barceloneta. This means that not only will you be next to the beach, but you can also access the old town of Barcelona by foot if you want. It is also an area with virtually no hotels, so the only way you'll stay here easily and at this cost if via an apartment. Want to know more? Click below for details of this flat. (Its price in low season is €9 per person!)
2. Rocafort I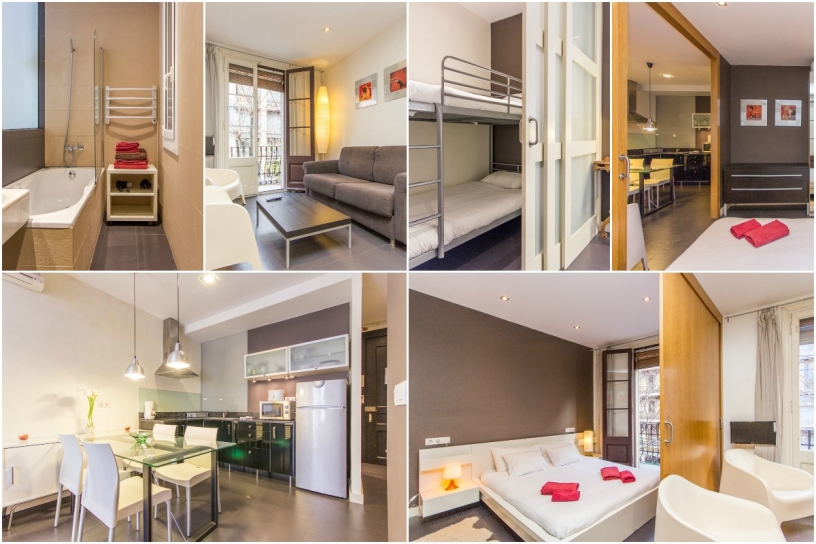 Modern and accommodating!
This apartment has a double bedroom and a bedroom with bunk beds, plus a sofa bed in the living room. The space is very practical! The decor is great; both elegant and modern. The kitchen offers everything needed for cooking. Also included in the price is air-conditioning and internet access. You have everything you need! In addition, it is located just a stone's throw from Plaça d'Espanya, so you can visit the Montjuïc area with ease, and stroll down to Plaça de Catalunya using the Metro in just a few minutes.
3. Balmes Gold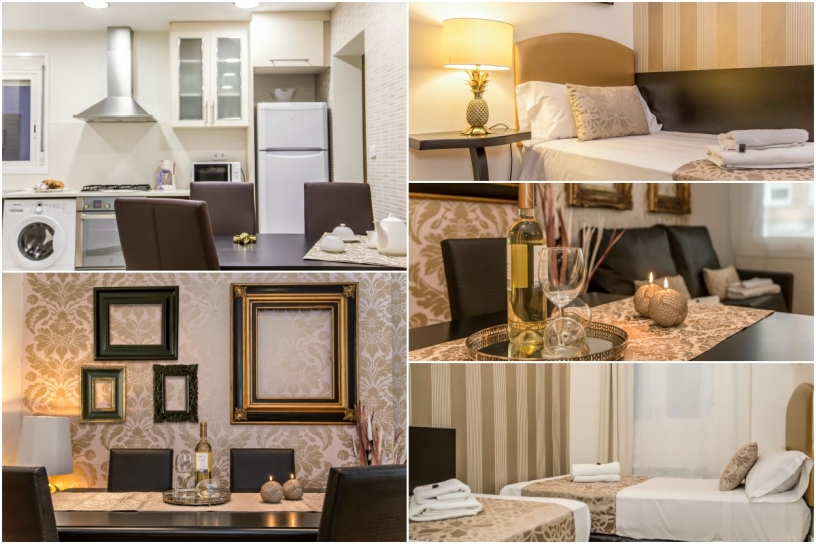 Luxurious and economic at the same time
Accommodation with a name like this cannot be anything other than impressive. This fancy apartment is perfect for up to 6 people (2 bedrooms and a sofa bed) and has an exquisite décor alongside heating, air-conditioning and WiFi. There are also two ensuite bathrooms and a spacious kitchen. It is located in the upper part of Barcelona. Okay, so it's not central, but it is still found in one of the most beautiful and peaceful areas of the city. Also, you can reach Plaça de Catalunya in about 10 minutes taking the underground FGC train nearby. Oh! And the price, don't worry! Despite being lavish, the price is suitable for all budgets ;)
4. Roma Sants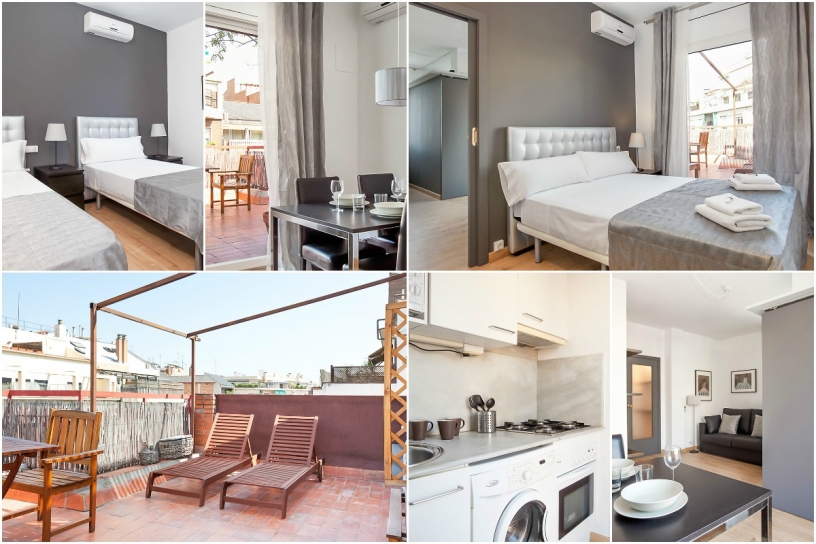 Terrace and exquisite design
This flat has space for up to 6 people, with 2 bedrooms, each with private bathroom. The decor is minimalist, thus elegant. There is WiFi and a fully equipped kitchen. However, the most attractive part of this apartment is undoubtedly its great private and furnished terrace from which you can enjoy beautiful views of the city. Its location is not bad: a 15-minute walk of Passeig de Gracia, i.e. where you will find Casa Batllo and La Pedrera. Sounds good, right?
5. Viladomat Paral·lel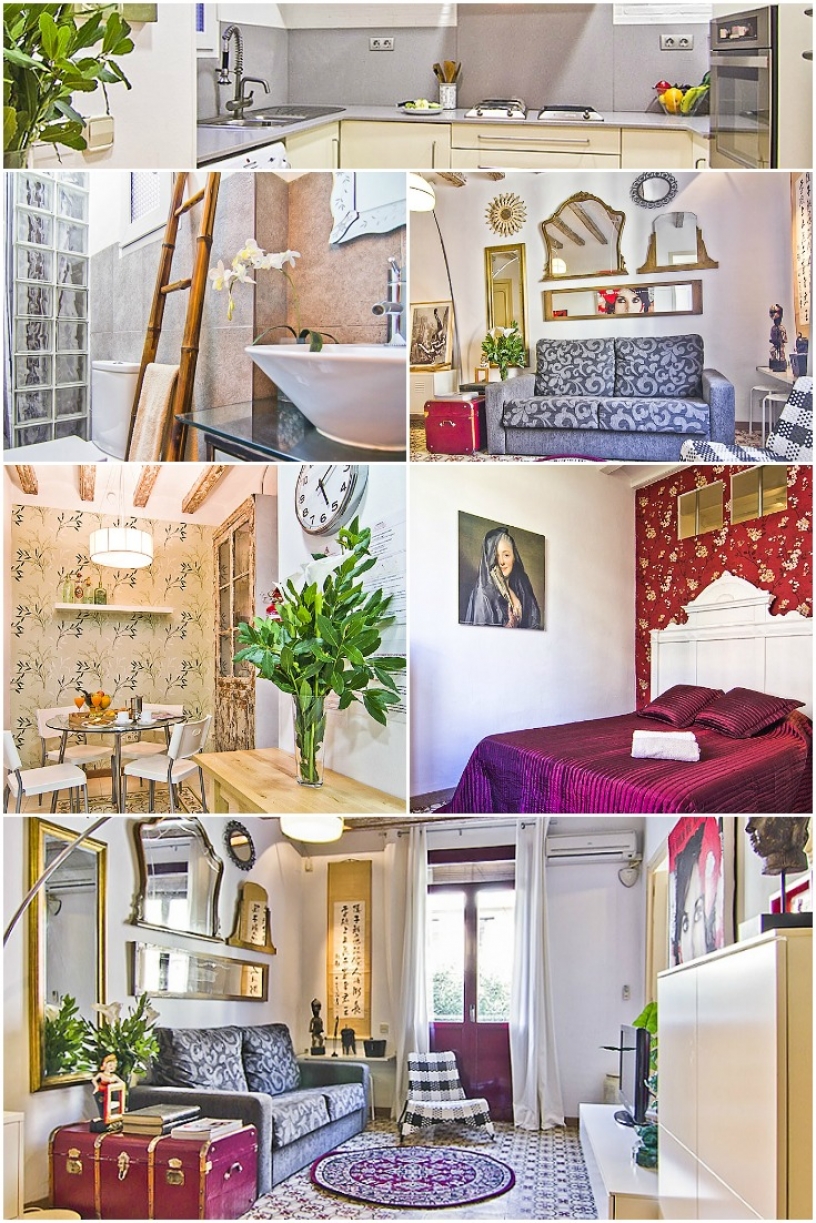 You will feel like you're in a movie by Almodóvar!
This fun apartment is one of our favorites, because it is decorated in the style inspired by Spanish film director Almodóvar. Full of mirrors, pictures, coloured walls, original furniture, and movie posters for film buffs! It has 2 double bedrooms and sleeps a total of 6 travellers. There is 1 large kitchen and a bathroom. it's found in a great area called Paral·lel, which is Barcelona's area of theatres, nightclubs and restaurants. You could walk to the city centre from here, but with the subway can reach the center in about 5 minutes. Need any more reasons to stay here?
6. Rambla Hospital I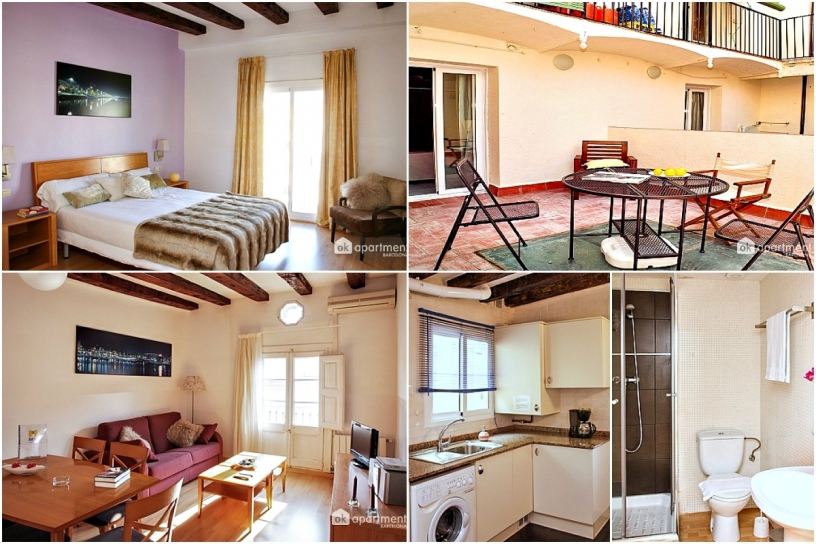 Inviting with a terrace
As the name suggests, this nice apartment with private terrace is located next to the Rambla del Raval, which is around the corner from the famous "Las Ramblas". It is quite large considering it's in the historic city centre, where houses are generally much smaller. It can accommodate up to 6 people, with a total of 2 bedrooms and a bathroom. The kitchen is independent and is fully equipped. It's also a well-lit accommodation and you can comfortably reach the center by foot.
7. Provença Cartagena 2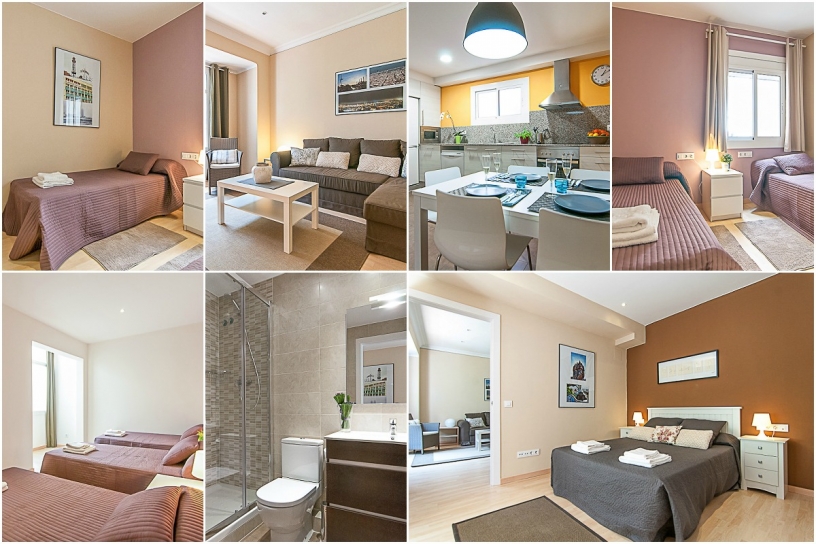 Spacious by the Sagrada Familia
This huge apartment boasts 120 m² and space for up to 8 guests. With 3 large bedrooms, 2 modern bathrooms, a nice balcony, a very large kitchen, air-conditioning, heating and free WiFi. The decor and furnishings are excellent, perfect for a large group who will be able to stay comfortably without being crowded. As the icing on the cake, the building is very close to the Sagrada Familia (so close that you can see it from the window!). You can visit the basilica on foot and get to the city centre via Metro in 15 minutes.
8. Expo III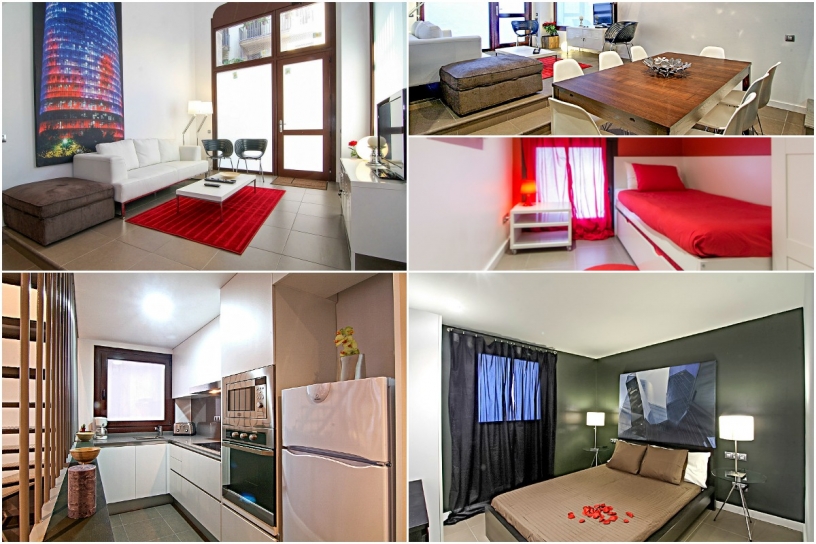 Perfect for business travellers
If Provença Cartagena was already large and impressive, this triplex is even more so! It's modern and can accommodate up to 10 people. There is a double bedroom and 2 twin bedrooms. There are also 2 double sofa beds, two bathrooms with showers, and a kitchen. Naturally there is air-conditioning and internet. If you travel with your family or many friends, then this apartment - also in Paral·lel - is perfect. However, it is especially suitable for corporate travel, since it is very close to the Fira de Montjuïc where you'll find many of the famous congresses of Barcelona.
9. Gran Via Executive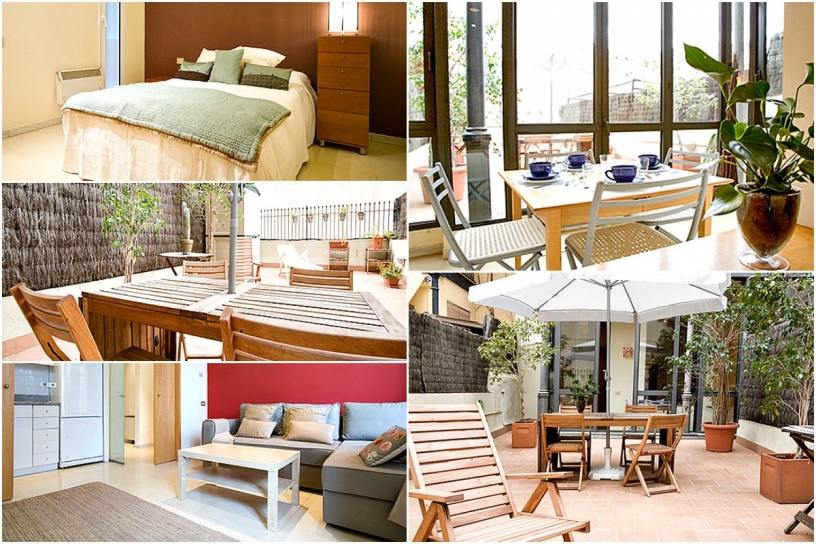 Grand terrace on Gran Via
This accommodation also stands out not only for its great price, but also for its large furnished terrace (with table and parasol). It has 2 bedrooms, a bright living room, 2 bathrooms, a very well-equipped kitchen, and WiFi. It sleeps up to 6 people. Modern, spacious, and with plenty of natural light It's perfect! It's located right next to the Urgell Metro station on Gran Via between Plaça de Catalunya and Plaça d'Espanya.
10. Boqueria Rambla V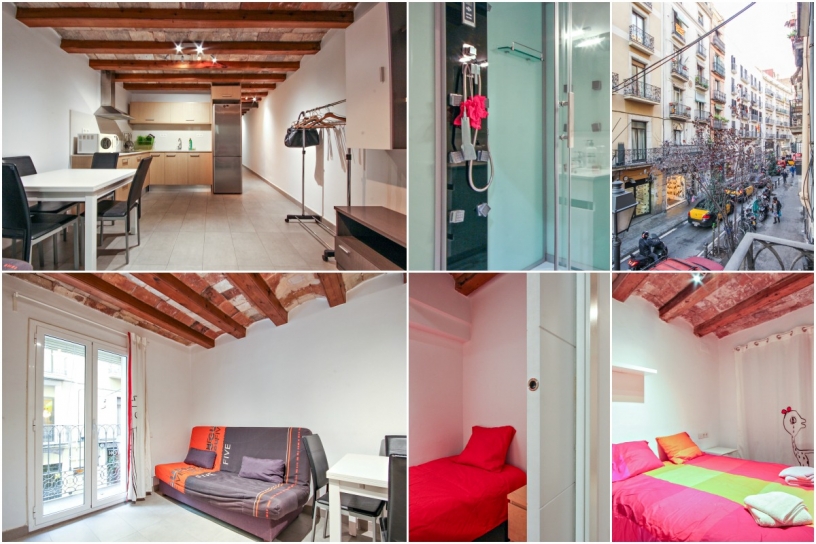 Ideal for long-term stays
Let's end with this accommodating apartment by Las Ramblas that is also available for monthly rentals. Its price is €800 per month and can accommodate 5 people! It has 2 bedrooms, 1 bathroom, wifi, and a very nice rustic style. If you come to Barcelona to study or work, here you will feel at home! Moreover, it's located next to the Teatre del Liceu (Liceu Theatre) in the heart of the city! You can walk around the historic centre and catch the Metro from right in front of your house.
If you liked these apartments, you can simply book it with no risk, as you only pay an upfront fee. The rest is paid on arrival! Take advantage of these great prices to come to Barcelona, either alone, with a partner, or with all your friends. See you here!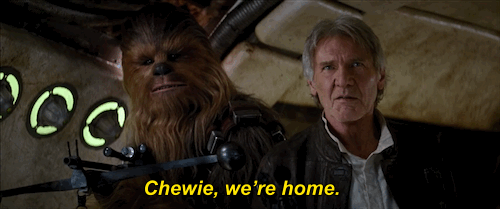 Han and Chewie have found their ideal place in Barcelona