Hello September!
Neighbourhood Festivals
If you come to visit the capital of Catalonia, ​​we will help you to find the best apartments for long term in Barcelona. We offer apartments of different types, renovated and well furnished in all areas of Barcelona!
Festes de la Mercè (Mercè Festivals)
The Festes de la Mercè (Mercè Festivals) are perhaps the most anticipated celebrations by proud locals, as they are in honor of one of the patron saints of the city. For one week (though the official festival is 20 - 24 September) the Catalan capital fills to the brim with free concerts, Castellers displays, correfocs, musical firework shows, street shows... There is tonnes for everyone all day and night! Do not miss it... ;)
Festes de la Mercè 2019

Sep

20

-

Sep

24

Concerts, traditional dances, Pyromusical, Castellers... Mercè celebrations are endless.



Festes de Poblenou
These Barcelona neighbourhood festivals might not be so well-known, but that is precisely what makes them special, unique and authentic. Enjoy all the activities they offer. Look here for the programme and take advantage of everything. There are concerts, traditions, food, music and much more.
Festes de Poblenou 2019

Sep

07

-

Sep

16

Concerts, shows, workshops, Castellers and much more this September at the Festivals of Poblenou.



Festes de Horta
If you missed the Festes de Gracia or if you simply want to repeat the experience, then you're in luck! The neighbourhood of Horta follows a similar tradition. Street meals, music, dancing, theatre and endless entertaining things to do with friends and family. Without a doubt, it's a perfect plan to take the children to have fun.
Festival of Horta 2019

Sep

06

-

Sep

15

Concerts, shows, Correfocs and much more with fantastic decorations. This September — The Festa Major of Horta.



Festes de Barceloneta
The Festes de la Barceloneta is celebrated around the festivity of San Miguel, which is on 29 September. There are sardanas dances, habaneras, correfoc with the devils and parades with the giants Pep Barceló and María la Nieta. The streets adorned and the parade of the canyon are some elements that make this festivity unique.
Sports
The Mercè Run
September provides a good chance to keep in shape with the Cursa de la Mercè (The Mercè Run). Not only is it popular and open for everyone, but all earnings from the run go to charitable organizations, so get running for a good cause!
Trade-fairs
Swab
For this 11th edition, Swab will host up to 80 art galleries from all over the world, offering both international and local works. Approximately 20,000 visitors are expected this year, coming to discover the creations of emerging artists in contemporary art.
Swab Barcelona 2018

Sep

27

-

Sep

30

Escape from the elitism of contemporary art and discover a wonderful world of innovation and discovery as you ...



Expohogar
Expohogar will host exhibitors from 14 different sectors over 92 hectares of exhibit space. This fair will be divided over 3 different areas: Decoration and gifts, Jewellery and fashion accessories, and BCN Joya — reserved for jewellery and watches. The event takes place at an ideal time, just a few months before the Christmas season.
Expohogar 2019

Sep

27

-

Sep

30

Expohogar is a showcase of the latest innovations in the world of homeware, jewellery, fashion and crafts. It ...



Wine and Cava Tasting in Barcelona
The fair for wine lovers;) The fair will be held from 20 to 24 September on the same stage as the last editions, on the Paseo Lluís Companys (Arc de Triomf). There are several activities, such as the wine sample, sample of cavas, gastronomy and tastings ...
Music
Brunch in the Park
'Brunch in the park' Barcelona is a fantastic initiative for young people and families to spend an ecological Sunday, surrounded by nature, homemade food and music. It is an innovative project that combines the world of music with something as traditional as a brunch in a park, with friends or family.
Brunch in the Park

Jun

30

-

Oct

29

Grab some brunch and then get ready for non-stop... Dancing!



BAM Festival
Open-air concerts, open to the public and totally free! The BAM Festival is an alternative music festival. The styles range from dance or electronica to rock or pop, with Catalan artists and from other parts of the world.
BAM Festival 2019

Sep

20

-

Sep

23

Don't miss the BAM Festival in Barcelona. Free concerts from an endless selection of musical styles.



Other events
Magic Fountain of Montjuïc
The Magic Fountain of Montjuïc is famous for its colourful musical performances, throughout the year. This show of light, water, and music is unmissable if you happen to be in the city at the time, and it won't cost you a penny, so why not?
Magic Fountain of Montjüic Event

Mar

01

-

Jan

06

When can you see the Magic Fountain of Montjuic show in Barcelona? The history of the fountain, the best times...



National Day of Catalonia — 11 September
On 11 September in Catalonia, they celebrate National Day of Catalonia. Remember, it's a public holiday, so there's no work that day! In this article we leave you a series of tips to enjoy this day. We also offer some historical tidbits so that you can understand why this day is celebrated and show off your knowledge among your friends.
September Climate in Barcelona
September is a great time to visit Barcelona with excellent weather — 81% of days are sunny. The average temperatures oscillates between 19ºC at night and 25ºC at noon, with 7 hours of sunlight per day and 22ºC sea temperatures. That means there's plenty of time to sunbathe and go swimming.
Average temperature: 22°C

Average maximum temperature: 26°C

Average minimum temperature: 18°C

Sunrise: between 7:18AM–7:47AM

Sunset: between 7:35PM–8:24PM
Travelling to Barcelona in September
September is an excellent month to visit Barcelona. Now it's low season, but it still has good sunny weather. It is the month with the most anticipated events of the year - Las Fiestas Barrios de Barcelona! I advise you to start organising your trip to the Catalan capital and decide which events to attend and which excursions to take.
Pros
Fewer tourists: The high summer temperatures are cooling down and everything gets a little calmer. So you can take advantage of the beaches that no longer have so many tourists. The city comes back to normal life and the centre will be less crowded than the past months of June, July and August.
Good temperature: In the month of September, the temperatures are cooler so you can enjoy the city without being sweaty. Enjoy this month to discover the best part of the city. If you want a guide to the best parks in Barcelona, you can read this interesting article:
Excursions in Barcelona
To make the most of Barcelona and fill your trip with unforgettable experiences and emotions, we offer you the excursions through the Catalan capital organized by our friends - the GetYourGuide team. Choose your excursion and fall in love with Barcelona:
Cons
Goodbye summer: What is good on the one hand — that which brings most of the tourism — on the other hand is a sign that the summer is over and the colder temperatures slowly start to return. So enjoy September because after you'll most definitely have to put on your coat. ;)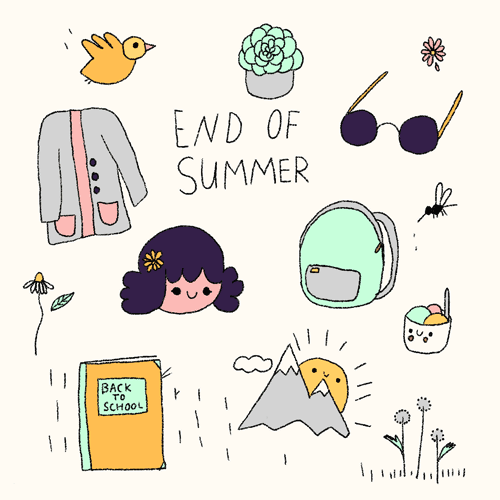 Autumn begins in September, but does a great month in Barcelona!