Festival of Horta 2019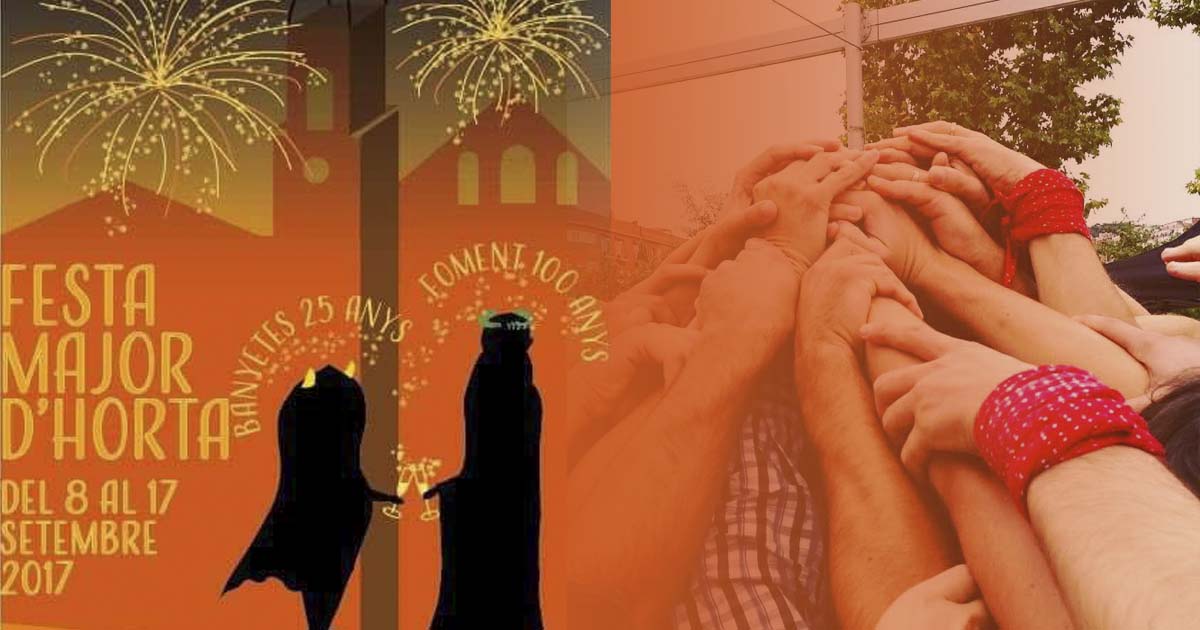 When: 6–15 September
Where: Through the Horta district | Get there with Metro Line 3: Vall d'Hebron, Montbau, Mundet, Valldaura,Metro Line 5: Horta, or Metro Line 6: Maragall
Price: Free
Website: Festa Mayor de Horta Website
This article gathers for you the most relevant activities that take place at the Festes de Horta (Horta Festivities). To keep on top of the latest news you can look at the official website above, or take a look at their Facebook page.
If you come to visit the capital of Catalonia, ​​we will help you to find the best apartments for long term in Barcelona. We offer apartments of different types, renovated and well furnished in all areas of Barcelona!
There are activities of all kinds, including dances, concerts, children's activities, community meals, sporting events and gymnastics. The local culture of the neighbourhood — rich and varied as it is — also plays an important role. All the neighbourhood associations go together during the opening parade. During the festival there are dance exhibitions and shows, and a Correfoc (fire run) finale.
From 8–17 September, activities in the neighbourhood are continuously happening and offer possibilities for all tastes and ages. In this Festa Major, a special atmosphere can be felt and in the street you'll find food and drink at agreeable prices.
History
Like other places in Barcelona with their own neighbourhood festivals, the Festa Major de Horta was created by its neighbours. On 10 September 1731 it was celebrated for the first time in Horta by public vote. Neighbourhood festivities in Barcelona are usually held in honour of their patron saint, and Horta's festival is formed in honour of Saint Gaudentius. Since then, each year on 10 September, the town of Horta has celebrated a ceremony in front of Sant Joan d'Horta parish church as just one part of this big festival.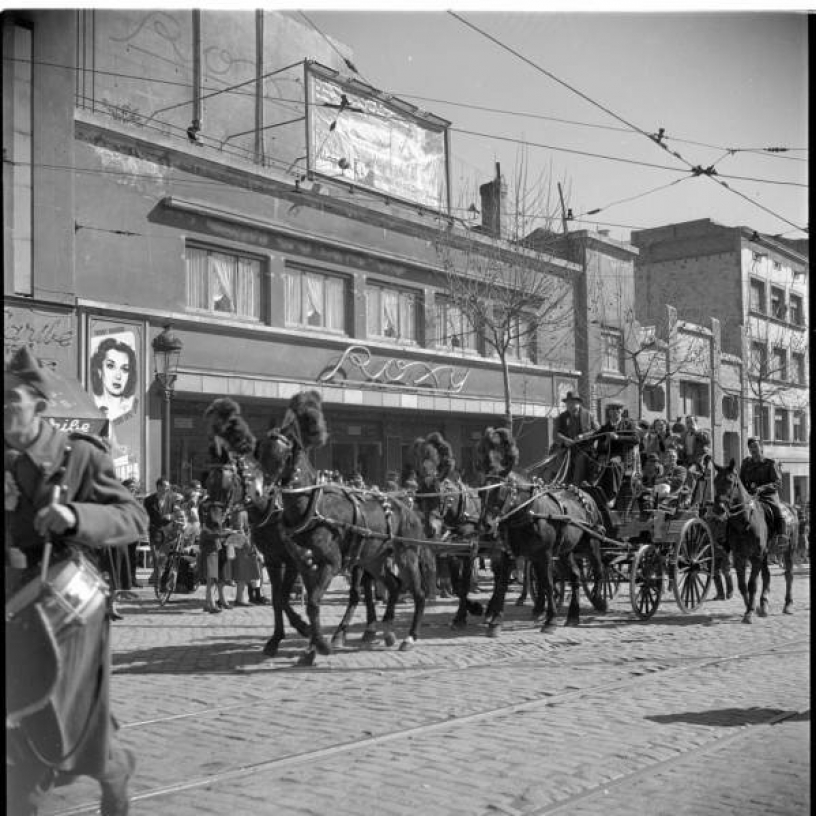 A past festival in Horta
Parade
The parade is an act that takes place across the streets of Horta, bringing together many visual and sonorous elements. Among the visual elements are things you will come to expect in Catalan parades, like Gegants (giants), Nanos (dwarfs), costumed paraders, representations of animals, mythological beings, and perfomers on stilts. They'll all be moving and dancing. As for the sound, there's live music, especially percussion.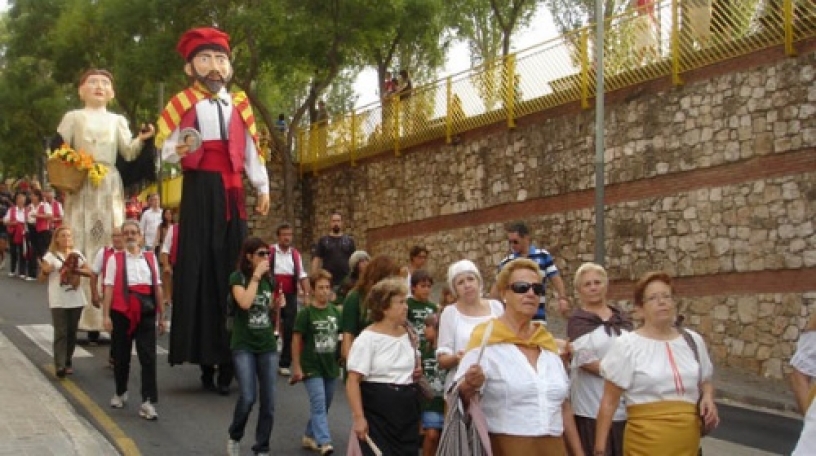 Gegants in Horta
For a long time, one of the characteristics of this celebration is the importance they give to street events, especially the processions and lavish parades.
Matinades (Early awakenings)
This official event occurs on the first Sunday of the festival; the neighbourhood is awoken with lots of noise. At 9AM fireworks, firecrackers and blunderbusses being fired wake up the entire Horta district.
The groups permitted to do this are varied, like Tabalers i Diables d'Horta, F.O.C. (Drummers and Devils of Horta) and Trabucaires d'en Perot Rocaguinarda (The Blunderbussers of Perot Rocaguinarda) .
They follow this route: Parc de la Unitat,Carrer de Lloret, Carrer de Josep Pinós, Carrer de Dr. Letamendi, Carrer d'Eduard Toda, Carrer de Feliu i Codina, Carrer de Chapí, Carrer de Vent, Carrer d'Horta and Plaça d'Eivissa.
Evening of Catalan dance
An evening full of dance awaits you at Plaça de les Masies on Tuesday, 12 September with various dance schools, including a Bollywood dance academy. This traditional dance show is being organized by Esbart Folklòric d'Horta, a dance section of the Lluïsos d'Horta. It's an annual event where various groups participate in these dances. Here you can see a video to see the idea for yourself.
Tomàquet
El Tomàquet (The Tomato) is one of the most anticipated shows of the year by the people of the Horta–Guinardó district of Barcelona. This year it returns to the Festas Horta. What is Tomàquet about? Well, it's a cabaret show where you can see stand-up comedians and dances. Its main characteristic is that audience is not like a typical theatre, but rather in the style of a gala with tables so that you can enjoy a dinner and the classic Catalan morsel Pa amb Tomaquet — bread with tomato — that gives the show its name.
Correfoc
Correfoc means fire run for a reason. The streets are filled with people dressed as devils that launch fireworks all over the place, trying to give onlookers a small fright. They are accompanied by mythologic creatures that are designed to also launch fire in some way. It's a tradition that has roots in a "Devils' Dance" from the 17th Century, but the parade today was created in the 20th. Correfocs can be very fun, but you should only attend if you're going to fully the indications of the organisers as you can get burnt if you aren't careful.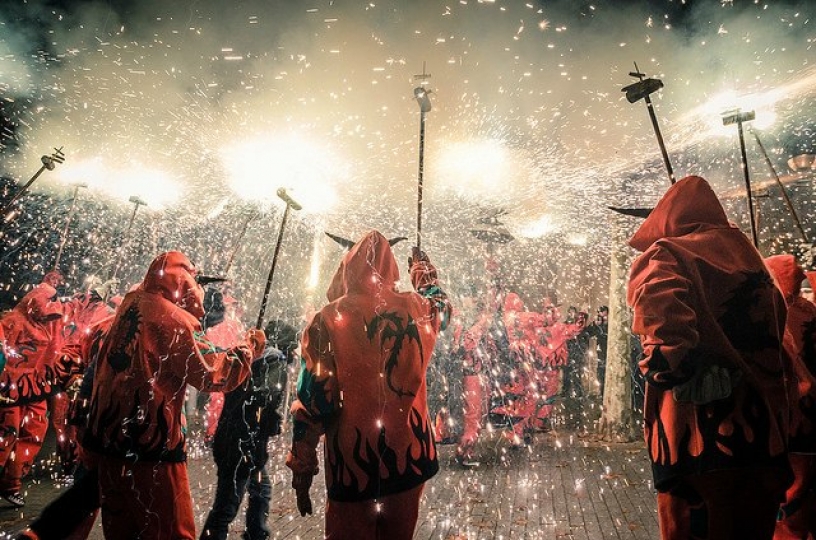 Correfocs
Fire is one of the four cosmic elements according to the tradition and when combined together with air, water and earth is capable of creating anything, properly combined. It's a complex element, on the one hand it's devastating and on the other it's purifier. It gives us light, warmth and cooked foods… But wait, what's that got to do with Correfocs?! Anyway.
Official Programme
The program is still not available for 2018.
The Horta Festival
Excursions in Barcelona
To make the most of Barcelona and fill your trip with unforgettable experiences and emotions, we offer you the excursions through the Catalan capital organized by our friends - the GetYourGuide team. Choose your excursion and fall in love with Barcelona:
Horta Guinardó
You can learn more about the Horta district and stay in this part of Barcelona. It's in the North of the city, slightly Northeast and spans up to Collserola Natural Park. It was once a small village called Vila d'Horta, but it grew and grew until eventually it formed part of Barcelona.
There are many neighhourhood festivals in Barcelona, known as Festes Majors. You can discover all of them in this guide that we made especially for you. (Yes you, Alex).
Do you like this post?
Click here!

4/5 - 4 votes
Share your thoughts