Festes de la Mercè 2019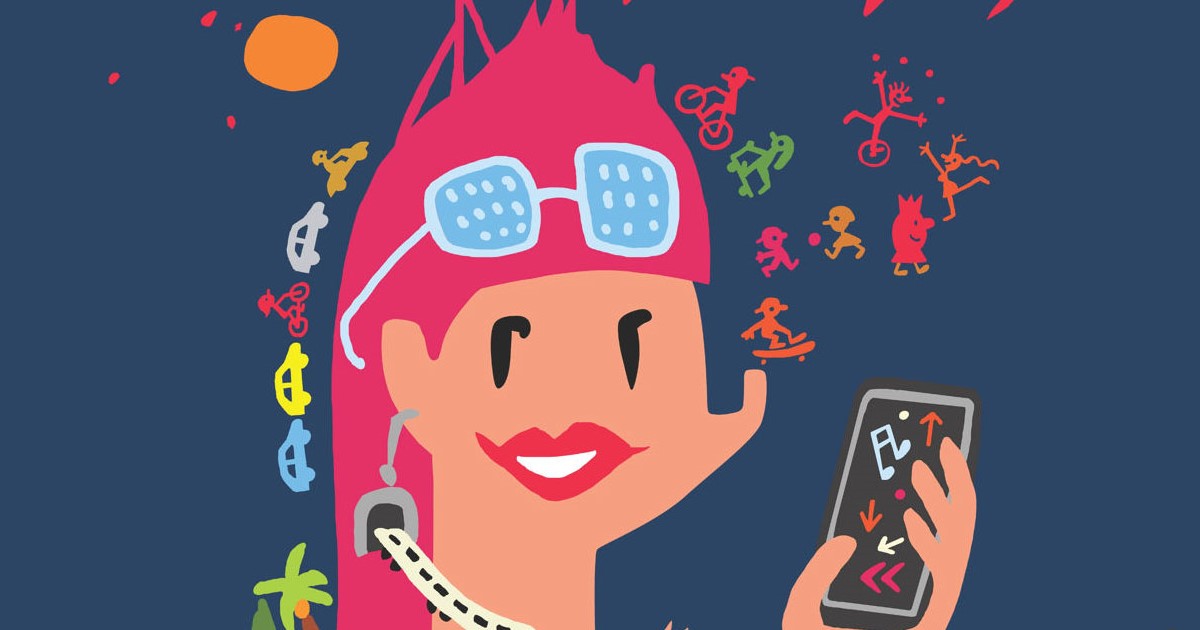 When: 20 - 24 September
Where: Plaça de Catalunya, Parc de la Ciutadella, Montjuïc, Parc de la Trinitat, Campus Fabra i Coats and the old Damm Factory... And many many places all around Barcelona! It's a city-wide celebration!
Price: Free
Website: La Mercè 2018 Website
The Festes de la Mercè (The Mercé Festival) is one of the biggest festivals in Catalonia and it takes place in Barcelona. They are held traditionally in honour of Mare de Déu de Mercè or the Virgin of Mercy in English.
If you come to visit the capital of Catalonia, ​​we will help you to find the best apartment in Barcelona. We offer apartments of different types, renovated and well furnished in all areas of Barcelona!
When is La Mercè 2019?
The main day of La Mercè is always 24 September, but the start and finish dates of the festival change from year to year. 
A multitude of activities will be organized across Barcelona, among them many Catalan traditions. The Mercè festival is an opportunity to dive headfirst into Catalan culture by participating in activities and events designed for all audiences.
History of the festival
The significance of the date is that according to a legend on 24 September, the Virgin simultaneously appeared to King James I of Aragon, Saint Peter Nolasco and Saint Raymond of Penyafort. This was during the Crusades. It's told that she asked them to create an order of monks to save Christians imprisoned by Muslim Moors. Peter Nolesco founded the Order of Our Lady of Mercy in 1218 to negotiate war ransoms to free prisoners.
Later, during the Renaissance in 1687, a plague of locusts struck Barcelona. Being a very religious city at the time, it was officially decided to call on the help of the Virgin of Mercy to protect them. The plague eventually passed and calls were made for her to be a city patron. A request that wouldn't be officially formalised until 1868.
It was after this date that the first official celebrations began in 1902 in the form we know them today. Since then the celebrations have been on and off depending on the year, for causes such as the Franco dictatorship. Today, they are now one of the most important celebrations of the city.
Fireworks at the Pyro-musical
Like each year at the Merce festivals, it will include a firework show called Pyro-Musical. This event takes place in front of the National Art Museum of Catalonia by Plaça d'Espanya. It's a show that blends fireworks with music on a beautiful backdrop. The music is usually from the festivals invited guest country, in this case Iceland.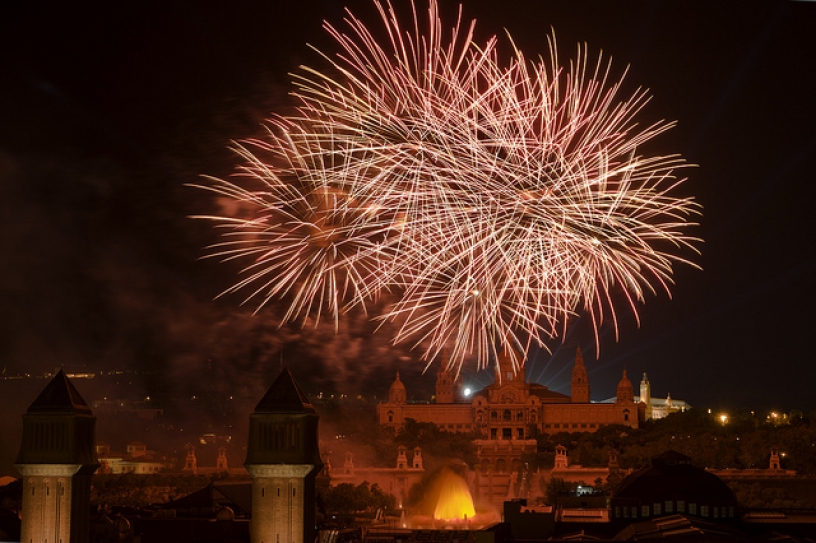 Fireworks at Montjuïc in Barcelona
Free concerts at BAM Festival
There is a music festival that forms part of La Mercè known as BAM. This Music festival of alternative music includes everything from dance to rock and pop, with Catalan artists and other international acts.
The idea of this music festival is to give a platform for people to discover new sounds from emerging bands and underground artists. It wants music to be creative and innovative.
BAM Festival 2018

Sep

22

-

Sep

25

Don't miss the BAM Festival in Barcelona. Free concerts from an endless selection of musical styles.



Projection show
A colorful projection enshroud the Barcelona City Council building located at Plaça de Sant Jaume in the Gothic Quarter. Music, pictures and sound effects will also immerse you in a very special atmosphere. It's an deal event for the whole family that you cannot miss.
Gegants Parade
Gegants means giants and this parade is a Catalan tradition. They are boisterous large effigies each with its own name that come out for celebrations in Barcelona. It's a great event for all ages and features giant representations of kings, queens and nobles, usually with many guest stars. The Gegants dance as they are accompanied by percussion bands that will envelop you in the mesmeric ambience of the festival.
Correfoc
A significant event during this festival is the Correfoc (fire run), where a "dragon" with lots of fireworks attached to it strolls the streets of Barcelona, with Diables (or Devils) shooting off fireworks while menacing people that wish to watch. If you're with a family, there is also a milder version for children and starts much earlier than the main Correfoc. You can read more about the Catalan Correfoc tradition if you like.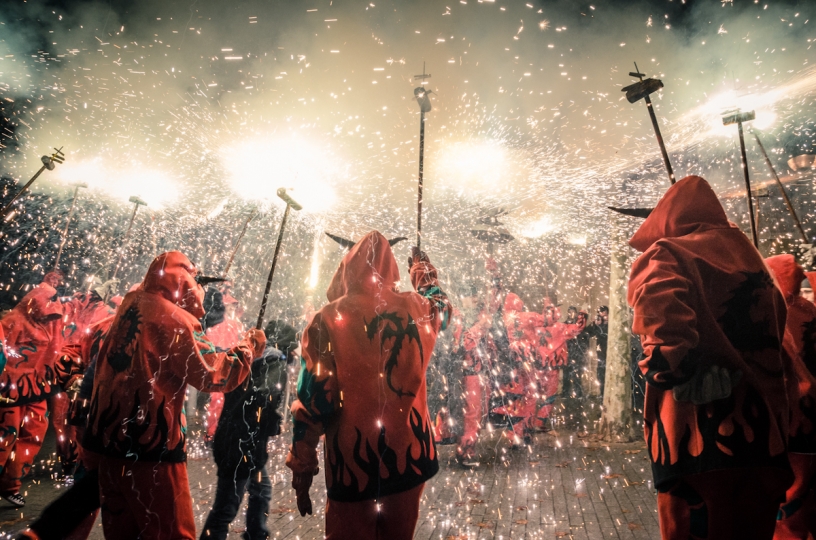 Correfocs
Castellers
If you already know a bit about Catalan culture, then you'll already know about Castellers. For those who don't know, they are groups of people who create very specific types of human towers. It's exemplary of Catalonia. These towers can reach unbelievable heights, requiring dexterity, self-attainment and teamwork to pull off — typical Catalan values. Just like the Gegants, this event has traditional music to support it.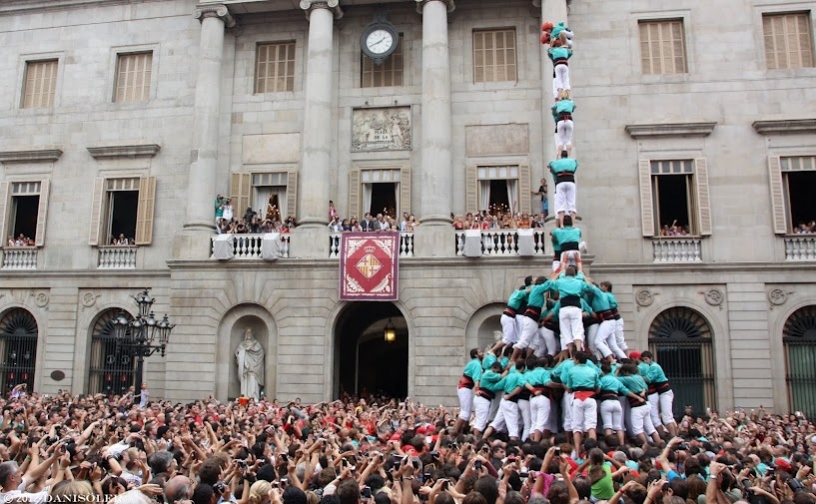 Castellers
Sardana circle dance
Another Catalan tradition is the Sardana circle dance, in which participants hold hands and jounce merrily. You will have no problem recognizing people doing this dance as they are usually dressed in white and red. Be seduced by the music and admire the steps of the dancers — precise and elegant as they are.
Montjuïc Circus
Circus acts have formed part of La Mercè for a number of years now. You will have the chance to admire the art of circus with highly skilled acrobats, jugglers, clowns and performers from man other disciplines.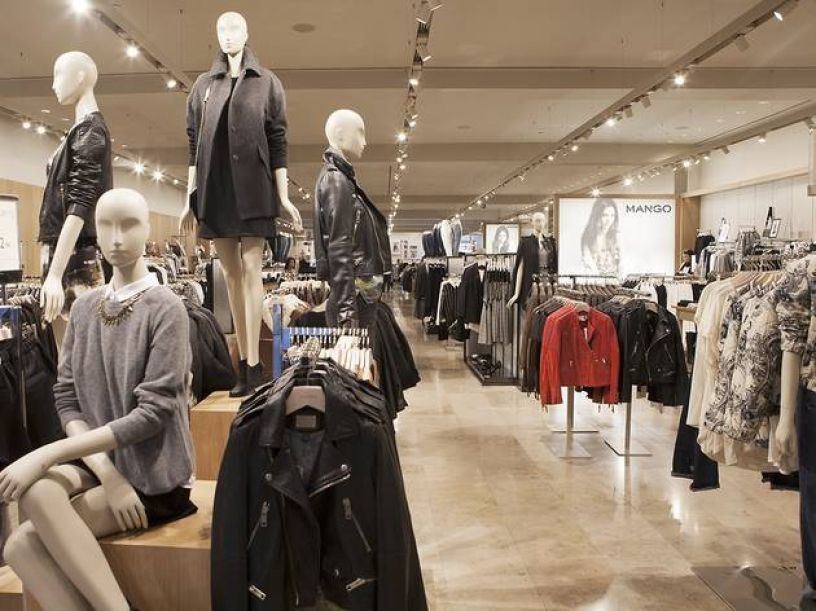 Montjuïc Circus
La Mercé Programme
The programme for La Mercè is constantly updated and you can keep up with it in English on their official website here.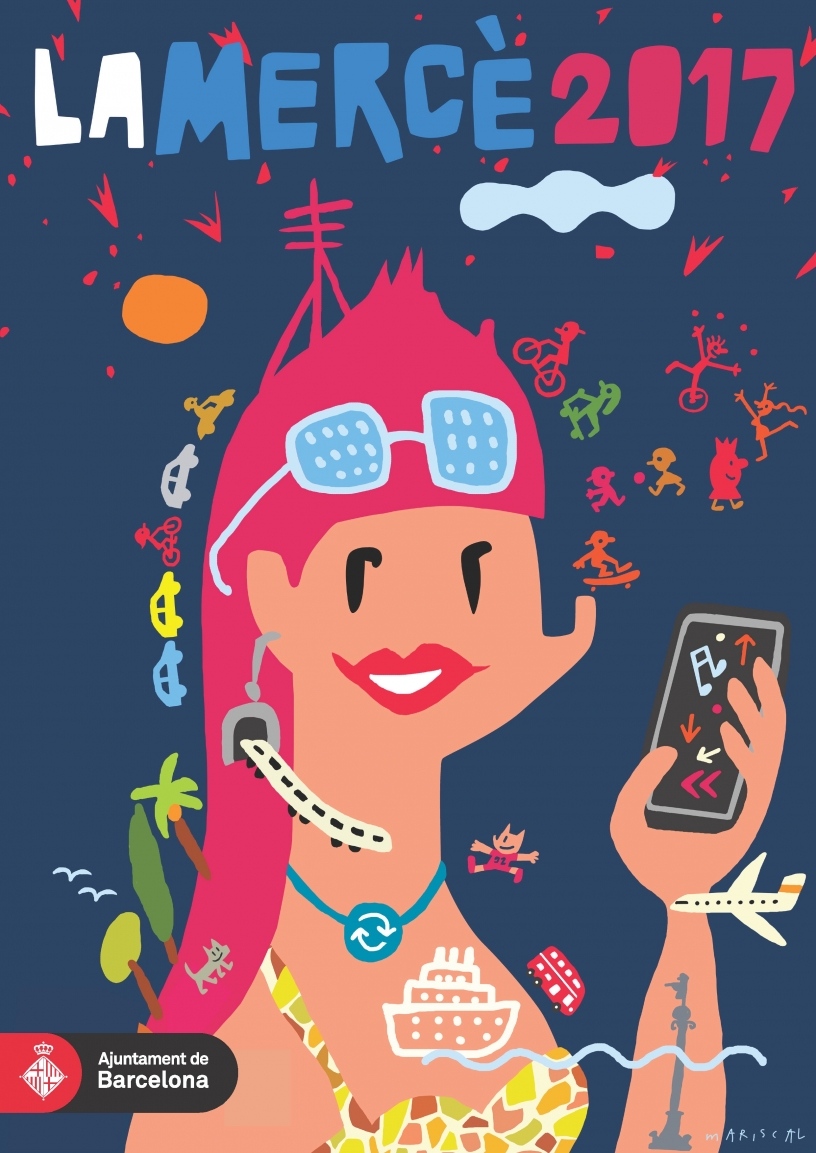 Mercè post for 2017
This year, Reykjavik is the guest city of La Mercè
Since 2007, a city from any part of the world is invited to present its culture as part of the festivities. This time it's the turn of the capital of Iceland, Reykjavik. The mayor of Barcelona, Ada Colau, chose Reykjavik because they are "two cities that have forged a personality based on culture and creativity" — both declared by UNESCO as literary cities.
The city of Reykjavík has a very varied musical panorama, and also makes great efforts to promote reading among its youngest. The two cities have worked together in recent years on several projects, and the Icelandic capital will host its very own edition of the Sonar Festival, a music festival that's carried out each year in Barcelona.
Excursions in Barcelona
To make the most of Barcelona and fill your trip with unforgettable experiences and emotions, we offer you the excursions through the Catalan capital organized by our friends - the GetYourGuide team. Choose your excursion and fall in love with Barcelona:
The other neighbourhood festivals of Barcelona
If you just can't get enough with the celebrations of Mercè, then you should that in Barcelona each neighbourhood has its own celebrations. Some these festivals attract many visitors because of their originality and activities. In order not to miss anything, take a look at our article about them.
Do you like this post?
Click here!

4/5 - 2 votes
Share your thoughts