Sants
(Districts)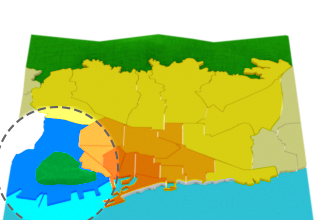 Sants — Home to the largest train station in Barcelona
Sants is district with little tourism despite its large size. It's the south-westernmost area of Barcelona just beside Montjuic and not so far from the sea if you live in lower part. Its family atmosphere makes it a very quiet area but with a good connection to the city centre of Barcelona. It has many markets, green spaces and sport areas.
Sants is one of the largest areas of Barcelona and also one of the oldest, one of the first ancient settlements inhabited the Montjuïc part of the zone. It is also the main place in Spain for conventions to be held because of the large exhibition hall called the Fira. It is an affordable place to stay and is well connected by public transport. Above all though, it's genuinely Catalan so you can get a taste of the local way of life and not the tourist way of life.
Video presentation of the Sants district
Why Stay Here?
In general, Sants is not a touristic area, with the exception of the Sants-Montjuïc area, where there are usually large conventions and expositions at the local Fira de Montjuïc building. If you're staying here, you're in for a fine sampling of the Barcelonian lifestyle and a family friendly zone.
From the city centre, you will reach most parts of Sants in a 10 minute journey, but the contrast between the two big parts of Sants (Les Corts and Montjuïc) is remarkable. The area is ideal for not that young people, as well as for families and couples looking to be in a relaxed part of the city.
If this sounds like the kind of area you prefer to stay in, then take a look through our list of apartments in the Sants district of Barcelona.
Attractions

Parc de l'Espanya Industrial
Sants is a typically residential district, so away from the Montjuïc area you will not find many attractions. One hidden gem away from this zone though, is the Parc de l'Espanya Industrial. It features stone steps and an elegant artificial lake in the centre of the park. It's the ideal place to have a picnic and take the kids to play.
The Montjuïc area though, is crammed with attractions. Many of the things to do here pertain to art and culture, with a high density of museums. There is the National Art Museum of Catalonia, CaixaForum, Joan Miró Foundation and many more. There are also beautiful gardens to discover and a Castle at the top that overlooks the city.
In the Plaça d'Espanya area, there you can see the whimsical fountain called the Magic Fountain of Montjuïc with shows almost every night. It's also home to the 'Las Arenas' Shopping Centre, which was once a bullfighting ring and offers 360º views of the city from its roof. As mentioned before, the Fira de Barcelona tends to attract large crowds for events like the Comic Con, Magic Con, and over interesting conventions.
In the summer, in Sants there is also a festival called Festa Major de Sants, in which the locals decorate their street, just like in Gràcia. During this time there are many open air events including gourmet activities, concerts, and dances.
Information for students

A group of students
Sants has various universities like Institut Nacional d'Educació Física de Catalunya, Centre d'Estudis d'Art Contemporani next to the Joan Miró foundation, University of Barcelona's LIS faculty (Librarianship and Information Sciences) and Centre of Metaphoric studies where they teach contemporary art and art-therapy. In addition it's located by the Les Corts neighbourhood where there's Barcelona's university zone (Zona Universitaria).
If you're going to rent a flat for students in this area then you'll be interested to know the best locations to find sports facilities, libraries and quiet green areas to study in.
Five language schools: Mac Daid, L'aula Sants formació, Master school of English *Sants, Escola Oficial d'Idiomes Barcelona V and Barcelona Esperanto Centro.
Ten libraries: Vapor Vell, Francesc Candel, Jacques Dupin, Joaquim Folch i Torres, Rubió i Tuduri, Francesc Boix and the libraries of the aforementioned universities.
Four council sports facilities: Montjuïc Public Swimming Pools, l'Espanya Industrial Sports Centre, La Bordeta Sports Centre and Bernat Picornell Sports Centre
Parks all around Montjuïc to study under the sun or to go running.
Where to Eat

Àtica Restaurant
There are lots of nice restaurants to dine out in the area, including some cosy bars with terraces. The majority of the locales serve Catalan cuisine, but you can also find some good Italian, Mexican, Chinese, and Japanese places.
Do you want to sample traditional Catalan food during your trip to Barcelona? Well Can Manel is a good choice. This pleasant restaurant specializes in grilled meats, snails, and Calçots (a unique type of spring onion that's only found in Catalonia!)
To sample food from another region of Spain, the Basque region, then consider Txalaparta.
If you love dance, then Pata Negra offers a place to dine while enjoying some Flamenco and the Catalan Rumba.
Carrer Galileu is where you'll find Àtica, whose menu is both delicious and affordable. From outside it doesn't look like much at all... But within... Within there are some amazing dishes, with surprises and creativity bursting out from every seam.
Nightlife in Sants-Montjuïc

Sala Apolo
Sants has amongst the best nightclubs and bars in Barcelona. The most known include D9, which hosts various concerts and events during the and becomes a nightclub at night. There's also the nightclub Agapito Nit. Bars with good ambience are Undead Dark Club, Koitton Club and Bar Musical Tribal. Close to Gran Via you'll find Bodeguita del Poble Espanyol andSala Instinto. At all of these places, you can meet up with your friends and rock it all night long.
Shopping

Las Arenas Shopping Centre
In this neighbourhood you can find a large variety of shops along Carrer de Sants. This avenue is the main artery of the area and is a commercial hub that's both active and dynamic. Four whole kilometres of more than 300 shops and locales along both sides of the street make this to one of thelongest high-street in Europe.
For fresh products visit the Hostafrancs Market, which is a great way to feel like a local.
For serious retail therapy though, the place to be is the Las Arenas shopping centre on Plaça d'Espanya.
Getting Around

L3 - The Green Line
L1 - Red Line at Espanya, Hostafrancs, Mercat Nou, or Plaça de Sant will take you to the city centre and Las Ramblas in about 10 minutes
L3 - Green Line at Espanya, Plaça del Centre, Sants Estació, or Tarragona will take you to the city centre and Las Ramblas in about 10 minutes. The stop for Parc Güell (Lesseps) takes less than 20 minutes.
L5 - Blue Line at Badal or Sants Estació, will take you to the Sagrada Familia in under 15 minutes
At the north of this district you will find the Barcelona-Sants Train Station that offers standard and high velocity trains to local areas, neighbouring regions, and even different countries. There's also a train that goes to the airport.
Attractions in Sants
Do you like this post?
Click here!

5/5 - 5 votes
Share your thoughts
Related articles
Tired of reading about Barcelona? Find an apartment and stay there!