Casa Batlló Tickets
Casa Batlló offers a wide range of differents excursions so the price varies depending on the type of the excursion you want to choose. After revising our article you can buy your ticket on the official Casa Batlló webpage.
Ordinary Tickets and Casa Batlló Fast Pass
"House of Bones" offers several types of tickets:
€ 24.50 (online) and € 28.50 (at the ticket office): a full tour of the building with a smartguide and a visit to the temporary exhibition;
€ 29.50 (online) and € 33.50 (at the ticket office): a full tour of the building with a smartguide, a temporary exhibition and fast-pass, which will allow you to go in without queuing;
What is the Casa Batlló Fast Pass? It is a type of a ticket which gives you exclusive access to Casa Batlló, so you will not have to wait half an hour to enter the building.
€ 29.50 (online) and € 34 (at the ticket office): "At Home", at the entrance you will be given slippers to make you feel like a resident of the house;
€ 31.50 : entrance with an open date;
€ 37 : exclusive entrance at 8:30 in the morning, when there are no crowds of tourists in the building;
€ 37 : a theatrical visit includes an entrance on Sunday and an excursion, where Antonio Gaudi himself will give you a tour (certainly not an actor disguised) ;)
€ 39 : "Magical Nights" - night visit at 20.00, which includes live music and 2 glasses of cava.
Attention! The purchase of tickets online is 4 euros cheaper than at the ticket office.
Casa Batlló Tickets Discount
Children. Children under 7 years old are free of charge;
Junior ticket. Tickets for visitors from 7 to 18 years will cost € 21.50
Student ticket. Tickets for students cost € 21.50, at the entrance you will need to show a document confirming that you are a student.
Senior. Ticket price for visitors 65+ is € 21.50
Residents of Catalonia. Ticket price is € 15.
Free Tickets to Casa Batlló
Despite the fact that other works by Gaudi like Sagrada Familia offers free entrance, Casa Batlló does not offer free visits except to children under 7 years old.
Before Your Visit
In the next sections you will find tips on how to make the most of your visit to Casa Batlló, how to avoid missing elements of Gaudi's masterpiece and experience the atmosphere of his incredible piece of art.
Casa Batlló is very popular with tourists so to get a most out of your visit I want to provide you with all the necessary information which you should take into account before visiting Casa Batlló. Brace yourself and let's start!
Casa Batlló history
If you fancy learning new things about Casa Batlló, Gaudí, the history and owners, what materials were used to build Casa Batlló and how long it took to build, check out this article:
Casa Batlló Opening Hours
Casa Batlló is open 365 days per year from 9.00 am to 9.00 pm (last entry: 8.00 pm).
I recommend you buy tickets for the 9.00 am slot because there will be less people so you can enjoy your visit without the crowds! Moreover, I advise you to start your journey from the roof without the smart guide and then come back to the first point. By doing this, you can enjoy the empty attic and roof of Casa Batlló.
Duration of the Visit
The estimated time of the excursion is 45 minutes but we think that you will spend more time exploring Casa Batlló, at least, 1 hour 20 minutes.
Casa Batlló is a UNESCO World Heritage Site. The House of Bones is one of Barcelona's most iconic attractions and an indispensable stop for discovering the talent of Antonio Gaudi and architectural modernism at its best.
Skip the Queue
It is better to buy tickets online as:
You will be able to choose between different options and consider the best one for you;
Allows you to buy tickets with fastpass and enter Casa Batlló through the priority line.
Casa Batlló Night Visit
If you fancy visiting Casa Batlló in the evening, I have something special for you. On the roof of Casa Batlló from 9 June to 24 September, the program "Magic Nights" offers an excursion to Casa Batlló with a smart guide, live music on the terrace and two glasses of cava. The cost is 36 euros. There is also a ticket for 29 euros, but it does not include a tour of Casa Batlló, so you can enjoy only the terrace and the evening view of Barcelona.
If you come to visit the capital of Catalonia, we will help you to find the best central apartments in Barcelona. We offer apartments of different types, renovated and well furnished in all areas of Barcelona!
Casa Batlló Virtual Tour
Thanks to the virtual tour you will be one step ahead of the game - you can explore Casa's Batlló facade, rooms and main symbols prior to the visit and understand what parts of the buildings you find most interesting.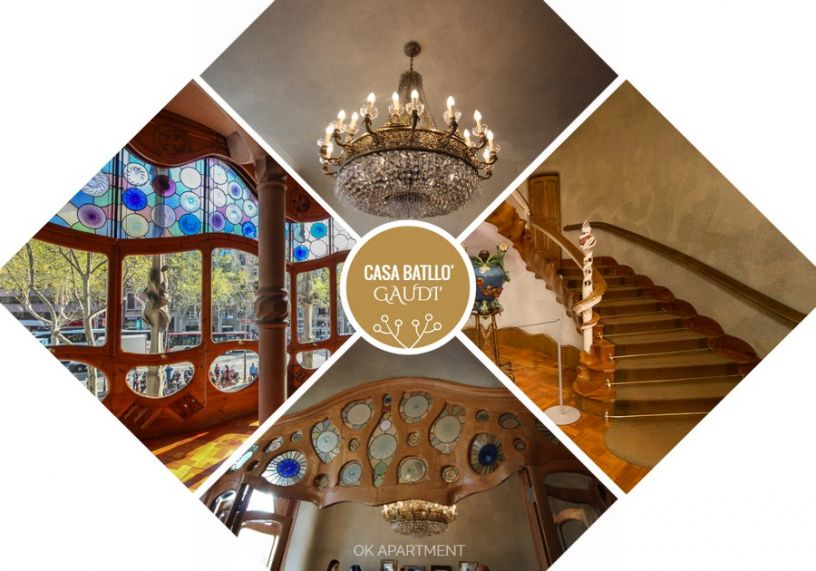 Casa Batlló inside
During Your Visit
To make your excursion more memorable Casa Batlló provides you with an audio-guide, free wi-fi and a special place to take photos...
Smartguide
Everyone receives an audio-guide which consists of two devices: mobile phone with big screen and headphones. An excursion is offered in 8 languages. Every time you are in a new room you should find a tablet with the corresponding number, select it on the screen of your Smartguide and listen to the information. Thanks to the effect of virtual reality you can move your device and see how people lived there.
I recommend that you check to see if the smartguide works well or not before starting the excursion.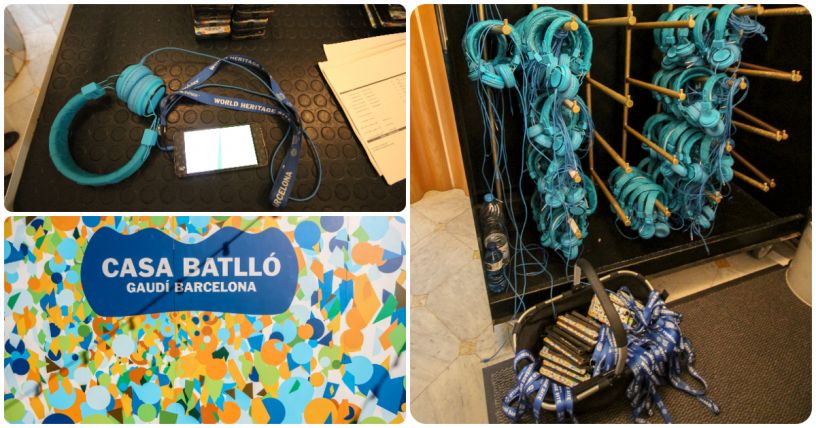 Smart Guide of Casa Batlló
Wi-Fi
For all Instagram and Facebook lovers Casa Batlló has free wi-fi in all the buildings so you will be able to post and share your photos on social media without any problems with internet connection.
Of course, do not forget to subscribe to the official account of Casa Batlló on Instagram and use a hashtag #casaBatlló.
Best Places to Take Photos in Casa Batlló
There are lots different places to take photos on the first floor and on the roof but the most interesting place is the balcony. There is special equipment with camera installed on the balcony on the last floor so you will have the chance to get an exclusive photo against the background of the unique facade of Casa Batlló. The only inconvinience is that you need to pay for it :)
After the Visit
I recommend you buy a souvenir to remember Casa Batlló by and go to the nearest restaurant to share your experience and opinions with your family or friends.
Casa Batlló Gift Shop
In Casa Batlló there is a large souvenir shop with typical symbols of Casa Batlló and modernism of Antonio Gaudi.
You will find souvenirs for every "taste and colour" from trinkets such as mugs and pens to furniture made on the basis of Gaudi's sketches :) Also you can find presents for friends and relatives.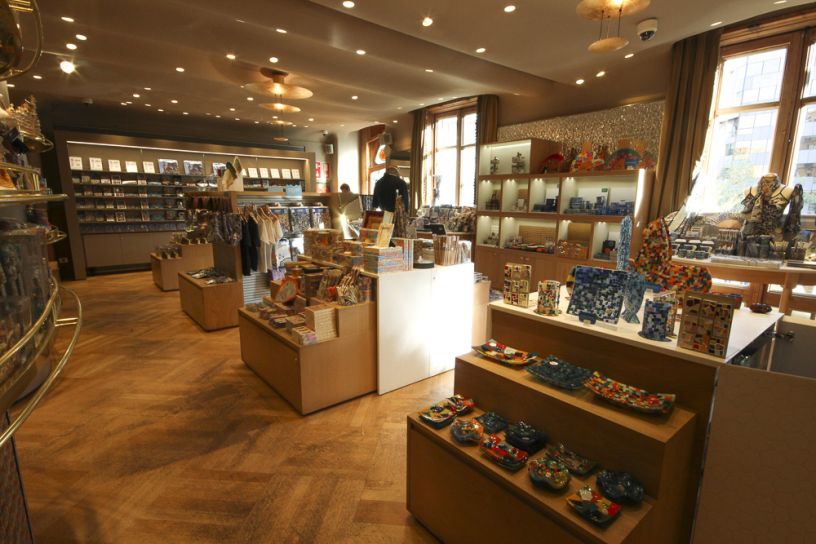 Casa Batlló giftshop
Where to Eat After Visiting Casa Batlló?
One of the most popular restaurants in Barcelona is El Nacional which is located near Casa Batlló on Passeig de Gracia. The restaurant offers different types of national cuisines such as pasta, grill and tapas at a fair price.
Excursions in Barcelona
To make the most of Barcelona and fill your trip with unforgettable experiences and emotions, we offer you the excursions through the Catalan capital organized by our friends - the GetYourGuide team. Choose your excursion and fall in love with Barcelona:
How to Get to Casa Batlló?
Casa Batlló is located in the city centre so it is easy to get there using either public transport or by car or taxi.
On Public Transport
Metro. Passeig de Gracia, L2, L3, L4;
Train. RENFE: Passeig de Gracia Station, FGC: Provença station;
Bus. Buses numbers: H10, V15, 7, 22 y 24, Barcelona Tourist Bus (Red and Blue).
By Car
The address of Casa Batlló is Passeig de Gràcia, 43, 08007, Barcelona.
As you may know it is very difficult to park a car in the centre of Barcelona. Check out our article about parking in Barcelona for advise on saving money on parking!
Casa Batlló Map
What is Casa Batlló Used for Nowadays?
In 2002, as part of the celebration of the International Year of Gaudi, Casa Batlló was opened for excursions and other cultural events. Besides tourist visits Casa Batlló holds different types of performance and activities on holidays and provides spaces for events.
Tourist Visit
To sum up, there are activities which you can enjoy depending on the type of the ticket you buy:
Excursions with smartguide.
Temporary exhibitions.
Theatrical visit.
Night visit.
Casa Batlló Sant Jordi
St. George's Day (Sant Jordi) is celebrated with a lot of enthusiasm and joy in Catalonia. On April 23rd, the streets of the cities and towns are crowded with people and stalls selling books and roses. It is about celebrating the patron saint of Catalonia and perpetuating this tradition based on love and culture.
Casa Batlló has a lot of elements on its facade and interior related to the day of Sant Jordi. It will be decorated with symbols of Saint George's day such as roses, swords and dragons. You will see the princess's balcony, the remains of the dragon's victims and a lot of other attributes. Anyway, you can find more information (and buy tickets) about Sant Jordi on the Casa Batlló official website here.
Mapping Casa Batlló
Casa Batlló offers a colourful audiovisual projection on the facade revealing all the symbols and interpretations that inspired Antoni Gaudí when creating this artwork. It is a wonderful inspiring performance that allows you to see the facade of the Casa Batlló from the other point of view.
The last mapping was on 23rd September of 2015 and we are desperate to see the next one. Here you can watch the video of the mapping on Casa Batlló in Barcelona.
Casa Batlló Spaces for Events
Casa Batlló is a unique place to celebrate your wedding or other date (gala dinner, presentations, meetings, theatrical visits) Casa Batlló provides you with the renting of its premises:
Beletage. Large living room with panoramic windows and stained glass windows that overlook Passeig de Gracia.
Attic. Unique space on the penultimate floor of the house for special events in the incredible atmosphere created by Gaudi;
Dragon Terrace. Terrace under the open sky, where you can arrange an evening concert, a banquet or a cocktail party.
By clicking on this this link you will find a form for booking the premises of Casa Batlló for events.
Many people express doubts whether Casa Batlló is worth it or not. YES! Although the ticket price may seem high. The uniqueness of this architectural masterpiece, hidden meanings and charm by the talented Antonio Gaudi mean that the first step into the building will turn you into a curious child inspired by the great creation.
I hope you have enjoyed the article and you are already in the process of buying tickets. Have a nice day at Casa Batlló!
If you have something to add, write to us on the OK Apartment official Facebook page!