National Theater
(Building / Construction)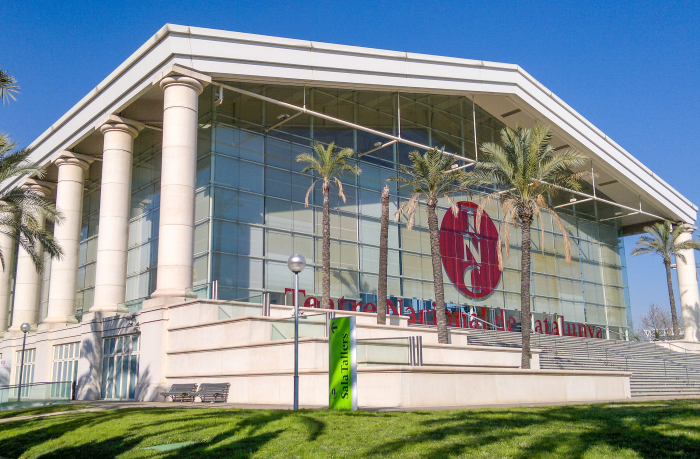 The National Theatre of Catalonia (TNC in Catalan) is one of the most important theatres in Catalonia It was opened in 1996.
The theatre building is located in plaza de les Arts, close to plaza de les Glòries and it has three exhibition rooms. It was design by the prestigious architect Ricardo Bofill.
If you come to visit the capital of Catalonia, ​​we will help you to find the best apartment in Barcelona. We offer apartments of different types, renovated and well furnished in all areas of Barcelona!
The National Theatre of Catalonia occupies an area of 20.000 m2 and is covered by a gable roof that rests upon26 columns of 12 metres in height. The exterior of crystal allows passer-bys to see into the heated interior spaces with its plantlife.
They also offer:
Birthday celebrations
The TNC restaurant
Guided tours
Video Library
Educational services
Business services
Excursions in Barcelona
To make the most of Barcelona and fill your trip with unforgettable experiences and emotions, we offer you the excursions through the Catalan capital organized by our friends - the GetYourGuide team. Choose your excursion and fall in love with Barcelona:
Get to know the theatre:
From the moment of opening the theatre has been recognised not only for theatre spectacles, but also dance, music, opera, and puppets.
These days the National Theatre of Catalonia presents a varied and multidisciplinary theatre environment, with a programme apt for the whole family to enjoy.
Useful Information
Address: Pl. de les Arts, 1
How to get there?: Metro L1, Glòries. | Bus 6, 7, 10, 56 and 62. | Tram T4, Auditori-Teatre Nacional.
Telephone: 933 065 700
Web: www.tnc.cat
E-mail: info@tnc.cat
Book guided tours: 933 065 749
Other attractions in Eixample dret
Casa Batlló

Casa Batlló is located on the prestigious Passeig de Gracia. It was designed by Gaudí.

La Pedrera

The CASA MILÀ, better known as "La PEDRERA", was built by Gaudí between 1906 and 1910.

Plaça de Catalunya

Plaça de Catalunya is heart of Barcelona with many attractions nearby. You'll be pas...
Read more about Eixample dret ➯
Do you like this post?
Click here!

0/5 - 0 vote
Share your thoughts
Apartments in Barcelona
Related articles
Tired of reading about Barcelona? Find an apartment and stay there!