Definitely spend hours standing in a queue is the last thing you want. It's one of the major concerns for any visitor; losing precious time standing doing nothing in a place of interest during your long-awaited vacation.
If you come to visit the capital of Catalonia, ​​we will help you to find the best vacation rentals in barcelona. We offer apartments of different types, renovated and well furnished in all areas of Barcelona!
Although it appears that most visitors are concentrated in the city during in spring and summer for certain attractions in Barcelona the queues to not let up! It is therefore important to try to be better organized to avoid long lines outside museums and monuments you want to visit.
For certain sites, it's enough to reserve a guided tour or choose the best time - for example the first thing in the morning or around 14:00 around lunch time when there are fewer people. Naturally this won't be the case for all attractions. Any place that forms part of or has anything to do with modernist Barcelona are usually most popular. So if you want to avoid queues in this city, what's the best way? Perhaps the easiest and most convenient is by booking online in advance.
For the main attractions of the city it's always possible to by tickets online first and this implies priority entry, meaning shorter queues.
Skip queues at The Sagrada Familia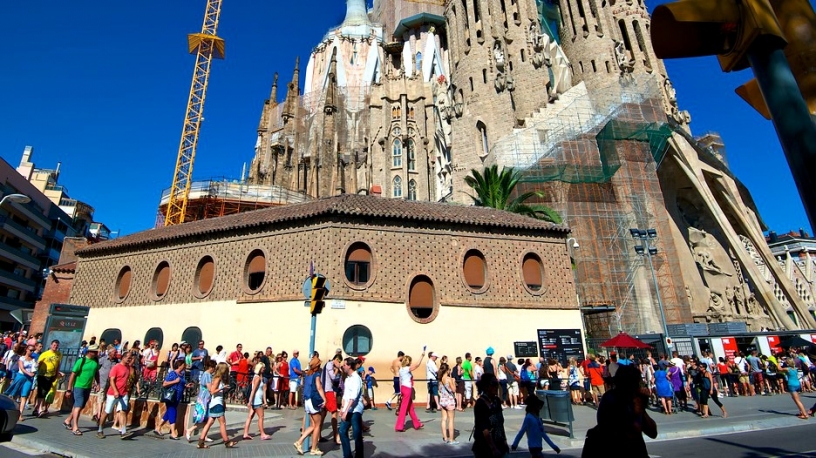 Sagrada Familia Queue
The Sagrada Familia is one of the most famous and visited buildings in the world. The queue stretches out as a long line under the sun, which you're guaranteed to come across unless you visit before it opens in the morning or just before closing. Don't be one of those people who respond to the question "Have you seen the Sagrada Familia?" with "Only from the outside, the queue to get in was too big!". So what's the easiest way to beat the queues to get into the Sagrada Familia?
One easy way, which many visitors fail to do, is visit the official website and in the ticket section and book from there. You see, at the Sagrada Familia there are essentially two queues - the first to buy a ticket and the second to get in - so by buying in advance online you're effectively skipping a queue completely. Print your ticket and present it at the entrance, or show the booking confirmation email from your smartphone as it works with the QR code. In this special queue there are usually only about 4-5 people, so you could be inside within minutes.
Alternatively you could simple opt to visit some of the many other churches of Barcelona.
Don't wait in line at Casa Batlló and La Pedrera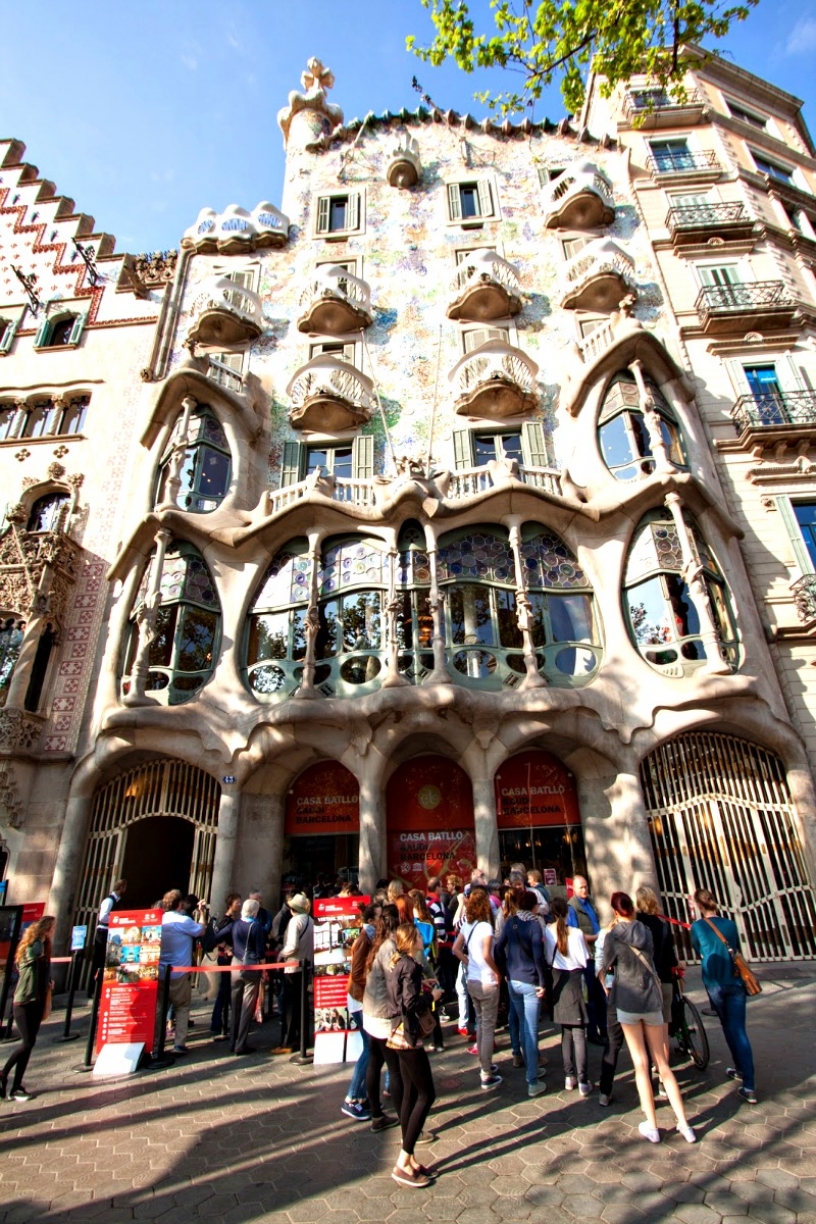 Casa Batlló's queue
Excursions in Barcelona
To make the most of Barcelona and fill your trip with unforgettable experiences and emotions, we offer you the excursions through the Catalan capital organized by our friends - the GetYourGuide team. Choose your excursion and fall in love with Barcelona:
The queues of Casa Batlló and La Pedrera aren't exactly short either, but in both cases you can still buy a ticket online to get faster entry. To visit Casa Batlló, all you need to do is visit the official website and go to the ticket section. There are various options, but in order to skip queues here you'll have to pay €5 for the privilege of a Fast Pass, so just mark that option. There is a special entrance for people who have Fast pass, so you'll get in quicker.
If you are visiting La Pedrera, it's more or less the same in that you need to go to their website and buy the ticket that suits you. You'll need to pick the date and time and print your ticket off. Alternatively there is a "Premium ticket", which allows you to turn up to La Pedrera without any queues at the "VIP entrance" on the day you want, at any time within 6 months of getting the ticket.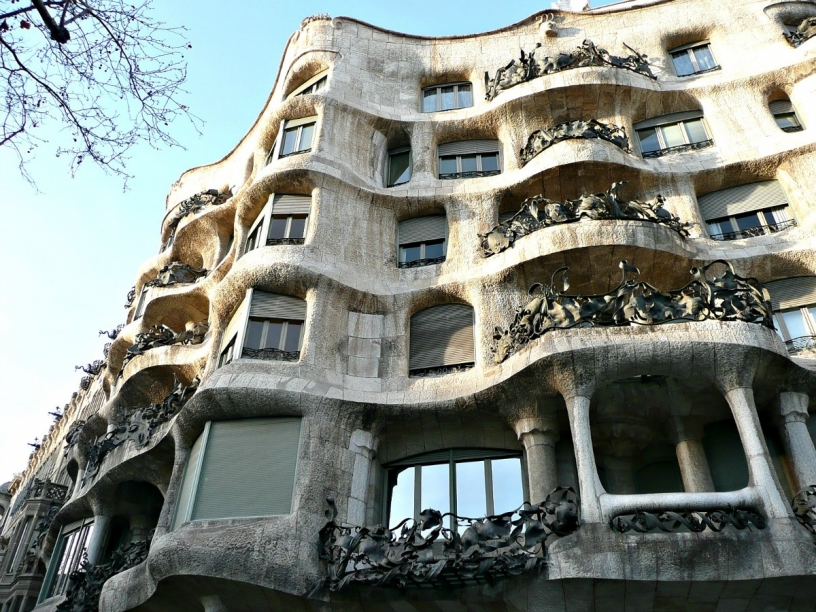 Exterior of La Pedrera
There are also various no queue tickets that you can buy online in other website like those of online local tourist agencies. You can find several deals on things like guided tours. Just be certain to make sure the agency you're buying from is accredited and secure. You'll be able to print and show the ticket at the entrance.
Forget the lines at the Picasso Museum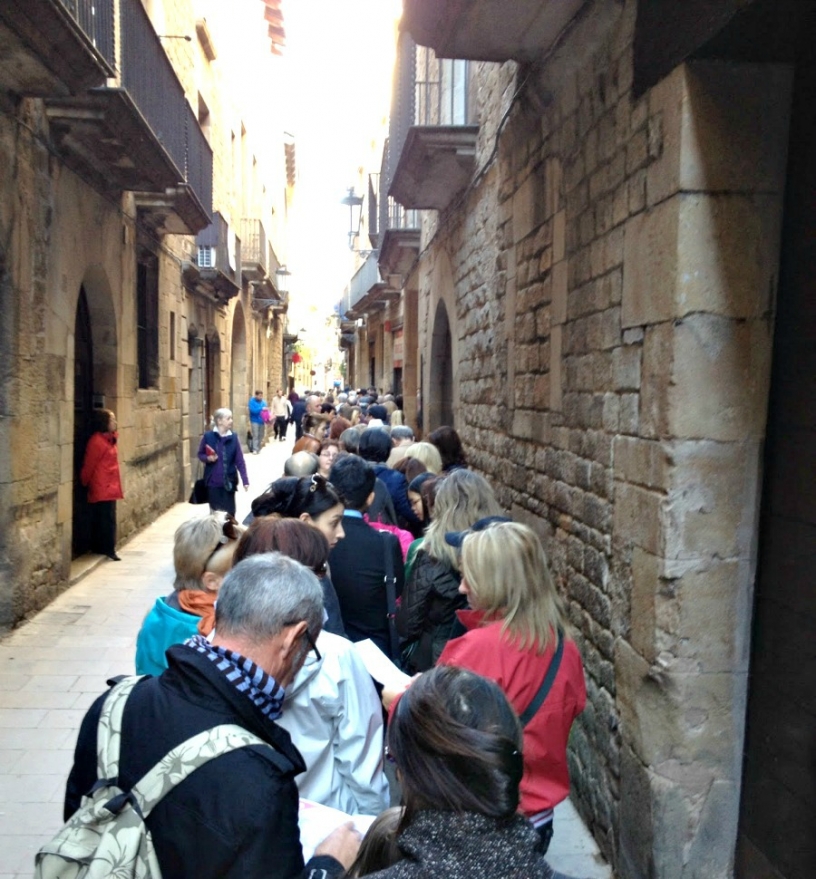 Picasso Museum Barcelona
The Picasso museum probably has the longest queues of any museum in Barcelona. These days the queue can extend along the whole of Carrer Montcada and what would seem like a pleasant visit can become a tiring wait.
Once again, you can avoid queuing at this attraction by buying a ticket online at the official museum website. The tickets available include a standard entry, entry with audio guide, and in addition or separate ticket to the temporary exhibitions.
Get straight into Camp Nou Stadium
The Majestic Camp Nou
Football fans never miss the chance to visit Camp Nou in the Les Corts neighbourhood. It's one of the most visited attractions in Barcelona, which means you'll need to plan your visit in advance. You won't be able to make a tour when there's a match on (for obvious reasons), so take a look at the game calendar to get an idea of when you can visit here.
The queues for Camp Nou are considerable, it's recommended to get the ticekt online in advance on the Camp Nou website or via the Barcelona Turisme website. The Camp Nou Experience includes a visit to the iconic areas of the stadium including the dressing rooms, tunnel to the pitch, commentary boxes, press room, museum, multimedia space, and even a section dedicated to Messi and his own personal trophies.
The official price is €23 for adults and €17 for children aged between 6-13 years old; but booking through the Barcelona Turisme website will give you a small discount. You'll have to print the ticket out and a take it to entrance 9 on Avinguda Joan XXIII (nearest Metro station is Palau Reial - L3 [Green Line]).
Summing it up...
By now you probably get it, the easiest way to skip the queues for attractions in Barcelona is by booking online in advance. If you're not so good with computers, try asking a family member to help you and print them out before coming to Barcelona.
Obviously the attractions mentioned in this article aren't the only ones that you can get tickets for online, you can also beat the queues at Park Guell, MACBA, MNAC, and Barcelona Aquarium. Try Googling the attraction before you visit for the official website and chances are you'll find it.
A word of warning for Barcelona Card holders, though this card entitles you to free entry and discounts in certain attractions, you'll have to join the standard queues; there is no fast track access. You'll have to book online to get that privilege, which in most cases mean you won't be able to use your Barcelona Card.
With that said, enjoy Barcelona to the maximum by getting into attractions faster!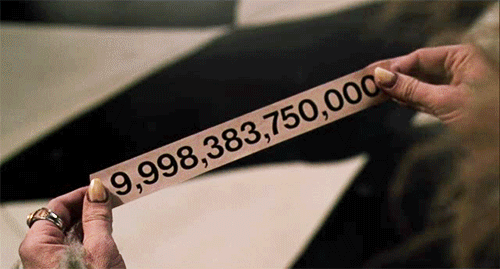 Now this won't happen to you in Barcelona.