Passeig de Grácia
(Promenade / Street)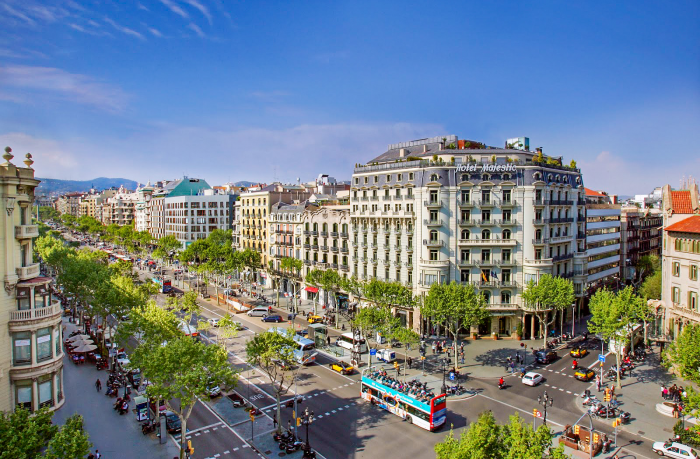 If you come to visit the capital of Catalonia, ​​we will help you to find the best apartments for long term in Barcelona. We offer apartments of different types, renovated and well furnished in all areas of Barcelona!
Passeig de Grácia is one of the most important and famous avenues in Barcelona. It is located in the Eixample Dret district of the city and is home to two buildings with UNESCO World Heritage status among other beautiful works of architecture. The most famous pieces are by the architects Antoni Gaudí and Lluis Domenech i Montaner, which you can read about in this article about Modernist buildings. It's also recognised as one of the best places in the city to go shopping, home to some of the most high-end shops that Barcelona has to offer, especially in terms of fashion.
This renowned avenue forms part of what's known as the "Prime Zone" of Barcelona, which has the highest concentration of businesses in the entire city, meaning many people who come to Barcelona on a business trip tend to stay in this area, take a look at the selection in this article.

Passeig de Grácia, lit-up
Excursions in Barcelona
To make the most of Barcelona and fill your trip with unforgettable experiences and emotions, we offer you the excursions through the Catalan capital organized by our friends - the GetYourGuide team. Choose your excursion and fall in love with Barcelona:
The History
Passeig de Grácia was built on top of the older "Camino de Jesus", which connected the city of Barcelona to the town of Grácia (which now forms part of Barcelona). Urbanized in 1827, the street was favoured by the aristocracy at the time and was one of the most popular places in the area for leisure and entertainment.
When Eixample -a plan to extend the city- was carried out by Ildefons Cerdà between 1860 and 1890, a residential core for the upper-class was created by replacing they multiple houses with gardens with multi-storey apartment buildings. Throughout the 20th century some of Barcelona's most influential architects left their mark on this avenue.
Points of Interest
Casa Milà; also known as La Pedrera.
Casa Lleó Morera.
Casa Amatller.
A great shopping experience, including high-end shops like Chanel or the Apple Store
...and much more.
Whether you're a lover of art and architecture, a fashion victim, or you are just simply looking to stroll through one of the most interesting streets in the city, it's worth visiting Passeig de Gràcia.
Have you visited already? What surprised you the most? Is there another avenue in Barcelona that you like? Let us know and leave your comments, thoughts, and sugguestions below.
Other attractions in Eixample dret
National Theater

The Catalan NATIONAL THEATER, built by the architect Ricard Bofill, is covered by a c...

Casa Batlló

Casa Batlló is located on the prestigious Passeig de Gracia. It was designed by Gaudí.

La Pedrera

The CASA MILÀ, better known as "La PEDRERA", was built by Gaudí between 1906 and 1910.
Read more about Eixample dret ➯
Do you like this post?
Click here!

0/5 - 0 vote
Share your thoughts
Apartments in Barcelona
Related articles
Tired of reading about Barcelona? Find an apartment and stay there!