In the late nineteenth century, with the Universal Exhibition of 1888, Barcelona was a booming city and its architecture was experiencing an extraordinary era. In those years, the architectural style was seen as a sign of social status and the prosperous bourgeoisie of the time favoured modernist housing, giving it a sense of belonging to the wealthy (interestingly; this eventually led to its downfall).
During this time architects would satisfy the whims and vanities of their clients, creating buildings with unique and personal styles using floral ornaments, wrought iron decorations, wavy forms, stained glass, murals, ceramic tile , and an endless list of techniques.
Beginning in Eixample...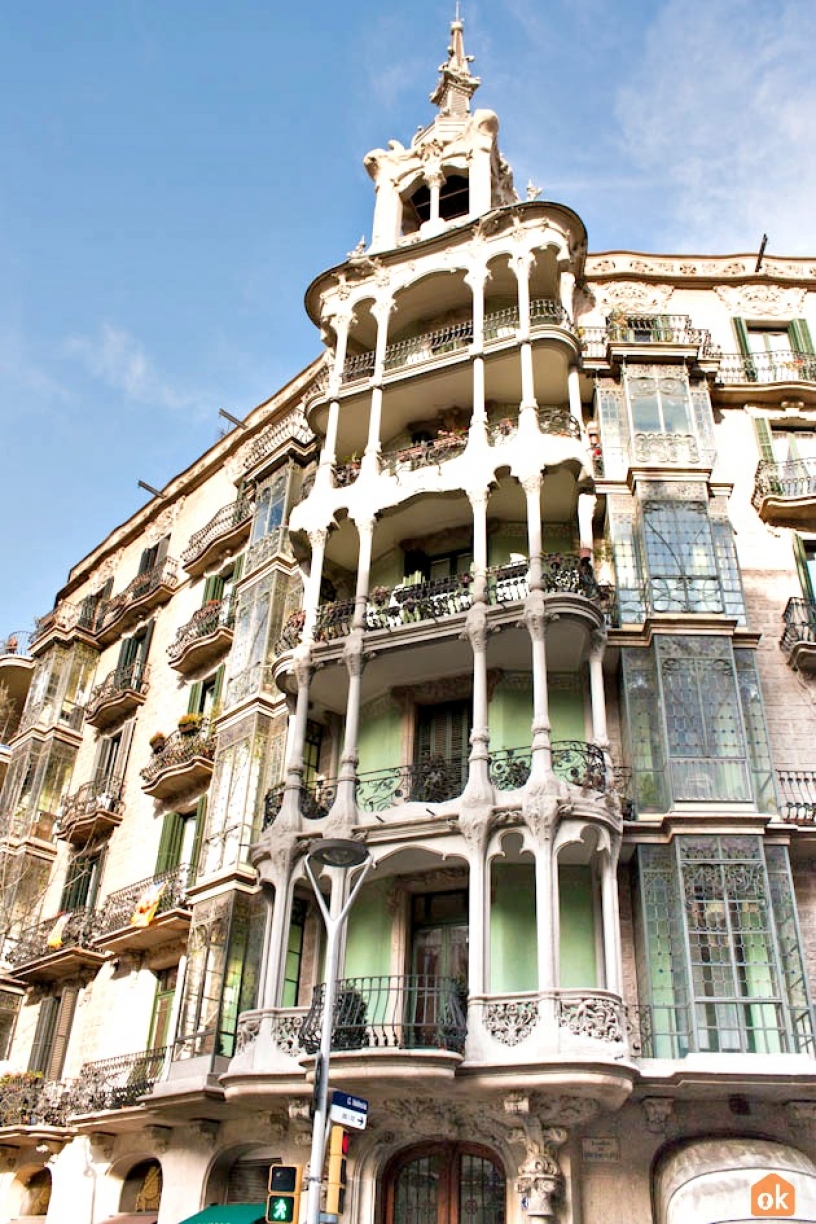 Modernist building
One of the iconic modernist neighbourhoods of Barcelona is Eixample. Here you will find stunning buildings all over, so where should you start? One of the easiest options is to begin from Plaça de Catalunya and from there walk up one of the most famous roads in the entire city - Passeig de Gracia. The first construction you will come across is called La Unión y El Fénix built between 1927 and 1931 by Eusebi Bona Puig and Frederic Marés, which is technically a monumentalist style building, but well worth noting. Your first taste of modernisme however, will be Palau Malagrida, built between 1905 and 1908 by Joaquim Codina.
Further up and to the left is the famous Block of Discord. In this block of buildings you can find three famous works by different architects that fully represent the Catalan Modernisime style: Casa Lleó Morera by Domènech i Montaner, Casa Amatller by Puig i Cadafalch and Casa Batlló by Gaudí.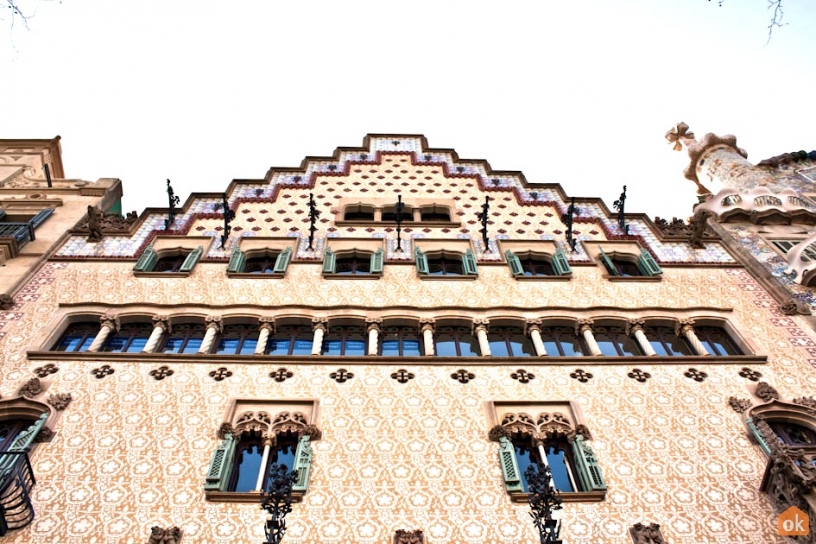 Casa Amatller Facade
Casa Amatller is an authentic gem with its stained glass windows, floral adornations, and a unique touch that incorporates Germanic elements. Beautiful both inside and out you can visit the entrance hall stairway and visit the Amatller Shop. Inside there is also an office with more information about modernisme.
Casa Amatller Interior
Continuing, we arrive at Casa Milà (or La Pedrera) - one of the most famous houses by Antoni Gaudí and one of the most visited - but our adventure does not end here! You can go a little further to find yet more buildings of great interest like Casa Fuster (number 1329) built by Domènech i Montaner between 1908 and 1911, made as a gift to Fuster's wife, and is made practically completely from expensive marble, in fact it was the most expensive building in the city.
Casa Fuster, marks the end of Passeig de Gracia, which is crossed by Avinguda Diagonal. There are two other notable modernist buildings nearby, which are Casa Comalat and Casa Sayrach. Casa Comalat (Diagonal 442, by Salvador Valeri Pupurull), was built between 1909 and 1911 and was clearly influenced by Gaudí through the use of organic forms and curves. Casa Sayrach was designed by Gabriel Borrell and Manuel Sayrach in 1918, which although was after the modernist period finished, is an incredible representation of the Modernist style..
Casa Comalat Detailing
If you come to visit the capital of Catalonia, ​​we will help you to find the best apartments in Barcelona. We offer apartments of different types, renovated and well furnished in all areas of Barcelona!
The route goes on without stopping. Eixample is full of modernist buildings, located on unfamiliar streets not frequented by tourists, such as Carrer Roger de Llúria, Valencia, Balmes and many more! Take note, readers! If you're a fan of the modernist style then take a walk around here and search for the buildings! Check out this article for more examples and tips for a route through Eixample.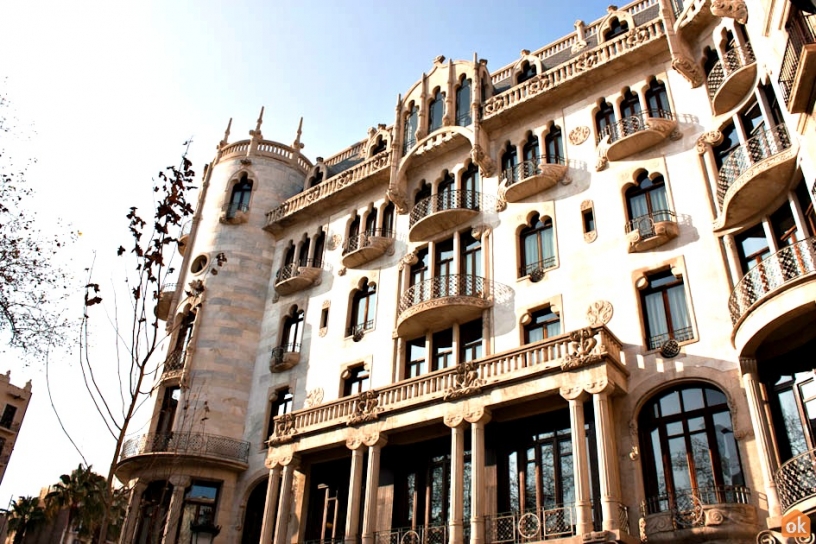 Casa Fuster
Going up Tibidabo
If after passing through Eixample you still have a thirst for more, then head to Avenida Tibidabo, one of the highest areas in the city. To get here you can take L7 of the FGC Public Trains and get off atAvinguda Tibidabo. Otherwise you can get on the buses 17, 22, 58, 73, 75, or 123, which leave you right by the avenue.
Avinguda Tibidabo is located in uptown Barcelona and starts where Passeig de Sant Gervasi crosses with Carrer Balmes. It's a true piece of Barcelona bourgeois history. In this zone there are spectacular villas. This avenue was created when a well known pharmacist called Salvador Andreu wanted to create a park on the peak of the mountain, known as Tibidabo Amusement Park. To make this a reality he created the Tibidabo Company,buying the lands around the mountain peak and Passeig de Sant Gervasi.
With this initiative, dating from 1889, the avenue began to develop with beautiful private residences. Some of them are still inhabited today, others have become structures used for other purpose like schools, or the building by Adolf Ruiz i Casamitjana in 1906 which at that time housed the Hotel Metropolitan and is now a clinic.
Among the finest residences there is Casa Roviralta - El Frare Blanc, Torre Ignacio Portabella, and Casa Fornells. Casa Roviralta was built between 1903 and 1913 by architect Joan Rubio i Bellvé and is notable for its huge white walls. The name "El Frare Blanc" (White Friar) doesn't come from the colour of its walls, but because this house was owned by a community of Dominican friars, before being bought by Indian Teodor Roviralta.
Casa Roviralta
Torre Ignacio Portabella was designed by architect José Pérez Terrace (built in 1905). It is a two story house with a tower that separates it from the facade; the famous Casa Fornells also built by the same architect, but with some medieval decorative elements mixed with modernist style - much like Torre Bellesguard by Gaudí, located in the same neighborhood.
A bit of advice: To traverse this avenue, you could take the Tramvia Blau, an endearing and historic blue tram which runs along about 1.5 kilometers uphill over a height of 93 meters at a very modest speed of 10 km/h, so you can fully enjoy the views of the serene avenue as a true bourgeois! The line was opened in 1901, with the goal of opening an alternative route to reach Mount Tibidabo and the amusement park.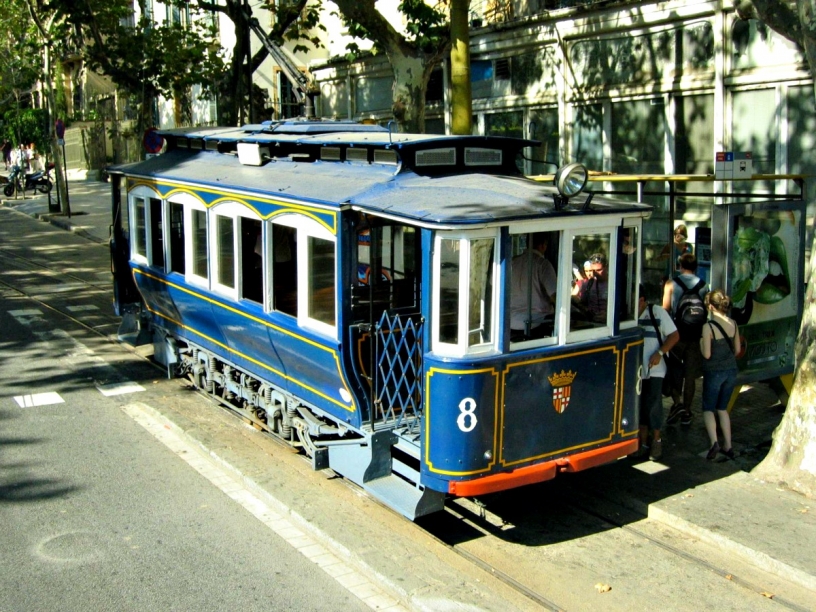 Tramvia Blau
Before finished off, take a look at this link, where you'll find more details about the buildings in this article. Oh! And seeing as how we won't ever be able to live inside a majority of them, there are some that you can live in yourself, take a look at some modernists buildings you can stay in on this page.
Rather than speaking about modernism for hours (entirely possible, for the record), let's conclude for now. Barcelona is the capital of this unique and wonderful architectural style and perhaps not even a lifetime is enough to discover all of the Modernist buildings, streets, and corners of the city. One can try though! In the next part there will be more, but meanwhile you can satisfy your need for more modernist goodness by looking at this Pinterest board!
Other images
Excursions in Barcelona
To make the most of Barcelona and fill your trip with unforgettable experiences and emotions, we offer you the excursions through the Catalan capital organized by our friends - the GetYourGuide team. Choose your excursion and fall in love with Barcelona: