Gràcia
(Districts)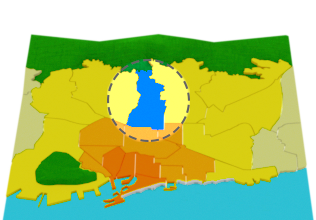 Gràcia — A bohemian district with squares, bars and celebrations
According to a recent survey, Gràcia was chosen as the best neighbourhood to live in Barcelona. Respondents agreed that it's an area with a village atmosphere, pedestrian streets and lots of beauty, but all with the benefit of being in less than 10 minutes by public transport from the city centre. This neighbourhood has gained so much fame that even now, there's a clash between long-time residents and newcomers — especially tourists.
The district of Gràcia, located to the north of Eixample, used to be an independent village until the nineteenth century. For a long time, the inhabitants of Barcelona had to travel by a dirt road to get to it. But in 1897, Gràcia joined Barcelona. Despite this unification, Gràcia still has its own independent character. In this article we show you a video in which you will discover the neighbourhood of Gracia guided by its neighbours. We also tell you why to stay here, its attractions to visit, the best places to eat and where to go shopping. If you're a student you'll also be interested in knowing where to find the libraries, green areas and places to practise sports.
Why Stay Here?
Gràcia is a district with an authentic and alternative vibrance and is home to many beautiful modernist buildings. If you're looking for an artistic atmosphere, then this charming neighbourhood is for you. The streets are full of workshops and studios where creative Catalans and foreigners come to work. If you like how this neighbourhood sounds, you can have a look at our monthly rentals in Barcelona and stay here too.
One of the defining features of Gràcia is the abundance of beautiful plazas. To name a few there is Plaça del Diamant (Diamond Plaza), Plaça de la Virreina, Plaça de la Revolució, etc. They're all ideal locations to get something to eat or drink, meet with friends, or watch some community events organized throughout the year. But the most known by visitors is Plaza del Sol, which comes to life at night and is the meeting spot for starting a long night out.
At the end of this article, discover the results of a survey we have done with 850 foreigners who tell us the best neighbourhoods in Barcelona, which are less touristy.
If you come to visit Barcelona, ​​we advise you to stay in anapartment in the Gracia neighborhood. In this way, you will be close to everything, save and gain comfort.
Excursions in Barcelona
To make the most of Barcelona and fill your trip with unforgettable experiences and emotions, we offer you the excursions through the Catalan capital organized by our friends - the GetYourGuide team. Choose your excursion and fall in love with Barcelona:
Keep reading all about the Gràcia neighbourhood. In this introduction there are only a few things in this fantastic neighbourhood, are you ready? …
At the end of this article, discover the results of a survey we have done with 850 foreigners who tell us the best neighbourhoods in Barcelona, which are less touristy.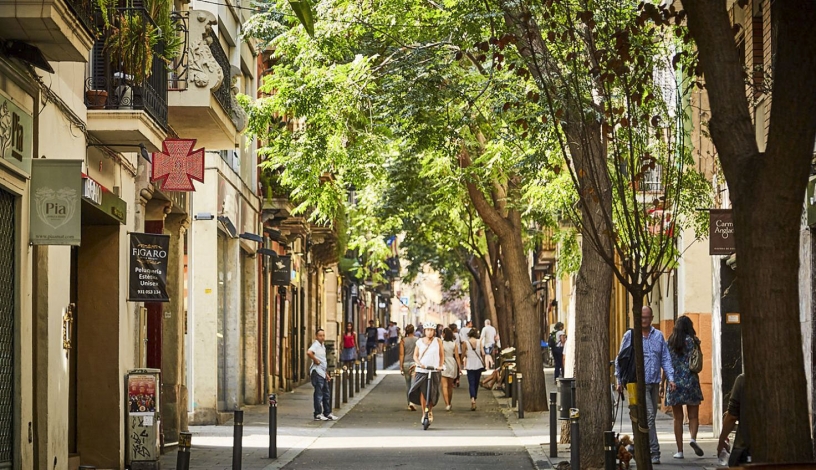 Gràcia Neighbourhood
Attractions
If you only visit Gràcia for one thing, it will probably be to see Park Güell by modernist architect Antoni Gaudí. In fact if you love Gaudi you can also visit Casa Vicens, on Carrer de les Carolines.
You can also enjoy the park if you have already seen the monumental part: Park Güell is perfect for sports or relaxing with friends, couples or alone. Discover all about this fantastic attraction with this complete article.
In fact, if you like Gaudi, you can also visit Casa Vicens on Calle de les Carolines, which only opened its doors to the public in October 2017. If you don't know this wonderful house, we suggest you take a look at this article with photos of the work by the Catalan architect.
Parties and Festivals in Gràcia
If you travel in August, take a walk through the Festa Major de Gracia. Each street is completely decorated with a different theme. It's a famous competition in which the whole neighbourhood participates. During a whole week the streets are filled with shows, music, parades, dances and fireworks.
Prefer to travel in Spring, like March? Then don't miss another important fiesta in the neighbourhood of Gràcia, the Fiesta de Sant Medir: the sweetest fiesta in Barcelona! On this day, 60 tonnes of sweets are thrown onto the streets from horse-drawn carriages. The crowds are armed with bags, umbrellas and buckets to collect as many sweets as possible… Discover it here!
Where to Eat

Seafood
Gràcia has a large selection of restaurants, boasting the most diverse selection of international cuisine in Barcelona, but if you just want to stick to good old authentic tapas, then any of the bars will be more than happy to oblige!
If you're looking for a restaurant to celebrate a special event, don't miss Fernández located in Gran de Gràcia, which has a more expensive but incredible menu.
Café del sol on Plaça del sol has tapas as well as drinks and wine, all for a very good price.
El Ferru is a restaurant where you will enjoy good food with pleasant waiters listening to your wishes.
Also recommended is O'Gràcia on Plaça de la Revolució. A modest restaurant run by a French couple. The offer typical dishes and menus for all kinds of budgets. There's even a tasting menu, which is perfect for treating your partner or socializing with friends.
Nightlife

concerts in Gracia
When in Gràcia, the best night outs can be found on the numerous terraces relaxing with a drink with some friends. There are many bars and cafés. For one of the most authentic bars, take a look at Bar Canigó.
For something more lively, go to club el Alfa, where apart from the great atmosphere you'll find some great music. It's ideal for all crowds, young and old, and has very reasonable prices.
If you want live music, then there's Soda Acústic Bar, a meeting point for new musical tendencies. It's found on Carrer de les Guilleries, 6 and is frequented by artists from all over the world, bringing together cultures and musical styles from Jazz to Swing, Rock to Latina, and beyond...
Information for Students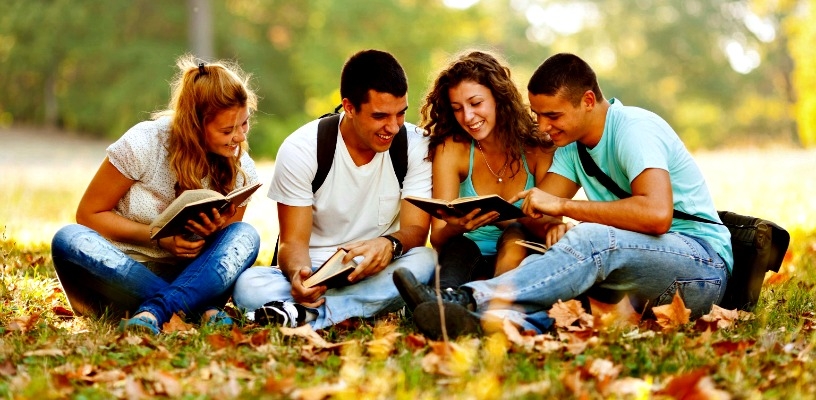 Let's study!
Gràcia is a neighbourhood with a great atmosphere for students, with bars, restaurants and alternative clubs, not to mention the libraries and other facilities available in the neighbourhood to enjoy a complete student life. If you like this area, then you can have a look at our selection of student accommodation in Gràcia.
You can find two of the best libraries in Barcelona here — Vila de Gracia Library and Jaume Fuster Library. In addition, if you want to learn or strengthen another language, there are several language schools, such as the Instituto Escola Europa de Idiomas, Gran de Gracia; Escola Centro Humboldt and Novalingua. For sports lovers, there are large green areas for outdoor activities such as Creueta del Coll Park and Menedez Pelayo Gardens, as well as municipal sports centres with football or basketball fields, such as Esportiu Municipal Can Toda, Centro Esportiu Municipal Claror and Centro Esportiu Municipal Perill.
Shopping

Shops
Along the main high-street of the district, you will find Gran de Gràcia, the place with the most shops. It's always a good idea to shop around this road, but it also helps to detour into a side street from time to time to find some truly hidden gems of shops. Another great shopping street is Carrer de Verdi.
As we already said, Gràcia is the artistic district, so there is an abundance of bookstores, art galleries, craft shops and much more ...
For basic shopping needs, there are supermarkets all over this residential district. However the most charming way to shop for your goods is at one of the local marketplaces, like Mercat del Abaceria on Travessera de Gràcia or Mercat de la Llibertat on Plaça de la Llibertad. Markets in Barcelona open every day except Sundays.
Getting Around
L3 - The Green Line
You can take several lines to go to Gràcia
Stations Diagonal, Fontana, Lesseps
Stations Joanic, Alfonso X, Verdaguer
Railway (L7/L6) stop to Gràcia
The main street of Gràcia (Gran de Gràcia) is extended by Passeig de Gràcia, after crossing Diagonal Avenue. To go to the beach you have to take line 4 at the Joanic stop.
Video presentation of Gracia, Barcelona
Other images
Attractions in Gràcia
Park Güell

Discover one of the most colourful and unique parks in the world in Barcelona

Parc de la Creueta del Coll

Parc de la Crueta del Coll is a park in Gracia which has it all; greenery and a place...

Mercat de la Llibertat

One of the oldest markets in the city, found in the neighborhood of Gracia
Do you like this post?
Click here!

3.5/5 - 2 votes
Share your thoughts
Related articles
Tired of reading about Barcelona? Find an apartment and stay there!