You can use the map below to discover the exact location of each art gallery.
1. Esther Arias Galería de Arte y Taller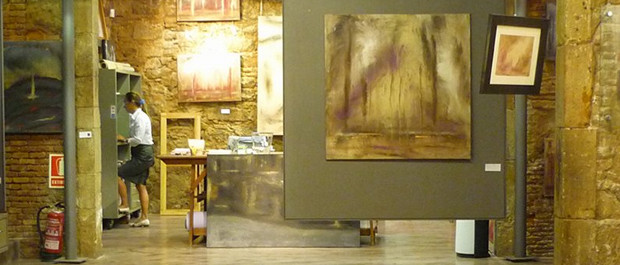 Most tourist arriving at the Metro station of Jaume I head immediately to the Picasso Museum walking over the street Carrer Princesa. That's understandable, however there's a way more attractive shortcut that will take you past Esther Arias's art gallery that is located in an old 18th-century building. Apart from one wall devoted to guest artists, all of the paintings are made by herself. Expect colorful abstracts with a dreamlike quality.
Carrer Cotoners 14, Open: Tue - Sat from 10:30 to 14:00 and 16:30 to 19:30
2. Galería Artevistas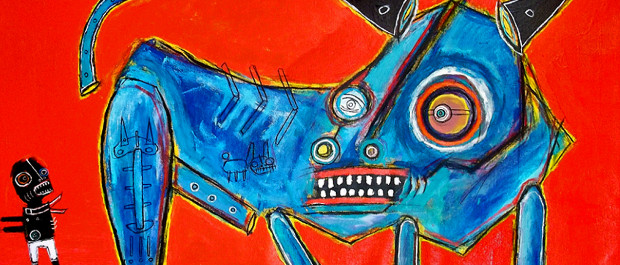 Along the street of Consell de Cent you can find posh galleries showing expensive work of known artists. But for a different experience you can head to the Artevistas, where you will find works from young artists. Some of whom have definitely arrived with a boom on the art scene. It's a happy place where you may well find a budding talent.
Passatge del Crèdit 4, Open: Mon from 14:00 to 21:00 and Tue to Sun from 11:00 to 21:00
3. Cosmo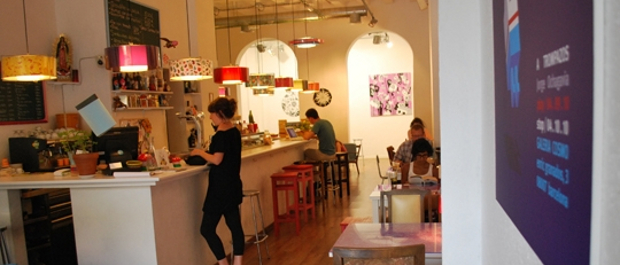 A lovely pedestrian street in Eixample, called Carrer Enric Granados, is filled with several well-established art galleries. The Cosmo café & galeriá is a great place to start you journey. It's a fun and lively bar with good music and a large exhibition space in the back.
Carrer Enric Granados 3, Open: Mon to Thu from 8:30 to 22:00 and Fri to Sun from 14:00 to 22:00
4. Àngels barcelona
For admirers of experimental art, this is the place to be. The Àngels gallery is located in the heart of the Raval and houses works from internationally known artists. You will, for instance, find works of Joan Fontcuberta, Harun Farocki, and Richard Walker. Downstairs is home to a space for film and video with seats for viewing.
Carrer Pintor Fortuny 27, Open Tue to Sat from 12:00 to 14:00 and 17:00 to 19:00
5. Taller Creativo Bencini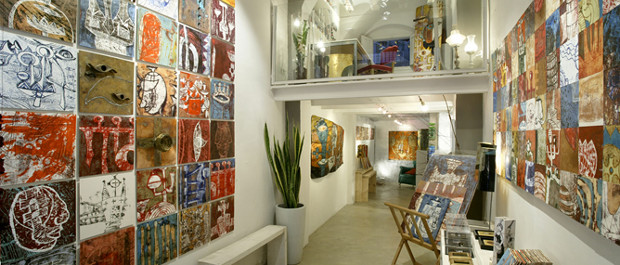 This postmodern gallery and workshop is located behind the market of Santa Caterina. It's already worth a visit because of its architectural design and multicolored wavy roof. From here head to Federico Bencini's where you will find a large space full of fantastic monotype prints created on wood and metal. He shares the taller with Raúl Pernia, a sculpture of organic pieces.
Carrer Semoleres 10, Open: Daily from 11:00 to 14:00 and 17:00 to 20:00
6. Eat Meat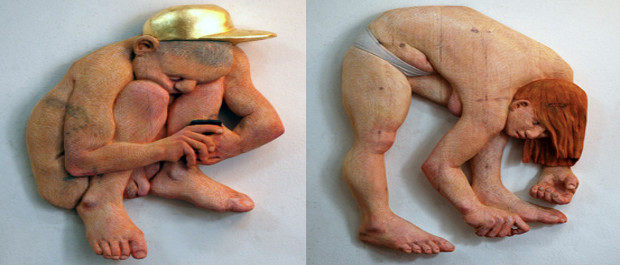 This non-profit cultural organization lies in the trendy district of Gràcia, an area full of shops, trendy bars and few tourists. The organization is dedicated to the principle of "art for laying bare contemporary obsessions [which include] mutations of form and essence, hybridizations, new visual engineering, the sickness of the soul, other rituals, the monstrous, the transgeneric and alterities".
Carrer Alzina 20, Open: Thu to Fri from 18:00 to 21:00 and Sat from 12:00 to 14:00 and 17:00 to 20:00
7. Joan Prats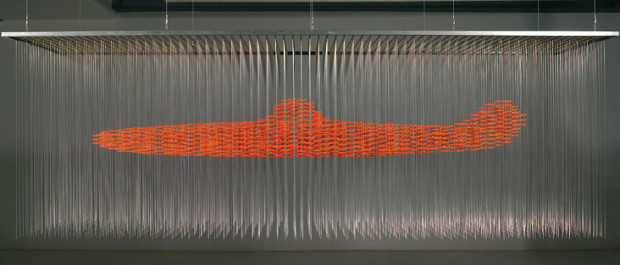 Since the foundation in 1976, Joan Prats has been part of art fairs Arco, Art Basel, and Art Basel-Miami Beach. The gallery was on of the city's pioneers in contemporary art. To the present day the gallery continuous to promote the various forms these artists use to express themselves.
Rambla Catalunya 54, Open: Tue to Sat from 11:00 to 20:00. Closed in August.
8. Trama
The small street of Petritxol, near subway station Liceu, is known for its bars, chocolate shops, and art galleries. And one of them is Galería Trama, founded in 1991. You can see works of established local and foreign artists. Until october 28th of 2013 you can see works of Javier Vázquez.
Petritxol 5, Open: Mon 16:00 to 20:00, Tue to Fri 10:30 to 14:00 and 16:00 to 20:00, Sat from 10:30 to 14:00 and 16:30 to 20:30, Sun from 11:30 to 14:00
9. Galeria 3 Punts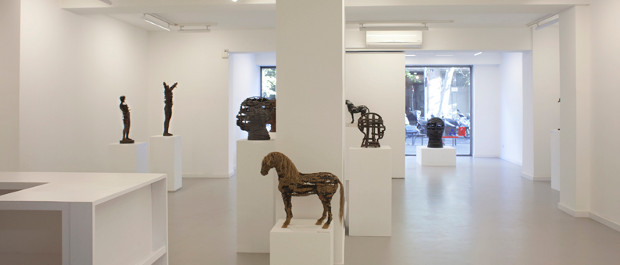 In this large gallery you'll mainly find contemporary art. Every year various individual exhibitions are planned and this gallery also takes part in international fairs.
Enric Granados, 21, Open: Mon from 16:30 to 20:30, Tue to Fri from 11:00 to 14:00 and 16:30 to 20:30, Sat from 11:00 to 14:00
10. Marlborough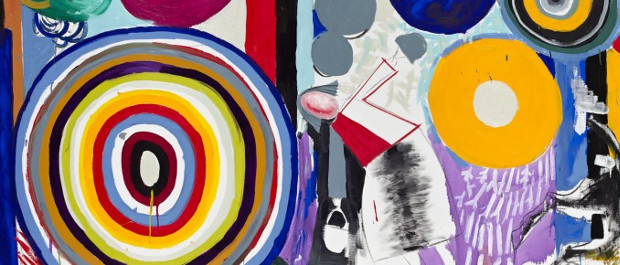 The galleries of Marlborough were founded by Frank Lloyd and Harry Fisher in London in 1946. In many large cities over the world they have established various galleries, and in 2006 they opened one in Barcelona. The gallery carries out various activities, such as buying and selling art and includes contemporary paintings from the 19th and 20th century.
València 284, Open: Mon - Fri from 11:00 tot 14:00 and 15:00 to 19:00
Map with art galleries
It's impossible to visit every art gallery in town. So my top 10 is based on a selection of art galleries that I've visited. If you find a gallery worth announcing, please let me know and write a comment below. I'll pay a visit and maybe I'll have to adapt my list.