Common questions about learning a language in Spain
How can I enroll if I don't know Spanish?
Easy. Almost every school offers there site in various languages so you'll find it a breeze to enroll online. By the nature of language schools at least one of the staff will speak your language, in this case; English. If you're coming from a place that requires a visa, E.G. America, then some of the schools will even help you process that so you can come to study. And if you don't want to pay to go to a language school, you can even earn Catalan or Spanish for free outside of a classroom environment.
Where will I live?
One of the most convenient and safest options for staying in Barcelona if you're coming for less than a year is to stay in a monthly apartment rental for students, where you can live with friends or even a pet. If it's on relatively short term notice, don't worry as there's always something available in Barcelona. You'll feel right at home.
The schools are distributed between the uptown and downtown areas, so the best place to stay if you're learning a language is the Eixample area, which has easy access to both. This way you can enjoy the entire city while still finding it easy to get to classes on time.

In the Classroom
List of top 6 language schools in Barcelona
1. WorldClass - Barcelona Language School
If you are looking for a small and homely place to learn Spanish, World Class Bcn is a perfect option for you. You feel it's a special place when you first put your feet inside. It surprises by its cozy ambient with space for activities like flamenco or cooking. Then, you learn about their courses, classes focused on communication run in small groups. Once there, you meet warm and passionate people willing to share their love for Spanish and Barcelona and help you when you've got problems typical for someone new in the city. 
They have different types of courses. For example, in the summer they organize special programs for teenagers, full of games and digital activities.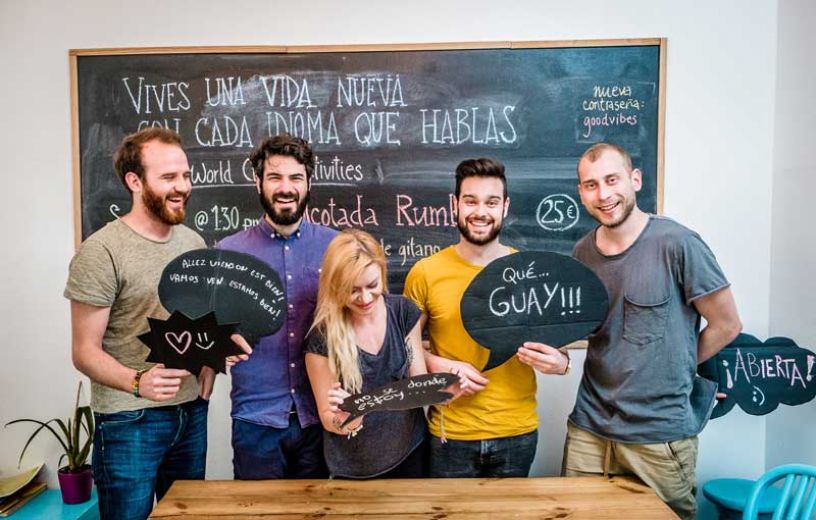 Students of WorldClass School
2. IH – International House
One of the most famous and prestigious schools in Spain, but also one of the most expensive. It money is no problem then this is definitely the school that will boost your Spanish the quickest. There are also many students from Europe that take advantage of the free public program called Da Vinci.
3. Don Quijote
This Spanish school in Barcelona has been ongoing since 1986. In addition to classes, the school organizes various excursions and walks, so you can learn not just language, but also local culture. There is also various other courses like Spanish Cooking, diving, Flamenco, and even golf.

Life Outside of School
4. ABCHumboldt
Probably one of the best schools in terms of value and quality. The staff are friendly and the environment is cosy with the aim of making classes fun. They combine the more monotonous tasks of grammar exercises with other learning experiences such as games, discussions, and debates about relevant topics.
Happy Students
5. Camino
The youngest school on the list, it was opened in 2006 but has become popular in almost no time. One unique aspect of this school is that it also has 11 student apartments in the same building.
6. Ole
It's the cheapest school in the list, but don't underestimate it! Famous for its energetic and younger professors who will not only explain the enigma of grammar and expand your vocabulary, but also give you information about local traditions and advise about living in Spain. If three enroll together, you get a 10% discount, and if you enroll 3 months in advance there is a 5% discount.

Classes for Children
Map of language schools in Barcelona