Palau Güell by Gaudí
(Building / Construction)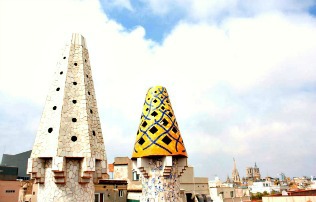 The Palau Güell was one of the first important commissions Gaudí received at the beginning of his career. It was built between 1886 and 1890 and was eventually declared a UNESCO World Heritage Site in 1984 after being declared a Spanish National monument in 1969. It is an urban mansion and a splendid example of domestic architecture in the context of Modernism.
Because it is one of the architect's first buildings alongside Casa Vicens, we can see how the skills of this internationally renowned architect developed from his early career; by studying these works we can begin to understand him more clearly.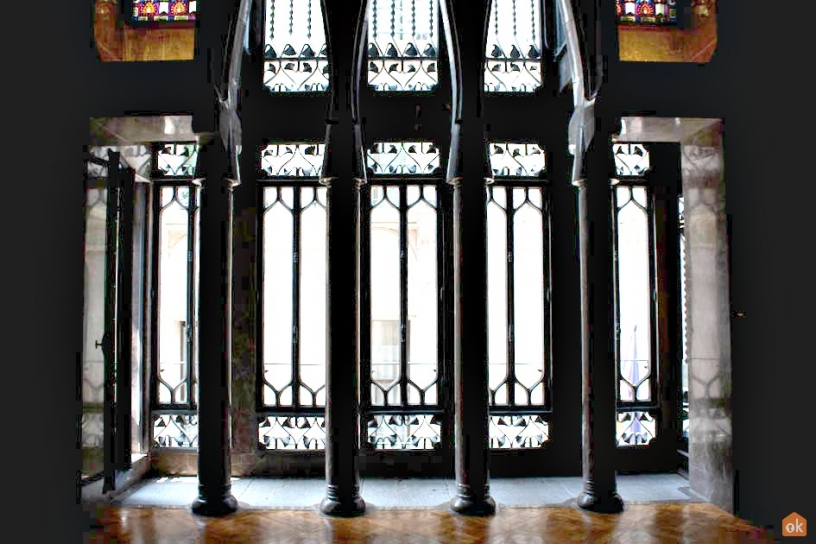 Ground floor of Palau Güell
History and style
The industrial and political Eusebi Guell requested this building from Gaudí in 1886, as a unique urban space for a large family home by Las Ramblas. It was indeed the home of the Güell i López family until they moved to Park Güell, also by Gaudí.
Among the main challenges Gaudí faced was the relatively little space on the plot of land in the already dense Old City centre of Barcelona. The architect was, however, able to design a functional building adapted to the needs of the private and social life of the family. The building stands out for its innovative use of space and light. Some rooms are found on different levels, such as the main hall for the guests of high society. Gaudí also - as is expected of him - added a personal touch to the structure, creating expressive forms from his imagination, using materials such as ceramics, wrought iron, glass, and more.
Architectural structure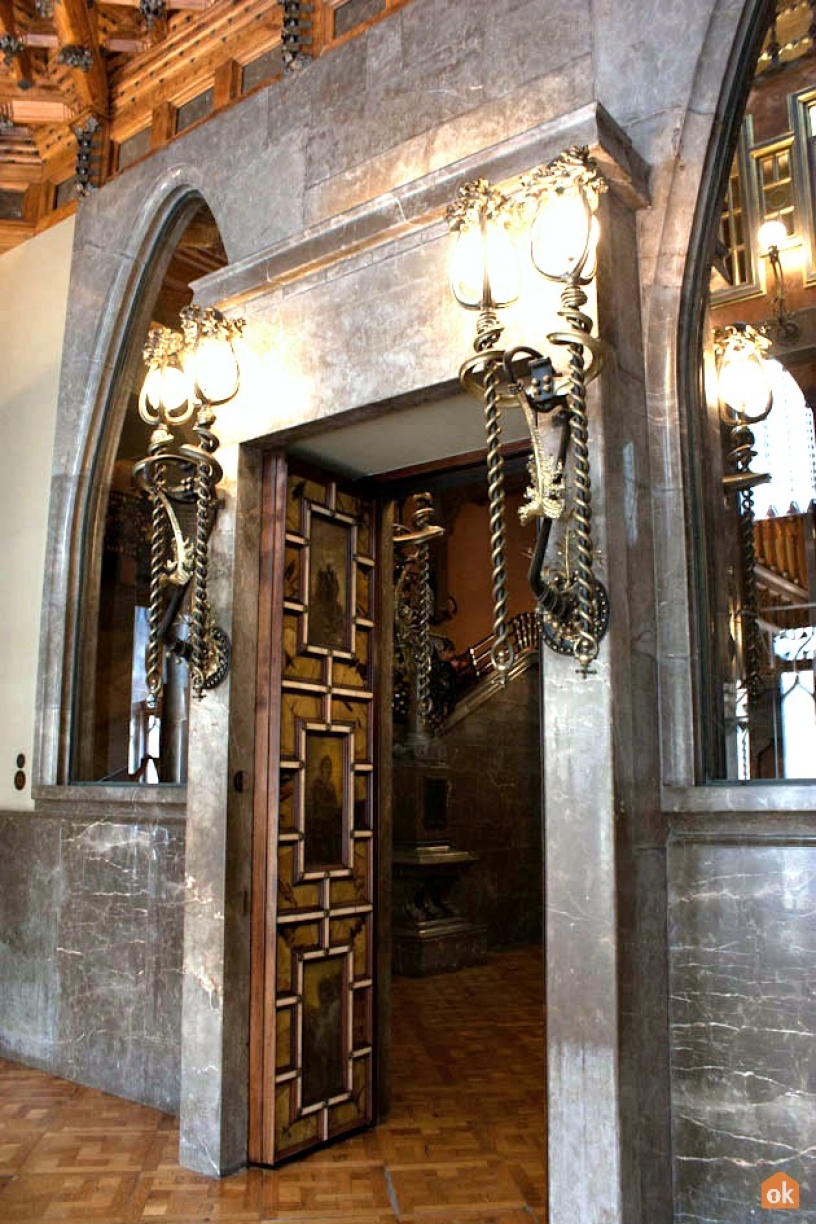 Entrance to Palau Güell's main hall
The mansion extends over several levels and consists of mix of private rooms and rooms for guests. The basement of the Palau was used as a stable for people to access the building via horse and carriage. You can still access the building through this entrance - a gentle ramp that is used to raise and lower the horse, in addition to the stairs (almost spiral) used by people on foot.
The ground floor is currently used for concierge services. It was initially storage for agricultural products, the caretaker's house, and the place where the aforementioned carriages were left. On the upper floor (mezzanine) was Eusebi Guell's office to manage and store documents, in addition to a private library.
Then on the first floor is where the building clearly takes the form of a mansion. The rooms are distributed on either side of the central hallway, and floor to floor. They include the lobby, guest waiting rooms (where visitors waited before entering the main hall), main hall (covered by a splendid dome), 'Trust room' (where people trusted by the family met and spoke among friends), dining room, billiard room, and finally terrace.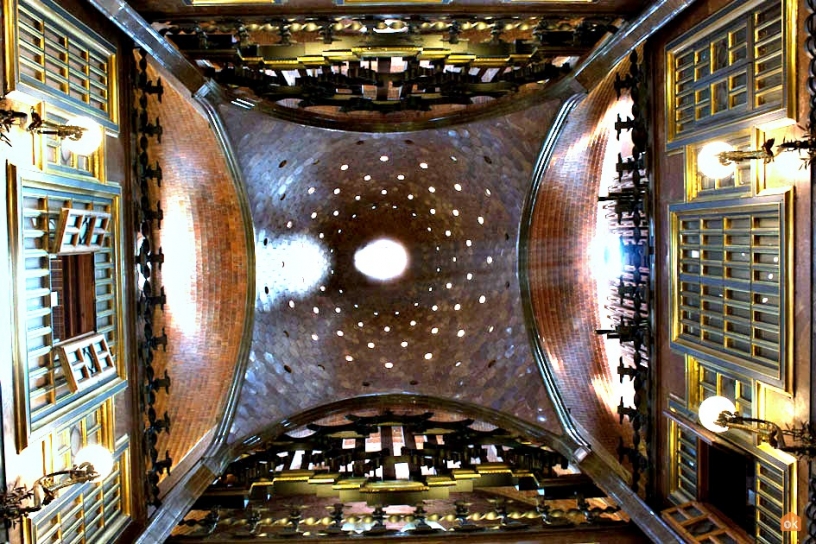 Dome in the main hall
If you head up a little further, you reach a large attic - once a space for housework like laundry and kitchen of the Palau's staff, but today where concerts are held. After this space, you can reach the bedrooms of both the adults and children, spread over a long hallway, and bathroom. For more information on the rooms, visit the official website of the Palau.
For more photos of the bedrooms, head on over to our Palau Guell Pinterest Board!
The roof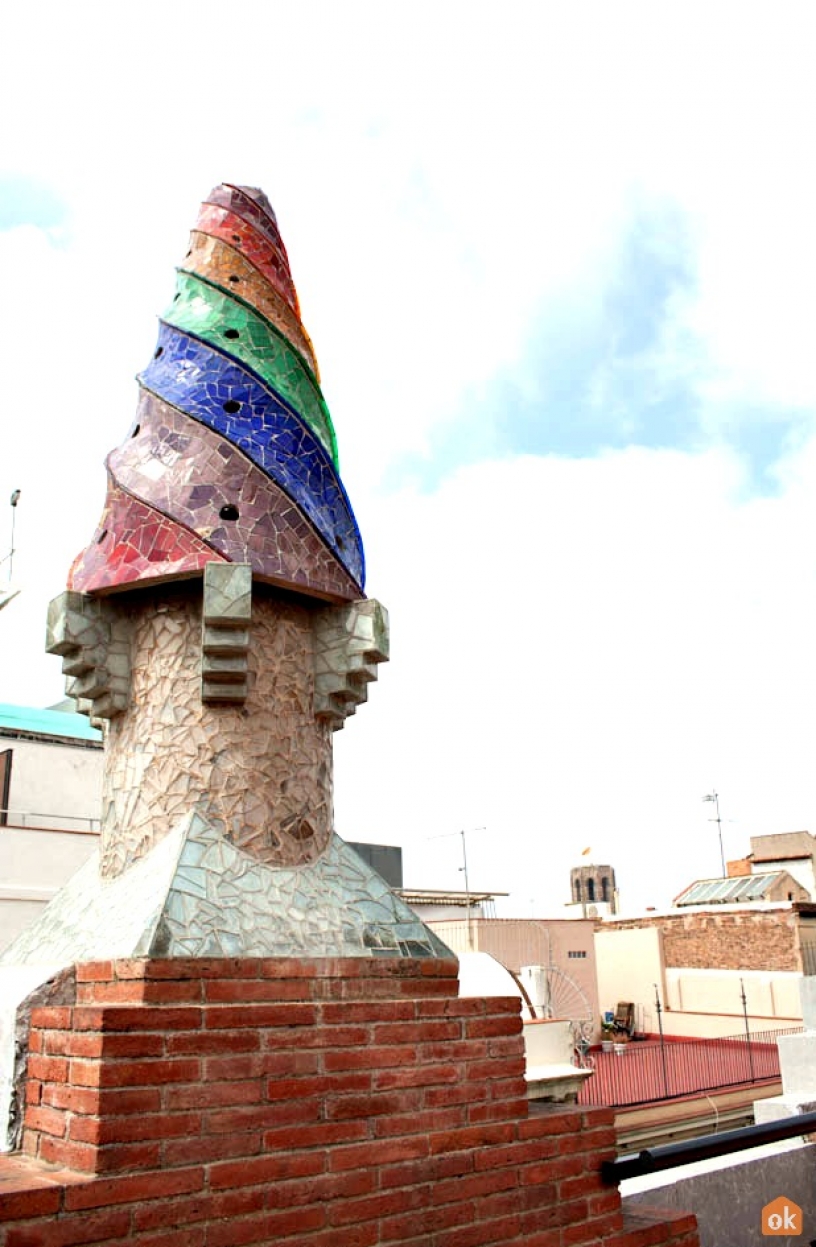 Chimney on the roof
The roof of Palau Guell is one of the most magical of all his works. It is known for its 20 chimneys, including the main one that measures 15 metres. Each chimney is a true work of art of ceramic, colour, and unusual shapes that only Gaudí could imagine. From here you can also enjoy a splendid view of the city. In the distance, one can see Montjuïc, Barcelona Cathedral, and Santa María del Mar.
Useful information
Where: Carrer Nou de la Rambla, 3-5
How to get there: Palau Güell is found in the Raval district. The closest Metro stations are Liceu or Drassanes of the Green line (L3). By bus, the stops nearby are from buses 14, 59, 91, 120, and the Barcelona Tourist Bus
Disabled access: Palau Güell has specialized services for disabled visited. More information on this page.
Opening times: Summer opening times (1st April - 31st October) - 10:00h to 20:00h (Ticket office closes at 19:00h). Winter opening times (1st November - 31st March) - 10:00h to 17:30h (Ticket office closes at 16:30h). Closed on Mondays (unless public holiday), 25th and 26th December, and 1st and 6th January.
Price: €12 standard entry. For information on other tickets and discounted rates visit their website. Tickets can be bought on their website of via the ticket office beside the building.
Accommodation nearby: Take a look at these apartments in the Raval neighbourhood to stay near Palau Guell.
More advice
Within the building they make guided visits in English and Catalan. You can also visit the building through themed tours, which allow guests to discover unusual aspects of the attraction through unique perspectives. Availability of themed tours can be consulted here.
More photos
Other attractions in Rambla - Raval
CCCB Cultural Centre

The CCCB is a cultural centre dedicated to the contemporary culture of Barcelona. It ...

MACBA

MACBA is one of the most important contemporary art museums in Barcelona.

La Boqueria Market

An explosion of colours and flavours in one of the most famous markets in Europe!
Read more about Rambla - Raval ➯
Do you like this post?
Click here!

0/5 - 0 vote
Share your thoughts
Apartments in Barcelona
€810

Lancaster Rambla I 4

|

|

50m²

Monthly rental with air conditioning and internet next to Rambla, Barcelona
Related articles
Tired of reading about Barcelona? Find an apartment and stay there!