Santa Maria del Mar
(Church)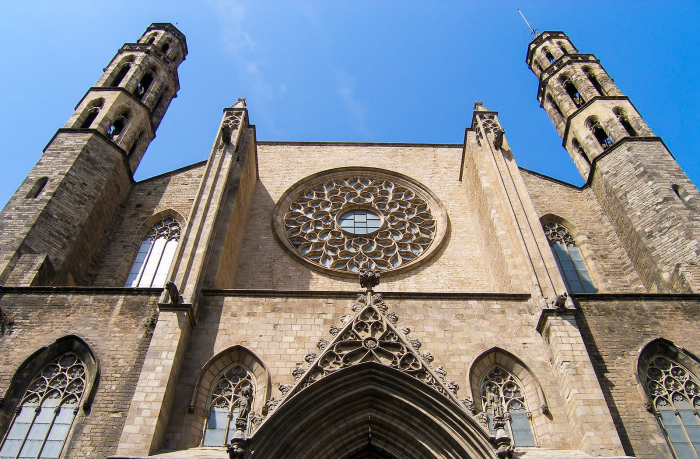 Description
Santa Maria del Mar is a beautiful Gothic Basilica located in the Born district of Barcelona and has a history full of mishaps.
If you come to visit the capital of Catalonia, ​​we will help you to find the best apartments for long term in Barcelona. We offer apartments of different types, renovated and well furnished in all areas of Barcelona!
The Born district was once the centre of Barcelona in terms of commerce and marine trade during the middle ages. This area comes to live at night. The basilica of Santa Maria del Mar lies proudly at the heart of this district alongside old medieval mansions; it is an authentic example of Catalan Gothic architecture.
Before and after
After the cathedral was set on fire and left burning for 11 days, the restoration needed had slightly changed the outward appearance of Santa Maria del Mar. The interior of the church had been almost totally destroyed. The stained-glass windows also had to be reconstructed and in 1990 the restoration work was finally completed. As you can see in the pictures, the windows have been altered, there are no more stands at the side and nor does the arch next to the church exist anymore.

Before and After — Santa Maria del Mar
Excursions in Barcelona
To make the most of Barcelona and fill your trip with unforgettable experiences and emotions, we offer you the excursions through the Catalan capital organized by our friends - the GetYourGuide team. Choose your excursion and fall in love with Barcelona:
An eventful history
It was constructed in just 55 years, between 1329 and 1383, an amazing feat for the time. It was built by local parishioners from the harbour area, which would explain its austere style when compared to the later constructed Barcelona Cathedral.
In 1428, an an earthquake caused the main rosette window to detach as well as some rocks, causing the death of some of the parishioners. A renovation was then carried out in response which took until 1459 to complete.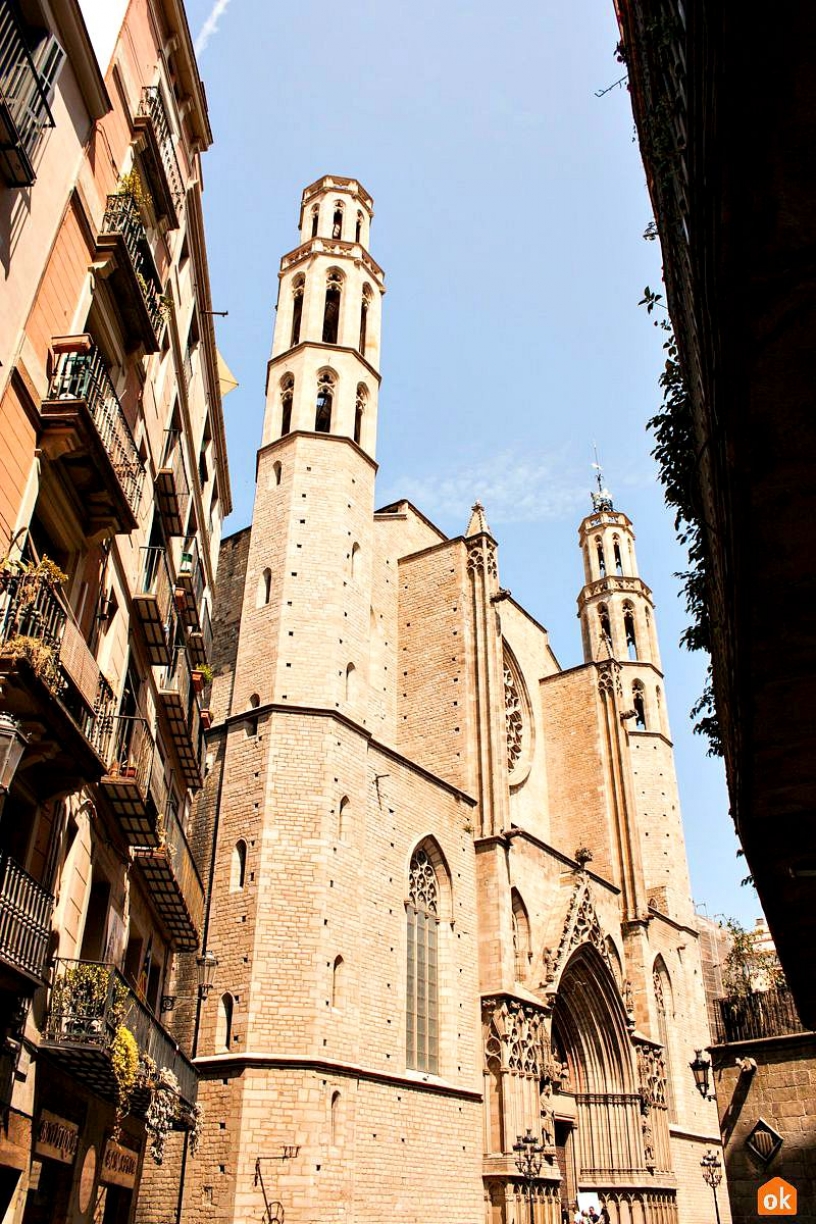 Santa Maria del Mar
Centuries later, in 1936, a fire was caused by a group of anarchists during the civil war, but 13 years later and after some recovery, the building earned the title of a minor basilica. The severe damages were later repaired through a restoration funded by donations.
Excursions in Barcelona
Enjoy Barcelona to the full and fill your trip with unforgettable experiences and emotions reserving an excursion in the Catalan capital organized by the GetYourGuide team. Thanks to the local guides you will discover the pure life of the city and feel the soul of Barcelona! Choose your excursion and fall in love with Barcelona:
A somber gothic decoration
With its three façades adorned with images of Saint Peter and Paul, the building is a demonstration of authentic gothic architecture, with octagonal towers, arches, buttresses, gargoyles and rosettes. The interior consists of three naves of the same height and width with simple decorations.
Tower Santa Maria del Mar
Apartments in the Born quarter
If you come to visit Barcelona, ​​we advise you to stay in an apartment in Barcelona's Born Quarter. This way, you will know one of the most emblematic districts of Barcelona and save money since hotels are more expensive and offer you less space and comfort.
Useful information
Where: Plaza de Santa María, 1, 08003, Barcelona
How to get there: Metro L4, Jaume I; Bus 17, 19, 40 and 45; Barcelona Bus Turístic, Pla de Palau
Opening hours: Monday to Saturday 9AM–1:30PM and 4:30PM–8PM. Sunday and public holidays from 10AM–1:30PM and from 4:30PM–8PM.
Price: Free
Other images
Other attractions in Born
Picasso Museum

The Picasso Museum is one of the most visited art museums in the world.

Palau de la Música

Considered one of the main exponents of the Catalan Modernism

Barcelona Zoo

Barcelona Zoo houses one of the largest and most diverse animal collections in Europe.
Do you like this post?
Click here!

0/5 - 0 vote
Share your thoughts
Apartments in Barcelona
€3200

Sombrerers Maria 6

|

|

130m²

Monthly rental with 130 m2 private terrace and air conditioning next to Santa Maria del Mar
Related articles
Tired of reading about Barcelona? Find an apartment and stay there!