A beach that's also a museum!
If you come to visit the capital of Catalonia, ​​we will help you to find the best vacation rentals in barcelona. We offer apartments of different types, renovated and well furnished in all areas of Barcelona!
Carrying on from me post last week about my stroll through Port Vell, I finally arrive at... the Beach! But that doesn't mean the art gallery has been left in the background... Not in the least... Even the seafront will surprised me with its amazing sand sculptures and more.
Sand sculpture on Barceloneta
Continuing the walk along the beach we dun into a sculpture called "Homenaje a la Natación" (Homage to swimming) by the artist Alfredo Lanz. His bronze characters seem to be dancing, but in reality (and as the name suggests) they represent the distinct categories of swimming; diving, synchronized swimming, water-polo, and sprinting.
'Homenaje a la Natación' by Alfredo Lanz
Excursions in Barcelona
To make the most of Barcelona and fill your trip with unforgettable experiences and emotions, we offer you the excursions through the Catalan capital organized by our friends - the GetYourGuide team. Choose your excursion and fall in love with Barcelona:
Though we're technically entering Vila Olimpica, the Peix d'Or (Golden Fish) by the highly acclaimed Canadian-born architect Frank Gehry can easily be spotted from Barceloneta and reaching it forms a natural part of the walk off of Barceloneta. It's tucked right between two of the highest buildings in Barcelona Torre Mapfre and Hotel Arts, so it should be rather simple able to see.
Peix d'or by Frank Gehry
Leaving the beach behind and crossing the street after the two towers, we run into a pretty and colourful sculpture by Robert Limos called"Marc". Why Marc? Because it's dedicated to his son.
Sculpture "Marc", Barceloneta
And just in front is Marc we can find a sculpture (or maybe an enigma) called David i Goliat, by Antoni Llena. From the distance you won't be able to decipher the forms at all, guaranteed! But if you get under this grand structure and look toward the sky, it all comes together...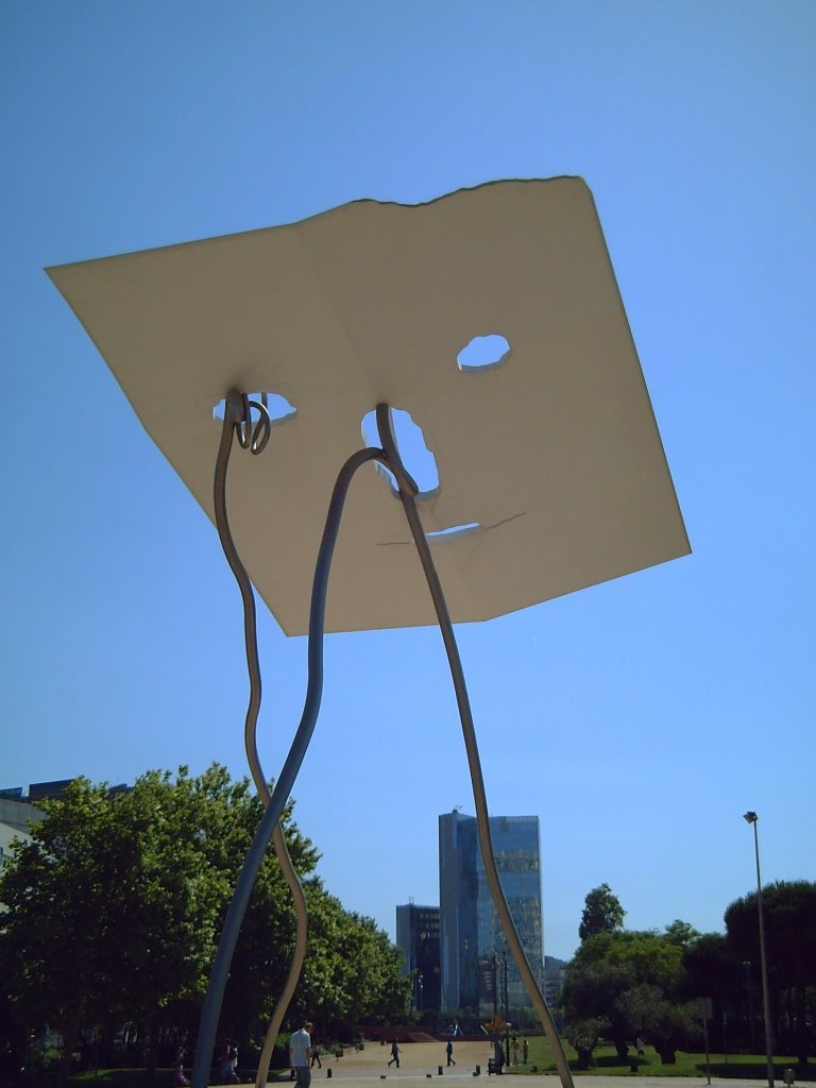 David i Goliat by Antoni Llena
This part of Barcelona can be both charming and rustic at times, and it's no wonder many visitors look to stay in Barceloneta... Walking around the maritime parts of ​​Barcelona is a journey that involves all the senses, and above all, arouses the curiosity within. Gradually you'll begin to ask yourself: Am I on a beach or in a beautiful open air museum? (> ‿ ♥)