18th Century Fishing village
Barceloneta means literally "small Barcelona" and was once a fishing village. It is one of the four districts that together form Ciutat Vella (old town).
Until the 18th century, the Barceloneta neighbourhood was mainly inhabited by a group of fishermen. In the middle of the 18th century Felipe the 5th ordered the construction of the Parc Ciutadella. All people living in that area were suddenly homeless and they decided that Barceloneta was the place to relocate to. In the image above you see factory workers, fishermen and other families who were uprooted from their homes on the site of the future park and moved to tents on the shores of the Barceloneta beach. The decline of fishing saw the slow degeneration of Barceloneta, but later it was spruced up in preparation of the Olympic Games in 1992.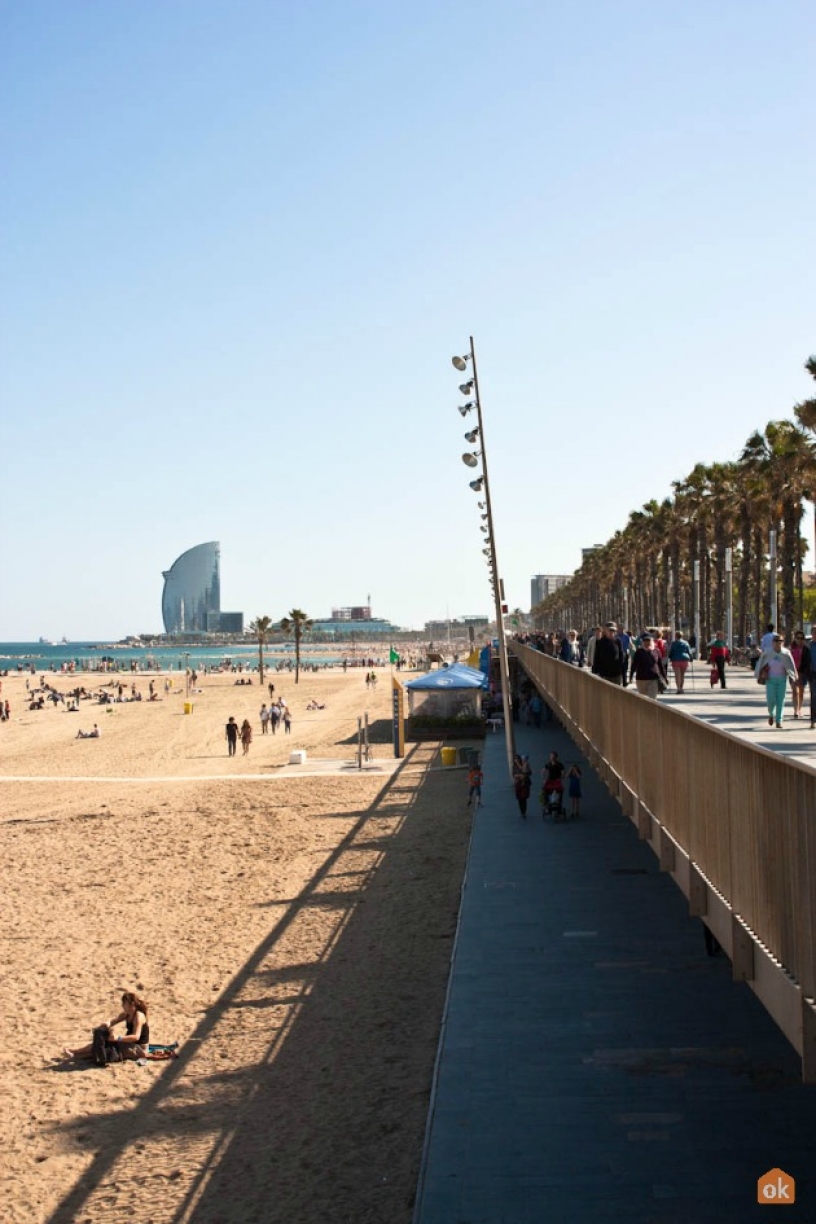 Barceloneta beach
21st Century Beach Paradise
Nowadays Barceloneta is one of the most popular areas of Barcelona. The district is bordered on one side by the Mediterranean Sea and on the other side by the harbor of Port Vell. The main tourist attractions of Barceloneta are its beaches. Although very conveniently located close to the city center and well suited for families with children, these beaches tend to become overcrowded on weekends. If you're looking for a more relaxing and tranquil place, you might want to go to the beach of Nova Icaria or Bogatell. Along most of the beaches you can find so called chiringuitos, or beach bars, where you can buy a cold drink or a snack.
The main boulevard is Passeig Joan de Borbó, where you find mainly restaurants and bars. If you are looking for good seafood for an affordable price, then walk away from the main boulevard and dine in one of restaurants in the smaller streets of Barceloneta instead.
While you are in Barceloneta you may want to visit the History Museum of Catalonia. This museum is located in the beautiful Palau del Mar, which means Sea Palace. Once you've completed your tour through the museum you might consider taking a break on many of the terraces. On the harbor side of Palau del Mar are beautiful terraces with a splendid view over Port Vell.
Other things worth a visit are the Plaza de Barceloneta, the area's main square yet undiscovered by tourists; or the Mercat de Barceloneta, a lively and traditional Catalan market. When you are done in Barceloneta you can take the cable car at the San Sebastian beach to the top of Montjuic Mountain. At the end point of the cable car is a restaurant with a terrace that has a beautiful view over Barceloneta and the harbor.
Other images