Before you stay, maybe you'll want to catch up with part 1 of Secret Squares of Barcelona. The city has squares-a-plenty but visitors usually only see the most popular ones. That's a shame because there are some fantastic and stunning squares just itching to be set foot upon, you just need to walk a bit. Part 2 takes us through the plazas of the Raval, Gracia and Barceloneta neighbourhoods.
If you are coming to study in Barcelona we advise you to look at our student apartments in Barcelona.We offer apartments of different types, renovated and well furnished in all areas of Barcelona!
The Squares of Raval
1. Plaça dels Àngels and els Jardins de Rubió i Lluch
Let's start by warming up with an very easy one to find - Plaça dels Angels. This square is always well-frequented because it's right by MACBA (Barcelona Museum of Contemporary Art) and CCCB (Contemporary Cultural Centre Barcelona).
Just off of Las Ramblas, you could easily end up here by chance. This plaza is known throughout the city for being a hotspot of skateboarders for training throughout the day around the ramps and stairs of the museum. It's a spectacle for curious tourists.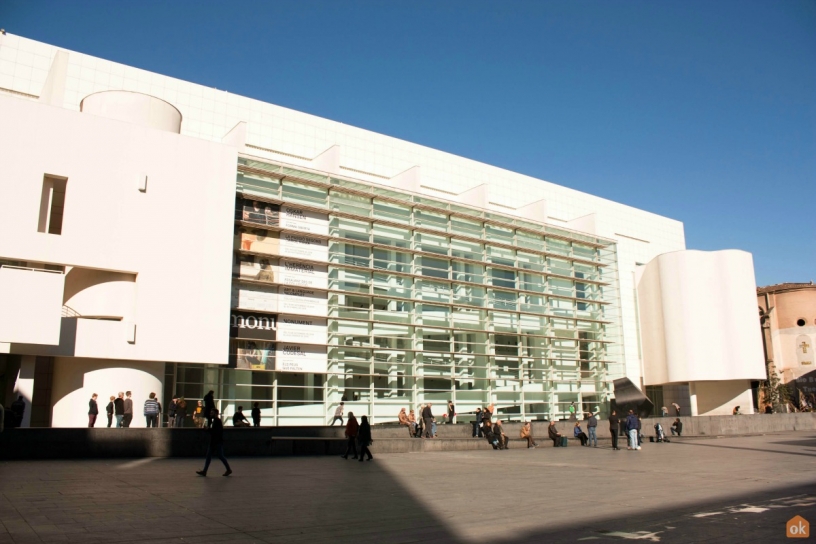 Plaça dels Angels
Not far from here hails the Jardins de Rubió i Lluch. Alright, so it doesn't 100% fit the definition of a square because technically it's closed between 4 walls making it more of a courtyard, which is exactly what it was for the old Hospital de la Santa Creu, adjoined by the Library of Catalonia and the Royal Academy of Medicine. What will you find on this charming square then? It's a meeting point for students, artists, and even children having fun playing chess.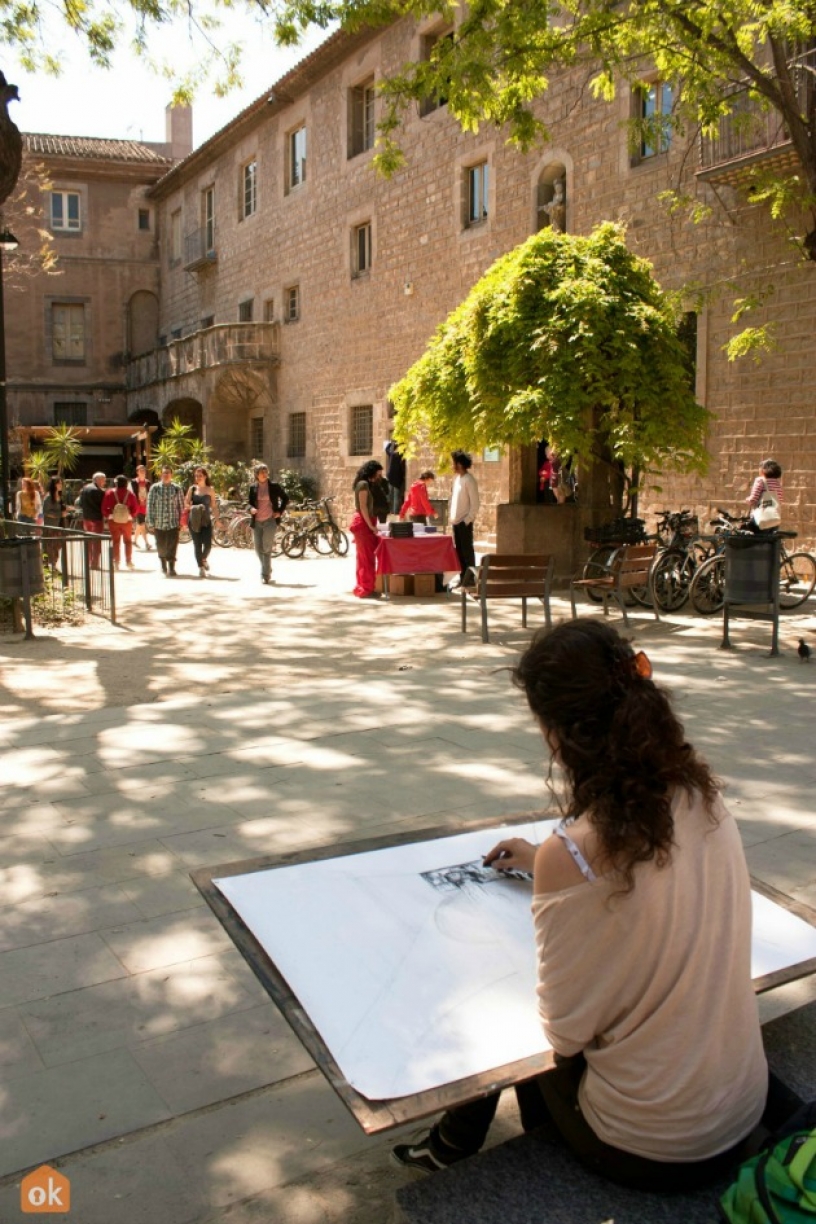 Jardins de Rubiò i Lluch
2. Rambla del Raval
If you want to go deeper into the Raval area - winding through its narrow streets and window shopping the enchanting boutiques along the way - then you'll eventually reach Rambla del Raval. Despite being one of the most frequented places in the area by the locals of Barcelona, it's not met often by tourists.
At the end of the road is an open space where you will get to meet the Cat of Raval a sculpture by Botero hidden among the trees. The kids like to climb and play upon it, and the few tourists that see it are instinctively prone to take out their cameras. It's a very pretty area and a break from the thin streets of Raval.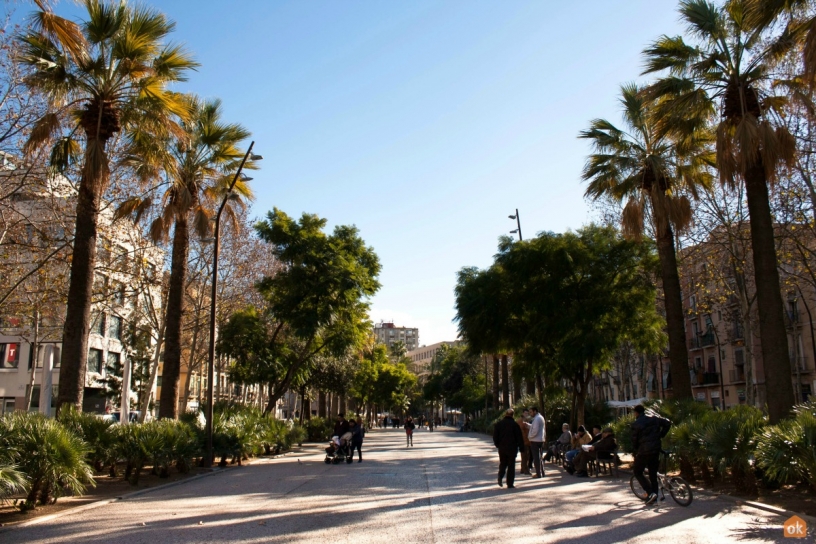 Rambla del Raval
Excursions in Barcelona
To make the most of Barcelona and fill your trip with unforgettable experiences and emotions, we offer you the excursions through the Catalan capital organized by our friends - the GetYourGuide team. Choose your excursion and fall in love with Barcelona:
The Plazas of Gràcia
Gràcia is certainly a special district because it is almost like a small town, yet still part of Barcelona. It is an area of juxtaposition, both peaceful and lively, bohemian and modern, traditional and progressive. In some parts you won't see a single tourist, yet it is full of boutique shops, modern restaurants, and alternative bars.
Gràcia is also famous for its huge selection of plazas. To give you an idea, there's Plaça de la Revolució, Plaça Rovira i Trias, Plaça del Raspall, Plaça Rius i Taulet (with its clock-tower), Plaça del Poble Romaní, Plaça de John Lennon... And that's just getting started. Here are two great ones though Plaça de la Virreina and Plaça del Diamant.
1. Plaça de la Virreina
This square is one of the most charming squares in Barcelona. It's very green with lots of trees, and people meet-up for a beer outdoors. There are those who play guitar and often on Sundays there are flea markets with vintage clothing, antiques, and more. It's a great outdoor activity, and you can see more tips for palces like this here.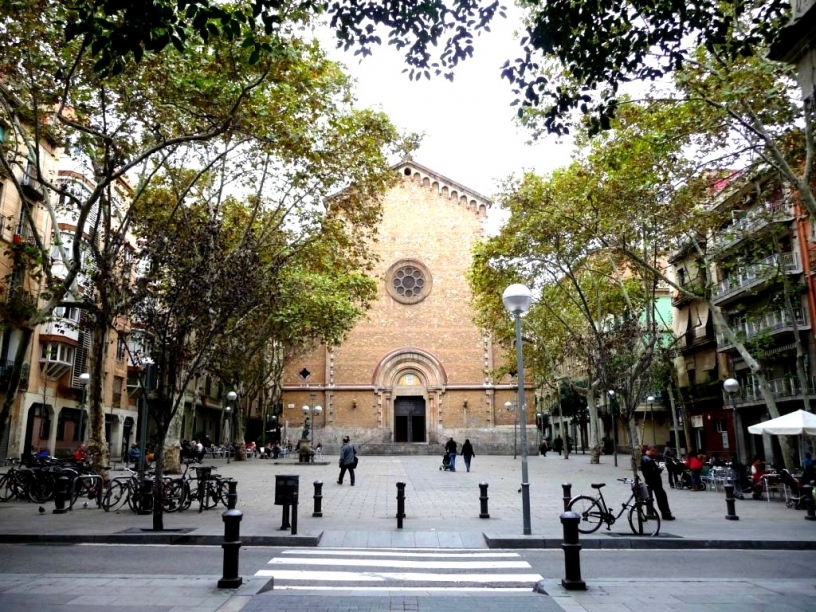 Plaza de la Virreina
2. Plaça del Diamant
By day you'll catch children running around, mothers gossiping, and older men playing cards; by night the youth invade to get some drinks and enjoy some tapas. It's a peaceful place for some relaxation time... However in August the whole square transforms for the famous Festa Major de Gràcia (or Gracia celebrations) - a neighbourhood celebration where locals decorate the street and create open-air themes.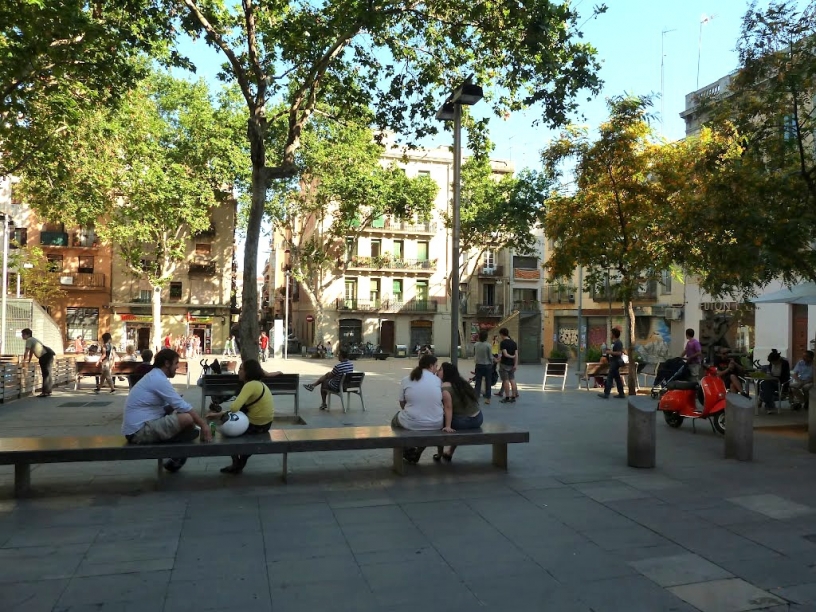 Plaza del Diamant
The Squares of the Seaside - Barceloneta
You don't have to visit Barceloneta just for the beach. There are plenty of charming squares that deserve your attention instead. Here you'll find a nice little square close to Passeig Don Joan de Borbó called Plaça de la Barceloneta; it's home to the Church of Sant Miquel del Port near Sant Miquel beach. There is also a legendary tapas restaurant here called "L'Ostia" that is currently run by the third generation of a well known family of innkeepers in this neighbourhood.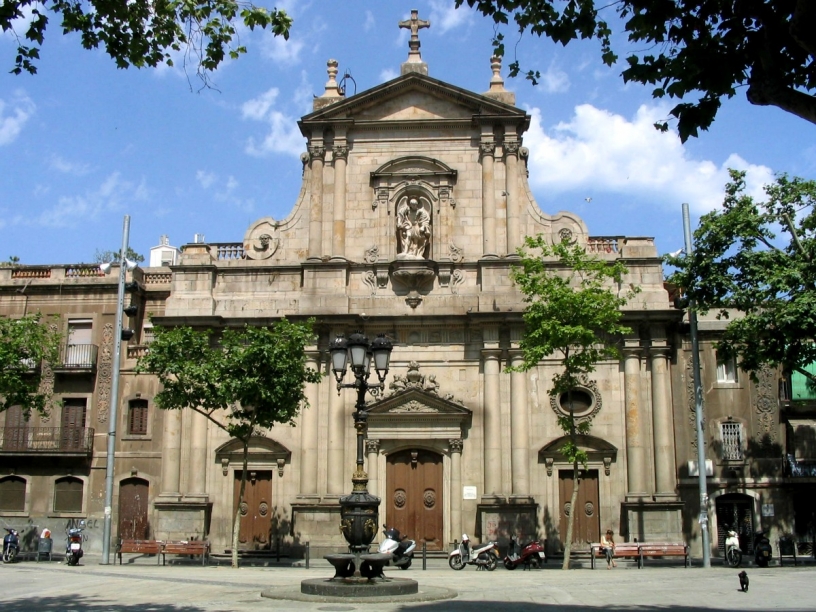 Plaza de la Barceloneta
And so ends our walk through the squares of main neigbourhoods of Barcelona. If you know more or you stumbled upon a small square that has intrigued you, do not hesitate to comment! ;)
In the mean time we've set up a pinterest page of the mentioned squares and more!
If you want to stay in one of the areas mentioned in the article, take a look at a list of places in each area here: Raval, Gracia Barceloneta.
Other images