Tibidabo
(Amusement park)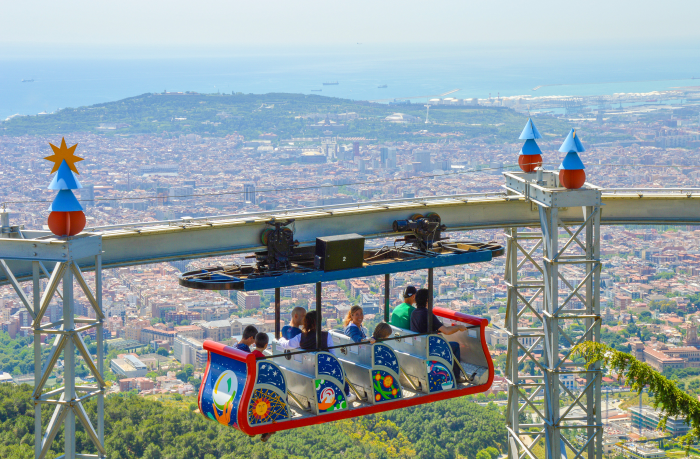 Tibidabo
Tibidabo Mountain should definitely be part of your to-do list, as well as famous sights such as the Sagrada Familia or Park Güell, when you are vacationing in Barcelona. This mountain has many attractions and one of the most beautiful panoramic views of the entire city. In this article, discover what things you will find on the 512 m high mountain and plan your day trip to Tibidabo.
If you come to visit the capital of Catalonia, ​​we will help you to find the best holiday apartments in Barcelona. We offer apartments of different types, renovated and well furnished in all areas of Barcelona!
Amusement Park
One of the main attractions is probably the Tibidabo Amusement Park (Parc d'atraccions Tibidabo). This park was opened in 1901 and is one of the oldest theme parks in Spain. Many rides still contain original parts from the 20th century and so this park exudes a wonderful nostalgic charm.
Over 30 attractions await you here, a perfect getaway for young and old! If you would like to know more about the attractions, tickets and opening times, have a look at our detailed report of the Tibidabo theme park. We visited it for one day and give you valuable tips about the park!
Tibidabo Amusement Park

Learn all about the Tibidabo Amusement Park: rides, tickets, opening hours and its history!



Excursions in Barcelona
To make the most of Barcelona and fill your trip with unforgettable experiences and emotions, we offer you the excursions through the Catalan capital organized by our friends - the GetYourGuide team. Choose your excursion and fall in love with Barcelona:
Opening hours:
Saturday, Sunday and public holidays: 11.00 am - 9.00 pm
Tickets:
Ticket for all attractions:
Adults: 28.50 €
Children up to 1.20 m: 10.30 €
Children < 90 cm: for free
Ticket Panorama:
Adults: 12.70 €
Children up to 1.20 m: 7.80 €
Children < 90 cm: for free
Address:
Plaza del Tibidabo, 3-4, 08035 Barcelona
Sagrat Cor
You're thinking: Hey, that looks like the Sacré-Cœur de Montmartre church in Paris? You're not completely wrong. In fact, the Temple Expiatori del Sagrat Cor (Catalan for Atonement Temple of the Sacred Heart) was designed according to its French model.
The construction of this church began in 1902 and lasted 60 years until its completion. The impressive statue of Christ, which looks out over the city with outstretched arms, crowns the church and lies on top of Mount Tibidabo. You can get to a platform below the statue and enjoy impressive views of Barcelona from there. At night, the church is beautifully lit and is visible from almost any point in the city.
The entrance to the church is free, but if you are already there I would definitely invest the 2 € to take the lift to the viewing platform below the statue of Jesus. From there you can enjoy a unique view over the entire province of Barcelona, but have a look for yourself ...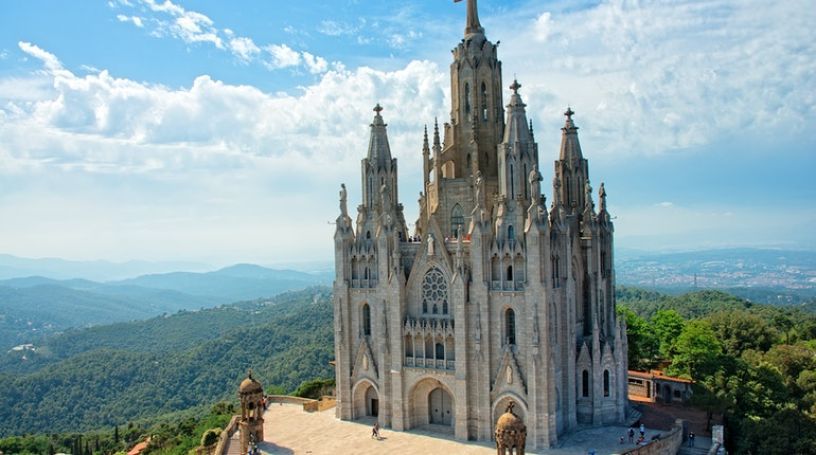 Sagrat Cor on the Tibidabo
Opening hours and church services:
Use of the lift from 10.30 am to 7.00 pm
Catalan services 08.00 am to 10.00 am | 11.00 am to 12.00 pm | 5.00 pm to 7.00 pm
Prices:
2.00 € for the viewing platform
Address:
Cumbre del Tibidabo, 08035 Barcelona
Torre Collserola
You also get a great view from the television tower, Torre de Collserola. This tower was built for the 1992 Summer Olympics and designed by British architect Norman Foster.
The 288 metre high tower is the tallest television tower in Spain and visitors can climb to the 135 m (560 meters above the sea level) observation deck on the top floor of the tower.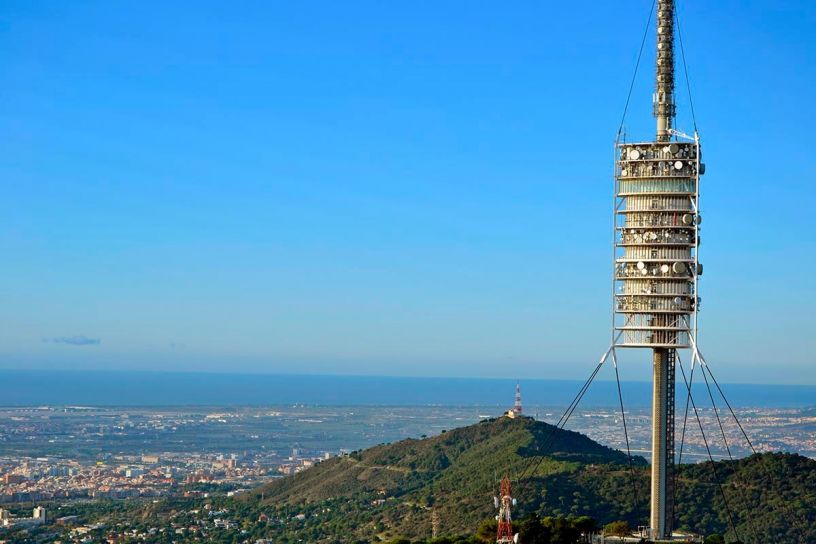 Torre Collserola
Opening hours:
Monday - Friday: closed
Saturday: 12.00 pm - 1.45 pm, 3.30 pm - 7.45 pm
Sunday: 12.00 pm - 1.45 pm, 3.30 pm - 7.45 pm
Prices:
Adults: 5.60 € 
Students: 3.90 € 
Children from 4 - 14 years and seniors over 60: 3.30 €
Children under 3 years: for free
Address:
Ctra. de Vallvidrera al Tibidabo, S/N, 08017 Barcelona
Do you like this post?
Click here!

5/5 - 1 vote
Share your thoughts
Tired of reading about Barcelona? Find an apartment and stay there!