1. Torre Bellesguard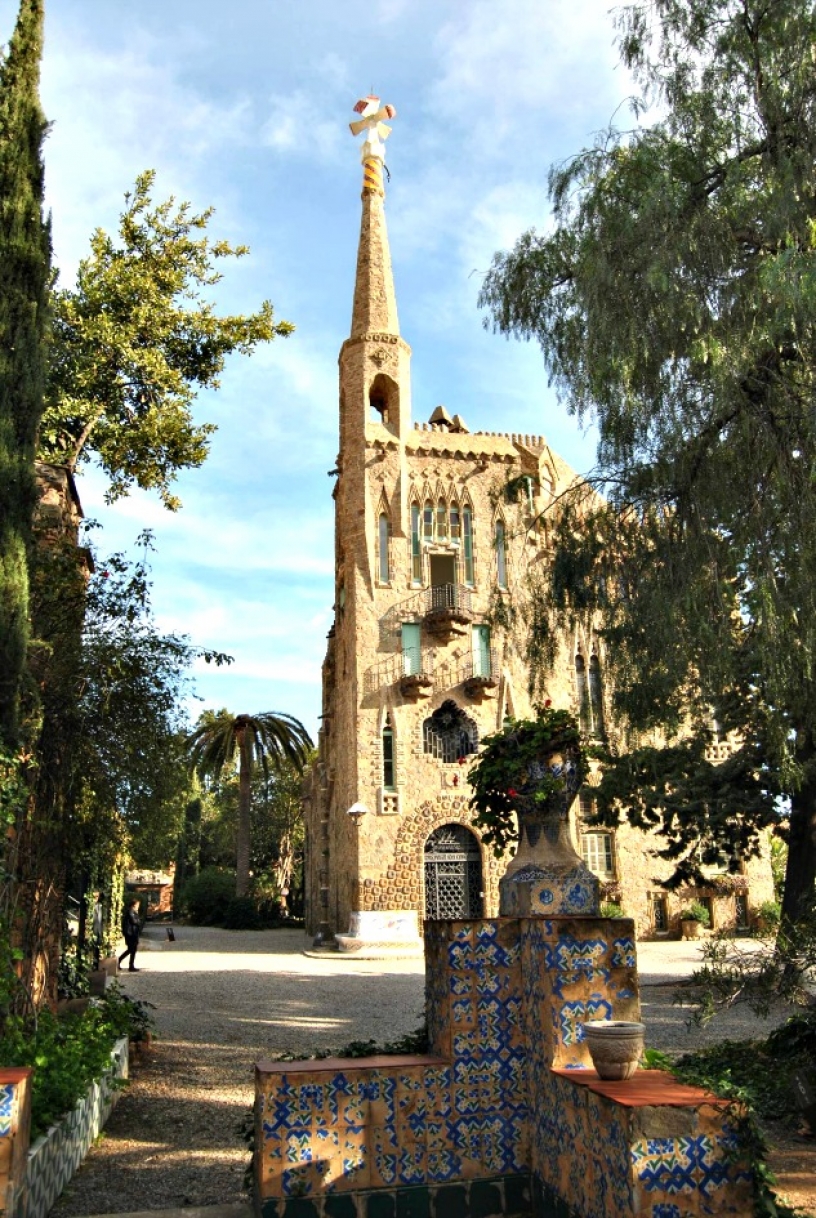 Torre Bellesguard
If you come to visit the capital of Catalonia, ​​we will help you to find the best long term rentals in barcelona. We offer apartments of different types, renovated and well furnished in all areas of Barcelona!
We'll start with one that we've not been shy about recommending in the past - Torre Bellesguard. This villa is one of the many marvels of Gaudí, a project he worked on between 1900 and 1909 that's located at the feet of the Collserola mountain range.
This building has always been privately owned since 1944, because it was and is home to the Guilera family. In the past, the family left only the gardens of the property open to the public, but since September 2013 they have allowed visits inside the building (except, of course, private rooms where family members that still live there inhabit). For this reason, those who visit the Tower may encounter family members walking through the garden.
Though this building is one of Gaudí lesser known works, it's one of the most significant as it's the only example of his neo-gothic cum modernist work in the city of Barcelona. It's full of mysterious and patriotic symbolism and features some of the best and unique panoramic views.
How to get there
Torre Bellesguard is found on Carrer Bellesguard, 16-20 and you can get there fairly easily from the city centre with bus lines 22, 58, or 90; or by FGC trains using line 7 exiting at Av. Tibidabo, from there the 196 bus will take you the rest of the way. The tourist bus from Barcelona City Tour also has a stop relatively nearby. For full details like price and timetables visit the Torre Bellesguard Official website.
Excursions in Barcelona
To make the most of Barcelona and fill your trip with unforgettable experiences and emotions, we offer you the excursions through the Catalan capital organized by our friends - the GetYourGuide team. Choose your excursion and fall in love with Barcelona:
2. Pedralbes Monastery
This monastery is found on the neighbourhood of the same name and is a jewel of gothic architecture, which unfortunately is still very unknown. It was built in 1326 by order of King Jaume II and Queen Elisenda of Montcada to provide home for the Poor Clares nuns, who still live there to this day.
It is located in a quiet residential area. A visit inside the monastery permits visitors a greater understanding of the life of the nuns, how they lived, and how they spend their days at present. The courtyard is very nice to walk around as there is a fountain and a small garden tended to by the nuns themselves.
You can tour the facilities accompanied by an audio-guide or participate in tours. For more details about times and prices, you can visit the website. Remember that when visiting the monastery, like many other buildings and museums, it is free on the first Sunday of every month and each Sunday from 15h.
How to get there
It is very easy to reach the monastery. From Plaça Universitat or nearby from Carrer Aribau one can catch bus lines 64 or 68, which take you directly to Plaça de Pedralbes. From there you can reach the Monastery of Pedralbes in less than 5 minutes. Other transport options include bus lines 22, 63, or 75; or rail - L6 (exit at Reina Elisenda).
3. Parc de Pedralbes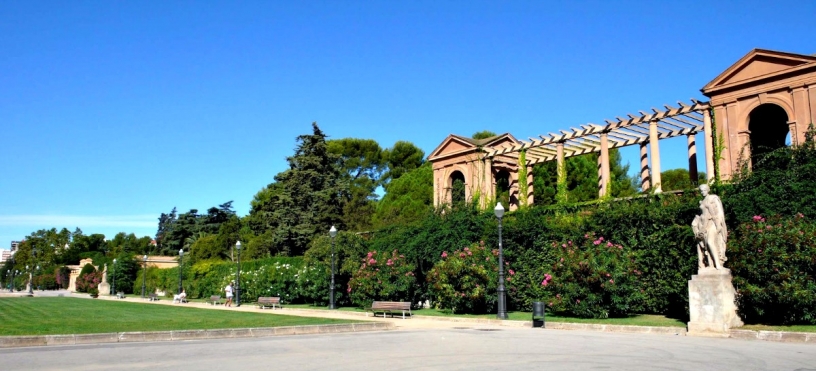 Just a bit to the south of the monastery are the Jardines de Pedralbes (Gardens of Pedralbes) - a little known paradise. This park has its origins in an estate from the Güell family (who were big fans of Gaudí's works). The estate was later sold in 1920 to allow construction of a residence for the royal family. Currently in the building is the Museum of Decorative Arts and Ceramic Museum.
Obviously being from the Güell family, you can expect to see activity from Gaudí, from some of the lighting to the Fountain of Hercules. At this point as it was early in his career, but even in the umbracles here you can see the beginnings of his inspiration of nature and curves. There is also Finca Güell next door, where you can find a huge gate with the form of a dragon in wrought iron alongside the architect's trademark "trencadís" - mosaics of various ceramics.
If you love nature and tranquility, this park is perfect for a relaxing walk, away from the hubbub of most the city's more touristic parks. It is rich in vegetation, art, architecture, and highly recommended for a pleasant evening with friends, family or a partner. The park is open daily from 10am to sunset (free admission).
Additionally, each year this park hosts a music festival where nature, history, music, and gastronomy come together to create a unique environment called the Jardins de Pedralbes Festival.
How to get there
The park is located at Avinguda Diagonal, 686 . There are three entrances to the park, one on Avinguda Diagonal, one on Pere Duran Farell, and another on Tinent Coronel Valenzuela. The fastest and easiest way is taking the green line (L3) metro from Catalunya and exiting at Palau Reial.
4. Turó de la Rovira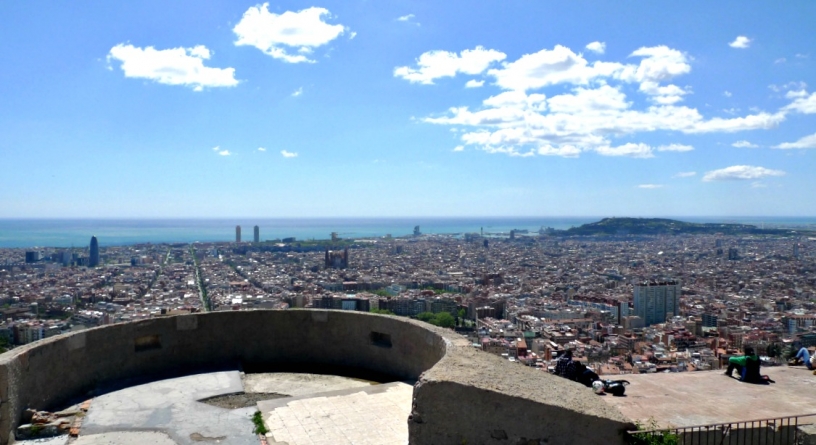 Turó de la Rovira is a spectacular viewpoint found in the Carmel neighbourhood in what is a preserved anti-air-raid shelter and various bunkers built during the Spanish Civil War to defend against attacks from the fascists. After the end of the war, shacks were built here which gave rise to what is called the Canyons district; they remained so until the 90's. Later, this place was used by various infrastructure services, such as water tanks and communications towers.
The lookout remained closed to the public for some time while it was being refurbished, but now it is open every day and offers visitors spectacular 360 degrees of the whole city. It is a magical yet somber place and perfect to enjoy the Catalan capital at dusk. Photography lovers can not miss this! It's best to go Monday through Friday to avoid the weekend rush. Although the view is wonderful any time of day, it's during the golden hours of the day that you can make the most of your camera's dynamic range and get the best shots. Ah, admission is free.
How to get there
This viewpoint is different from those of Tibidabo or Park Güell in that it is not frequented by tourists, but rather locals escaping the buzz of the city below. That's because it's not easy to access, even by car. Don't worry though, it's possible. Just jump on the Metro L3 (green line) from Catalunya and get off at Vallcarca. At Vallcarca you can catch the V17 bus that will take you straight to the place. Alternatively there are bus lines 24, 92, and 119. Give it about 40 minutes for the total journey time.
5. Asador de Aranda Restaurant by Tibidabo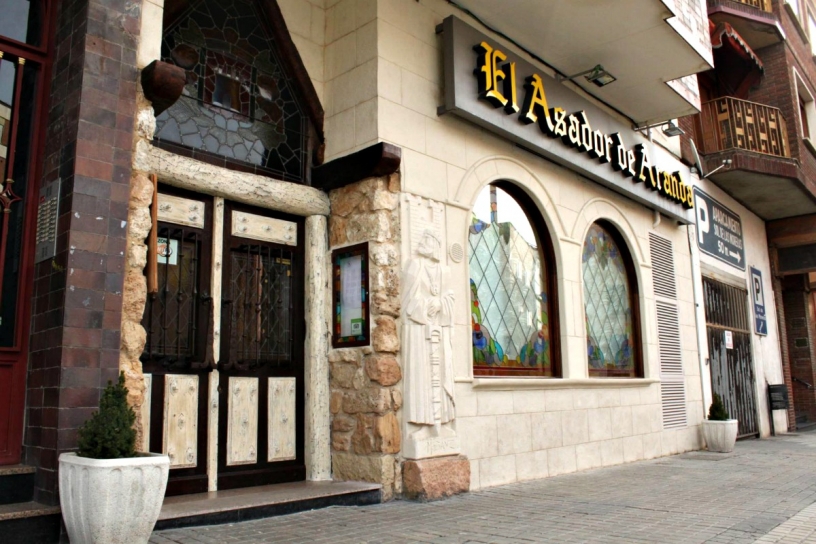 After the parks, scenic views, and hiking... who wouldn't want a good meal? :) . Without leaving uptown Barcelona you can visit Asador de Aranda. This restaurant is located on Avinguda del Tibidabo, a modernist style street with many villas from the turn of the 20th century. In one of these villas, Casa Roviralta - built between 1903 and 1913 by architect Joan Rubio i Bellvé - is this restaurant.
The restaurant is very elegant and very well maintained. Nothing is left to chance and all dishes are carefully treated from sourcing to presentation... But urrm... Have your wallet at the ready because this is an upper-class area with people who regularly splash out the cash.
How to get there
The restaurant can be found on Avinguda del Tibidabo, 31. Take the local train service from Catalunya station (Line 7) and exit at Av. Tibidabo. A straight walk up the avenue will lead you to this place after about 10 minutes. You can't miss it; it's the huge white building.
I hope you liked all these ideas and have unlocked the desire to discover the uptown, bourgeois and hidden side of Barcelona! ;)