Sant Martí
(Districts)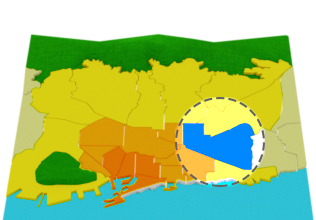 Sant Martí — Barcelona's largest coastal neighbourhood
This neighbourhood is one of the gateways to the city in the Northeast area. Until 1716, Sant Martí de Provensals consisted of a parish for the Santa Maria del Mar Cathedral. By 1897, it had grown and was added to the city of Barcelona together with the towns of Gràcia, Sant Andreu, Sants, Sant Gervasi and Les Corts. In this article, we show you a video in which you'll discover the neighbourhood of Sant Marti through its neighbours. We also tell you the reasons why you should stay here, its attractions to visit and the best places to eat and go shopping. If you're a student then you'll also be interested in learning about libraries, green areas and places to practise sports.
Video presentation of Sant Martí
If you come to visit the capital of Catalonia, ​​we will help you to find the best apartment in Barcelona. We offer apartments of different types, renovated and well furnished in all areas of Barcelona!
In this video you'll discover the different neighbourhoods of the Sant Martí district including Vila Olímpica, Poblenou, Sant Martí and Diagonal Mar.
Why Stay Here?
Low prices of the homes in this area have been attracting residents from all over the world, giving this neighbourhood a multicultural character. Sant Martí has many outdoor areas, gyms, and courts for basketball and football, making the area ideal for anyone who practices sports. In addition to being part of Project 22@, an urban renewal that has transformed the old industrial areas into quality places to work, live and learn.
If you're into getting to know the locals, being close to one of the largest shopping centres in Barcelona or want to stay away from the noisy city centre, then you'll find this district perfect. Cherry on the cake? It's near the sea, so don't hesitate to look at our apartments near the beach in this district.
Attractions

Sant Martí Church
One of the places worth visiting thanks to the sheer history is the picturesque Sant Martí Church. It's located in the beautiful 'Sant Martí de la Verneda Park'.
You can also go to see something more modern, like this unique building in the Sant Martí district that has become a symbol of the city; Torre Abgar. At 145 metres high with 38 floors, it's easily one of the most famous buildings in Barcelona, ​​especially at night. The Design Museum, for its part, is the new place to visit for objects, decorative arts and design.
TheRambla Prim is another tourist attraction, a pleasant pedestrian street with trees and benches. Stroll by and go people-watching as the neighbours take the opportunity to walk the dog or play some sports.
Information for Students
Multicultural group of students
The district of Sant Martí is part of the most modern and recent areas of Barcelona. It enjoys all new facilities and infrastructures coupled with a modern atmosphere, which makes it an ideal area for students and the youth in general. In this area, rentals are still cheap with respect to the centre of Barcelona, so you don't have to doubt taking a look at our selection of students accommodation in this area to get an idea.
This neighbourhood has everything a student needs. There are several university campuses such as the UPF Faculty of Political and Social Sciences, with its legendary library in the old water reservoir of Barcelona. It also has other campuses in the north of the district like the Universitat Oberta de Catalunya and Universitat de Barcelona.
Aside from the university libraries, you can find public ones such as the Ramon d'Alòs-Moner Library, Poblenou-Manuel Arranz Library and Sant Martí de Provençals Library.
Yet, the best of Sant Martí is the quality and quantity of its sports facilities, which are in perfect condition and very recently developed. There's the Centre Municipal Esportiu Bac de Roda, Centre Esportiu Municipal Jupiter, Centre Esportiu Municipal Vintró, Complex Esportiu Municipal La Mar Bella and Centre Esportiu Municipal Can Felipa, just to name a few of the municipal sports centres in the district.
In addition to being by the seafront, Sant Martí enjoys some of the best parks and green areas of Barcelona, like Parc de Diagonal Mar, Parc de Poblenou and Parc de Sant Marti — which are the largest. There are a few smaller parks too, and they're perfect to lie on the grass and just relax.
Where to Eat

Tapas
There are a few decent places to eat in Sant Martí and one that stands out is Restaurante Sant Martí, a small and traditional locale. They specialise in seasonal food and only source fresh Spanish produce.
Ramblero, a tapas bar that serves the dishes you have come to expect, like Patatas bravas and croquettes, but also with creative additions like diced foie with praline and white chocolate. Do you know any other restaurant worthy of mention? Let us know.
Nightlife in Sant Martí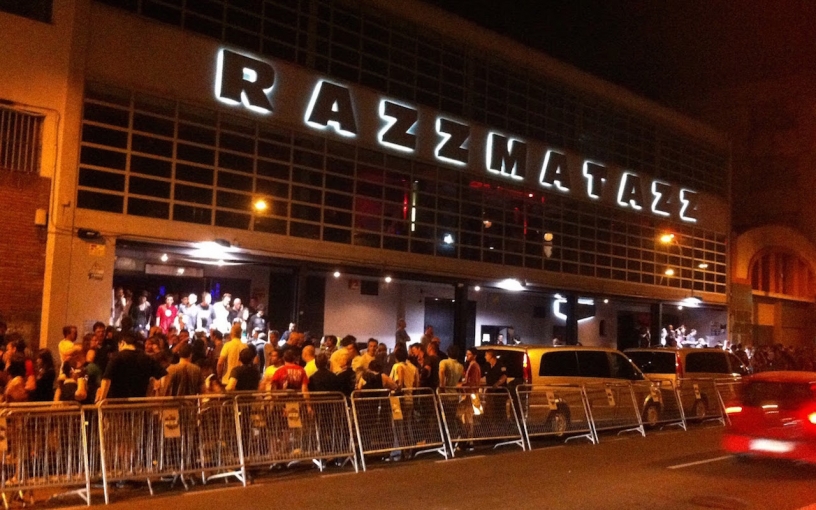 The mythical Razzmatazz
In Sant Marti you can find some of the best nightclubs of Barcelona. Its large spaces have allowed to host large clubs with a huge capacity, such as the legendary Razzmatazz.
There's also a great variety of bars and pubs such as the musical bar Cruce de Caminos, the Allright Bar and the musical bar Como Tú, among others.
Shopping

Glòries Shopping Centre
Sant Martí is ideal for shopping. It's home to the Glories Shopping Mall, with 166 stores in 3 different levels, a cinema with 8 screens, a capacity of 3,000 cars and a huge selection of restaurants and bars. In 2001 the centre underwent a renovation.
Like in other Barcelona districts, you'll also find a market in Sant Martí, giving the perfect chance to try the fresh local produce. It can be found on Carrer de Puigcerdà – choose between fresh fruit, vegetables, meat, fish or other delicacies.
Excursions in Barcelona
To make the most of Barcelona and fill your trip with unforgettable experiences and emotions, we offer you the excursions through the Catalan capital organized by our friends - the GetYourGuide team. Choose your excursion and fall in love with Barcelona:
Getting Around

L2 - The Purple Line
The public transport connection between Sant Martí and the city centre is very good.
L2 - Purple Line at Bac de Roda or St Martí will take you to Passeig de Gràcia in 15 minutes.
L4 - Yellow Line at El Maresme/Fòrum or La Pau will take you to the city centre in 20 minutes.

The Tram network (Lines T4, T5 and T6) is also very convenient.
Attractions in Sant Martí
Do you like this post?
Click here!

3.75/5 - 8 votes
Share your thoughts
Related articles
Tired of reading about Barcelona? Find an apartment and stay there!