1. Xifré I
Starting off with this terrace that lovey-dovey couples will go lovey-dovey for. This studio in the Eixample Dret district was designed with 2 people in mind, but with the terrace you can easily have guests around for a sunny day of socializing. The terrace is perfect for morning breakfasts watching the sunrise or having a glass of champagne as the sun sets. We're already in love. ( View details).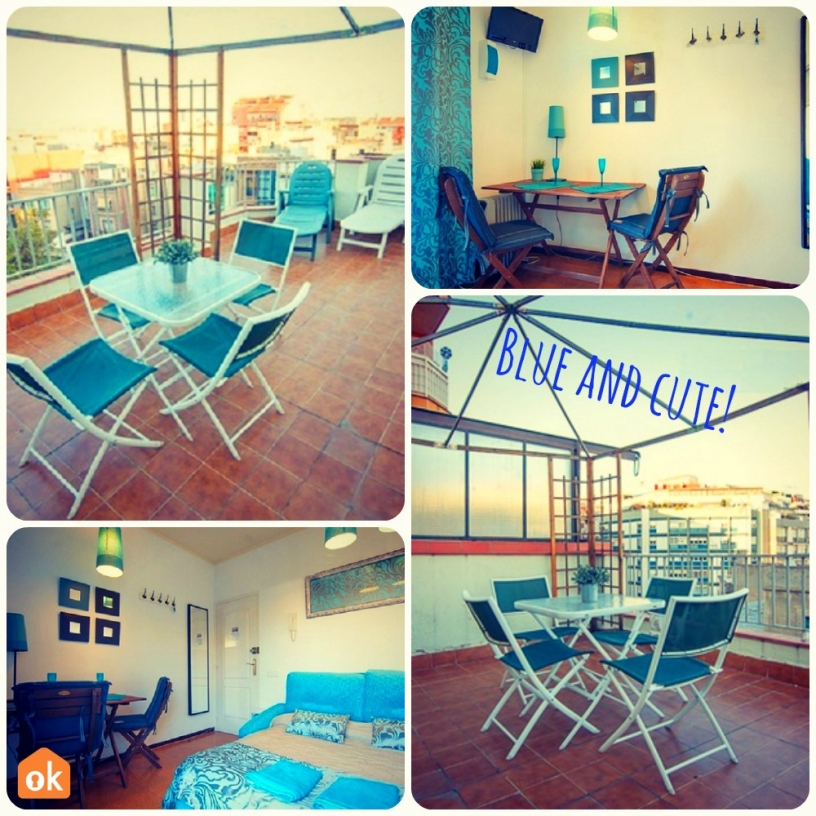 Terrace for two, anyone?
2. Gaudí Bailén 1-1
Staying in the same district, but now with a terrace that's in an apartment designed for groups. There is certainly enough room in this apartment to swing a cat or seven, because it boasts 180 m² and a capacity for 7 people (one cat each then). The exterior is just as charming as the interior, furnished with a large parasol so you can enjoy the sun without the burn... and sweatiness. Perfect, right? (View details)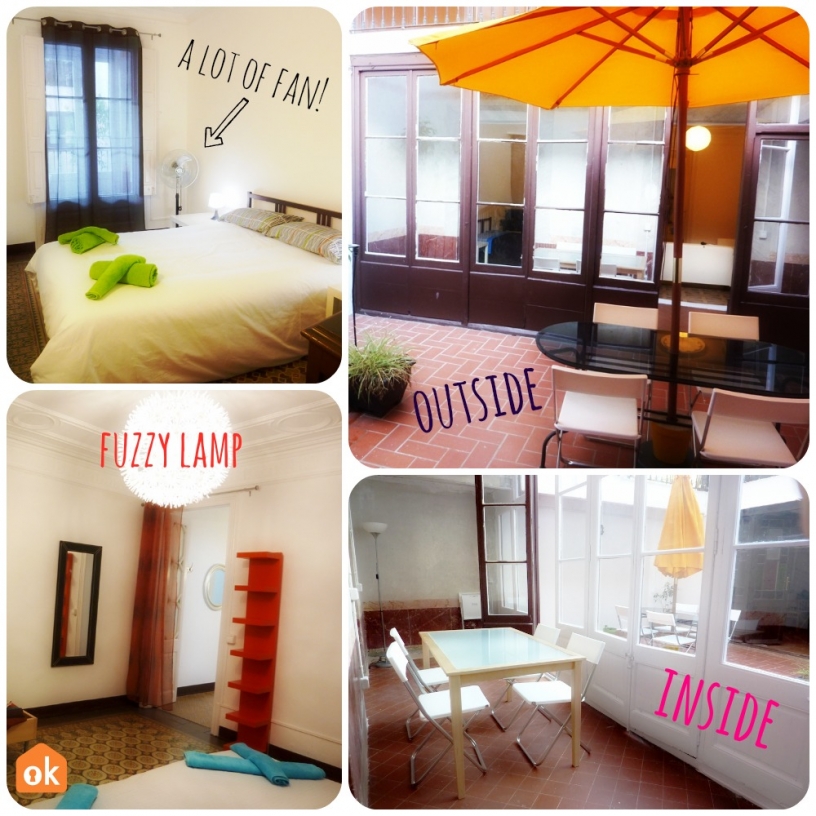 A great terrace come rain or shine!
3. Monumental 17
Moving onto the Sagrada Familia neighbourhood. It's another great choice for couples. While the terrace lacks a certain "je ne sais quoi", it makes up for in size and views, so if you fancy taking photos of the cityscape, it's a great choice. The apartment itself is modern and inviting and you'll certainly have a great time there! (View details)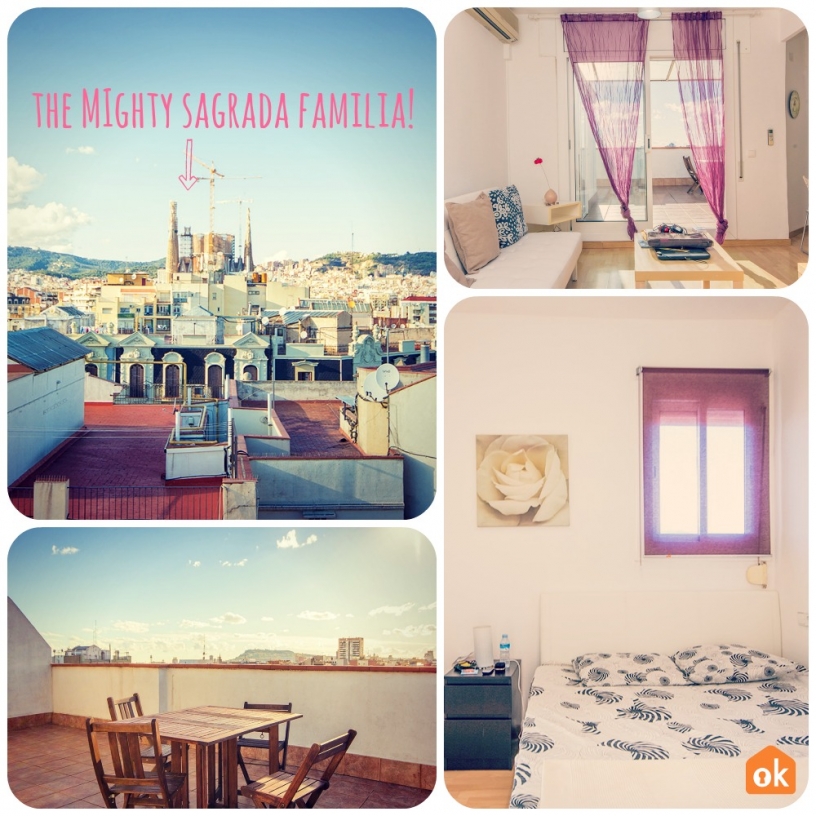 Holy views!
4. Diputació II
A flat for families now. This place can be found in Eixample Esquerre and it's perfect no matter what time of the year you're visiting. In the summer and spring you can have a blast out on the sun-filled terrace, whilst in the colder months of the year there is a fireplace that's just begging to keep you all warm and cosy. Yes. A fireplace in Barcelona, and it really does come in handy around December, January, and February. By the way, this apartment with terrace is only a short walk away from Plaça de Catalunya, the heart of the city. (View details).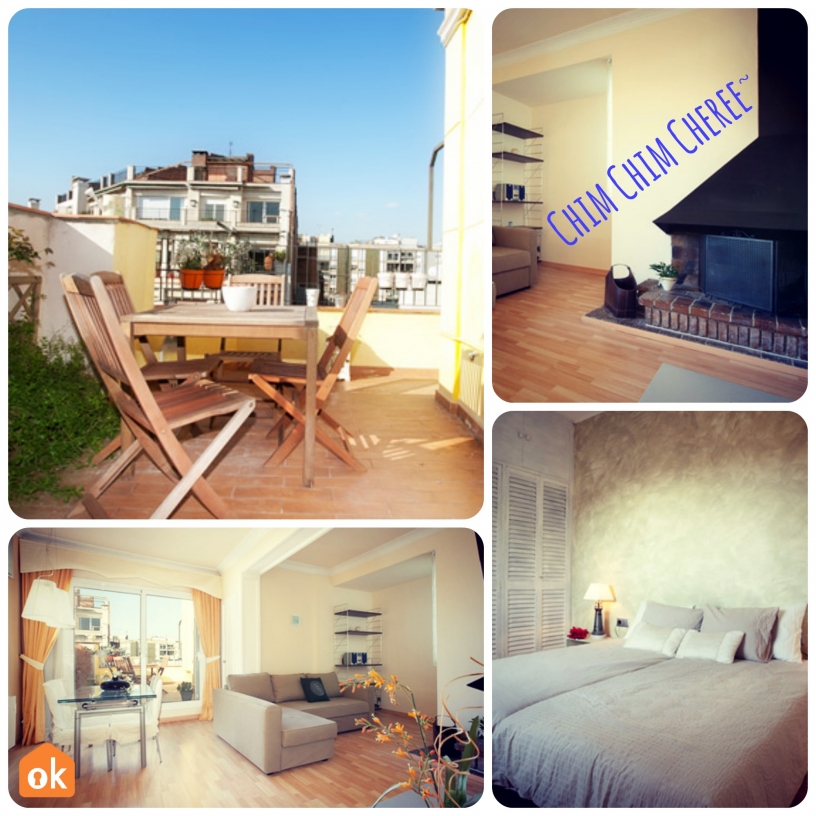 Chimney sweeper not included
5. Fórum Beach
And now for the grand finale, the uber-stylish, fashionable, and a taste of Beverly Hills, LA-esque lifestyle right in Barcelona. This designer apartment has 2 floors and multiple terraces. You might get lost somewhere in its 256 m² of space, but to be honest; we can't think of a better place to be lost. The deckchairs on the terrace peer over the mediterranean sea where you can see the sun rise over every single morning. Make yourself a nice cocktail, lay back and just soak it all in. It's so nice that you'll also find this apartment in our Top 10 beach apartments selection. Pure luxury in Diagonal Mar, Barcelona. (View details).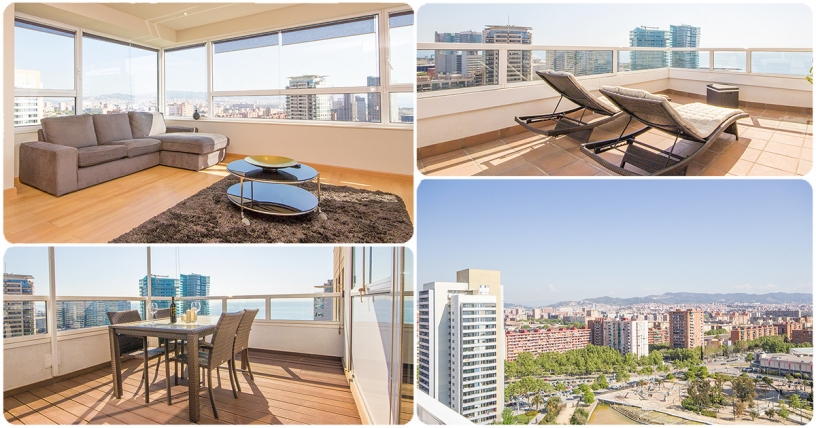 Beverly Hills, Barcelona. Well the lifestyle at least.
What do you think? Fancy staying in one of these apartments? Maybe you've stayed in a better one from our list of apartments with terraces in Barcelona? Or after taking a look you've seen one that you think deserves more attention. Well, let us know! Until next time...