Ready to make a splash?
Want to go for a swim, but you're not a fan of the beach? Or maybe you just prefer to be away from the crowds when you take a dip. After you get refreshed in the pool, you'll already be right outside your holiday apartment! But enough talk! Here they are:
1. Ramón Cajal 1-1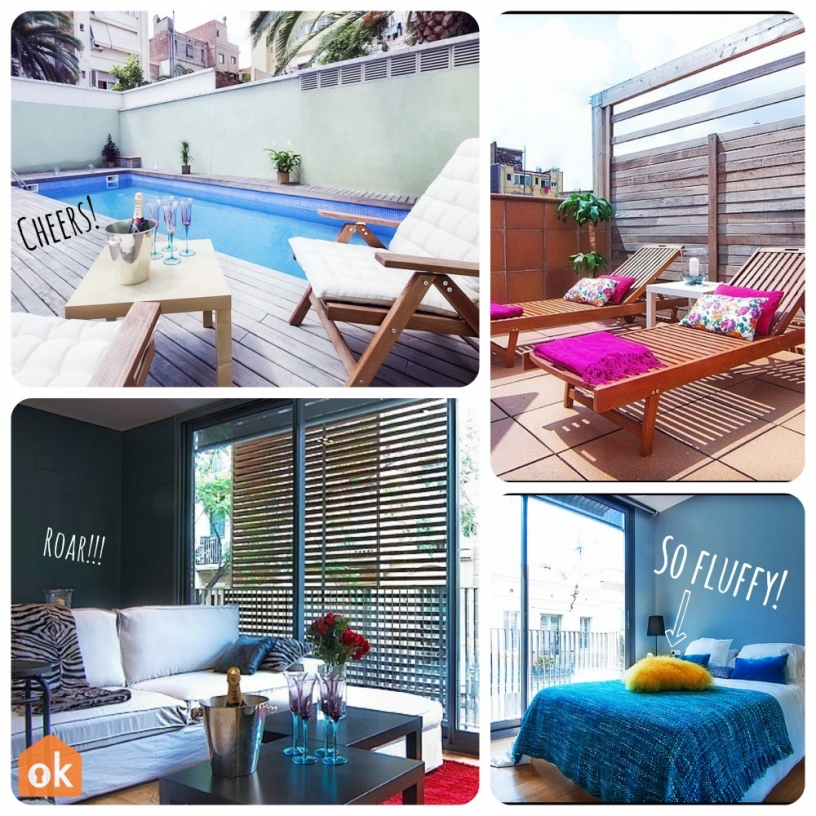 Feel like a star.
Let's start with an urban apartment in uptown Barcelona, more specifically the fashionable Sarria-Sant Gervasi district. In an area as classy and upmarket as Sarria, an apartment has to be just as cool and posh to fit in here. At 80 square meters with a fresh and modern decor; it's perfect for a groups of friends or a family of celebrities (and non-celebrities, of course). The pool itself is simply fantastic, as if it were taken directly out of Sex and the City... so you're going to need lots of champagne to get the full experience! (View full details).
2. Font Màgica Montjuïc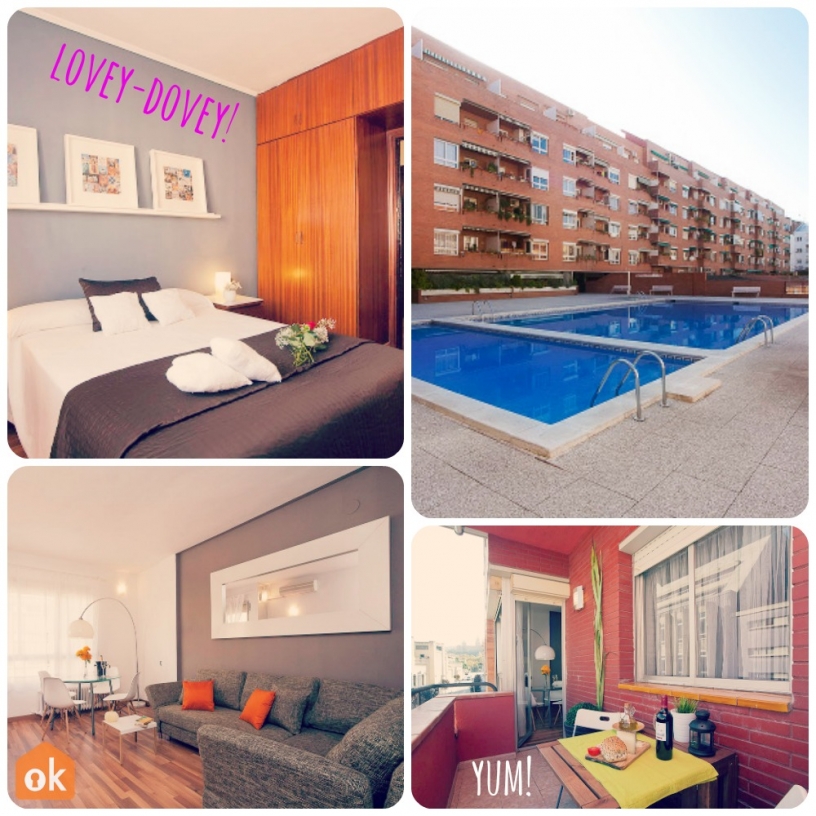 Right next to Plaça d'Espanya and the Magic Fountain
Excuse me?! You think to get great accommodation with a pool in Barcelona, you need to be rolling in it? Oh, you silly goose! This beautiful place will put you right by Plaça d'Espanya. Not only will you be in a spacious holiday apartment for up to 4 people that's exquisitely decorated... There's the enormous community swimming pool and a shallower pool for the little ones. If you're very pernickety (yes, that's a real word), don't worry because all the minor details are there. Lots of restaurants and cafés nearby, check; a shopping centre, check; bus and metro stations, check; an escape from city hustle and bustle, surrounded by nature in just a 5 minute walk away by strolling Montjuïc; a thousand times check! (View full details).
3. Palou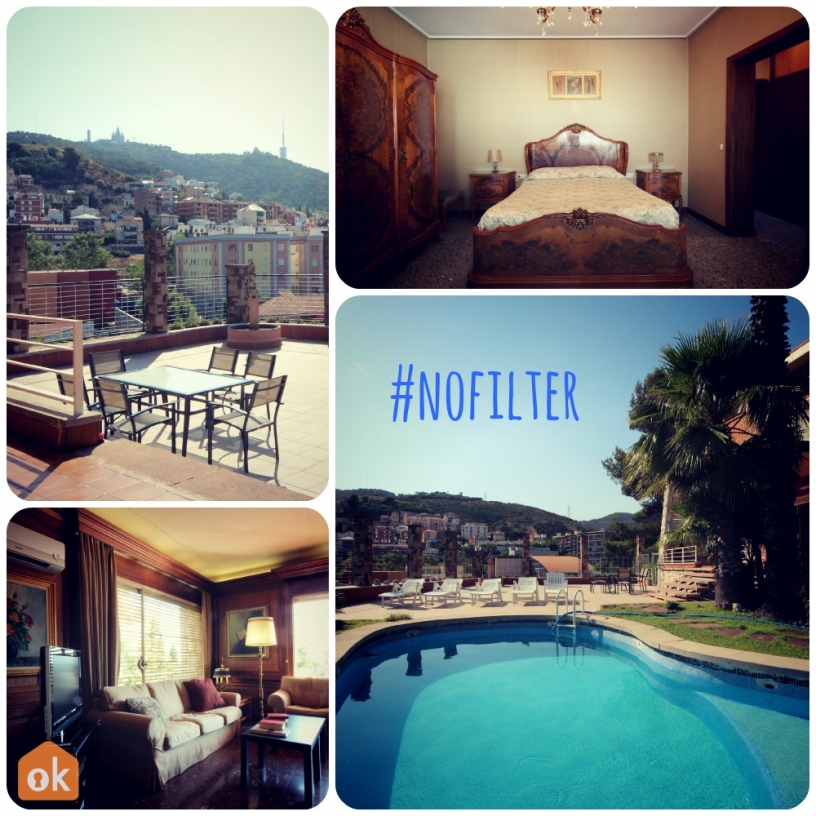 "I just... It's... The... I... WOW; these are some stunning views."
Uptown Barcelona again, the area where many middle and high class residents live these days. This villa can be found right next to Parc Crueta del Coll, which is famous amongst the local families for the public paddling pool that'st open in the summer months. For a more touristic outing, you can walk to Park Güell which is also in the same neighbourhood of the Gràcia district. Is 400 m² enough for you? Well it's the closest thing you'll get to a mansion in the city of Barcelona! Whether it's just you and the family or you're inviting an entire football team to come along, you'll be able to enjoy the private garden and pool. Imagine the envy of your friends when you post to Instagram #poolside, #relaxing on your #vacation. The views are something that you simply can´t find anywhere else, with the sun setting over the nearby mountains and Tibidabo lighting up at night. (View full details).
4. Sant Pere Diagonal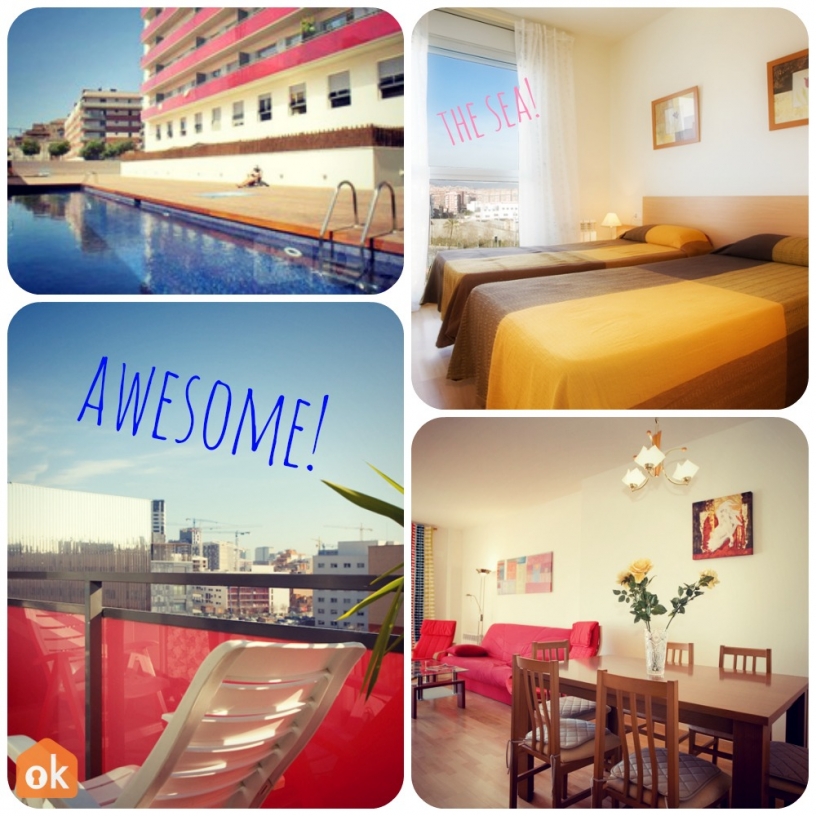 Pool or Beach...? Why choose? Have both!
You want a pool, but you also want the beach, because hey; best of both worlds, right? Well whether want your accommodation for couples or groups of friends, this particular apartment will suit you perfectly. It has it all. 100 m² in Poblenou and a 15 minute walk from Nova Mar Bella beach and Llevant beach. The decór blends modern minimalism with traditional details (almost like a hotel) and there are wonderful views over the deep blue Mediterranean sea. (View full details).
5. Alella Towers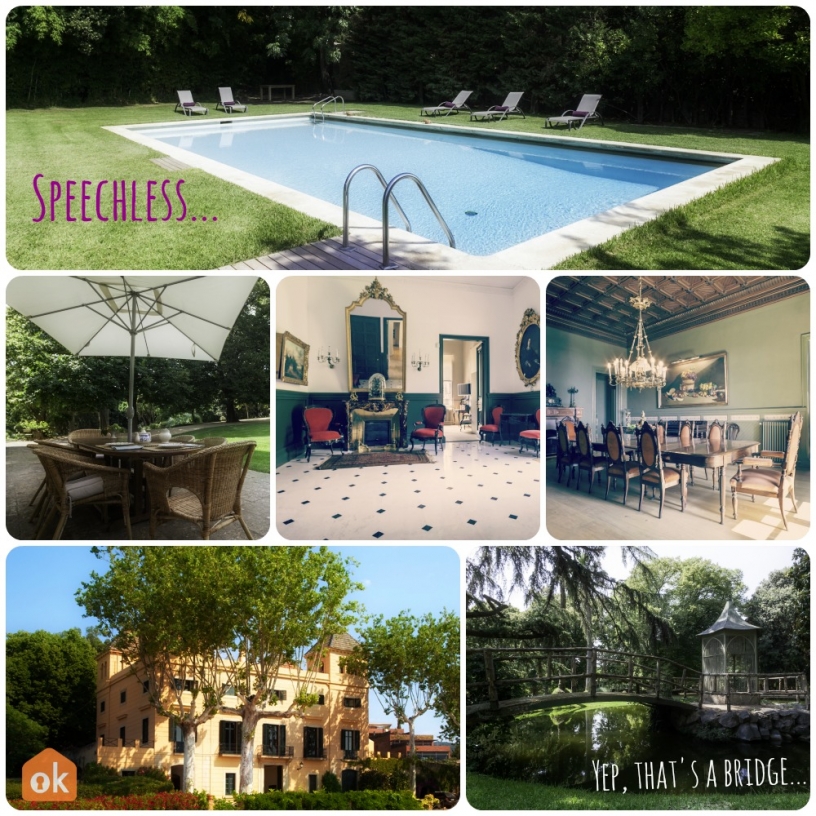 Butler not included... (but you can ask for one).
Perhaps the crown jewel of the list is this one. It's not an apartment. It's not even a house. It is a full blown mansion. It's so big, that it wouldn't even fit into Barcelona! You'll find it in Alella, a town that you'll fall in love with. There are things that this mansion has that you didn't even know you wanted like a cave. It's official, stay in an expensive manor and have your own cave? You can literally be Batman! (or Batwoman)... But with its tranquil pond and a beautiful bridge that leads to a small bandstand, perhaps it's more appropriate to compare it with Downtown Abbey, straight from the early 1900s, playing cricket and drinking tea on the terrace before taking a heavenly dip in the pool! (View full details).
The Countess certainly agrees... ;)
What do you think? Already got your swimming gear on, then? Remember, this is just our top 5. We have a complete list of apartments with swimming pool both in the centre and uptown of the city. If on the other hand you want an amazing terrace in an apartment that's fully air-conditioned, what you need is to take a look at this selection of summer holiday rentals. Until next time!