The District 22@ Project of Barcelona
This urban renewal project aims to improve not only the quality of life in the area, but also encourage innovation through work. It's an economic investment that has transformed (and continues to transform) the district of Sant Marti into a worldwide reference point for science, technology, and culture. Project 22@ also aims for a social renovation that favours community spirit and and industrial structure co-exisiting.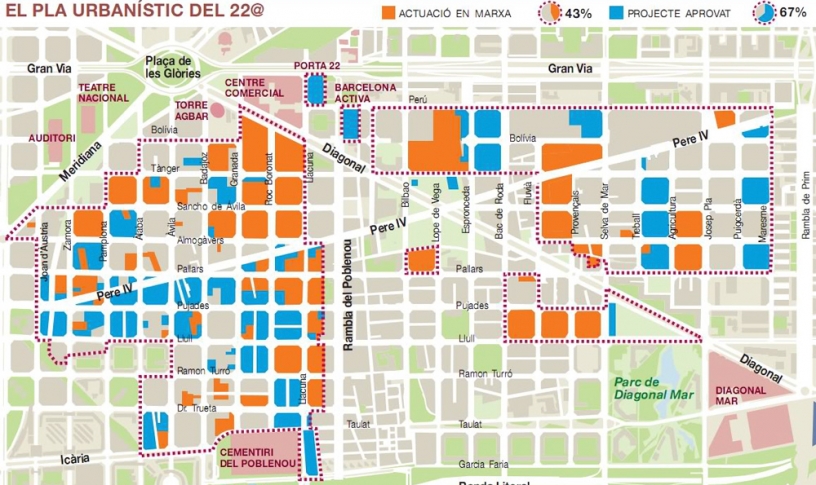 Map of District 22@ Barcelona
Development spread out from the Poblenou neighbourhood, which for more than 100 years had been the referential industrial zone of the city. It's an area that has a good location and excellent connections that help encourage the creation of knowledge and innovation. For anyone who 'wants in', then there is Barcelona Activa, a business centre that helps anyone looking to mount a start-up business in Barcelona. Proof of the success can be seen right here on this map where you can see a list of all the start-ups in Barcelona.

A start-up team
Each day we can see more new start-ups, business accelerators, venture capitalists, and co-working spaces setting up in the city. So much so that in 2013, Barcelona was listed as the 4th city in Europe and 30th in the world when it comes to cities with the most new start-ups. Take a look at these technological businesses in Barcelona for a few examples. You'll surely know a few.
If you come to visit the capital of Catalonia, ​​we will help you to find the best long term rentals in barcelona. We offer apartments of different types, renovated and well furnished in all areas of Barcelona!
How is Entrepreneurship in Barcelona?
All this activity generates many jobs and also much-needed new talent. If you think you have no idea but it would be like to work in a young and dynamic environment of a start-up, look here aquí. Many entrepreneurs start by working for another!
Work with flexibility
Barcelona is a great city to live in and unique for entrepreneurs. It has everything you need to start a business. It's well-connected internationally with an international airport and high-speed trains. Of course, it's also very cosmopolitan which gives businesses access to a talented and dynamic international workforce..
Are you thinking about making a startup in Barcelona or investing in one? Then you'll want to take a look at out accommodation for your business trip to the city. We have many in the District 22@ area.
In the words of Jochen Doppelhammer – CEO of the start-up Yuilop
"Barcelona is the only place I know for now, where I can have interesting meetings during the day, the fastest metro to go swim in the Mediterranean after work, meet people from around the world at any time - day or night, and go mountain climbing on the weekend."

Jochen Doppelhammer
Keep up with what is happening in the entrepreneurial environment of the Catalan capital by visiting Barcino, a website that focuses on this subject.... And then start your business by the Mediterranean!