Do you like cycling? Are you a lover of skating or skateboarding? Want to try the Segway? ¿Would you rent a scooter? . In short, you can go however you want! You can traverse Barcelona far and wide, with the means of transport you prefer. Leave at home the bus fare or Metro pass, because in this article we move outdoors! These are fun alternative ways to visit the Catalan capital ... on wheels!
If you come to visit the capital of Catalonia, ​​we will help you to find the best vacation rentals in barcelona. We offer apartments of different types, renovated and well furnished in all areas of Barcelona!
Barcelona on Segway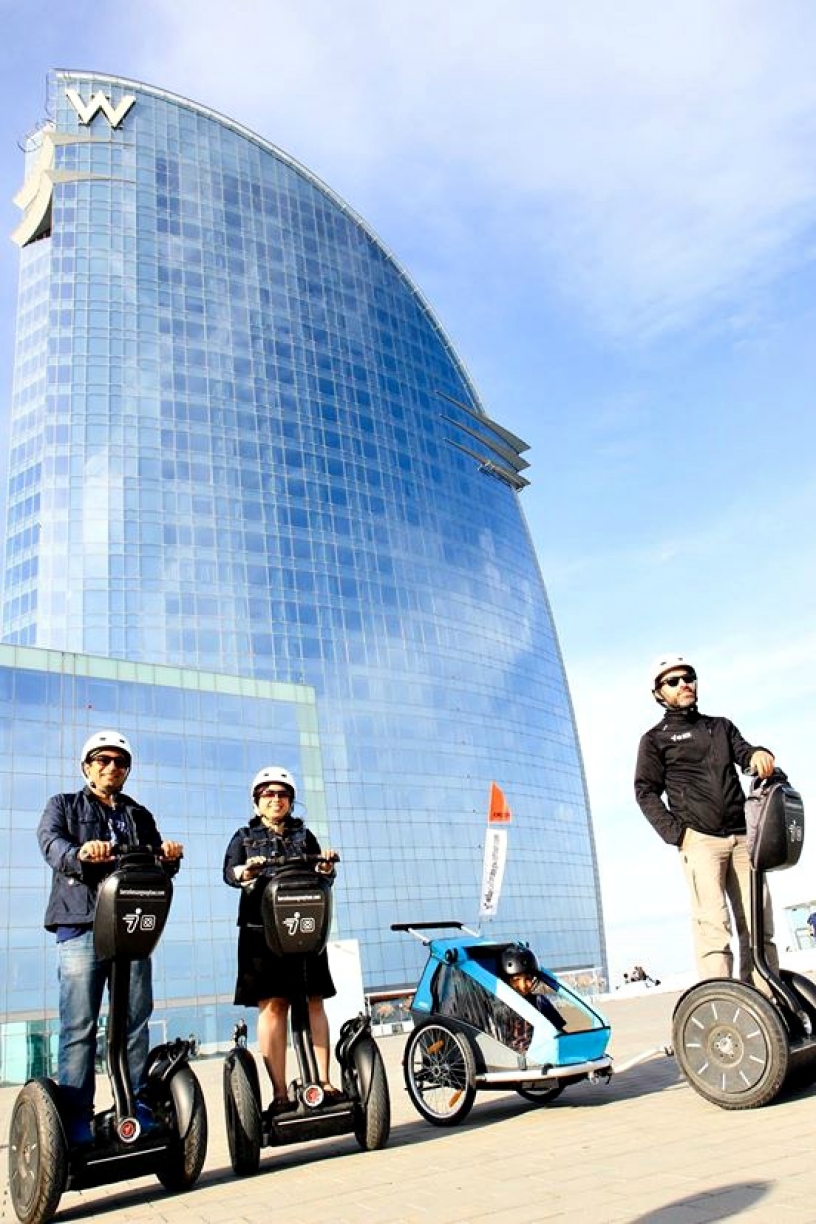 Barcelona on Segway
First, what is a Segway?. It's a means of personal transport using electronic traction. Urrm... Basically it's kind of a self-balancing upright smart-scooter that's able to start, stop and turn through sensors that perceive body movements. Leaning moves you forward and holding back slows you to a stop, whilst curves are handled with the handlebars.
It's an easy to use and fun. Once you understand how to perform simple body movements, it's practically mastered! It is important to pay attention to the speed, because if you lean too far forward, the Segway accelerates across the narrow streets of the Old Town and well... You don't want that. Use the helmet too. Safety first, after all.
There are various agencies that offer segway routes, but the main one is probably BarcelonaSegwayTours. They offer routes through the historic sections of Barcelona like the Gothic Quarterand "El Born", right up to Ciutadella Park, port, and Barceloneta beach. They also make gastronomic routes with brief stops at restaurants to taste the local food offering.
How does it work?
You can reserve your preferred tour on the official website. No upfront payment is needed, it's all paid once the tour has been made. On the agreed date and time you need to go to the meeting point at Plaça Sant Jaume in the Gothic Quarter (near they info desk on c/Baixada Caçador, 6). Here you'll get to try and be taught how to use the vehicle and after just 10 minutes, you're off.
Tours last 2 to 3 hours depending on the route, available in English, German, French, Arabic, Spanish, and Russian. Groups are shared between 6/7 people and the minimum age is 10 years. The price changes for each route, but the basic is €59.
Tip: Get some comfortable shoes and put on sun cream on hot days. A bottle of water is included for all guests to keep you hydrated.
Excursions in Barcelona
To make the most of Barcelona and fill your trip with unforgettable experiences and emotions, we offer you the excursions through the Catalan capital organized by our friends - the GetYourGuide team. Choose your excursion and fall in love with Barcelona:
Barcelona on bike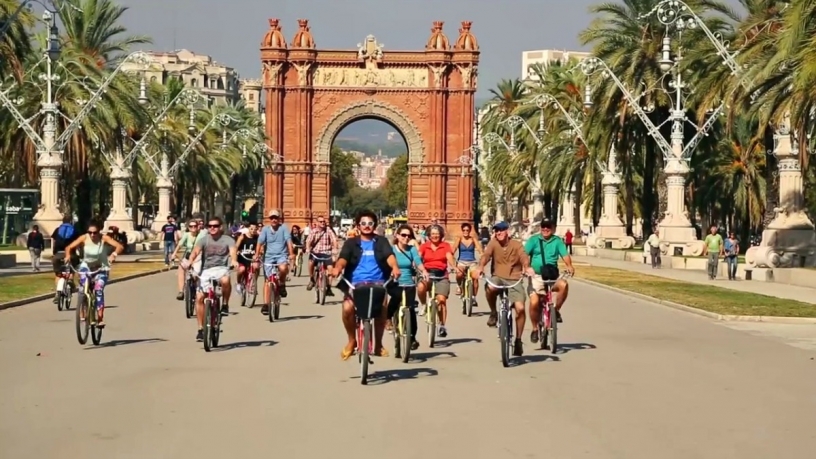 A friendly and fun way to visit the Catalan capital, is definitely cycling. It's fast, healthy, ecological, sporty and easy to enjoy the atmosphere of the city. Discover corners and parts missable on the bus tours.
For residents, there is the Bicing service, which is not available for tourists, but don't worry there are many other ways to rent a bicycle.
The city is full of bike rental companies aimed at tourists, like BarcelonaBiking or Barcelonetabikes. Prices vary depending on things like the model and type of bike, but they're not that expensive. You can usually choose from BMXs, mountain bikes, electric, and even tandems. You'll have to pay upfront and then leave a deposit with the agency.
If instead of pedaling on your own, you rather do a tour group, you're in luck! You have many to choose from, as there are plenty of themed tours organized to discover the beauty of the city. The Gothic Quarter, Modernist Barcelona passing Sagrada Familia and Parc Güell, Montjuïc, Ciutadella park, beaches, the Olympic ring... it's endless. And that's not mentioning the gastronomic routes.
Barcelona on skates or rollerblades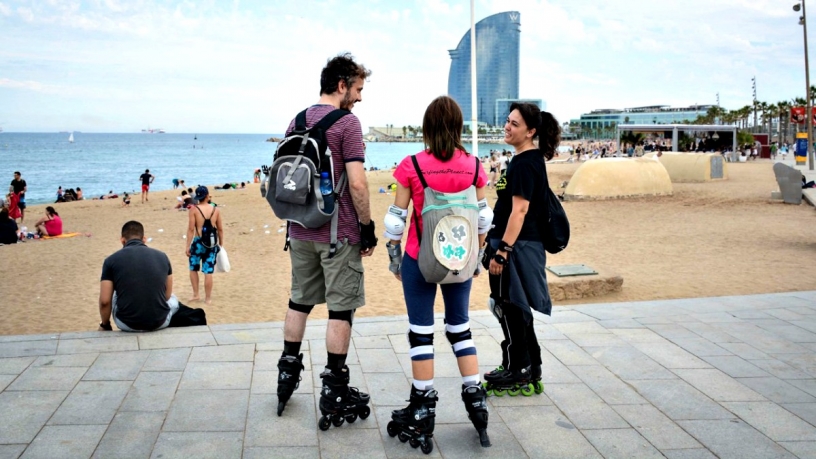 Barcelona is known for being a city where the rollerskates and rollerblades didn't quite fizzle out completely. The cycle lands and various wide pavements (depending on where and when) mean you can skate safely and calmly. If you want to go as a group you only need to join one. It's a great chance to meet new friends and go skating with them be it day or night. The groups come in vary skill levels from beginner to pro (you can read more about it here).
Fancy a ride on a Vespa?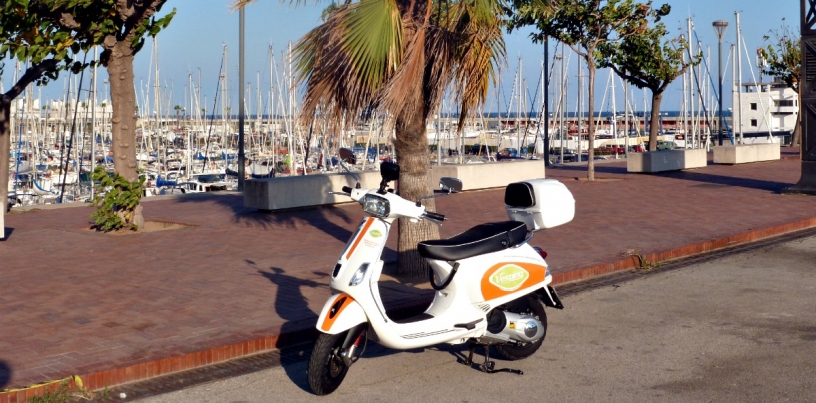 Why not? If you're not a great athlete and you prefer to move in style without exerting yourself, you can always go on a scooter! So why not rent an iconic Vespa?
You can rent one for yourself to get around or you can participate in organized excursions with the scooter rent agencies of the city like Vesping who host epic 6 hour tours from 10am with which you will discover iconic parts of the city. Of course, the excursions don't have to be with complete strangers, you can make private group tours with friends for between 5 - 50 people. It can also start wherever you want and follow a personalized route to match your schedule/needs.
Of course, you're going to need a valid driver's license.
How about taking a trip in Go Car?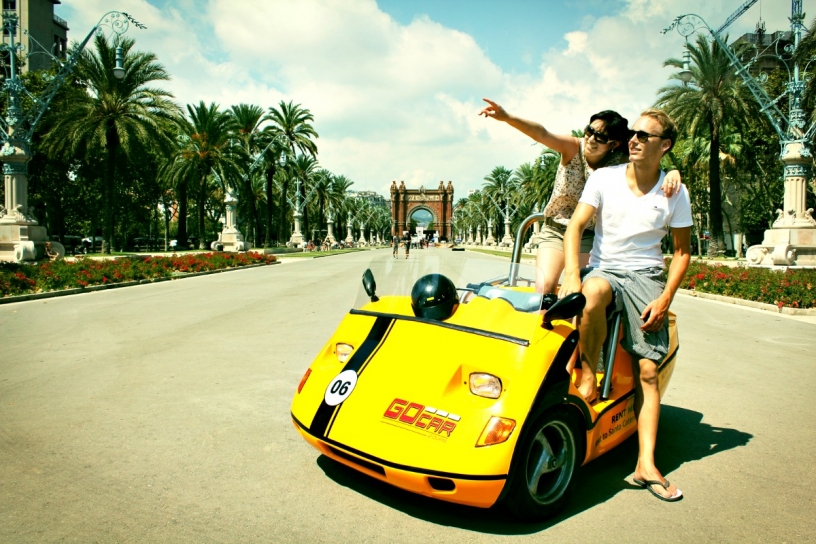 This is without a doubt the most alternative and slightly cheesy options. Imagine touring Barcelona in a semi-automated audio tour... in a GoKart. Well yes... You can rent one these vehicles and be in for a fun way to discover the city.
You can visit all the works of Gaudí, go to the beach, do some shopping, depending on the tour you choose. There are tours of 2 or 3 hours or tours where you are the master of your own time. In tours where you go at your own pace, you can leave the GoCar wherever and whenever you want. The price varies depending on the type of trip you want.
Important to note: It might be a glorified GoKart, but it's road legal and therefore you need a valid driver's license approved in Spain. You'll also need a valid credit card. If you don't know how to drive or you're simply too afraid to take the wheel, there is a solution: the VIP Guided Tour with your very own chauffeur that will take you where you want to be.
Some of these ways to get around give you a bit of exercise, some are a bit crazy... But they are all low-carbon, fun, alternative ways of traversing the city while enjoying the sunny summer days in Barcelona. So pick your way, "saddle up", and get ready to ride.