Born
(Districts)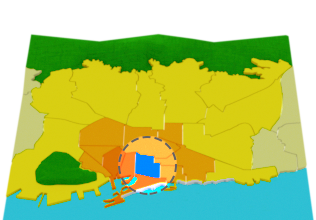 The Born neighbourhood — Barcelona's cultural centre
Born is part of the Old City of Barcelona. It's here that you'll find a large number of monuments and ancient sites to visit. However, don't be fooled by its medieval streets, because Born has been filled with new shops, bars and restaurants that make it one of the most modern neighbourhoods of Barcelona. There's also Parc de la Ciutadella, home to Barcelona Zoo.
In this guide to the Born neighbourhood you can find everything you need to know about this area, including what to see, where to shop, where to eat and more. If you're a student, then you'll also be interested in where to find the local libraries, green areas and places to stay active. We've also included a video to help you discover what the Born neighbourhood has to offer, according to its residents.
Video presentation of the Born neighbourhood in Barcelona
Why Stay Here?
If you come to visit the capital of Catalonia, ​​we will help you to find the best vacation rentals in Barcelona. We offer apartments of different types, renovated and well furnished in all areas of Barcelona!
In recent years, housing prices in Born have soared because the neighbourhood has became a very popular place indeed. The area attracts residents of all nationalities. It's really no wonder that Born is a very attractive area to stay for several reasons, such as its central location, fabulous atmosphere of its streets, sultry places to eat, amazing nightlife, and the sheer overwhelming number of attractions located nearby!
Attractions

Palau de la Musica Catalana
Born is a hotbed of attractions, but one of the most impressive in its collection is without a doubt the church Santa María de Mar, an extraordinary construction of beauty and one of the most true examples of the Catalan Gothic movement. From the outside it may look like a small and modest church, but those who enter will uncover an interior that is absolutely stunning. Medieval architectural styles feature predominantly through this neighbourhood.
For fans of modernism, a prime example can be found in the north of Born. The Palau de la Música Catalana is a gem and well worth booking a concert to experience the breathtaking concert hall the way it was meant to be experienced. The building has been declared by UNESCO as a World Heritage site. Take a look from the outside, but again; you really must enjoy it from within.
Then there's Parc de la Ciutadella. It's always full of people going for a stroll, walking the dog, or playing some sport. If you're on holiday with your kids it's nice to take a day as a family and have a picnic in this sunny paradise. Once you're done, you can head to Barcelona zoo and watch a dolphin show, as it's located in the very same park.
Their are also preserved ruins in Born that allow visitors to discover the life of Barcelonians of the 17th and 18th centuries. The Cultural Centre of Born was originally a marketplace, but ruins were discovered when they decided to renovate the market, this prompted the permanent conservation effort that you can tour today.
And if you want culture, but on a more global scale, then there is always the World Cultural Museum in the same area.
Mmmm, chocolate. A guilty pleasure that's not worth hiding... So experience the delightful world of this succulent treat at the Museu de la Xocolata. It's certainly one of the more unique museums in the city of Barcelona.
The biggest collection of Picasso pieces in the world, is right here in the Picasso Museum. With over 3500 works of art, this museum is indispensable for those with the quest of unravelling the talent of Picasso, a man who can easily be considered the world's most famous artist. Fitting for a man who spent a good portion of his life in the city.
Excursions in Barcelona
Enjoy Barcelona to the full and fill your trip with unforgettable experiences and emotions reserving an excursion in the Catalan capital organized by the GetYourGuide team. Thanks to the local guides you will discover the pure life of the city and feel the soul of Barcelona! Choose your excursion and fall in love with Barcelona:
FR
Information for students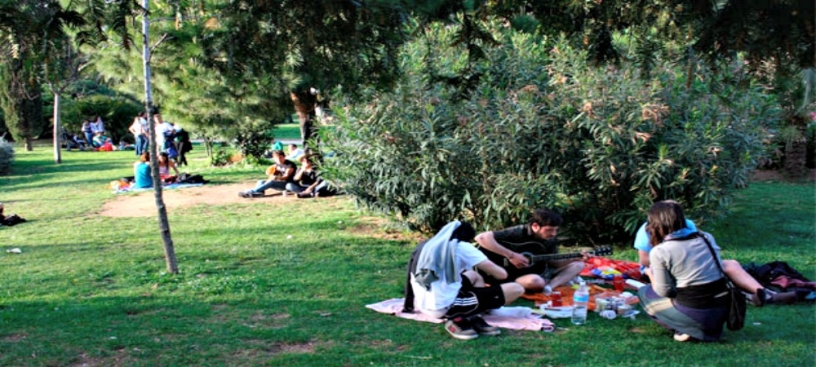 An evening at Ciutadella Park
El Born is a very sought after neighbourhood for students and young people in general. This is due to its great cultural offering and alternative environment. It's also located next to the Ciutadella Park, where you can go jogging, to stroll, visit Barcelona Zoo, or study quietly under a palm tree. Either way, if you want to convince your parents to rent you a student flat in the Born neighrbourhood, we recommend that you cite the universities and schools in the area like Hofmann School of Hospitality, UPF School of International Trade, Institut d'Estudis Territorials and two Business school — Toulouse and ESERP.
You can also tell them all about the selection of libraries such as Francesca Bonnemaison Library, the Judicial Library of Barcelona and the library of the Picasso Museum. There is even a library inside Ciutadella park!
If you're still not sure, you can even tell them that you will learn a language in one of the language schools, including Escola d'Idiomes Natives Language Consultants, Escola International House Barcelona and Espai Francesca Bonnemaison - Escola Professional de la Dona
To nip it in the bud, you can show you'll lead a healthy lifestyle with one of the many activities available in the area, from running around Ciutadella Park, to playing basketball at Institut Pau Claris. There is also a municipal sports centre with a gym and other installations called Centre Esportiu Municipal Parc de la Ciutadella.
Where to Eat

Paradeta Restaurant
The Born neighbourhood is the perfect place to eat out and enjoy the ambiance of the lively streets. El Set del Born is a curious locale that seamlessly fuses a deli with a bar. The spicy 'Chorizo del Bierzo' will play games with your taste buds, and the sharp yet creamy 'Oven baked chips with All i Oli sauce' will leave you craving for more. All accompanied with the Catalan staple 'Pà amb Tomàquet', a delicious toast that's scraped with tomatoes. Lovely!
La Paradeta is also highly recommended, where seafood is on the menu. Choose what you want as well as how you want it prepared. Careful now... There's always a queue. A testament to the quality of food served here.
Nightlife

Bar Rosa Negra
Born is surrounded by a healthy mix of modern bars and sophisticated locales that attract an interesting mix of clientele, both local and foreign. To sample how the modern locales of Mexico are though, don't go jumping on a plane across the Atlantic, instead, go to the Bar Rosa Negra. The two Mexicans in charge have filled it with colors and cultural elements from their homeland, and will give you all a taste of the world-famous generous Mexican hospitality.
Just in front of Santa Maria del Mar is a small bar called La Vinya del Senyor. Here you will find a selection of magnificent wines, as well as cheeses and Iberic cured sausages and hams.
If class or a relaxed pace just isn't your thing, and a party is where you want to be, then there's no better place than Màgic, a legendary nightclub in Barcelona. This fiesta-filled building has excellent music and an unforgettable atmosphere. For live music performances, it's a classic amongst locals looking for amazing underground acts each Thursday. For the rest of the week however, it's party party party with 100% dance-floor inducing records.
Shopping

Santa Caterina Market
Passeig del Born is a pedestrianized street where you can find a number of stores and places to get some unique souvenirs for your trip.
You can always take a hike down Carrer Comerç that has a number of shops. It's also where you'll bump into the old Born Market, an interesting behemoth iron structure built in 1874 and renovated between 2002 - 2013. During the renovation, they found ruins from the 18th century that were conserved exceptionally. Rather than open it back up as a market again, people are invited to come check out the ruins themselves.
If you are actually look for a market though, then the colourful Santa Caterina Market will not leave you disappointed. It's a lively and distinct place that sits below a magnificent curvy and multi-hue roof.
Getting Around
L4 - The Yellow Line
It's very easy to get lost among the narrow streets of Born, which don't have the structure from the newer districts. Just relax and enjoy the ride though, because while the streets may seem intimidating, they're actually in one of the safe parts of the city
L1 - Red Line at Arc de Triomf will take you to Plaça d'Espanya in just over 10 minutes, from there you can catch a bus directly to the airport.
L4 - Yellow Line at Jaume I, or Barceloneta will take you along the coastline, giving you a choice of Barcelona's beaches.
You don't need to catch the Metro to go to the beach though, because Barceloneta is only a short walk away. You can also be at the famous Las Ramblas in around 10-15 minutes.
Apartments in the Born quarter
If you come to visit Barcelona, ​​we advise you to stay in an apartment in Barcelona's Born Quarter. This way, you will know one of the most emblematic districts of Barcelona and save money since hotels are more expensive and offer you less space and comfort.
Other images
Attractions in Born
Picasso Museum

The Picasso Museum is one of the most visited art museums in the world.

Santa Maria del Mar

The basilica of Santa Maria del Mar is a great example of the Catalan gothic architecture.

Palau de la Música

Considered one of the main exponents of the Catalan Modernism
Do you like this post?
Click here!

4/5 - 1 vote
Share your thoughts
Related articles
Tired of reading about Barcelona? Find an apartment and stay there!